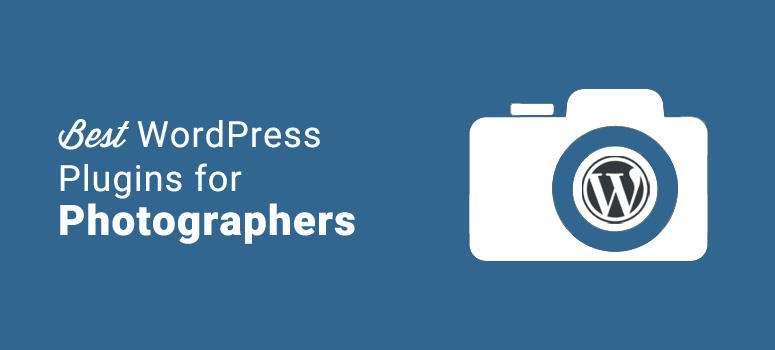 Are you looking for a way to showcase your photos beautifully on your site?
If you're using WordPress, there're plenty of plugins that help you to add your photos and display them online.
In this article, we've handpicked the best WordPress plugins for photographers to help you easily discover the right plugin for your site.
We also created a list of popular and best WordPress plugins that are useful for every website. You should check them out too.
If you haven't set up your photography site yet, you'll find this guide helpful: How to Create a Stunning Photography Website in WordPress. We take you through the essential steps to get started and grow your site.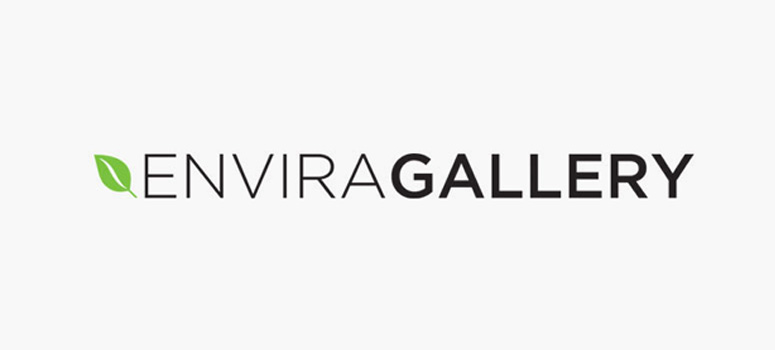 Envira Gallery is the best WordPress gallery plugin available on the market. The plugin allows you to create fully responsive image galleries, video galleries, and photo albums for your site in no time. It comes with a simple and easy-to-use drag and drop interface, so you can make galleries easily without using any code.
Envira Gallery offers a bundle of beautiful pre-built gallery templates to help you customize the look of your gallery instantly. Once you've created the image galleries, you can organize them in albums, sort them with tags, and also add cover photos.
Another great feature of Envira Gallery is the deeplinking and pagination which lets you make your galleries super SEO friendly. Envira Gallery is the perfect plugin to showcase your art in beautiful photo galleries.
Alternative: NextGen Gallery Plugin and Modula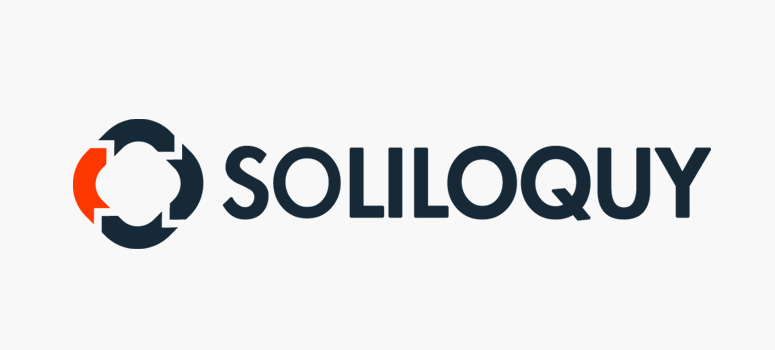 Sliders let you showcase your photos gorgeously on your website. Whether you add full-width sliders or small-size sliders, you can add beautiful animations and display your photographs elegantly. And, Soliloquy is the best tool for the job.
It's the best WordPress slider plugin on the market. It allows you to create fully responsive and mobile-friendly sliders that look great on all types of screens and devices. With Soliloquy, you can use a simple drag and drop builder to create beautiful image and video sliders in just a few clicks.
It comes with tons of features including slider templates, dynamic sliders, product sliders, fullscreen lightbox, importing abilities from Flickr, Instagram, and much more. It's a great plugin for passionate photographers to showcase their work to a wider audience.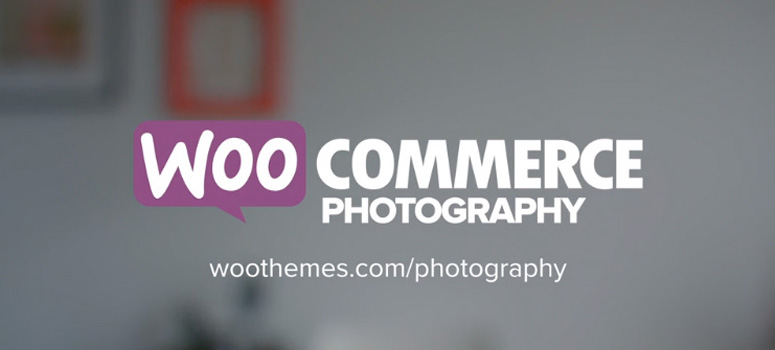 WooCommerce Photography is yet another WordPress photos plugin designed for professional photographers. It comes as an extension of the WooCommerce plugin, so you'll need to have the core WooCommerce plugin installed on your site. Then, you can easily install this extension and start adding your photos on your site for sale.
WooCommerce Photography helps you with the day-to-day management and sale of your photos for events, or as artwork. With the plugin, you can easily upload your photos, set up photographs for sale, and allow your users to purchase them easily for their needs.
Using this plugin, you can create fully responsive online photography shops that adapt well to any type of screen including desktops, laptops, and cellphones. In a nutshell, it's a great photography eCommerce plugin that assists both the photographers and the customers.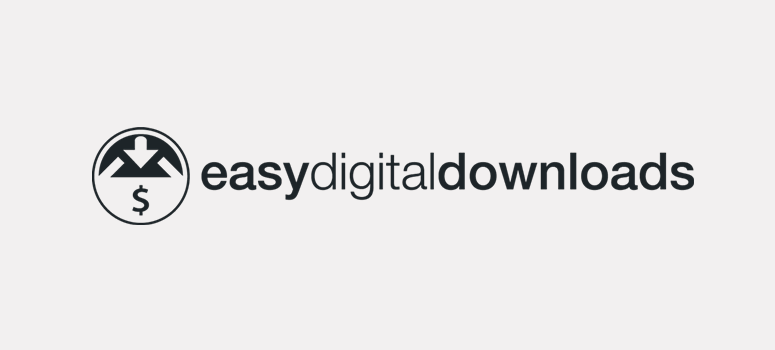 Easy Digital Downloads is a powerful eCommerce plugin for WordPress that helps you sell digital products. You can use this plugin to sell all types of digital products such as images, artworks, ebooks, and WordPress plugins. It provides you with powerful features to handle your digital product store easily.
Using Easy Digital Downloads, you can allow your customers to purchase multiple downloads at once using the shopping cart system. Plus, you can set your tax rate, set up discount codes, create a database of your customers, and track all your payment transactions.
The plugin is very useful for photographers as it helps them to sell their photos with ease.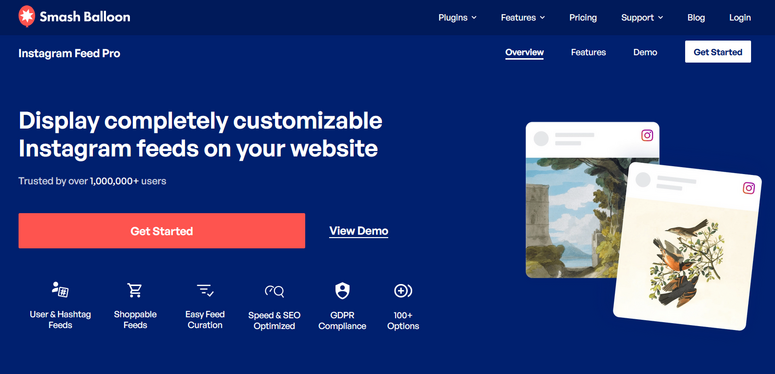 As a photographer, you likely have an Instagram account where you share all of your best work. So, why not show off those beautiful images on your site too?
With Instagram Feed Pro by Smash Balloon, you can easily display an Instagram feed anywhere on your WordPress website. This can help you boost your social engagement and followers as well as keep your site automatically updated with fresh content. Plus, Smash Balloon embeds your Instagram content directly on your web page which can help you improve your SEO rankings.
The feeds are highly customizable too. You can display photos, videos, and stories, design the feed to match your brand, create shoppable posts, highlight specific posts, and much more.
You also get to choose from layouts like masonry, grids, and carousels so you can create a slideshow on your site.
Smash Balloon also offers plugins for Facebook, Twitter, YouTube, and a Social Wall plugin, which combines all of your social media feeds into one giant feed.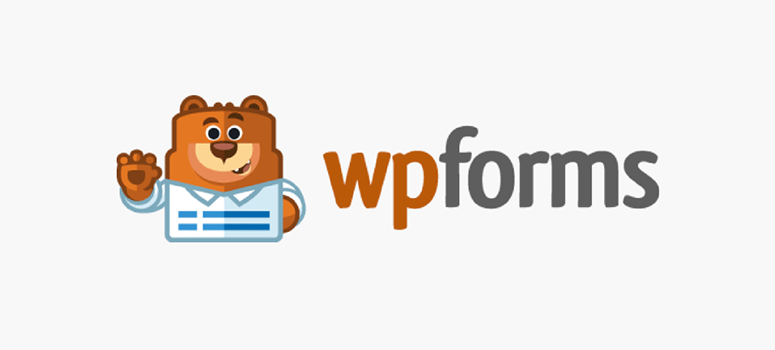 Contact forms are essential for all types of websites, including photography websites. With a contact form, you can give your users a hassle-free way to connect with you and provide you with their feedback. WPForms provides the best solution for adding contact forms on your site.
It's the best and most user-friendly contact form plugin on the market. It comes with an intuitive drag and drop form builder interface and plenty of useful form fields to create forms with ease and in no time. Not to mention, it provides a pre-made sample form to start with your first form. Most of the times, the sample form works well for your needs, so you can simply save and use it.
With WPForms lite (free version), you can create a simple contact form. On the pro version, you'll get access to create advanced forms such as booking forms, order forms, payment forms, and subscription forms for your photography business.
Once you've built the forms, you can add them on your site with ease. The plugin provides an Add Form button in your post editor so you can easily embed your form in posts and pages.
There are tons of tutorials on the WPForms website for every step of the way.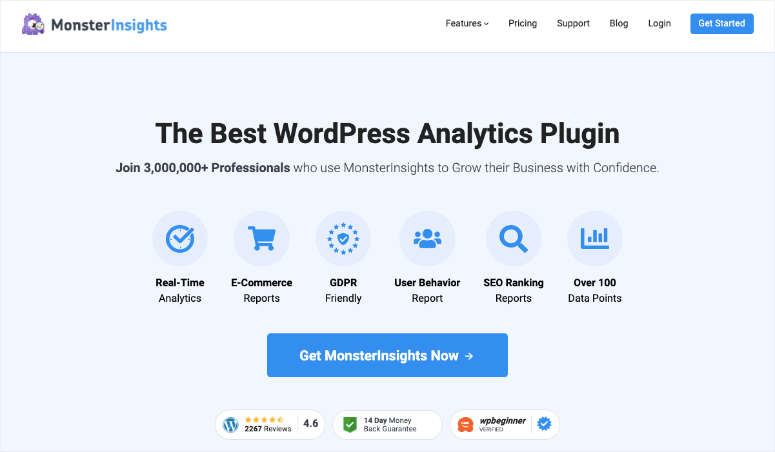 Website analytics are very important for making informed business strategies and upscaling your business. With detailed data and metrics about your website visitors/ customers and their behavior on your site, you can make informed marketing decisions for your site.
In WordPress, MonsterInsights makes it easy to track all your website traffic and gather actionable metrics to improve your site. It's the best Google Analytics WordPress plugin which you can utilize to track all the important information about your users and their interactions with your photography site. You can learn where your users are from, what they like, which pages they are visiting the most, what links they are clicking, etc.
Plus, you can easily track the photo downloads and sales. Using the eCommerce addon, you can get complete data about the sales you made, total revenue collected, conversion rates, top products, and much more.
Alternative: ExactMetrics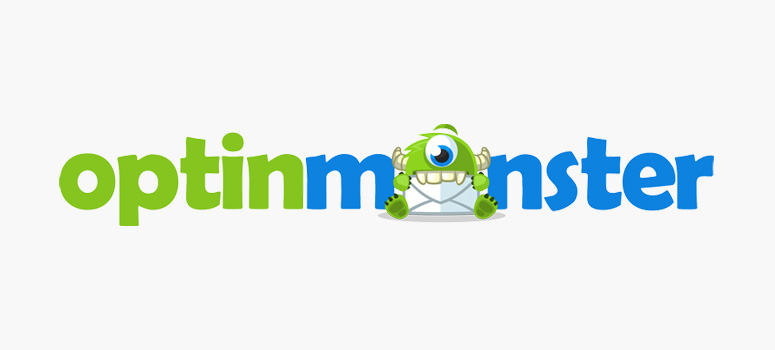 OptinMonster is a great marketing tool for business websites of any kind. It's the best WordPress lead generation plugin to assist you in growing your email list faster and boost your email marketing strategies. Using OptinMonster, you can create high-converting optin forms and display them strategically on your site to collect more leads.
The plugin comes with a bundle of beautifully-designed optin form templates that you can use to quick-start building forms. You can set up high-converting optins like Exit-Intent® technology and convert your abandoning visitors into subscribers. In addition, it lets you create multiple types of forms like lightbox popups, floating bars, fullscreen welcome mats, OnSite retargeting, etc.
Once you've created an extended email list, you can send over attractive emails to your email list members and boost your photo sales.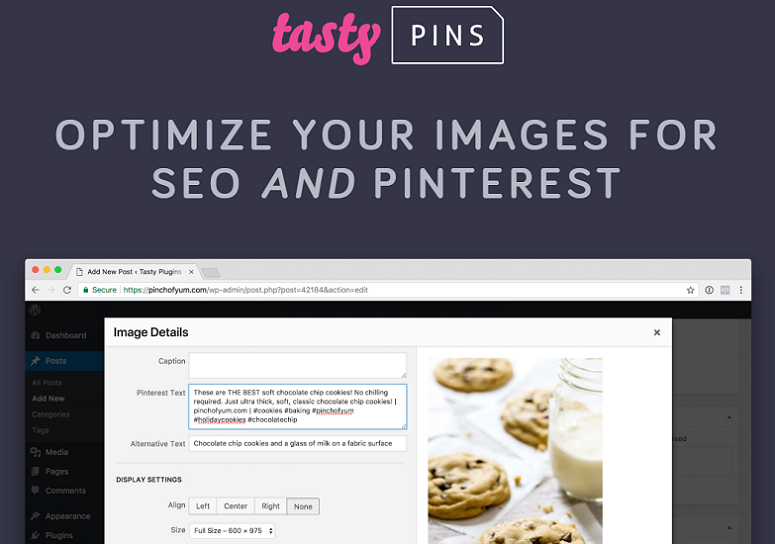 Tasty Pins is the #1 Pinterest WordPress plugin that lets you optimize your images for Pinterest. Using this plugin, you can set your own description and make the images optimized for search with hashtags, keywords, etc.
It is easy to hide specific images from your website with a simple click of the mouse. It even lets you disable pinning of certain images, and keep them safe on your website. You can also force your users to pin your hidden images.
The plugin is super responsive and is compatible with multi-purpose themes and plugins. It offers unlimited support, so you will never have to worry about anything. If you ever face a problem using the plugin, simply get in touch with the support team and they will help you solve your problem.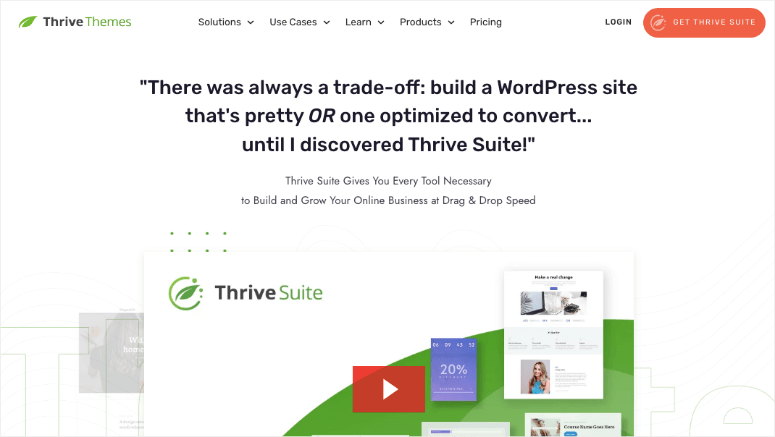 Thrive Suite is THE most powerful conversion-optimization platform for photography websites. Whether you're trying to get clients to book you for events, or users to buy your images, or any other kind of monetization through your site, Thrive can help you convert casual visitors into paying customers.
You'll get premade themes and an intuitive builder with drag and drop functionality to design your website. Then, there are tons of conversion optimization tools to build lead generation forms, quizzes, online courses, and more.
You can also create evergreen scarcity campaigns to boost your sales like never before. You can add countdown timers and ribbons to your site, show them to everyone or only specific people.
The plugin works with any WordPress themes and is compatible with all popular WordPress plugins.
Alternative: You may also want to check out SeedProd. It's a powerful website and page builder that comes with smart blocks like social sharing, countdown timers, optin forms, and more.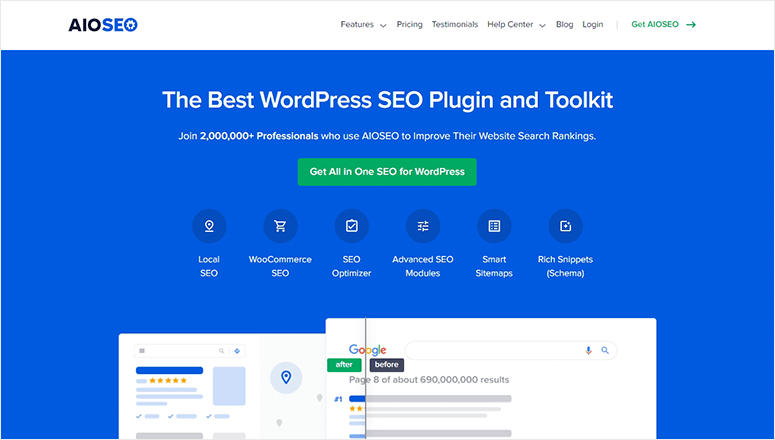 All in One SEO is the most powerful SEO solution for WordPress.
SEO is important for all types of websites to gain more organic traffic and loyal customers. Given the increasing popularity of search engines, ranking better in the search result pages is really important.
The All in One SEO plugin helps you optimize your photography website for better ranking in search results. It allows you to optimize your pages by adding focus keywords, metadata, metatitles, and descriptions. It also comes with a built-in headline analyzer to make sure your headline is optimized.
Added to that, you can tackle advanced SEO measures such as adding a sitemap, rich snippet schema markups, robots.txt file, integrating with social media, and much more.
For detailed information, here's our All in One SEO review.
Alternative: Yoast SEO.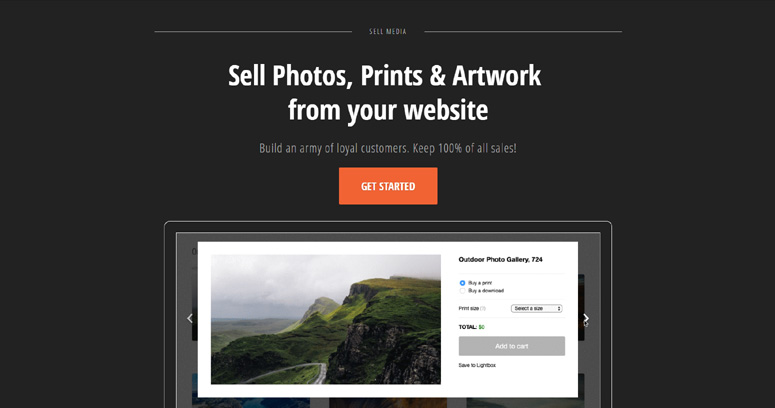 Sell Media is another great eCommerce photography plugin for WordPress. It helps you to sell photos, videos, and reprints individually or as subscription plans. For sale and shipping of the photo prints, you can use their extension, Reprints, that offers all the features you'll need for shipping.
Using the Sell Media plugin, you can create stunning image galleries for clients, events, or related topics in a few minutes. You can import images from Lightroom or Aperture and streamline your workflow. Also, you can bulk upload photos using the drag and drop upload and also edit in bulk.
Besides, you can password protect our image galleries, create price groups and discount codes using Sell Media plugin. There are extensions for watermarks, print on demand, subscriptions and more.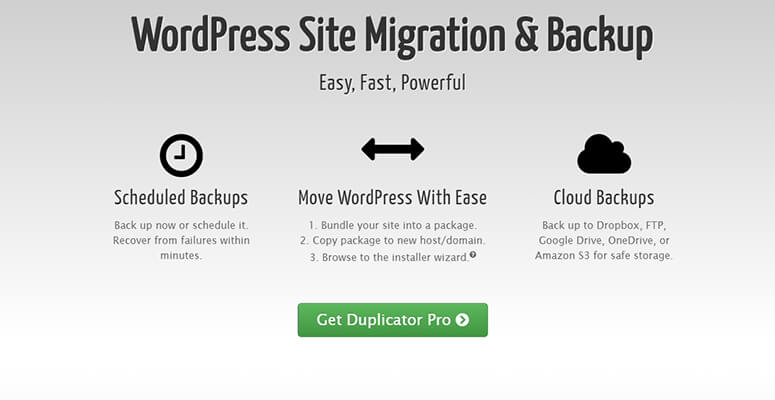 As a photographer, you can't afford to lose your best photos, appointment information, and website data. That's why it's so important to have a backup.
Duplicator is hands down the best backup plugin for WordPress as it's user-friendly and affordable. It makes it easy to back up all your WordPress files in zip format, so you can download them offline and store them locally. The plugin supports cloud storage as well to Dropbox, Google Drive, OneDrive, Amazon S3, and more.
Duplicator allows you to schedule backups, send them to cloud storage, and send yourself email notifications.
If you want to create multiple photography websites with the same themes and plugins, rather than manually configuring each site, Duplicator allows you to configure a single site and bundle it up. This way you can migrate your pre-configured WordPress sites to different locations.
The plugin is one of the most popular backup solutions with 1+ million active installs.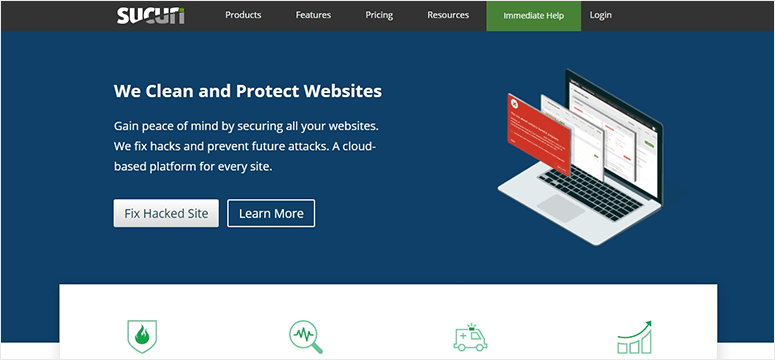 Sucuri is a complete website security solution and one of the best WordPress plugins. It protects your site from malware, brute force attacks, and other potential vulnerabilities.
You'll. geta powerful firewall and malware scanner to keep your site and its data protected round the clock.
Aside from security, they also offer a CDN solution to boost the performance and speed of your image-heavy website.
Their CDN runs on the Anycast network with the global distribution of servers. The configuration for Sucuri CDN has custom options to maximize website speed.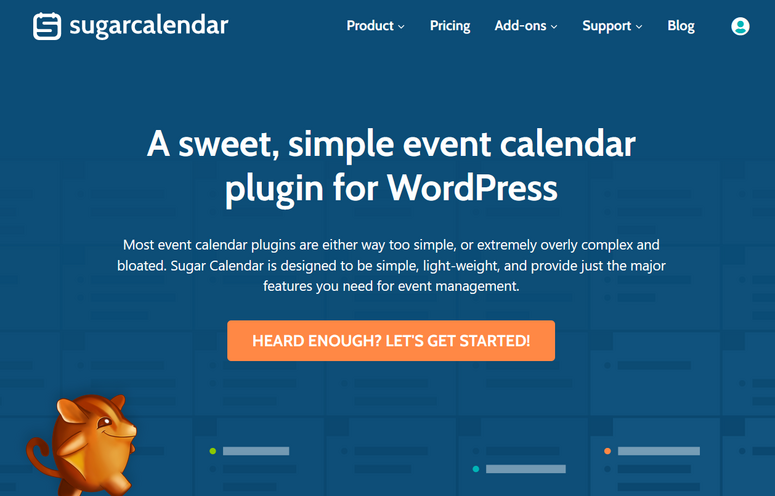 Sugar Calendar makes it easy to set up events on your site that clients, students, or the general public can sign up for. For instance, you can create and manage webinars, livestream events, special events, photo exhibitions, film screenings, and more.
The plugin comes with a simple, easy-to-use interface. You can create recurring events, single-day or multi-day events with start and ened times.
It's translation ready and also integrates with Google Calendar, Stripe, WooCommerce, WPForms, and more.

Regenerate Thumbnails is a very useful plugin for photographers. It allows you to regenerate all thumbnail sizes for one or more images in your media library. This automates the process of regenerating thumbnails for your past uploads in a new thumbnail size.
This is useful if you've changed the dimensions of an existing thumbnail size via your media settings. Then, using this plugin, you can regenerate your old thumbnails in the new dimensions, and get rid of "photos not available" issues. This is useful when you switch your site to a new theme that uses thumbnails of a different size.
Regenerate Thumbnails simplifies the process of regenerating thumbnails, so it's a really useful plugin for dynamic photographers who love to change their website design.
Since it's a free plugin, be sure to check if this plugin has been tested with the latest versions of WordPress before you install it on your site.

If you want to add photos on your site's sidebars or any widget-ready area, Image Widget is the right plugin for you. Image Widget is a simple WordPress plugin that allows you to add images to your sidebar area with a widget.
You can easily drag and drop the image widget to any sidebar or widget-ready area, and reorder as per your wish by dragging and dropping. Then, you can select an image from your WordPress media library or upload one from your computer and save it. That's all you'll need to do to add an image on your sidebar.
The plugin uses the native WordPress media manager to add image widgets to your site.

Imsanity is a free WordPress plugin for reducing your image sizes automatically. You can configure the plugin with a maximum width, height, and quality for image uploads on your site. So, when a contributor uploads an image larger than the defined size, it automatically resizes it to the configured size and replaces the original image.
Plus, it lets you bulk resize to selectively resize previously uploaded images to free up disk space.
Using lightweight images on your site, you can save your site's bandwidth and also improve your website loading speed significantly. It's a very useful plugin for photographers.

Speed is vital for your site's SEO as well as user experience. If you have added a lot of large-sized image files on your site, it can slow down your site, which, in turn, can harm your site SEO and user experience. You need to make sure that all of your images are optimized.
That's where EWWW Image Optimizer comes handy. It's a great image optimization plugin for WordPress. The plugin automatically optimizes your new image uploads and ensures that your images are of the minimum size and best in visual quality. You can also optimize all the images that you've already added and convert your images to the best file format like png, gif, pdf, or jpeg.
Using EWWW Image Optimizer, you can choose pixel perfect compression or high compression options that are visually lossless. Above all, it supports images uploaded and created by any plugin.
To learn more, you can check out our full EWWW Image Optimizer review!
Alternative: Smush

When it's a matter of WordPress speed, caching is a leading solution. Caching can help to improve your page load speed and overall site performance as well as SEO. As a caching plugin, W3 Total Cache offers a set of powerful features to speed up your photography website including lazy loading.
W3 Total Cache is the fastest and best WordPress caching and performance plugin. The plugin helps to improve your website loading time by caching every aspect your site including pages, posts, JavaScript, CSS, feeds, etc. in memory, on disk, or on CDN.
Plus, it provides a transparent content delivery network (CDN) management with media library, theme files, and core WordPress files to boost your server performance. It's a must-have plugin for a photography site because images often slow down WordPress.
Don't miss this guide on how to create a successful giveaway on your photography site to increase your followers.
That's all. We hope this guide helped you to find the best WordPress photography plugins. You may also want to check out our lists:
We've written these posts with photographers in mind so you'll find really helpful information and tools to help you optimize your photography site.