Are images slowing down your website load time? Do you want an easy way to compress and optimize images?
EWWW Image Optimizer is a reliable WordPress plugin that lets you optimize images to make your site faster. This in turn will help you improve your bounce rate and boost SEO.

In this review, we'll reveal the good and the bad about the EWWW Image Optimizer plugin so you can decide for yourself if it's the right speed optimization plugin for your site.
To help you navigate this post easily, here's a table of contents of what we'll cover today:
You can use the quicklinks above to jump ahead to the section that interests you the most. Let's begin with a quick introduction to the EWWW Image Optimizer plugin.
What is EWWW Image Optimizer
EWWW Image Optimizer (or EWWW io) is a plugin for WordPress that's built and maintained by Exactly WWW. It makes it simple for any website owner to compress and optimize images to reduce load time.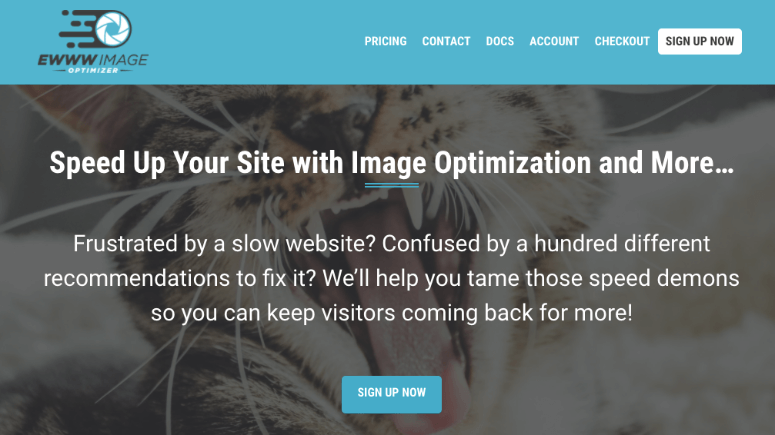 If you use a lot of images on your WordPress site, what you need to know is that large image files take longer to load. This means your website will slow down and visitors will leave if your page doesn't load fast enough.
In turn, all of this affects your bounce rate and SEO rankings. That's where the EWWW Image Optimizer plugin comes in to work its wonders.
The plugin is designed for beginners so everything can be done with button clicks. You'll never have to know technical terms and use coding.
At the same time, the plugin also has advanced settings if you are a seasoned WordPress professional.
That's the EWWW Image Optimizer in brief. We'll explain everything that this plugin has to offer next.
Features: What Does EWWW Image Optimizer Offer?
EWWW Image Optimizer is actually made up of 3 WordPress plugins:
Easy Image Optimizer – An image optimizing CDN (content delivery network) to compress and convert images as they are viewed by visitors. You get WebP conversion and auto image scaling. It also compresses JS/CSS files for even better speed.
Compress API – Premium compression on your site's local images including newly uploaded images. This tool enhances speed and helps save storage space. Your original images will be saved on their servers for 30 days.
SWIS Performance – The fastest page caching engines, along with various JS/CSS optimization techniques, and optimization for Google Fonts.
This powerful combination gives you everything you need to boost your site's speed to offer your user's the best experience. Now EWWW Image Optimizer has both a free and premium version. We'll take you through the features of both.
What's in the Free EWWW Image Optimizer Plugin?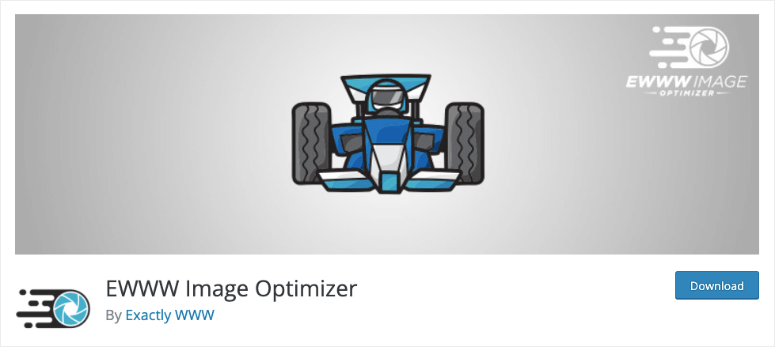 The highlights of the free WordPress plugin include:
Optimize everything on your site, not just the WordPress Media Library
Unlimited file sizes and no speed limits
Smooth handling with pixel-perfect optimization
Premium image compression for JPEG, PNG, and PDF files for best compression/quality ratio
Intelligent conversion options to get the right image format (JPG, PNG, GIF, or WebP)
All communications are secured with top SSL encryption
Free image backups to store your original images for 30 days
Translation support
If that's not enough, you'll want to upgrade to a premium plan to get more features.
What's in the EWWW Image Optimizer Pro?
With the premium version of EWWW Image Optimizer Plugin, you'll get features like:
Unlimited images: You can optimize as many images as you want, including every new image you upload to your site.
JS/CSS Optimize: Removes unused coding thats slowing down your website and using up bandwidth.
CDN delivery: All pull mode CDNs like Cloudflare, KeyCDN, MaxCDN, and Sucuri CloudProxy work automatically, but will require you to purge the cache after a bulk optimization.
Custom Domain: Prevent Google from flagging your Easy IO image URLs for looking fake.
Site speed audits: Automated speed tests to check if your site is performing at its best.
Site licenses are available for single sites, 10 sites, and unlimited sites.
So you can see that the EWWW Image Optimizer has quite a lot to offer. But does it really live up to all that it claims to do? We check out the pros and cons next.
Pros & Cons of EWWW Image Optimizer
Every tool has its pros and cons, and the cons can be a huge decision-making factor. Let's first take a look at the pros of the EWWW Image Optimizer plugin.
Automated process: Images are automatically compressed, scaled to fit the page and device size, lazy-loaded, and converted to the next-gen WebP format.
Beginner-friendly: The interface is user-friendly and simple to navigate making it a great choice for beginners. Every task can be done with a simple button click.
Great support: Get free one-on-one email support. You can also report bugs and issues on GitHub, and they'll get it fixed!
Works with any folder: Optimize any folder from your WordPress install including theme images, BuddyPress avatars, BuddyPress Activity Plus images, Meta Slider slides, WP Symposium Pro avatars, GD bbPress attachments, Grand Media Galleries, and any user-specified folders.
Developer-friendly: WP-CLI integration to run processes from your command line. You can schedule your optimization and also generate WebP versions of your images and deliver them to supported browsers. You get to choose between Apache-style rewrite rules, JS WebP Rewriting, and WebP Rewriting.
Compatibility: Tested with hundreds (if not thousands) of plugins and themes, so you can be sure that the plugin will work without hiccups.
Bulk optimize: Optimize all existing images in one go from a single page. This includes your media library, theme, and a few pre-configured folders.

Overall, EWWW Image Optimizer is a great plugin but it isn't free from drawbacks. Below are the points that are a hit and miss with this plugin:
Server load: The plugin runs on your own servers. If your server isn't powerful enough and you try to bulk optimize images, it can slow down your website while the process runs. There are chances that it can crash your server too.
Compression type: With the free version, you get lossless compression that reduces image sizes by 5 to 10%. If you need lossy compression, you have to register a paid plan.
Web host limitations: If you are on managed WordPress hosting, you may not have permission to use this plugin since it requires a writable wp-content folder.
Limited customer support: There's no option to chat or call support. You can only submit a ticket or send an email.
In our humble opinion, the cons of this plugin aren't really big enough to discourage you from using it.
It's trusted by 900,000+ users for a reason. It gets the job done and actually enhances website speed. But since it loads your server and it requires access to the wp-content folder, it's best to check with your web host before you install this plugin on your site.
How to Use EWWW Image Optimizer Plugin
You can find the free version of the plugin in the WordPress repository. All you have to do is log in to your WordPress admin panel and head over to the Plugins » Add New page.
Search for "EWWW Image Optimizer" and you can install and activate the plugin.

Once activated, you can access the plugin from the left admin menu. Go to Settings » EWWW Image Optimizer page.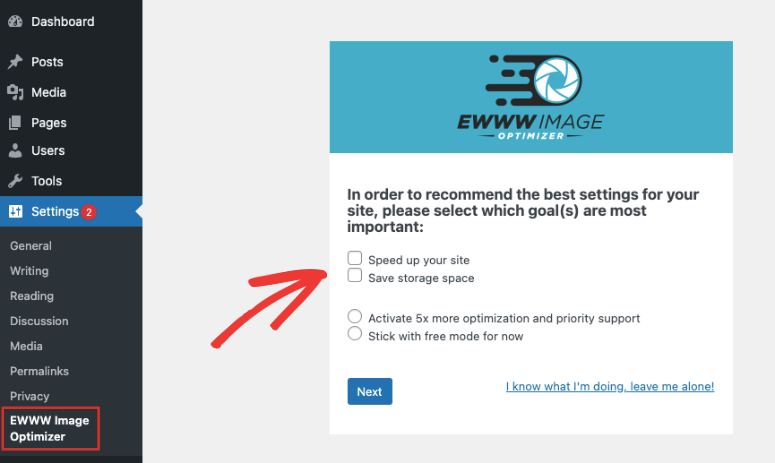 Here, you can choose if your priority is website speed and/or saving storage space.
Below that, you can choose to stay on the free plugin or upgrade to the pro version. You can buy the Pro version on the EWWW Image Optimizer website. Then you'll need to enter your license key here to activate the pro version.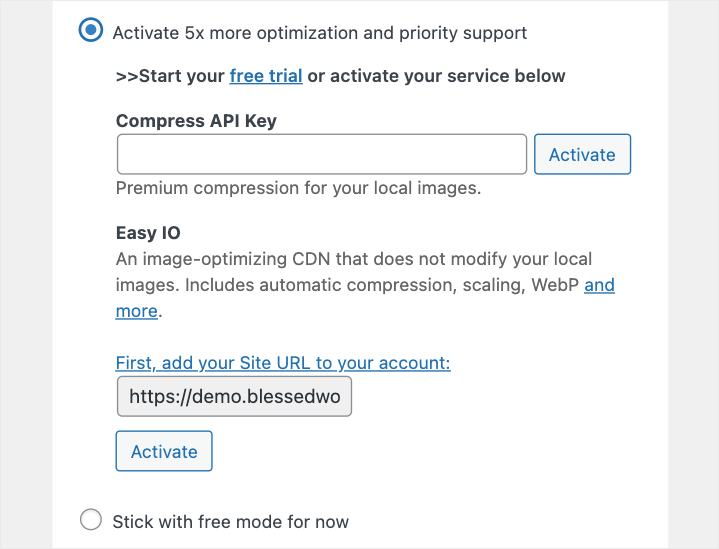 If you want to stick with the free plugin, select that and hit the Next button. A new page will open where the plugin will display optimal settings for your site. If you're new to this, you can leave the default settings as is and hit the Save Settings button.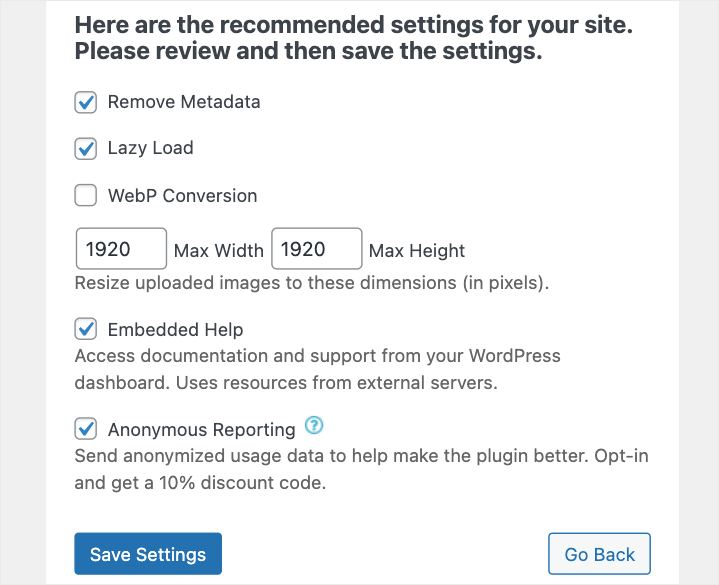 Now the plugin will show you how many images need to be optimized. With a single click, you can optimize all existing images on your site.

Once the plugin is done, it'll display a list of images and the changes made to them.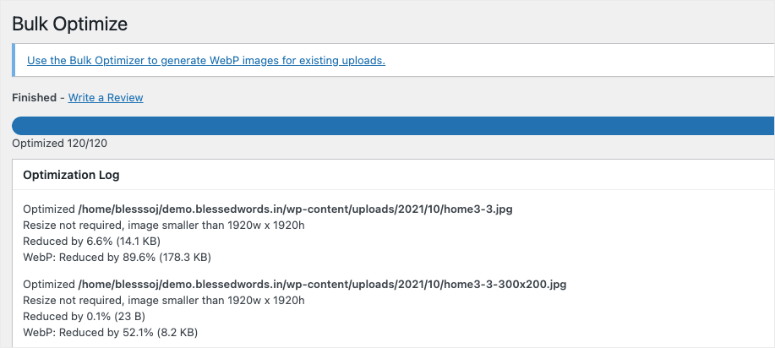 That's it. You've successfully optimized your website's images. Now EWWW Image Optimizer will also take care of any new image uploads.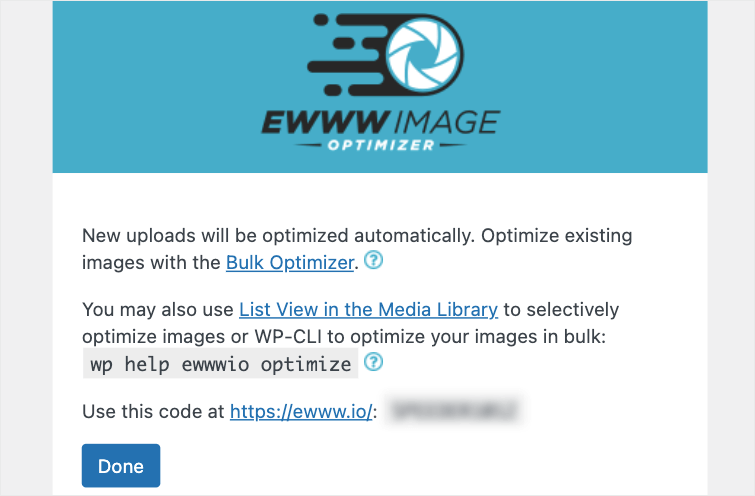 You can access the plugin anytime by going to the Settings page and then choosing EWWW Image Optimizer. Here, you can make changes as your site needs.
EWWW Image Optimizer Pro Pricing
The EWWW Image Optimizer comes as a bundle of 3 plugins: Easy Image Optimizer, Compress API, and SWIS Performance tools.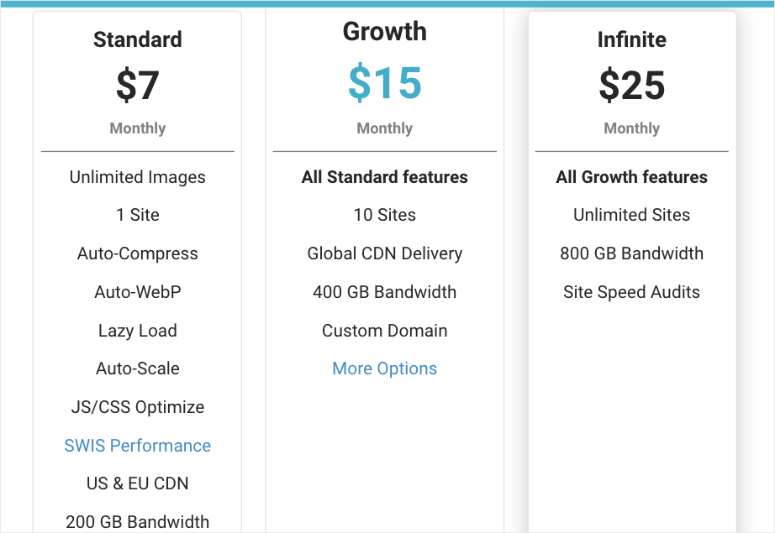 These bundles cost:
Standard: $7 per month for a single site license and 200GB bandwidth. You'll get access to features like auto compress, lazy load, auto scale, and JS/CSS optimizer. Your website will also be given access to US & EU CDNs. You pay only $70 a year if you bill annually.
Growth: $15 per month for 10 websites and 400GB bandwidth. In addition to the Standard features, you'll get Global CDN delivery and custom domains. You pay only $150 a year if you bill annually.
Infinite: $25 per month for unlimited sites and 800GB bandwidth. All features of the Growth plan are included plus site speed audits. You pay only $250 a year if you bill annually.
You can also purchase the 3 plugins separately. They cost:
Easy Image Optimizer: $5 to $10 per month
Compress API: Starts at $3 for 1500 image credits
SWIS Performance: $30 to $150 per year
There's a 7-day free trial on every plan so you can check out the plugin's features and ease of use before you make an investment.
Also, as an IsItWP user, you can get a discount on this plugin when you use our EWWW Image Optimizer Coupon Code.
Support & Documentation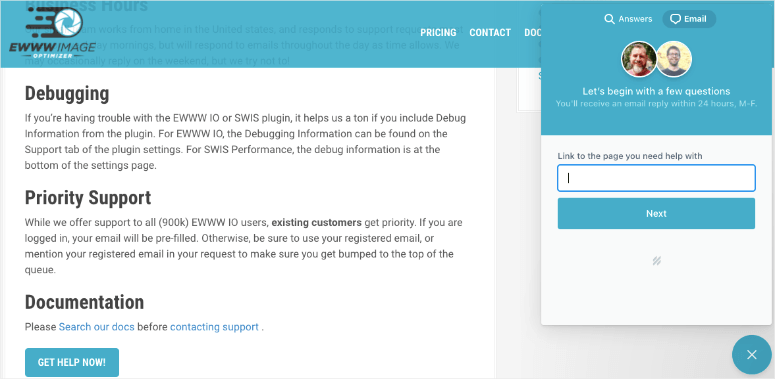 The EWWW Image Optimizer team has plenty of documentation available on their website. You can search for instant answers on how to use the plugin, override options, and explore configurations.
They also offer support through a ticket system and email. They respond actively on weekdays, and since they're a small team, they may not respond on weekends.
That said, every customer (free and paid) gets priority support.
Is EWWW Image Optimizer a Good Choice or Not?
After reviewing everthing the EWWW Image Optimizer has to offer, we can say with confidence that it's a pretty good plugin to improve the speed of your website.
The free version is feature-rich and easy to use, making it a great option for small businesses, bloggers, and beginners.
Its premium plans are priced at affordable rates so you'll get upgraded features without burning a whole in your pocket.
If you're still looking for more options, see our posts:
Our top alternative recommendation is WP Rocket. When you install the plugin on your site, it automatically adds all recommend settings for optimized speed. It also comes with a built-in image optimization tool. See our WP Rocket Review for full details.
That's all we have for you today. We hope you found our review on EWWW Image Optimizer helpful. We give this plugin 4.5/5 stars. Here's the breakdown of our scores:
Get EWWW Image Optimizer Now! »