Are you looking to improve your website's speed and performance? Do you want to know if WP Rocket actually makes your site faster?
Site speed and performance affect everything from user experience to search engine rankings. This can impact your conversions and revenue.
If you want to speed up your site effectively, the best way to do it is by using a caching plugin. Now, WP Rocket is one of the most popular caching plugins to boost your site's speed, but does it live up to its reputation?
In this review of WP Rocket, we'll test the plugin's performance, and explore its features and pricing to see if it's worth the hype.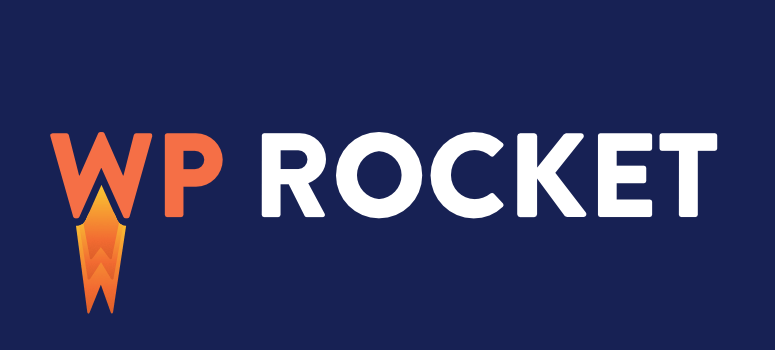 Here's a table of contents of what we'll cover in this WP Rocket review.
Why Do You Need a Caching Plugin?
When someone visits your site, their browser makes a request to your site's server to load the page. The server will then fetch the required data and send it back to the browser.
The browser then processes this data and displays the page to the visitor.
This loading process seems like it would take time. But that's something you don't have when it comes to running a website.
Users expect a site to load within 2 seconds. In fact, according to Google, when the page load time goes from 1 second to 3 seconds, there's a probability of a 32% increase in bounce rate.
And when it increases to 5 seconds, the bounce rate can increase to 90%!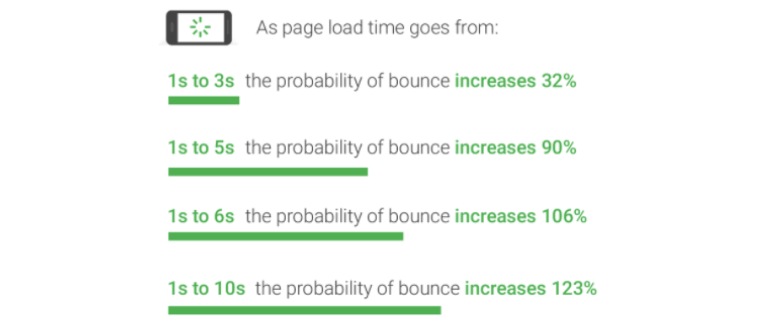 That's a huge loss of visitors just for a few seconds.
So no matter what, faster is better.
Now, there are plenty of ways you could increase your site's speed such as making it leaner with minimal images.
That said, since there are a number of factors that affect your site's loading time, manually handling each one may not be fruitful.
The best way to optimize and monitor your site's speed and performance is by using a plugin that knows what it's doing.
And this where caching plugins like WP Rocket comes in to make sure your site loads in the fastest time possible.
About WP Rocket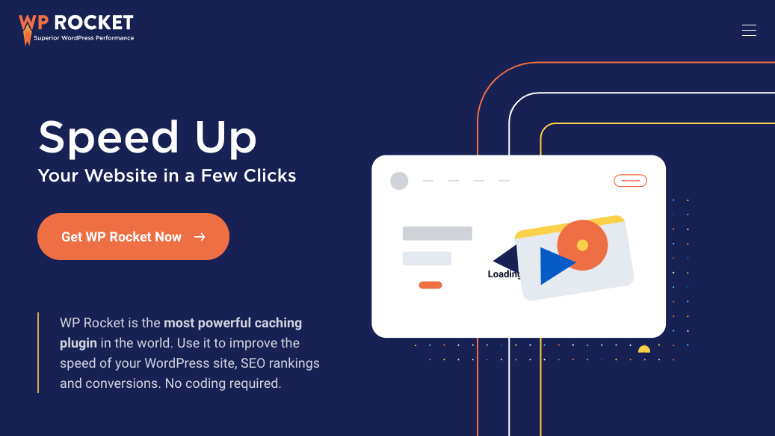 Launched in 2013, WP Rocket made it easy to boost site speed without having technical knowledge.
The plugin is simple and easy for anyone, especially beginners, to set up and use. And once installed, it instantly boosts site performance without any action from the user.
It's also loaded with features to optimize your site and make it faster.
Today, WP Rocket has been installed on 3+ million sites.
Can WP Rocket Actually Make Your Site Faster?
Before we delve into the features and pricing of WP Rocket, we wanted to check if it actually works.
WP Rocket says it applies 80% of web performance best practices when you install the plugin. And this instantly changes the speed of a website.
So can you actually boost site speed just by installing WP Rocket?
To test this, we installed WP Rocket on two sites and used Pingdom's website speed test to see the difference before and after installing the plugin.
We haven't done anything other than install and activate WP Rocket.
Before and After WP Rocket: Speed Test on Site #1
Before installing WP Rocket, our first site performed quite poorly with a C-grade performance. This is largely due to the page size being 3.9 MB. The load time was 1.06 seconds which is not too bad but the site could definitely use some improvement.

After we installed WP Rocket and ran the test again, the performance grade automatically jumped to B. There was also a drop in the number of requests made.

This is a huge difference considering all we did was install a plugin. We haven't used any other features available in WP Rocket yet.
The load time was cut down by close to half and it only took 610 milliseconds. So that proves to be an amazing boost to speed and performance.
Before and After WP Rocket: Speed Test on Site #2
Our second site was already performing well because it's a very lightweight 'Coming Soon' landing page. So we wanted to check if it would make any difference to this site that's already optimized.
Here are the site's speed test results before we installed WP Rocket. You can see that the site scored a 91 in performance grade and took 770 milliseconds to load.

After activating WP Rocket, the results were astounding. The page load time dropped to 545 milliseconds and the grade score increased from 91 to 95.

Needless to say, we were thrilled to see these results.
So now that we know WP Rocket actually does what it says, let's explore all that it has to offer.
WP Rocket Features: What Does It Offer?
When you install WP Rocket, it auto enables options that add immediate benefits to your site. So in most cases, you don't have to tweak any of the plugin's settings.
That said, let's explore what WP Rocket has to offer.
1. Page Caching
Whenever you modify your site or publish new content, WP Rocket will automatically clear the cache. This ensures your visitors see the most up-to-date version of your site.
There may be times where you want to clear the cache on your own. You can simply click on the WP Rocket button on your WordPress dashboard and select the 'Clear Cache' option.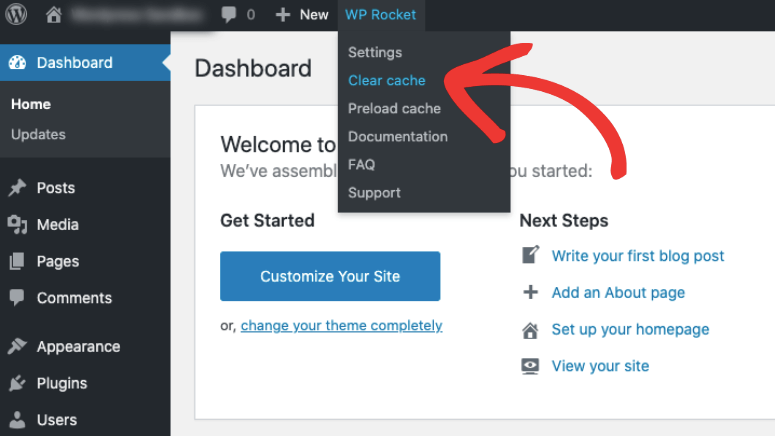 You can also access the cache settings by opening the Settings » WPRocket tab in your WordPress dashboard. You can enable caching or even create separate cache files for mobile devices.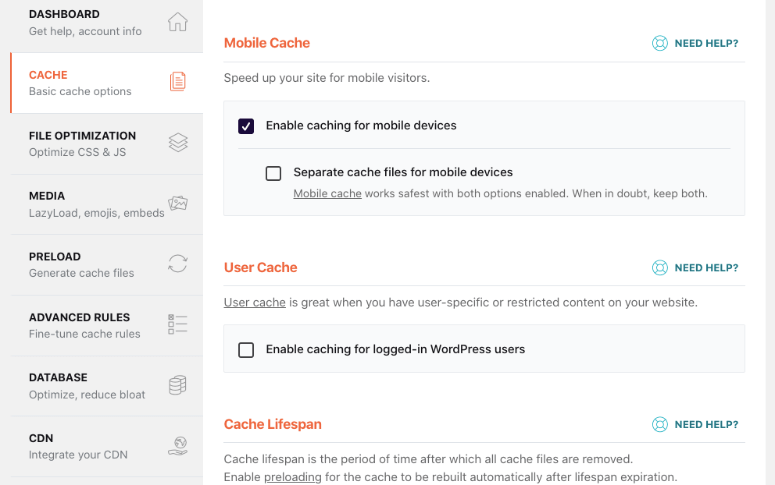 It also lets you create a separate cache for logged-in users. This is helpful if you have restricted content or a membership site where users need to log in to access it.
Added to this, WP Rocket lets you set a period of time after which all cache files are removed and new ones are automatically rebuilt.
2. Files and Database Optimization
WP Rocket lets you reduce the size and number of the files stored on your site. You can optimize HTML, CSS, and JavaScript files without affecting their functionality.
It also lets you combine Google fonts to reduce the number of HTTP requests.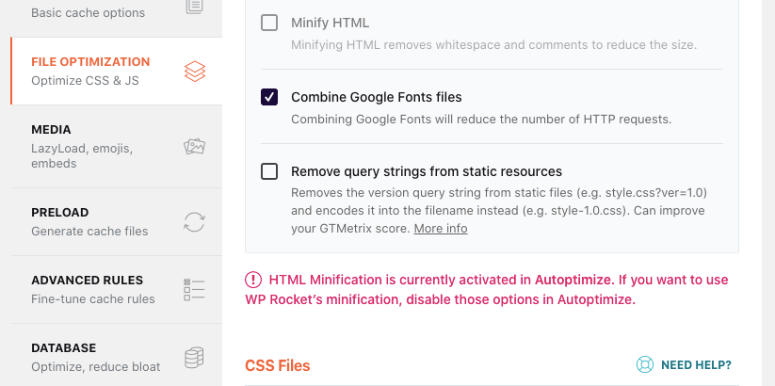 These options are a bit more technical and we recommend you leave the default settings if you aren't tech-savvy.
Next, WP Rocket also tackles your database. What you should know is that over time, your database can get cluttered with post revisions, auto drafts, spam comments, and temp files that can be deleted.
WP Rocket lets you clean up your database by selecting what you want to delete and getting rid of it all in one click.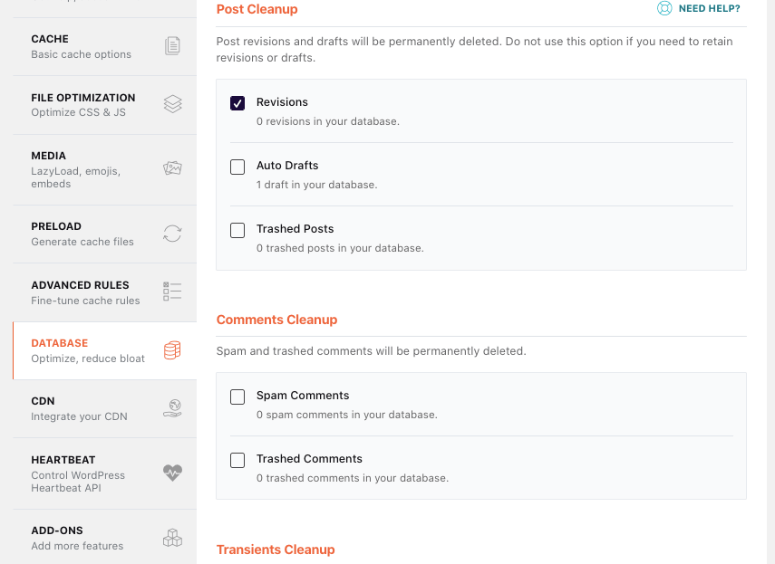 An added bonus here is that you can schedule database cleanups. So it will run automatically at regular intervals and keep your database clean and optimized.
3. Media Optimization
Media files such as images and videos can directly impact the time it takes to load your site.
WP Rocket lets you enable LazyLoad for media files to improve speed and user experience. How this works is only the content that is visible to the user loads first.
This reduces the number of HTTP requests made and thus, your site seems faster. As the user browses through your site, the rest of the content is loaded.
This way, the visitor always sees the part of your site they are on rather than a blank or half-loaded screen.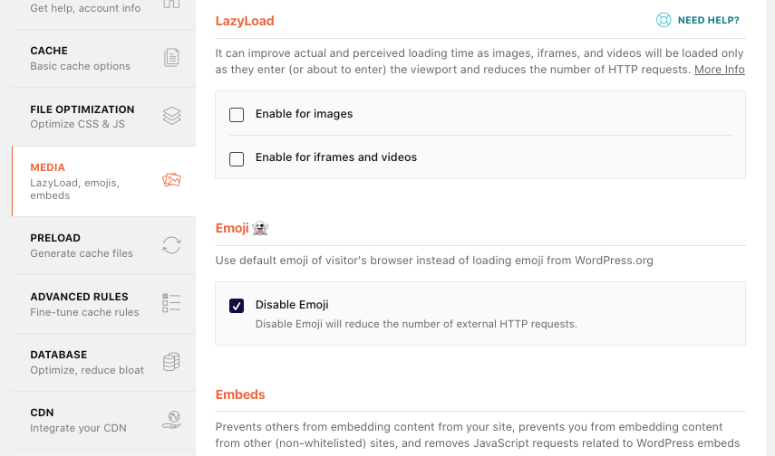 Another neat trick to reduce load time is to load emojis from your visitor's browser. This reduces the HTTP requests sent to your server.
Added to this, WP Rocket has a built-in image optimization tool called Imagify. You can use this tool to compress images and reduce file sizes.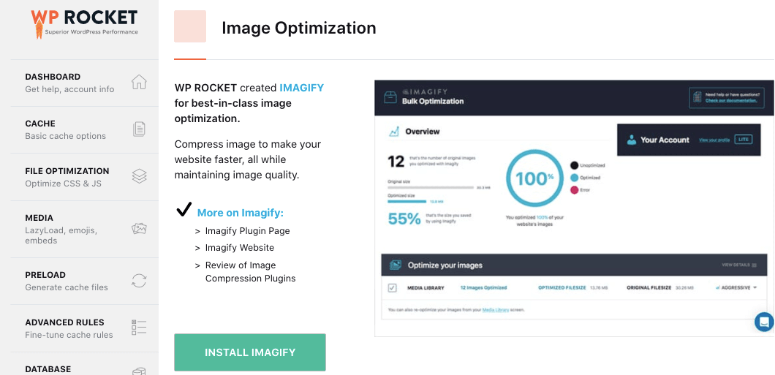 4. eCommerce Friendly
If you run an online store, you can rest assured that WP Rocket won't interfere with your purchasing process. It excludes sensitive pages from the cache so your store is optimized and you don't run into any errors.
5. High Level of Compatibility
WP Rocket is compatible with most popular themes and top plugins so it's unlikely that you'll face any incompatibility issues.
It also works great with top managed WordPress hosts and web hosts.
6. CDN Integration
CDN (content delivery network) is another effective way to boost page speed. It uses servers around the world to load your website faster based on the geographic location of the user.
WP Rocket is compatible with most CDN providers and even lets you integrate it to improve your site's performance even more.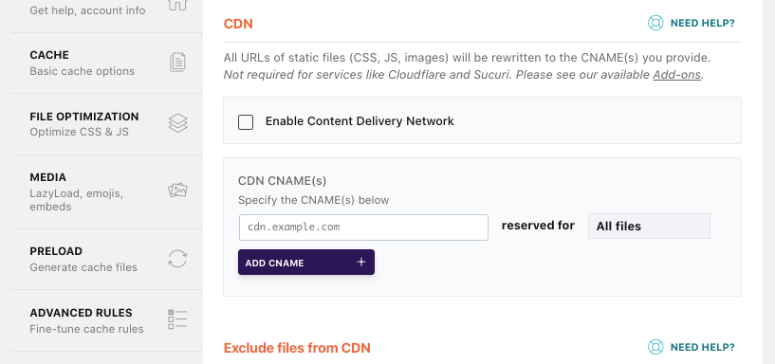 7. Addons and Integrations
WP Rocket lets you extend functionality using its one-click addons:
Google Analytics – Improves browser caching to satisfy page speed recommendations.
Facebook Pixel – Host Facebook pixels locally on your server to improve page speed.
Varnish – Clear Varnish cache when WP Rocket clears its cache so your content stays up to date.

You can also integrate with Cloudflare and Sucuri to manage your cache and API keys.
WP Rocket Customer Support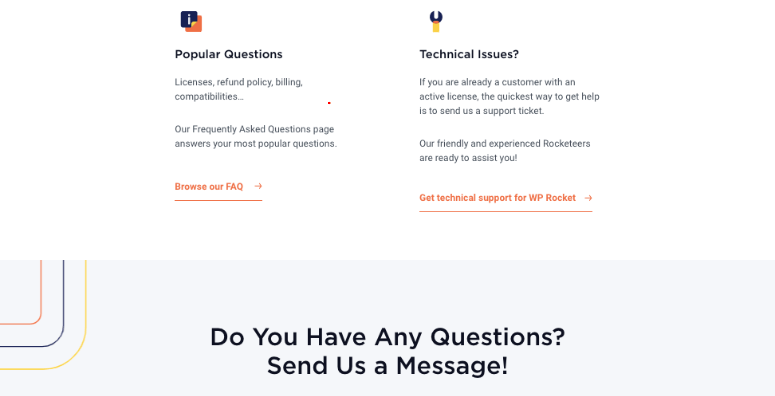 WP Rocket has a support ticket system backed by a friendly and experienced team. They will assist you with any issues your facing. You can get in touch with them 24/7.
You can also browse through FAQs, documentation, and video tutorials to learn more about WP Rocket or solve issues on your own.
WP Rocket Pricing
WP Rocket offers 3 pricing tiers to suit different business needs.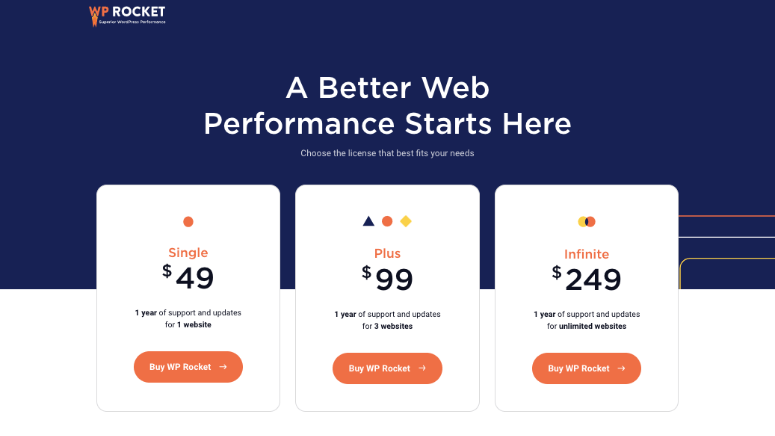 Single – $49 for a single site license with 1 year or support and updates. This is great for small business sites or if you're just starting out.
Plus – $99 for 3 sites with 1 year or support and updates. This is more suitable for growing businesses.
Infinite – $249 for unlimited websites with 1 year or support and updates. This plan is perfect for freelancers, agencies, and smart business owners who have multiple ventures.
There's a 14-day risk-free period where you can request a refund if you want to cancel your plan. So you can check out WP Rocket's impact on your site before you decide to permanently stick with it.
Our Verdict: Does WP Rocket Make Your Site Faster?
So what's our verdict on WP Rocket? Is it worth your time and money?
We think so! Just the speed test was enough to convince us about the powers of this plugin. Here's what we really loved about WP Rocket and we think you will too:
It's easy to set up and use. All you have to do is install and activate the plugin on your site and it works its magic for you.
Plans are affordable so it suits businesses of all types and sizes.
It's eCommerce friendly so you can use it to optimize your store without any worry of disrupting your UX.
It has built-in features like image compression and lazy load so you don't need to install multiple plugins.
It works well with most themes and plugins so you're chances of facing incompatibility issues are really low.
There's nothing that we didn't like about WP Rocket. It was simple, clean, and does what it says it does.
Ready to try it yourself? Get started with WP Rocket today!

We hope this review helped you decide whether WP Rocket is a good fit for your site. If you liked this post, then you may also want to see More Ways to Boost WordPress Performance & Speed.
And if you want to check your site's performance, you can use our free Website Speed Test Tool.
Get WP Rocket Now »