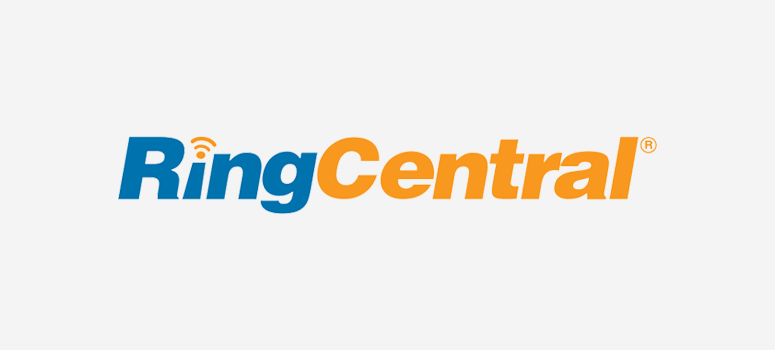 Are you looking for a business phone service?
For any business to grow fast, it's important to engage with users and build a strong relationship with your new leads. For many business models, this requires a good phone solution to connect with customers.
And one of the most popular business phone solutions on the market is RingCentral:
RingCentral provides creative products and solutions to build communication with customers. This includes video, message, phone, virtual engagement, conference calls, and other services.
In this RingCentral review, we'll walk you through their features, pricing, discount offers, and much more. By the end of this post, you'll be able to decide if RingCentral is the right business phone service to communicate with your users.
Since this is a long article, we created a table of contents to navigate to any section easily.
Table of Contents
Let's get started.
RingCentral: Overview
RingCentral is a popular business phone solution offering a platform for your team and customers to communicate without any disruption.
It's super flexible and easy to set up in just a few clicks.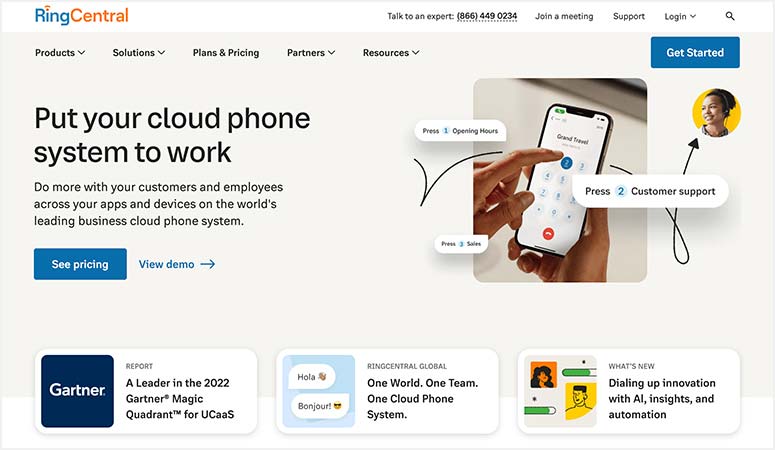 Let's start by looking at the top features of RingCentral's business phone service.
RingCentral Features: What to Expect
RingCentral provides business communication and customer service products. It's a 1-stop solution for small businesses, enterprises, service providers, developers, and any other business niche.
It also offers solutions based on your need to communicate with customers. Whether you're a remote team or a government office, RingCentral has a business communication solution available for your team.
1. RingCentral MVP
This is a trademark solution and a complete package with messaging, video calls, conference meetings, and phone calls. You can set up RingCentral MVP on any device and take charge of your business communications.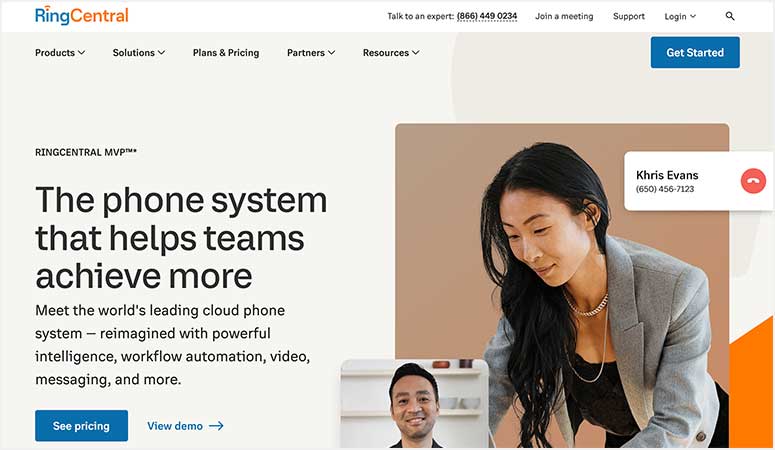 This all-in-one workspace is designed for small to large teams with modern infrastructure to stay online 24/7 and never let you miss an opportunity to connect with your audience.
For business meetings, it provides video conferencing with up to 500 people connected at the same time. Plus, RingCentral has a 1-click screen sharing option from your desktop, mobile, applications, websites, files, and so on.
If you have a larger audience to connect with on a conference call, RingCentral's audio conferencing feature instantly connects with up to 1000 people in the same call. This also includes local dial-in support.
You can create rooms to connect and collaborate from any device connected to the RingCentral servers from around the world. If you want to host a webinar, it offers a RingCentral Webinar option to educate your potential leads and transform them into customers.
RingCentral MVP comes with a cloud phone solution that integrates with popular apps to improve your business calling and user management.
Moreover, a toll-free or vanity number is an additional feature to allow customers to connect with your team. You can easily set up extensions and link them with your team members' devices.
Within the RingCentral MVP solution, you get a team messaging option to share files, send SMS messages, assign tasks, and so on. Your team can also set up message alerts on voice and fax messages from customers.
RingCentral is a secure and reliable business phone service. Admin has full access to assign roles, grant permissions, revoke permissions, and manage a business communication's security policy.
The analytics portal provides several reporting tools to monitor the progress of your communications. It also shares performance reports on missed calls, average answer speed, number of refused calls, and custom KPIs.
With live reports on your business phone dashboard, you can keep an eye on individual performances and overall customer journey with your team.
2. Team Messaging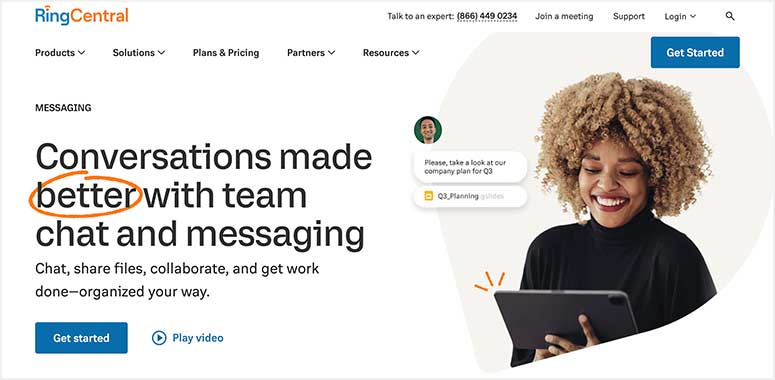 Regardless of where your team is located around the world, RingCentral's standalone team messaging feature provides a platform to connect, talk, and do the work together. It has team organization tools, including projects, topics, and more.
A team member can message a customer or another member to create a conversation anytime. It has a drag and drop option to share files, documents, and more. You can also connect third-party tools like Google Workspace for better communication.
Once you're connected to the RingCentral server, you can send business messages from your phone using the RingCentral number. This will keep your private number and identity safe. For every conversation, it creates archives that you can access later to not miss out on your last conversation with a customer.
Other top-notch messaging features include a rich text editor, emojis, message threads, group chats, SMS alerts, and so on.
Finally, RingCentral team messaging has a built-in task management system, so you can assign tasks, update task status, and remain well-informed on your business activities.
3. Video Meetings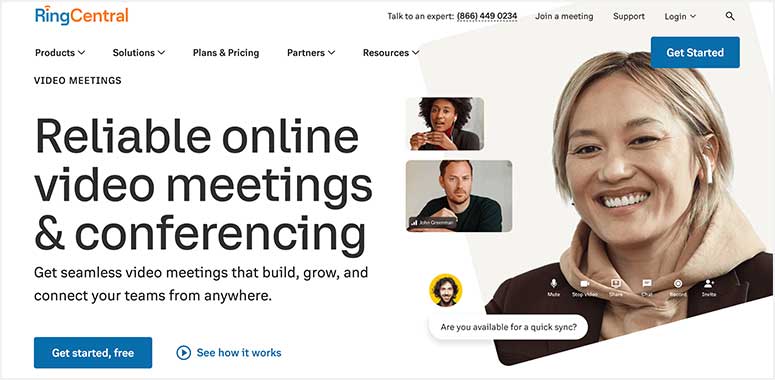 Video conferencing is more important now than ever. RingCentral's video solution is an advanced business communication feature to invite up to 200 people on a video conference call by sharing a link via email or text message.
Your team members or customers can join the video call by clicking on the link. This doesn't require the customer to download any app. However, if you're using the RingCentral Desktop App, you can connect to video meetings quickly. We'll talk more about the app below.
This is the ultimate solution with an HD video calling feature. RingCentral boasts a clear and reliable video stream along with high sound quality for video conferences.
The best part about the video calling option is the password-protection feature. You can control who can join your meeting by adding a password to your video conferences.
Plus, you can create groups for instant video calls with a single click from anywhere. RingCentral provides a "meeting minutes" feature to keep a record of your meetings. It has a flexible task management system to assign tasks and monitor the to-do list using your RingCentral app.
More features include live switching from audio to video call, meeting records on the cloud, device switching, screen sharing, unlimited video conference time, noise cancellation, layouts, backgrounds, screen modes, and real-time insights.
4. Cloud Phone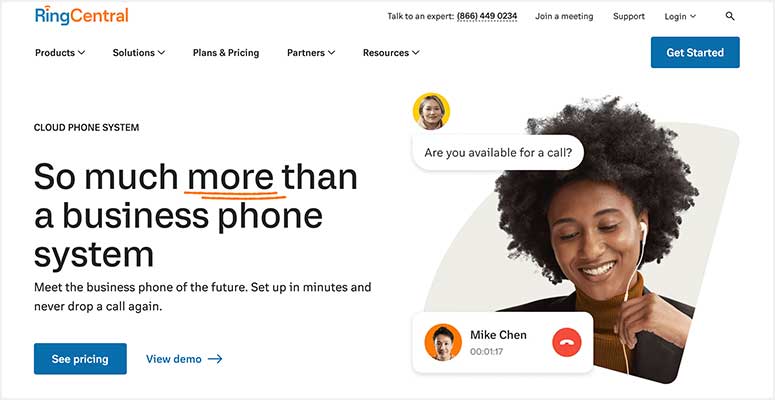 The modern business phone system by RingCentral is a premium solution to connect with your customers. It lets you set up a business phone number to make calls from your phone without letting the receiver know your location.
If you don't want an additional number, it allows you to transfer your personal number to your RingCentral account.
The RingCentral admin portal helps manage the service quality, usage, and dynamic call routing within the same dashboard. If you miss calls, you get voicemail transcripts automatically.
You can also switch calls between your desktop and mobile apps with a single tap to fully control your communication with customers. It comes with hundreds of local area codes to build your presence in the community.
5. RingCentral App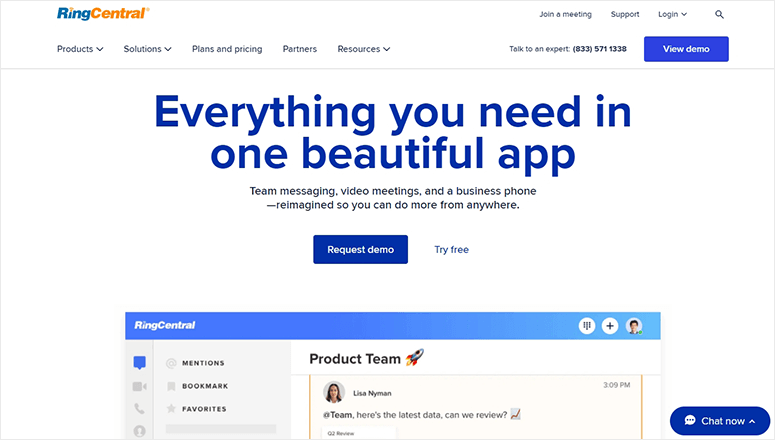 The desktop app is a new and modern system to manage your team messages, video calls, and phone calls from a single app. It keeps track of all your conversations in an intuitive dashboard. The app is easy to navigate and will improve your business communication strategy.
The RingCentral Desktop App integrates with hundreds of tools and applications, including Microsoft 365, Google Workspace, and so on. It has a fast search engine to find messages, files, and team chats.
RingCentral Plans and Pricing
RingCentral's pricing is divided into RingCentral MVP (full board) and RingCentral Video (team messaging and video meetings only) packages.
Let's look at the pricing plans one-by-one.
RingCentral Office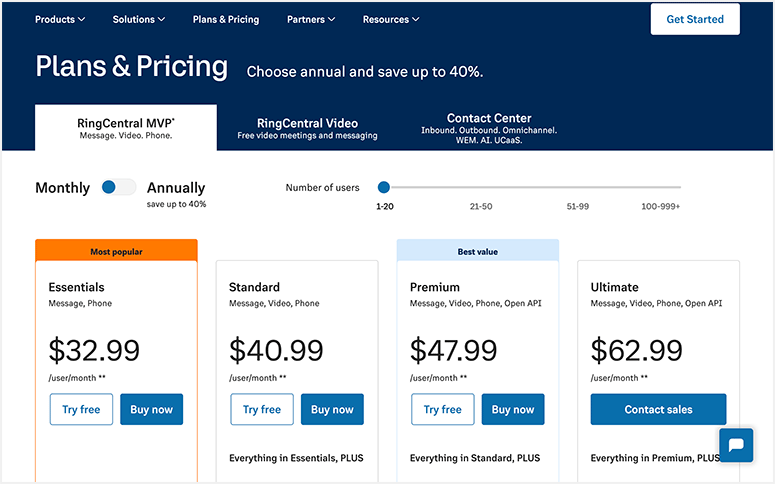 RingCentral MVP's pricing is on a per-user basis. It offers 4 plans, and each plan covers different features, giving you more tools as you upgrade your plan.
For up to 99 users:
The Essentials plan costs $32.99 per user per month (only available for up to 20 users)
The Standard plan costs $40.99 per user per month
The Premium plan costs $47.99 per user per month
The Ultimate plan costs $62.99 per user per month
If you have more than 100 users on your RingCentral account:
The Standard plan costs $35.99 per user per month
The Premium plan costs $45.99 per user per month
The Ultimate plan costs $55.99 per user per month
It also provides addons to extend your business phone system:
Additional toll-free or local numbers cost $4.99 per user per month
Additional vanity numbers cost $30 (a one-time fee)
Additional international numbers cost $5.99 per user per month
Additional international toll-free number costs $14.99 per user per month (you can also pay $25 as a one-time fee and use as many international toll-free numbers as you need)
RingCentral Video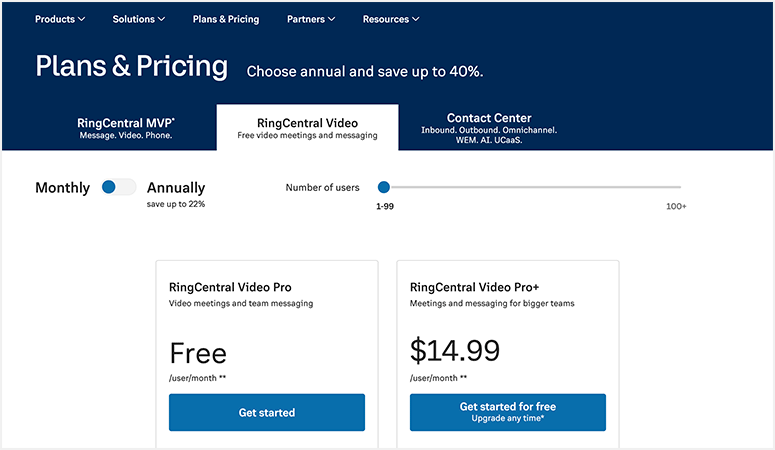 RingCentral Video has 2 plans: Video Pro and Video Pro+.
The Video Pro plan is free, with no credit card required. It comes with basic features and lets you host up to 100 participants.
The Video Pro+ plan costs $14.99 per user per month. It provides 10 GB of cloud storage to save video call recordings, built-in app integrations, and more.
For each plan, there's a free demo video that you can look into before making a purchase.
For any RingCentral plans, if you choose to pay annually, you'll get 40% OFF on your bill.
Moreover, RingCentral offers a 15-day free trial.
In this free-trial period, you get full access to the RingCentral phone cloud system for up to 15 days for a maximum of 5 users. However, it's limited to 50 minutes of talk time per user. If you cancel your account before within 15 days, RingCentral will not charge you any amount.
RingCentral Customer Support & Resources
RingCentral has dozens of resources and support channels to help you set up the phone system for your business. This includes product-based videos, community forums, notes, file downloads, tips, how-to guides, and much more.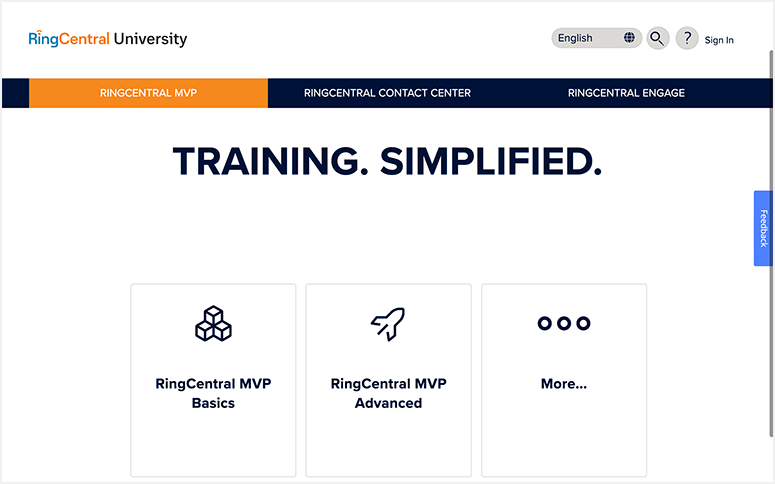 For further support, you can join RingCentral University to access free content, including webinars, video guides, courses, and training catalogs. These resources are well-managed and up-to-date to learn about all RingCentral MVP features.
The best part about RingCentral support and resources is that all the content is available in multiple languages. If you have more questions, you can contact the RingCentral support team.
Our Verdict: Is RingCentral Phone System Worth it?
RingCentral is a high-quality cloud phone system for any business niche. It lets you connect with thousands of users on the phone through text messages, video conferences, video calls, and more.
If you have a large team, RingCentral is a little expensive for phone service. When you add team members to your RingCentral account, the cost increases significantly. We recommend taking advantage of the 15-day free trial to understand the platform and see if it suits your unique needs.
And that's all for today! We hope this RingCentral review has helped you learn about the popular business phone service.
You may also want to check out our Nextiva review.
Nextiva is a popular business VoIP phone service for small businesses and makes a great RingCentral alternative.
Reading our Nextiva review will help you compare the features, pricing, and plans. That way, you can easily decide which phone service is right for your business.