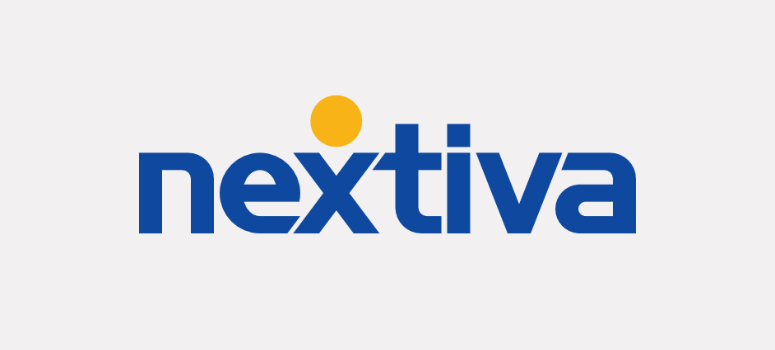 Are you looking for a business phone system? Do you want to know if Nextiva is reliable and worth it?
Nextiva is a leader in the VoIP market and has helped several businesses solve their support problems.
In this review, we take a look at what Nextiva has to offer, how it performs, and its pricing so you can see if it's the right choice for your business.
Here's what we'll be covering, so you can use the quick links to jump ahead if you want.
Nextiva: A Brief Overview
Launched in 2006, Nextiva is a VoIP (voice over internet protocol) company that focuses on cloud-based communication.
They offer business communication solutions such as phone services, video conferencing, and collaborations. And they also have customer management services such as automation tools, sales CRMs, and help desks.
Nextiva has raving reviews and thousands of happy customers. It's no surprise that in 2020, U.S. News ranked Nextiva the best business phone system.
Why Choose Nextiva for Your Business?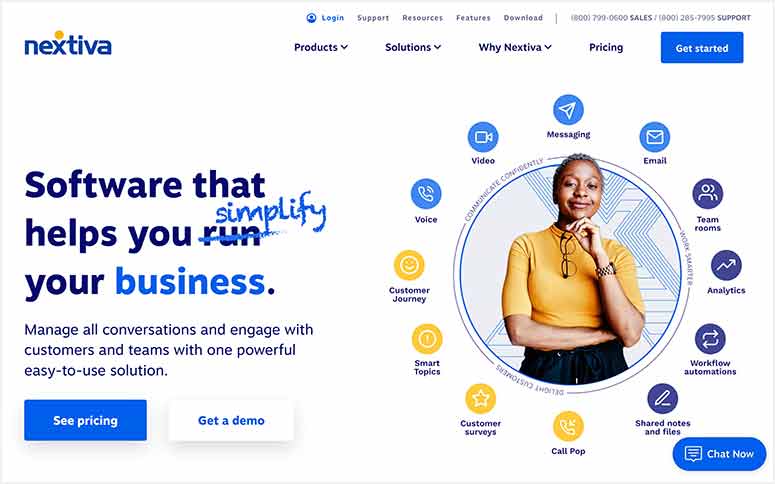 Nextiva is one of the most popular business phone and call forwarding services for small businesses. It's easy to use, affordable and offers amazing features.
Here's what you'll love about Nextiva.
Business phone numbers that are toll-free with call routing, transfers, forwarding, and voicemail
SMS, voice, and chat to communicate on every channel customers love to use
Videos and collaborations to connect with teams and customers in one place
Analytics to get deep business and customer intelligence to build better relationships with every customer. It gives you insights to know everything about customers and their past interactions with you so you can serve them better.
Automate repetitive communication tasks to simplify the workday. Send emails, surveys, auto-responses, and more.
Nextiva takes care of everything you need to build a robust customer support system for your business.
What Does Nextiva Offer?
Nextiva is a total solution for business communications as it combines all communication channels. It gives you access to applications, intelligence, and automation on a single platform.
Nextiva offers four main services:
We'll take a deeper look into each one to get a better understanding of what Nextiva is all about.
Business Phone System
Nextiva offers a cloud-based VoIP phone service that's easy to set up and use. It simplifies the technical stuff so even beginners can use it without any trouble.
It has a drag-and-drop flow builder to create and improve your workflow.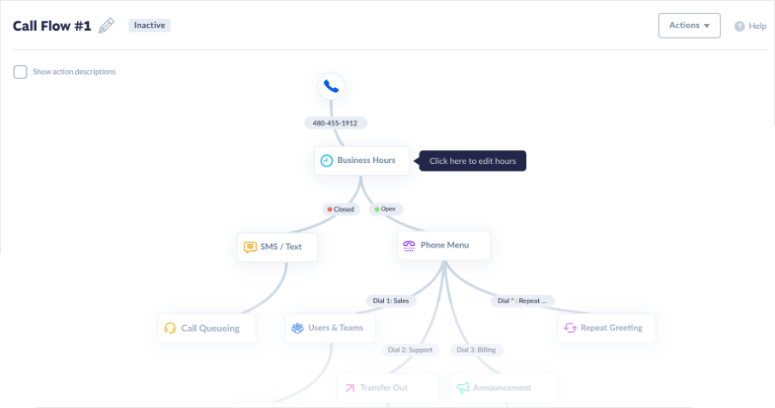 It comes with a Call Pop feature that gives you insights into customers before you take your call. So you can know why they're calling you and what interactions they've had with your business. You can check how they've rated their experience and access any surveys they've filled out for you.
Here's what stands out about Nextiva's phone system:
Proven reliability with 99.999% uptime
Enhanced privacy with TLS and SRTP encryption
Easy to use desktop app for both Windows and Mac
Send text messages from your mobile
1-click conference calling from a mobile
Nextiva App
The Nextiva app makes instant communication easier. You can access contacts and teams easily to start conversations with individuals and groups.
And it lets you start calls, conferences, and chats and share screens and videos at the click of a button.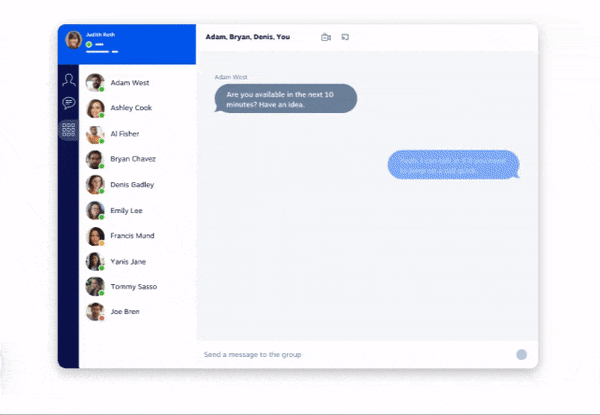 The Nextiva app is accessible on desktop and mobile, so you can switch between devices seamlessly.
Here's what you get with the mobile app:
Create local or custom business numbers with customized called ID
Unlimited voice calls from computer or mobile using your business number
Voice and video conferencing
Share screen in a virtual room
Call routing to send inbound calls to the right people
Manage, view, and listen to voicemails from the app or email inbox
Auto attendant so callers can select which department they need to speak to
Video Meetings and Screen Shares
Nextiva lets you create video meeting rooms for any size team. It has scalable plans so you can upgrade as your business grows.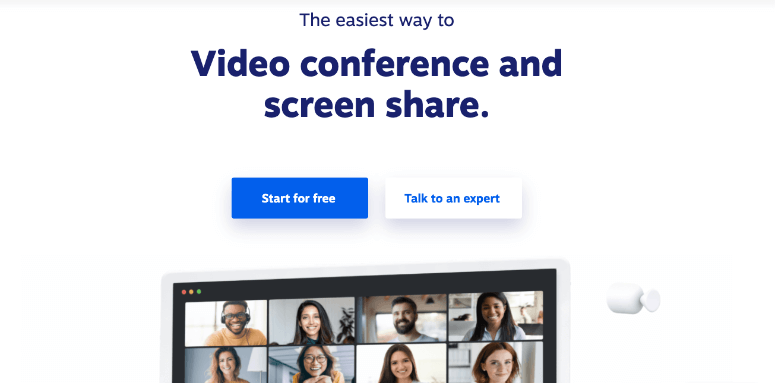 It also has completely secure and encrypted screen sharing and file sharing features. So team members can collaborate across remote offices or workspaces. Members can share ideas, pitches, and important information with each other.
And if you want to host virtual events and workshops, Nextiva videos lets you easily set up, manage, and run live streams.
CoSpace Team Collaboration
Nextiva offers Cospace which is a communication tool that keeps everyone in your company connected.
You can bring together teams in the same office or workspaces across the globe.
It lets you create group chats for teams to share messages, work updates, files, and links. It helps organize everything and carry on a consistent conversation, so everyone is on the same page.
You can also invite clients, freelancers, or 3rd party vendors to your group. It uses an instant invite where the person doesn't need to download anything.
Here's what you'll love about Cospace.
Call, chat, and share files from your desktop or mobile
Organize teams for easier collaborations
Track tasks, due dates, and notifications easily
Track and schedule meetings and reminders
Cospace makes it easy for teams and businesses to work and collaborate from anywhere at any time.
And with that, you know what Nextiva has to offer. In a nutshell, it takes care of customer support as well as team collaboration.
Nextiva Customer Support
Nextiva has an in-house support team that's friendly and helpful. They offer support through live chat, ticket system, email, and phone.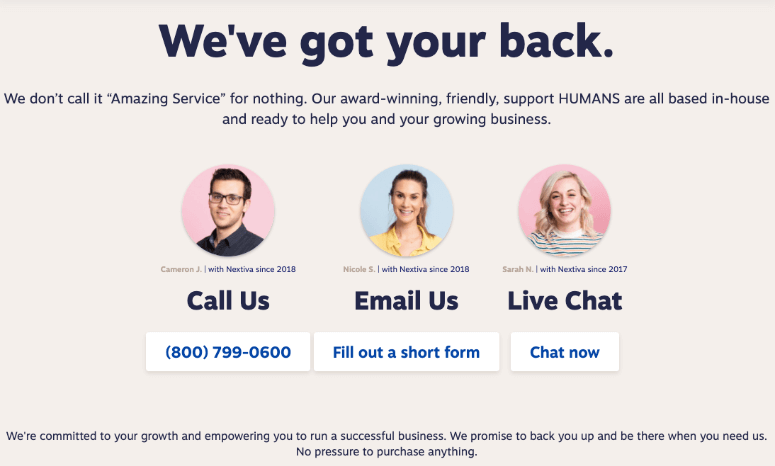 You can contact Nextiva to resolve any issues you're facing or just to get help with setting it up or to explore new features.
Nextiva Pricing
The pricing depends on the number of users you have. The best and most popular plans are for 20 to 99 users. So we'll check out the pricing plans for this range.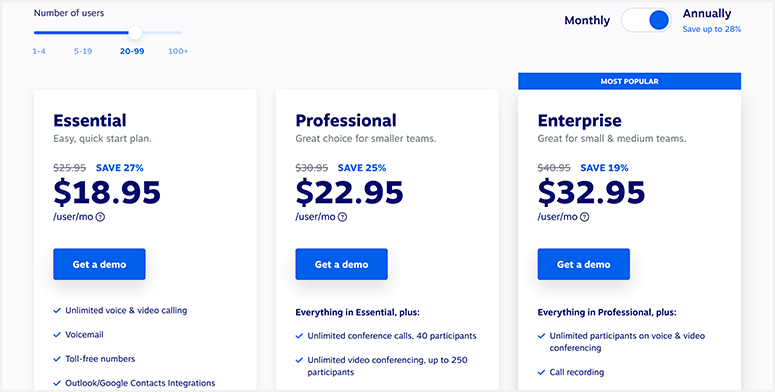 There are 3 plans you can choose from:
Essential – Starts from $18.95 per user per month and is ideal if you're just getting started. It gives you access to unlimited video and voice calling. You also get the auto attendant and toll-free numbers. It integrates easily with Outlook and Google contacts. You also get access to the mobile and desktop app.
Professional – Starts at $22.95 per user per month and is great for smaller teams. In addition to the essential features, you get conference calls and videos, Call Pop, business SMS, and more integrations.
Enterprise – Starts at $32.95 per user per month and is great for small and medium teams. You get unlimited access to all features along with analytics, voicemail transcriptions, single sign-on, and extended integrations.
You can get a good deal if you take a longer contract period. And if you have specific needs, you can contact Nextiva to customize your package.
Nextiva Coupons and Discounts
At IsItWP, we work hard to negotiate exclusive discounts on your behalf. You can get the best deal on Nextiva using our coupon code.
You don't need to enter a code at checkout. The best price will automatically be applied.
Nextiva Alternatives
If you're looking for more options for your business communications, here are 4 good alternative VoIP phone services that offer competitive services and pricing.
1. RingCentral: Best Small Business Phone Services – A hassle-free business phone service that caters to businesses of all sizes. You can set up toll-free numbers with call waiting, forwarding, and call transfers. It also gives you access to a multi-line phone system, share screens, conference calls, video conferencing, and more.
2. Ooma: Top-Rated VoIP Service for Remote Teams – An affordable, contract-free VoIP business phone system that comes with a free toll-free or local number and unlimited calling in the U.S. and Canada. There's also a mobile app, desktop app, virtual receptionist, video meetings, SMS messaging, and much more.
3. Phone.com: Cheapest VoIP Phone Service – Comes with a call routing service, call forwarding, fax, caller ID, multi-line (conference) calling, and more. It has both web-based and app-based panels to manage calls online. You can integrate with CRM software like Zoho and Salesforce.
4. GrassHopper: Best Virtual Phone Service – Comes with all the standard VOIP service features like call forwarding, voicemail, caller ID, etc. You can make calls using a regular phone number or create toll-free numbers for the US, UK, and Canada. Their extensions can be used to make conference calls, which is great for inbound team meetings.
5. 8×8: Best Hosted Business Phone Service – This has fewer features than an average online phone solution. That said, they're a reliable service that's perfect for beginners. Their services include voicemail, automatic call answering, text, number sharing, and more.
Our Verdict: Is Nextiva the Best VoIP Service?
Now that we've seen what Nextiva has to offer, we can say with confidence that it's the #1 VoIP service.
It's a reliable communications solution allows you to scale your business worldwide. And it's trusted and used by over 150,000 companies, some of which are very famous and reputable.
With Nextiva, you can manage your customer support and team collaborations effortlessly.
Get started with Nextiva today!
We hope you found this review helpful in deciding whether Nextiva is the right choice for your business.
You may also want to see:
These posts have more information that will help you set up a robust customer support system for your business.