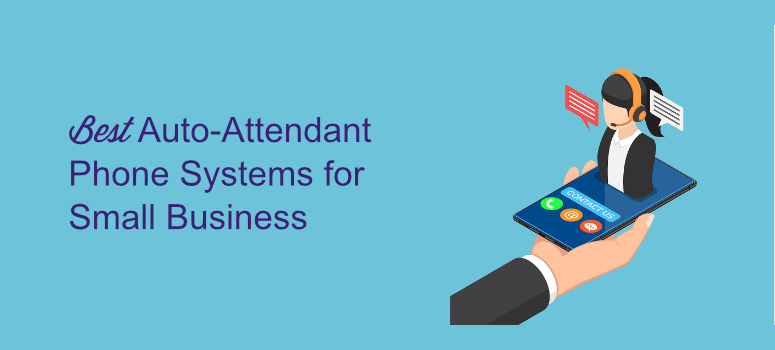 Looking for the best auto-attendant phone system for your business?
An auto attendant phone system allows callers to be transferred to an extension, phones or voicemail boxes automatically without going the need of a telephone operator. In this article, we'll show you some of the best auto-attendant phone systems for small businesses.
Choosing an Auto-attendant Phone System
Having an auto-attendant phone system helps you save a lot of money that you would otherwise spend on employing someone just to attend the phone calls. It improves the productivity and efficiency of your employees by blocking distracting calls.
Adding a voicemail can be helpful to let your callers know that you're currently unavailable and can be reached out at a particular time. Here are a few features that a good auto-attendant phone system offers.
auto-attend phone calls
call forwarding and transfering to different extensions
music on hold
call recording facility
call waiting
caller ID service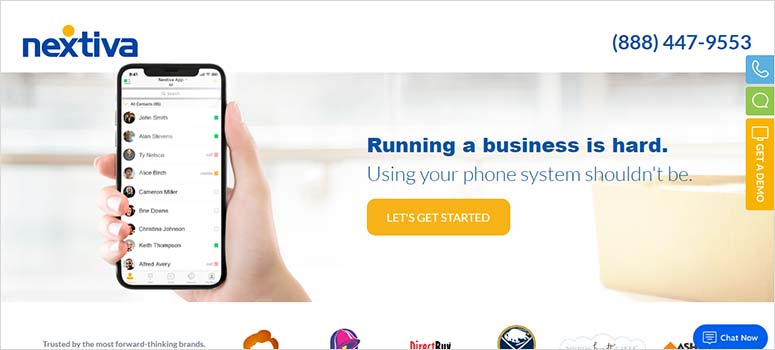 Nextiva is one of the most popular VoIP (Voice over Internet Protocol) phone systems that can be a perfect option for your small business. Nextiva comes with amazing features to help you streamline your calling system. You can use it not only to auto direct your calls to a pre-specified number but also for making conference calls.
With Nextiva, you don't have to worry even if you want to change your number. It offers easy number portability options for its users. You also have the option to put your calls in the queue in case the number is already engaged with another caller.
Nextiva is available with various pricing plans. The essential one starts at $17 per month per user which is a good option if your company is a small one. For larger companies, they have the professional and the enterprise plans.
Looking for the best deal on Nextiva? Check out our Nextiva coupon for the latest discount.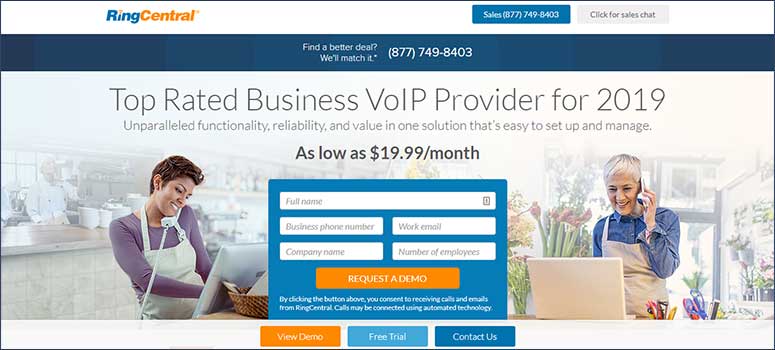 RingCentral is another leading and powerful auto-attendant phone system for organizing business calls. This option is easy to use, affordable and offers various ways to connect to your customers.
It lets you use one number in several devices so that it's easy for you to attend your calls from anywhere and at any time. It also lets you conduct high-quality web, audio and video meetings with your clients. If your business needs to send bulk SMS to your clients, RingCentral lets you do that as well.
With its advanced call management system and analytics, you can also gain in-depth insight in real-time. In case you face a problem with its service, you can get in touch with their friendly customer support team.
You can get the best RingCentral discounts in our Deals area.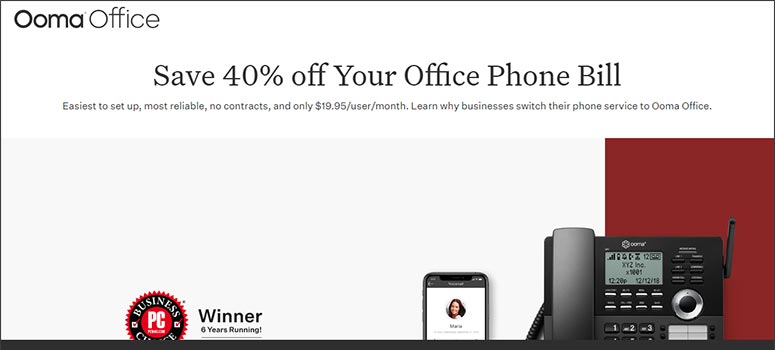 Ooma is another powerful communication service provider that can make your business communications easy and reliable. At just $19.95 per month per user, this service provider offers some really cool features to its users. From letting you use the most efficient virtual receptionist, to extension dialing, conferencing, and music-on-hold it offers everything for you.
The Ooma application enables you to accept calls from your mobile phone in case you aren't available at the office. So no matter where you are, communication with your clients can always be a smooth process. It also lets you choose a toll-free number or port your current number for free.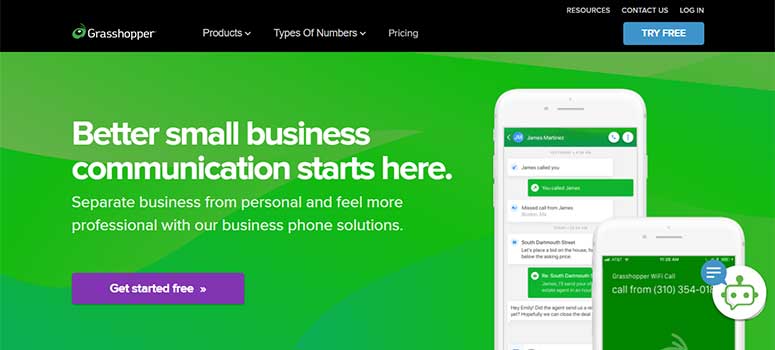 Grasshopper is another auto-attendant phone system that lets you improve your business communications with your customers. With Grasshopper, you can easily avail different types of numbers for your business. This can be a toll-free number or vanity numbers whichever you prefer. By opting to choose such a number, you can make your brand look more professional.
It's easy to configure your settings and get started. Just pick a plan and select your number. You can then download the app and configure the settings. You can also add a custom message to greet your callers when you receive their calls. It also has the option to let you record phone calls in case you need to use them later. With this app, you don't need to handle one call at a time. It lets you manage several of them simultaneously as well. With a lot more features, this app can be a perfect choice for your business.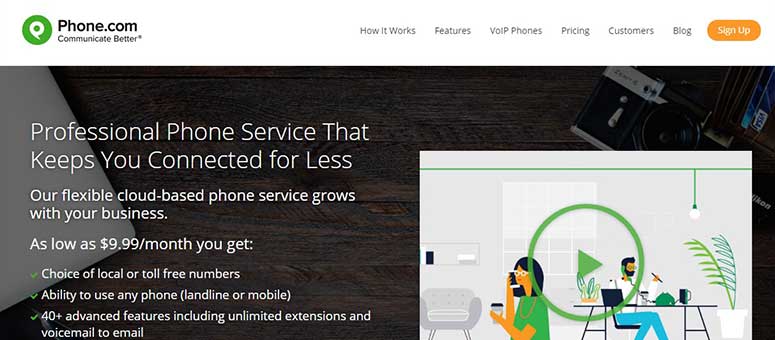 Phone.com is an efficient and reliable auto-attendant phone system for small businesses. They have an affordable plan for businesses of all sizes. This application offers all the features you and your customer need to make your calling system smooth and hassle-free. With this system, you can choose a custom phone number, conduct video conferencing, and put your system on the auto-receptionist mode.
It also offers the option for blocking or unblocking a number and adding a do not disturb mode to your system. You can also enable voice mails and use some nice music for your customers that are put on hold. The call-waiting service lets your callers know that your number is engaged with another client so they can either wait or call back later.
6. Vonage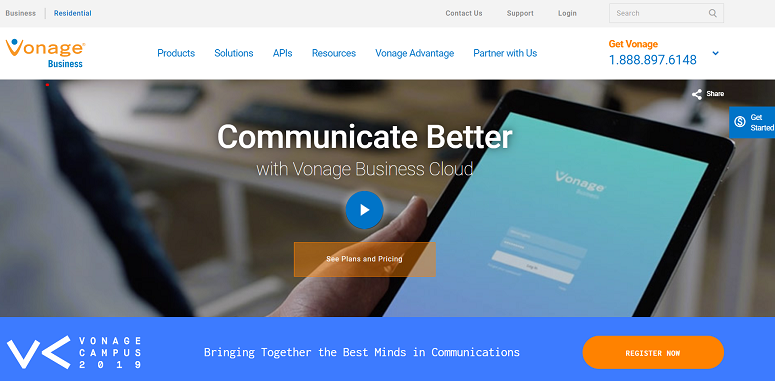 Vonage is yet another brilliant auto-attendant phone system for your business that lets you redefine your customer's calling experiences. It comes loaded with amazing features and you're going to love how pocket-friendly the pricings are. It lets you communicate with your clients with a mobile phone or a desktop whichever is convenient for you. This makes it easier for remote companies to systematize their calling system even without the use of a desk phone.
There's no limit to the number of calls and SMS you can manage. No matter which plans you opt for, you get access to unlimited calls and SMS for your business. Apart from that, you also get to use other features like multi-level auto attendant, video conferencing, file sharing, CMR integration, call recording and a lot more.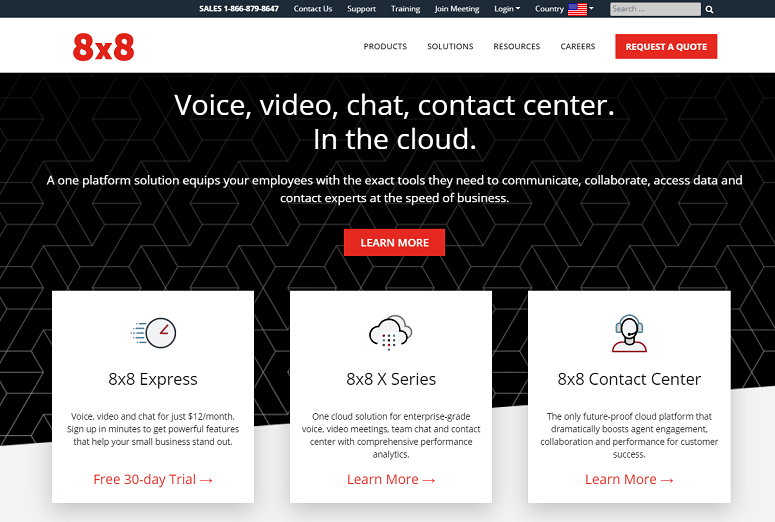 8×8 is a complete communication solution for your business. With 8×8, you can have all the tools needed to have faster and smoother communication with your clients. It lets you do it via various modes like live chat options, voice, video, etc. This system comes under 3 different pricing plans. The Express plan which also comes with a trial period of 14 days, Series plan and Contact center plan.
With this phone calling system, you can even make international calls to more than 14 different countries. Besides, you can also record your calls, add the team messaging options, analyze personal calls, and integrate your calls with SFDC, Zendesk, NetSuite, Dynamics too.
These are some of the auto-attendant phone systems that you can check out for your business. You may also want to check out our guides:
The first post will help you find more phone service options. The other 2 tutorials will help you set up a phone button and a callback form on your site to improve customer experience.