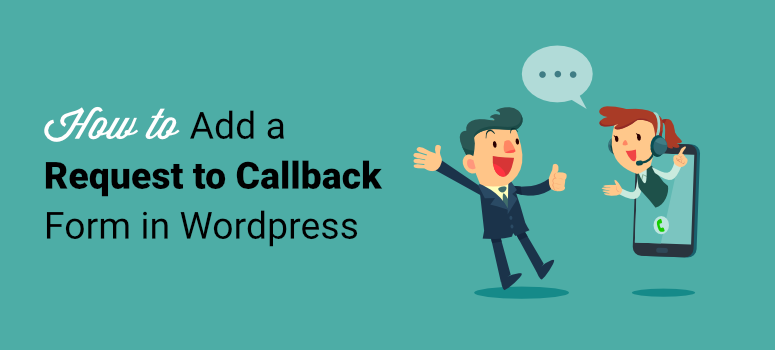 Do you want your website's visitors to be able to request a callback from you?
You can give them this option using a request to callback form. It lets them enter their phone number so you can call them back at a convenient time.
In this article, we'll show you how to easily add a request callback form in WordPress to capture valuable leads and improve conversions.
Why Use a Callback Request Form in WordPress?
Most site owners add a 'Call Now' button to their site that lets visitors connect with them instantly.

Now, though this is a popular option, there are a couple of things that go wrong with this button. People can click on it at odd hours and could be left hanging if you aren't able to take their call.
It's understandable that not all businesses can afford 24×7 support staff that's ready to answer their calls at any time. But it also doesn't set a good image for your business.
Instead of this, you could let visitors leave their contact details such as a phone number along with the best time to call them. This gives you more control over how you contact your potential leads.
Apart from better customer support, you could capture leads from people that are truly interested.
Adding a Request to Callback Form in WordPress
The easiest and fastest way to add a request to callback form on your site is by using WPForms.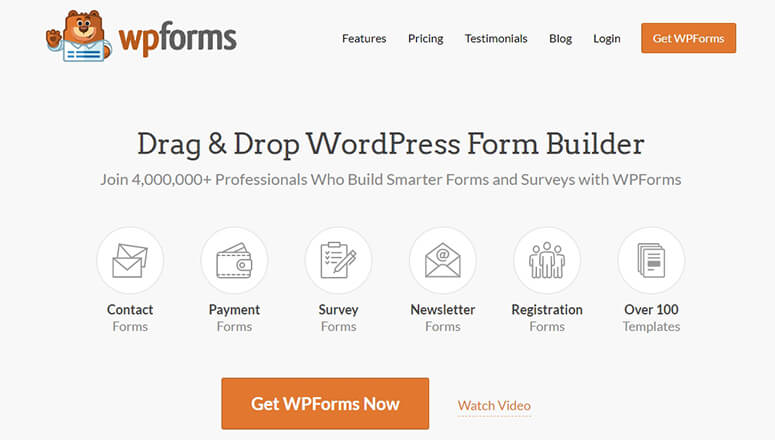 WPForms is hands down the best form builder plugin for WordPress. It lets you easily create and embed forms on your site in minutes.
Plus, it makes collecting and managing form data really simple.
Over 4 million sites actively use WPForms, so that says a lot by itself!
Step 1: Installing and Activating WPForms
To get started, simply install and activate WPForms like you would any other WordPress plugin. For more help on this, see our guide to installing a WordPress plugin.
WPForms has a free version that lets you create simple forms such as a contact form. If you want access to more cool features to create the request to callback form, you'll need to upgrade to a Pro version.
After that, on your WordPress dashboard, visit the WPForms » Settings page. Here, you can enter the license key that you can find in your account on the WPForms website.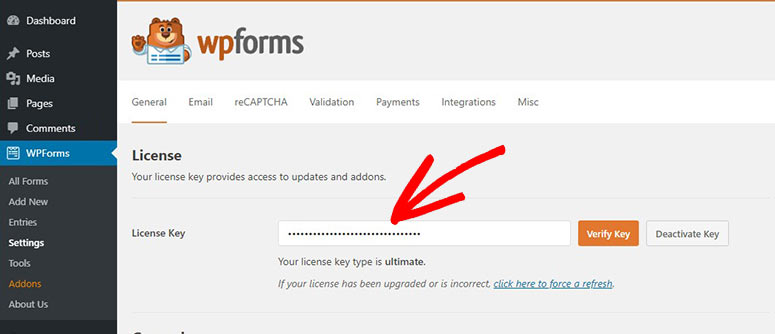 Now that WPForms is active on your site, you can start creating the callback request form.
Step 2: Creating the Request Callback Form
WPForms comes with ready-made templates to create forms for your site so you don't have to start from scratch.
Head over to the WPForms » Add New page. Now, you'll see a list of templates available. Select the Simple Contact Form since it has most of the fields that you'll need.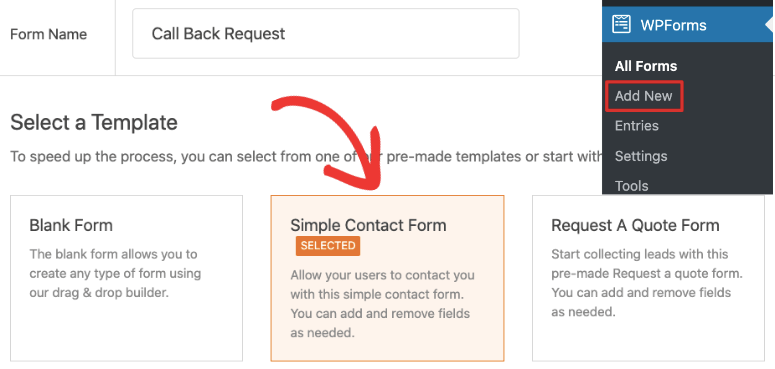 This will load a form editor where you'll see a live preview of your form along with editing options on the left. To add fields to the form, you simply need to select the field from the left menu and drag and drop it into the form.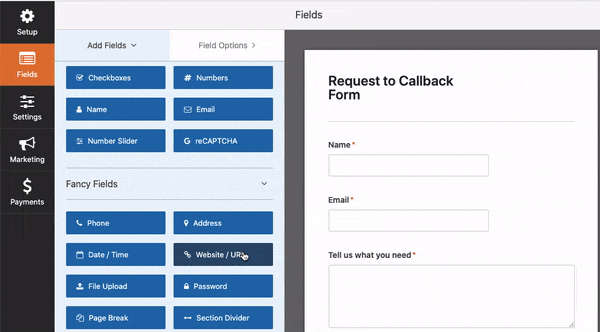 For the request callback form, we suggest adding Name, Email, Phone, and Date/Time fields. You can also add a comments section using the Paragraph Text field. This way your visitors can also give you a brief of what they need.
If you want to edit any field in the form, you can simply select it in the form preview. This will open the Field Options tab on the left where you can make changes to the field.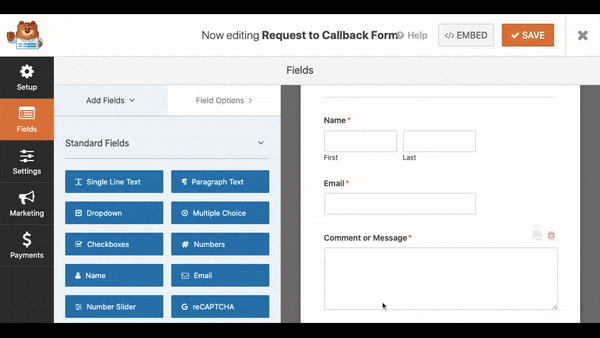 You can change the label, description, format, field size, and placeholder text. Once you're happy with the form, click the 'Save' button to store your changes.
Now your form is ready to be added to your site.
Step 3: Adding the Callback Request Form to Your Site
WPForms lets you add any form you create to pages, posts, and any widget-ready area like a sidebar or footer.
Adding the Form To a WordPress Post or Page
The first thing you need to do is edit the post or page where you want to add the form. In the post edit screen, simply add a new block using the (+) button. Search for 'WPForms' and select it.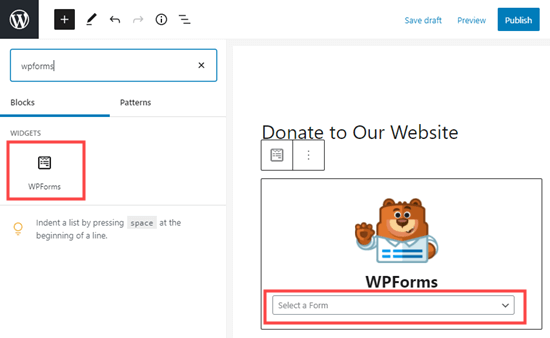 This will add the WPForms widget to your post or page along with a dropdown menu of the forms you've created. Select the callback request form and it will generate a preview of it.
All that's left to do is save or publish your post. Now, when you visit this page or post, you'll see the request to callback form in action.
If you're using the classic editor in WordPress, you'll see an 'Add Form' button in the post edit screen.

This lets you select your form and add it to your post or page.
Adding the Form To a WordPress Sidebar
To add the request to callback form to any sidebar, head over to the Appearance » Widgets page.
Simply add the WPForms widget to your sidebar and you'll see the WPForms editor appear like so: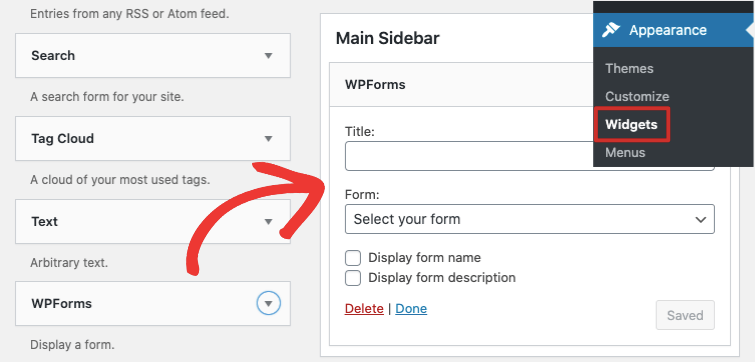 Select the request to callback form and hit the 'save' button.
Now you can visit your site to see your form embedded in your sidebar.
Step 4: Customizing Your Callback Request Form
You may want to change a few configurations and settings of the form to suit your preferences. We'll explore a few important options WPForms gives you.
Customizing Form Fields
First, you'll need to go to WPForms » All Forms page and select the form you created.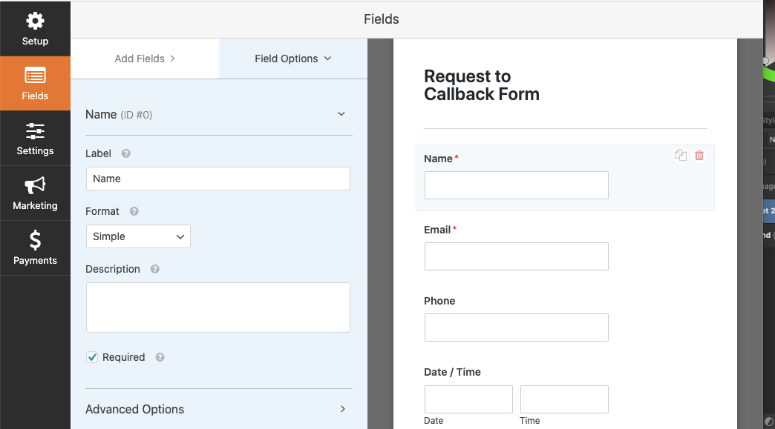 This will open up the Fields tab with the form builder. Here, you can edit, add, or delete fields.
Customizing General Form Settings
WPForms lets you change the name and description of the form whenever you need.
Switch over to the Settings tab from the left menu. You'll see a list of options to configure your form.
Under the General tab, you can change the form name, description, and button text.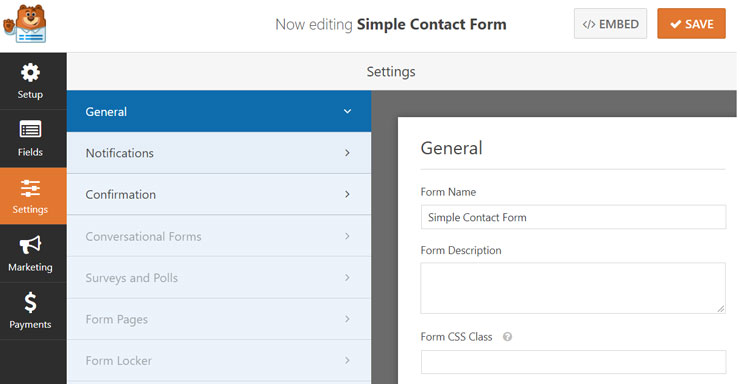 Setting Up Form Notifications
By default, when a user submits the form, WPForms will send a notification to your WordPress admin email. To change this, switch to the Notifications tab.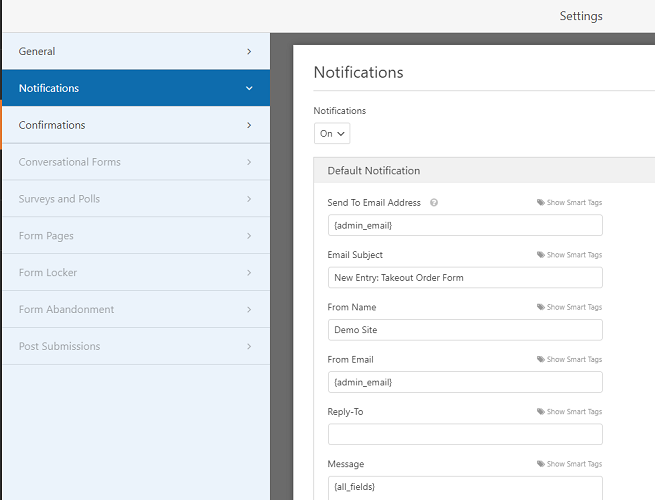 Here, you can add a different email address and also change the content of the email.
This is a great option if you have other team members who need to be notified when someone submits a form.
Changing the Form Confirmation Message
When a visitor submits the form, a thank you message is displayed to them. You can change this to something of your own.
Under the Confirmations tab, you can choose what happens when a user submits the form.
WPForms lets you display a message or direct them to another URL.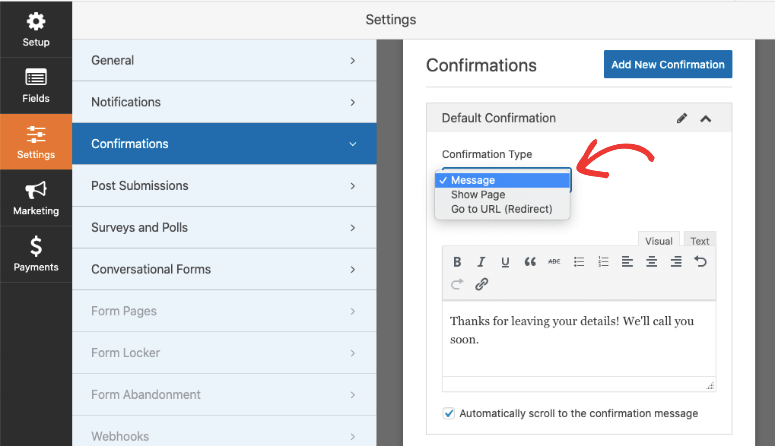 If you've selected a message, you'll see a post edit screen where you can edit the message.
Once you're happy with your confirmation message, hit the Save button to store your changes.
Now, your request to callback form is customized and ready! Go ahead and fill out the form on your site and see how it works.
Step 5: Viewing Form Submissions and Callback Requests
Notifications for callback requests can get lost in a pile of emails and you could miss out on valuable leads. To make sure that doesn't happen, WPForms saves all your form submissions to your WordPress database.
This way, your submissions are never lost and you can find a list of callback requests in one place.
To access this list, go to the WPForms » Entries page in your WordPress dashboard.

Select the callback request form to open the entries page. Here, you'll see all entries submitted by users along with their contact information.
The great thing about WPForms is that they've understood real pain points faced by site owners and have added features that really come in handy.
We're going to highlight a few helpful features:
1. You can easily organize your entries using the highlight options. Use the green circle to mark the entries as 'Read' and the star to highlight the entry as important.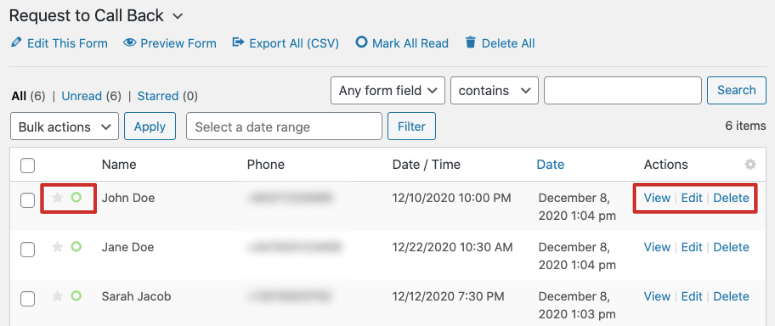 2. It lets you easily View, Edit, and Delete each entry.
3. Inside an individual form entry, there's an option to add notes to keep track of leads and follow-up requests.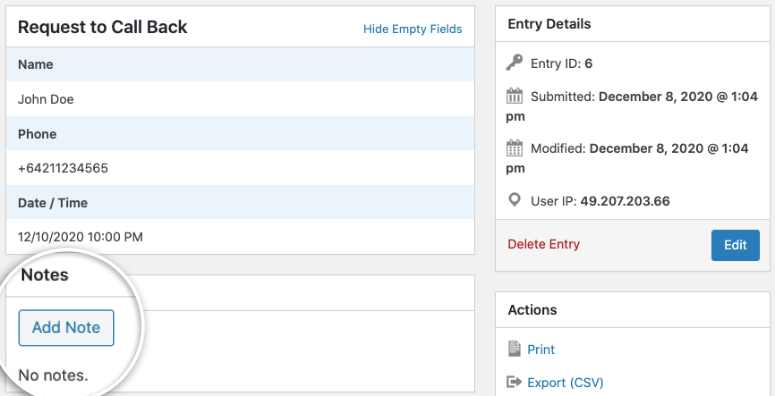 Added to all this, WPForms also gives you a basic graph of how your form is performing. You can see days on which you get the most number of requests.
This tells you when your visitors are active so you can be better prepared to handle customer support.
Promoting the Callback Request Form
Having a request callback form on your site is great! But if it's embedded on your contact page, it may be missed by your visitors.
Why not promote it in a popup on your site? This will make your form more visible in order to capture as many leads as you can.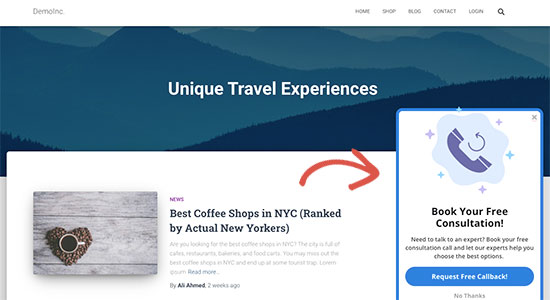 To create popups like this, you can use OptinMonster. It's the best lead generation tool on the market.
It lets you easily convert your callback form into stunning lead generation campaigns to convert visitors into leads at incredible rates.
Need proof? Check out how Medstar Media Increased Their Clients' Conversions by 500% using OptinMonster.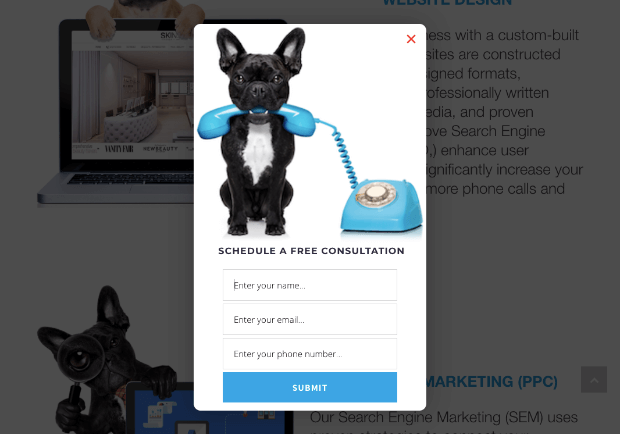 They added their request callback form to a simple lightbox popup and used OptinMonster's powerful targeting features to maximize their lead generation.
Here's what we think you'll love about OptinMonster:
Create all sorts of lead generation campaigns like lightbox popups, slide-ins, scroll boxes, and banners, to name a few.
100+ stunning templates to create full-fledged campaigns in minutes.
Integrates easily with WPForms so it's easy to add your callback form to the campaign.
Control where, when, and to whom your campaign is shown. So for example, you can show it only to people who are in your local area.
OptinMonster has powerful features like Exit-Intent® technology that can detect when a visitor is going to leave your site and trigger a popup. So if visitors didn't find what they were looking for, you can give them a chance to get a callback from you to discuss their needs further.
Plus, OptinMonster is beginner-friendly, so if you're thinking lead generation is only for big companies, think again! OptinMonster makes it easy for anyone to skyrocket leads and sales.
What to see your leads grow at incredible rates? Try OptinMonster now!
And there you have it! You've successfully created and promoted your request to callback form to generate more leads and offer better customer support.
We hope you like this article and if so, you may want to see our guides on:
All of these posts will help you improve your customer success and grow your business!