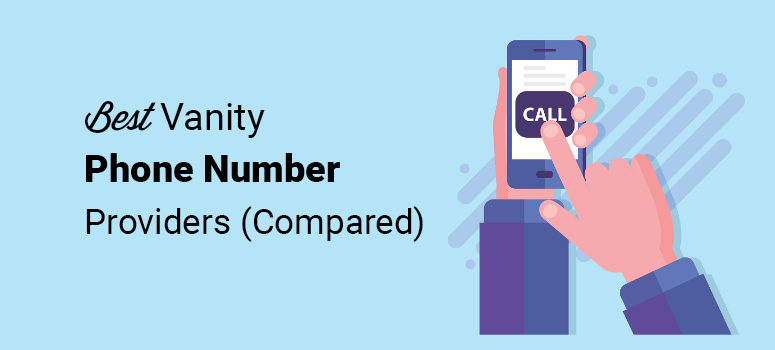 Want to get a vanity phone number for your website?
Vanity phone numbers are business numbers that are easy to remember and promote.
Generally, a vanity phone number is a mix of letters and numeric, which usually spells out the name of your company or a phrase that you use for advertisement or anything that's related to your business.
Although these numbers seem hard to get hold of, it's not as difficult as it seems to be. In this article, we'll show you some of the best places to buy a vanity phone number for your website. Towards the end, we'll tell you how to add a click to call button using your vanity number so that your visitors can call you right from your website.
How Does a Vanity Number Look Like?
As mentioned above, a typical vanity number is a combination of numeric and alphabets. An example of such a number is 1-800-GoFedEx (1-800-463-3339). It can also be a unique one like 8000-111-222 or 1222-333-444 etc. The best part is that vanity numbers are easy to remember.
Many vanity numbers are toll-free numbers. But this depends upon its availability. They are usually sold on a first come first basis.
To buy a vanity phone number, you'll first need to have a business phone service, which runs differently from your local phones. To use a business phone service, you'll need an internet connection. That's why its also called VOIP (Voice Over Internet Protocol) service.
You only need a device connected to the internet to use a modern business phone service. Basically, a computer, laptop, tablet, or mobile phone.
That means you don't need any special types of equipment. Let's now look at some of the vanity phone number providers.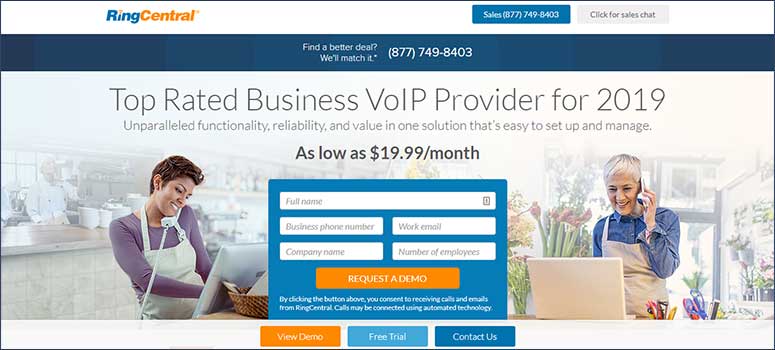 RingCentral is one of the best vanity phone number providers for small businesses. It offers amazing features like a multi-line phone system, call forwarding, call waiting, call transfers, video conferencing, conference calls, etc. You can have a vanity phone number from RingCentral by paying just a $30 extra with your plan. This is a one-time payment.
Once you sign up, you can have both your toll-free number and local number right from your dashboard itself.
What we learned from experience is that to get your vanity number, you'll have to apply for it separately. This will be approved within 10 days after which you can use a vanity number generator to come up with a unique one for your business.
With RingCentral you can also use third-party services like Gusto, Dropbox, Microsoft, etc.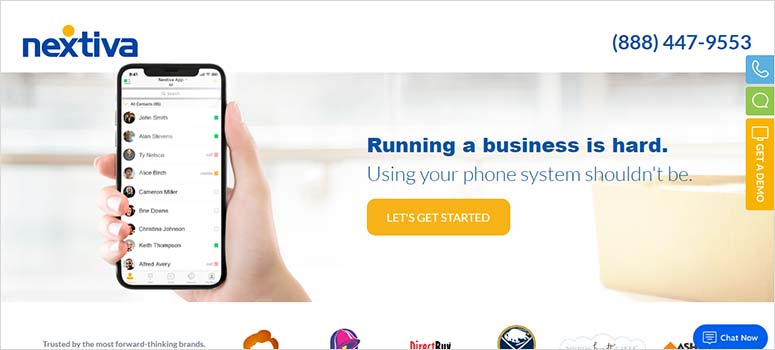 Nextiva is another business phone providers for small businesses that you can try out. With its web-based panel, managing your calls, voicemails, and faxes is super easy. With Nextiva, you can also have services like free domestic calling, call routing, transfer voicemails to emails, and more.
You can also get a toll-free number so your users can connect with you for free.
With Nextiva, we like the fact it offers some of the most advanced business phone service features yet. Plus, it's easy even for beginners to use. By default, it doesn't offer vanity numbers but they procure it from their carrier partners for you.
We've worked out a deal for our IsItWP readers to get you a discount on this service. Check it out here: Nextiva discount.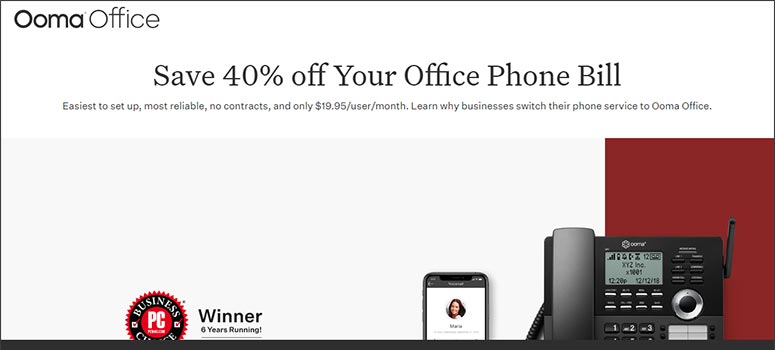 Ooma is a popular VoIP business phone system that's affordable and comes with a free business phone number. You can choose from a vanity phone number, local number, or toll-free number.
With Ooma, you get unlimited calling in the U.S. and Canada and all of the business phone system features you need like a virtual receptionist, call forwarding, call transfer, hold and transfer music, multi extension dialing, and much more.
There's even a mobile app so that you can manage your business calls on-the-go.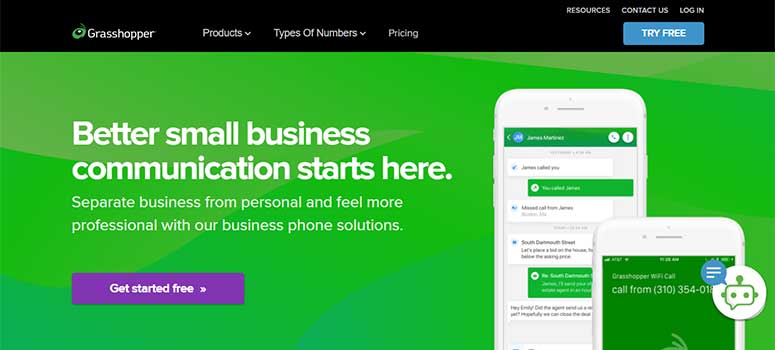 Grasshopper is yet another vanity phone number providers for your businesses. They offer all the virtual number services that you might want for your business. From toll-free numbers to local numbers and even vanity numbers it has everything for you. To ensure that your desired number is available, you can take a look at it during the signup process itself.
If you already have a vanity number, you can port it to Grasshopper as well. Other than this you also have several other options like business texting, call forwarding and routing, extensions, custom greetings, etc.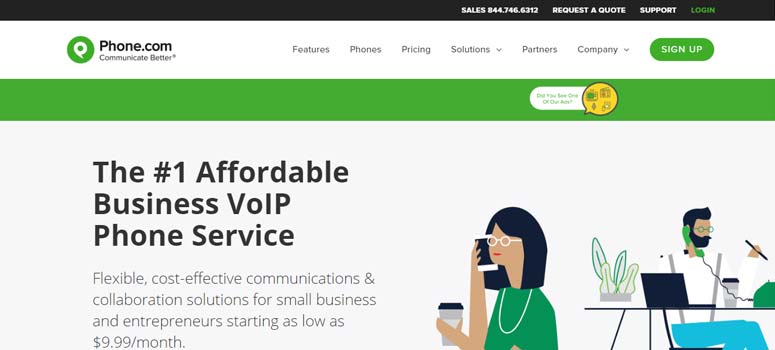 Phone.com offers vanity numbers, toll-free and local numbers for businesses. But they have a monthly call minute limit. Exceeding the limit will cost you more.
To set up your vanity number, they charge you a one-time payment. These charges vary with the number and code you opt for. Other than the vanity numbers, they also offer various communication features for easy management of your business.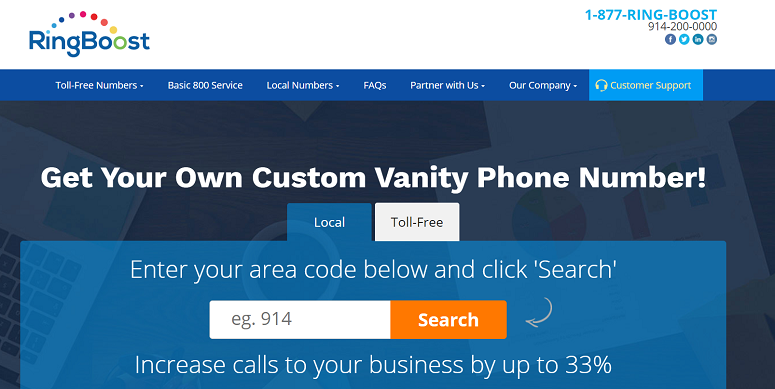 RingBoost is yet another brilliant platform to buy vanity phone numbers from. Here you can select your vanity phone numbers based on your business category. RingBoost is best for companies that want to select their vanity number based on their business type.
The numbers purchased from RingBoost can be easily forwarded to any existing phone number. It has a list of numbers that are already created for you. You can simply browse through them and pick the one you like best.
7. MyOperator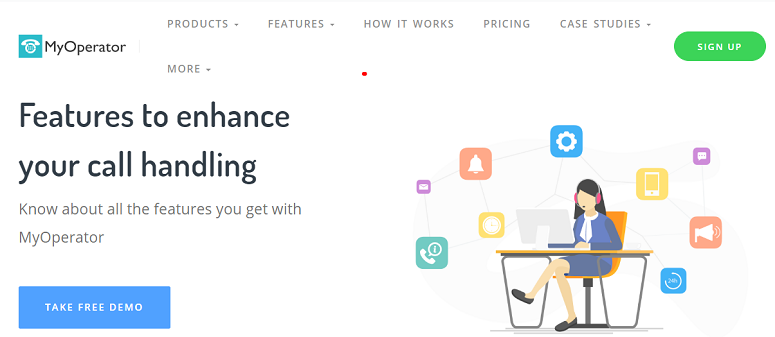 My Operator is another good destination for anyone who's looking for a vanity phone number for their business. Apart from vanity phone numbers, it also offers virtual numbers and toll-free numbers. So depending on your requirement you can opt for any of them.
Its advanced features can be an added advantage for you to grow your business. For example, it lets you record calls with your customers. By analyzing these recorded calls you can figure out frequently requested requirements of your callers and work towards fulfilling them.
With the call tracking option, you get to keep track of all your callers and ensure you don't miss a single potential lead. You can also have a detailed record of the calls that are currently connected and those that have been missed by each department in its live dashboard.
Promoting Your Phone Vanity Number in WordPress
Mobile browsing is all-time high and it's only expected to grow this year.
Since a good portion of your site visits is from mobile phones, it's in your best interest to make it easy for your users to call you right from your website with a matter of a click.
This can be done by adding a click-to-call button on your site. Let's see how to do that.
How to Add a Click-to-Call Button to WordPress
If you're a WordPress user, adding a click to call button to your website isn't difficult. You can do this by using a plugin or without a plugin.
We'll show you both ways of doing it.
Method 1: Adding a Click-to-Call Button With a Plugin
The WordPress repository is full of amazing plugins that help you add any features that you want on your site, including a neat, click-to-call button. The best amongst them is the plugin called WP Call Button. This plugin is intended to make adding click to call buttons in WordPress a simpler task.

With this plugin, you can add a stunning click to call without any professional help. It takes you just a few clicks and you're good to go. The plugin also lets you customize your call buttons to match your website and brand look. WP Call Button is 100% mobile responsive, so it looks great on smaller screens as well. Here's how you can add a call button with this plugin.
Method 2: Adding a Click-to-Call Button Without a Plugin
This method is for those who don't really want to add a plugin to add a click-to-call button. You need to add your numbers in the form of a link using a specific format. You will now add your phone number with tel as a prefix in the number.
You can add this link to your web page or sidebar or any widgetized content area:
Simply copy this clickable link anywhere you want to embed.
<a href="tel:+15555555555">Click here to call us</a>
Don't forget to replace the phone number we have shown here with your own phone number. Your users can now just click on the link to contact you without leaving your site.
Frequently Asked Questions About Choosing a Vanity Number
Let's now look at some of the most frequently asked questions about choosing a vanity number.
1. How is a vanity number different from a toll-free number?
A vanity number is a series of numbers or alphabets or can be a mix of both. The alphabets in these numbers are generally the name of your business, product or service. It can also just be a memorable sequence of numbers. These numbers can either be toll-free or can be a local number. An example of a vanity number can be 1-800-GO-FED-EX.
A toll-free number, on the other hand, are numbers that have a specific dialing code in which your users can call for free. Toll-free dialing codes in the United States are 800, 888, 877, 866, 855, 844 and 833.
2. Is the pre-fix of my vanity number important?
When choosing a vanity number, you can have different prefix options like 800, 888, 877, 866, 855, 844, etc. However, many people prefer the 1-800 option because many users are already familiar with it which makes it recognizable. But you can opt for the other options too.
3. What words should I use in my number?
Ideally, the words in your vanity phone number should be the name of your product or business. The best way to pick a word for your number is to choose between 7-10 letters. By doing that you can make sure that the word has no extra number in the beginning or in the end.
Q4. Can I sell my vanity phone number?
Once you purchase a vanity number, you cannot sell it. FCC has strict rules prohibiting trading and reselling of toll-free numbers. Anyone trying to do so might end up getting into legal troubles.
5. Can I use my vanity number with my local number?
Yes, if you have a local number, you can use it with your vanity phone number. You can easily forward the calls you receive in your vanity number to your local number and even set an IVR to connect your callers to the right team member.
6. Is a repeater number a better option for my business?
Many users don't want to opt for words because of its high price as compared to numbers. Repeater number is a good option in such cases. These numbers have a repeating pattern and can be easily remembered.
That's it. We hope this article helps you add a vanity number to your website. You might also want to check out how to create a free business email.