Do you want to create coupons on your WooCommerce store?
WooCommerce offers a limited set of features for coupons and deals. With the default options, you may not create effective discount coupons that can increase your conversions.
That's where the Advanced Coupons plugin for WooCommerce comes in.
It's super flexible and beginner-friendly to let you manage coupons on your WooCommerce store. Advanced Coupons comes with dozens of additional features that help attract potential leads and maximize your revenue.
In this Advanced Coupons review, we'll walk you through features, pricing, discount offers, and much more. By the end of this article, you'll be able to decide if Advanced Coupons is the right plugin for you to create WooCommerce coupons.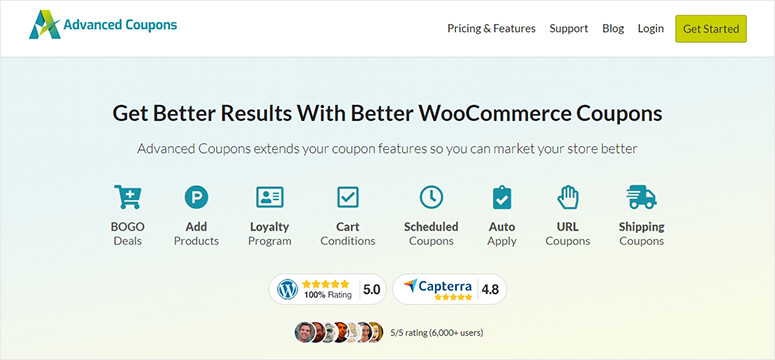 But, first, let's understand the basics of creating smart WooCommerce coupons before we dive into the complete Advanced Coupons review.
What Are Smart WooCommerce Coupons?
The general WooCommerce coupon options are limited to discount percentage, usage restrictions, and usage capacity. You may find a premium extension to improve the display of your WooCommerce coupons, but that's not enough.
If you're running a WooCommerce store, you need a rock-solid coupons solution. Coupons and deals are a great way to engage new visitors and bring back your loyal customers to pay for more products.
Advanced Coupons makes it all happen with several useful features, including buy one get one (BOGO) deals, loyalty program, custom cart conditions, coupon scheduling, auto-apply coupons, URL-based coupons, shipping discounts, and more.
With these features, you can make smart WooCommerce coupons and attract more users to your store. Advanced Coupons doesn't affect your eCommerce website in any way, and you'll be getting new leads that grow your business.
With that in mind, let's jump into our review of Advanced Coupons.
Advanced Coupons Review: Top Features
Advanced Coupons is a popular WordPress coupon plugin on the market. It adds more features and options to make better WooCommerce coupons without paying a high price for WooCommerce extensions.
Let's go over the top features of the Advanced Coupons plugin.
1. BOGO (Buy One Get One) Deals
This is the most interesting feature for any eCommerce business. With the buy one get one free deal, you can grab the attention of new customers and engage your previous customers to make purchases on your online store.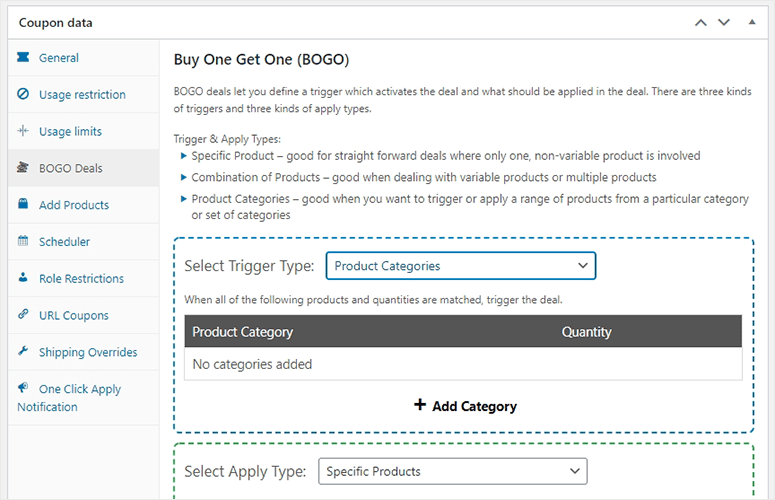 Advanced Coupons offers 3 types of BOGO deal coupons. You can create the buy one get one free deal on specific products, a combination of products, and product categories.
It lets you further customize the BOGO deal. That means, if a customer purchases a product, you can offer a specific price or percentage discount on the next product. For example, buy one get 50% OFF or flat $20 OFF on the second purchase.
In the additional settings, you can allow customers to either use the BOGO deal only once or repeatedly.
2. Add Products
This is the new promotional method that you can use to giveaway old products with new purchases as a gift and increase your sales. It also works with other cart conditions and rules that you set for your WooCommerce store.

It's easy to set up. You can add the product, quantity, and price/discount percentage. Then give the coupon to your users, and they can enjoy the complete package deal with a gift.
3. Loyalty Program
Loyalty Program is another top feature of the Advanced Coupons plugin. Many large eCommerce businesses like AliExpress, eBay, and others offer loyalty points to their customers on every purchase.
This helps bring customers again and again to your online store. Your customers can redeem the loyalty points for coupons and get discounts on their purchases.
4. Cart Conditions
Cart Conditions make your coupon system highly flexible. Most features of the Advanced Coupons plugin circle around this setting, which means a customer should match your given cart conditions to become eligible for discounts.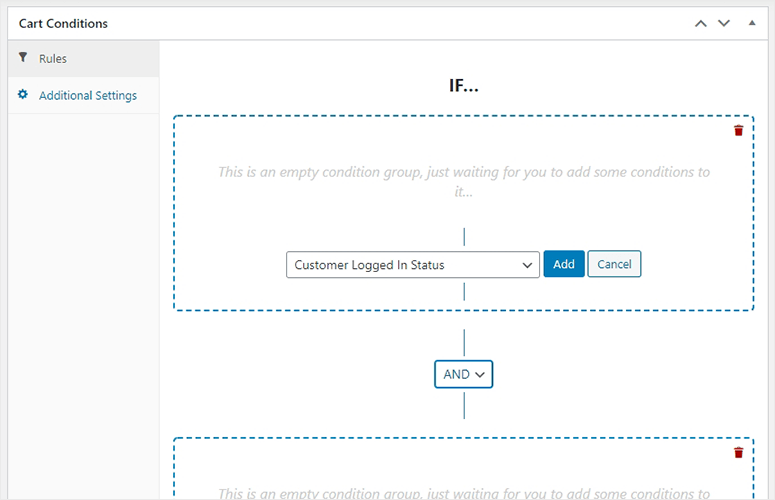 Advanced Coupons lets you create custom rules and conditions that customers need to fulfill to use your coupon. There are over a dozen of conditions that you can apply to your coupon. This includes if:
specific product category exists in the cart
customer is logged in
customer's user role allowed/disallowed
cart quantity matches your set figure
cart subtotal matches your set amount
product quantity in the cart is equal to your requirement
purchase is made within the given hours after customer registered
the customer has ordered before
shipping zone and region matches your requirement
and more…
With these cart conditions, you can create hundreds of offers for users. You can also combine multiple conditions to achieve your marketing goals. For example, the customer should sign up and purchase a specific product and quantity in 24 hours.
This gives you complete control over your coupon's validity, and you can customize it as you like to get new customers. These cart conditions are also helpful to retain previous customers with catchy offers.
5. Scheduled Coupons
This is another advanced feature that lets you add a start and end date for your coupon. It's helpful during the holiday season and throughout the year when you want to offer discounts on specific dates.
This way, you can start your promotions long before the event dates. And if customers try to enter the coupon code, it won't work until your scheduled date.
It also lets you add custom messages for users when they enter the coupon code before and after the scheduled time. You can be creative with these error messages and engage users to get discounts at the right time.
6. URL Coupons
URL Coupons is a useful feature for email marketing campaigns, support messages, social media shares, and so on. You can create a URL for your coupon, and customers can visit the link to see that the coupon code is applied automatically.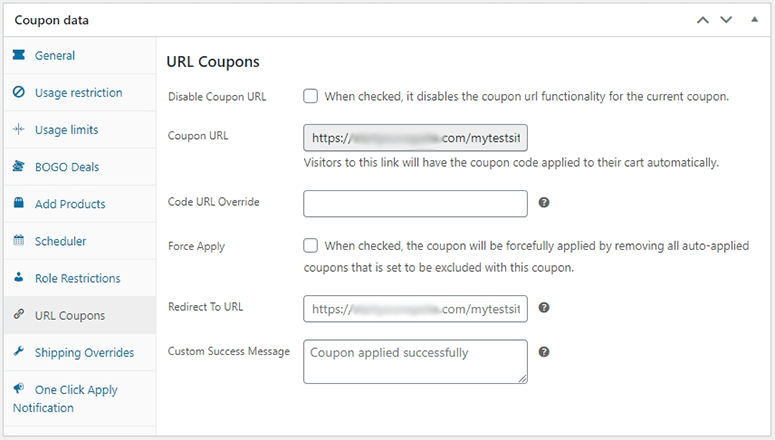 It comes with a "force apply" option, too. If you check this setting, it'll remove all other auto-applied coupons you want to be excluded from this offer.
Moreover, you can also add another URL to redirect users after the coupon is applied. It lets you display a custom success message for user satisfaction that they'll get a discount or gift from their purchase.
7. Shipping Coupons
You may have heard about discount offers on products, specific regions, product quantity, and several other cart conditions. But what does a shipping discount mean?
Advanced Coupons plugin comes with a shipping override feature that lets you create a coupon to offer discounts on specific shipping zones.
You can easily add this option with other cart conditions in your coupon.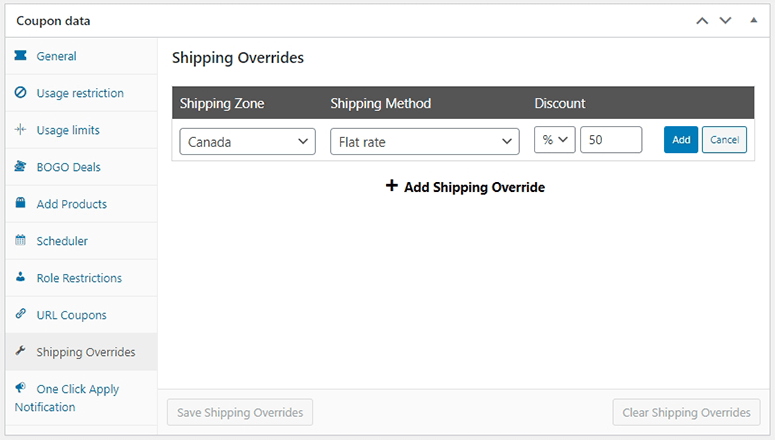 With the shipping overrides feature, you need to select the country/region as a shipping zone, shipping method, and discount type. It has a percentage discount, fixed price discount, and override price options.
Under the single coupon code, you can add multiple shipping zones, and each zone can have its own options for shipping method and discount type. For more details, you should check out this complete article on how to create a coupon that discounts shipping in WooCommerce.
8. Auto Apply
The Auto Apply feature makes it easier for customers to apply coupons without remembering them. If you enable this setting, customers can match the cart conditions, and the coupon will be automatically applied to their purchase.
9. One Click Apply Notification
If you enable this setting, customers get a custom message on their shopping cart page to receive discounts because they matched certain cart conditions.
You can add a notification message and select the notification type. There's a custom field to add text for the button that customers will click to get their gift or discount.
Now that we've seen some of the top features of the Advanced Coupons plugin, let's look at other aspects of it, starting with role restrictions.
Role Restrictions
In addition to all the Advanced Coupons plugin features, you can manage role restrictions for your coupon. This feature adds the flexibility to enable/disable coupons for any user you like, including logged-out customers, logged-in customers, and your team.
It also lets you display a custom error message for users when they're not allowed to use a coupon code. If you don't add role restrictions, the coupon will be active for any user who matches cart conditions.
Global Settings
You can enable/disable any feature for your coupons from the Advanced Coupons settings page. It comes with general settings, modules, and global settings for each feature of the plugin.
In the modules section, you can control which feature you should enable for your coupons.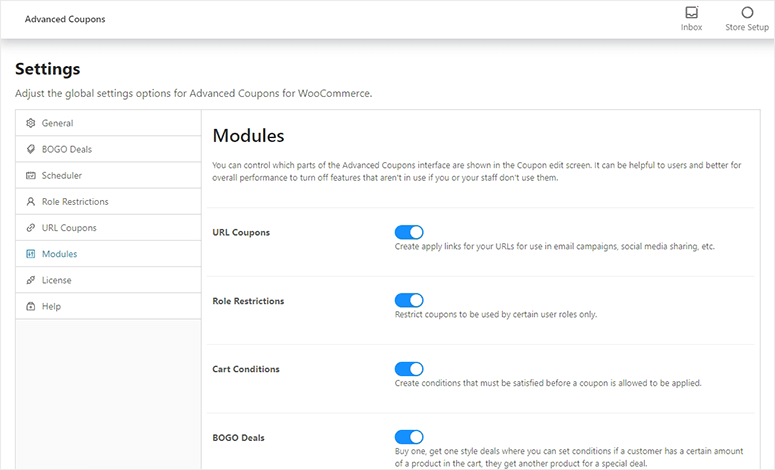 This also includes global settings for BOGO deals, coupon scheduler, role restrictions, and URL-based coupons. If you change any settings in the coupon section, it'll override the global settings automatically.
Advanced Coupons Pricing Plans
Advanced Coupons comes with 2 pricing plans: Growth, Plus, and Business.
The Growth Plan includes a single website license, which means you can use the Advanced Coupons plugin on one website. If you own multiple WooCommerce online stores, then you need the Business plan with unlimited licenses.
In the Growth plan, you get all features of the Advanced Coupons plugin, including BOGO deals, premium cart conditions, coupon scheduler, URL coupons, loyalty program, and so on. However, the Business plan offers multisite compatibility, developer's license, and all the plugin features.
With both plans, you can access their expert email support and automatic updates. Now the most important part is the pricing of both plans.
Growth Plan – $59.50 per year
Business Plan – $99.50 per year
Business Plan – $149.50 per year
If you're starting your eCommerce business with a single website, you should use the Growth plan. If you're a large business with multiple WooCommerce stores, we highly recommend the Advanced Coupons Business plan to grow your revenue.
You can also get a plugin bundle starting at $119 per year.
Our Verdict on Using Advanced Coupons for WooCommerce Store
Advanced Coupons is the best WooCommerce coupons solution with useful features that you may never get from any extension. From BOGO deals to URL coupons, it's designed to help your business grow with new customers. You can also use this plugin to bring back your old customers with attractive offers.
Pricing is competitive, and it offers a 14-day refund policy, which means if you don't like the plugin, you get your money back.
That's all for now. We hope this article was helpful and that now you know if Advanced Coupons is the right plugin for your WooCommerce store.
You may also want to check out our guide on how to add a coupon code field to your WordPress order forms.
This will teach you an alternative method for offering coupons to your WordPress customers and might be helpful if you're thinking about an eCommerce platform other than WooCommerce.
Get Advanced Coupons Now »