Do you want to grow your web traffic on autopilot? Wondering if the Revive Old Posts plugin will help you do that?
Revive Old Posts is a WordPress plugin that makes it easy to auto-share blog posts to your social media accounts as soon as they're published. You can filter your feed, schedule posts, track performance, and much more.

The plugin is designed to help you revive old content, boost social media engagement, and drive traffic to your website. But every plugin has its pros and cons so in this review we'll detail everything you need to know about the Revive Old Posts plugin. We'll take a look at its features, setup, pricing, and more.
Here's what we'll be covering in this review:
Feel free to use the quick links above to skip ahead to different sections of the post. Now let's get started.
What is Revive Old Posts?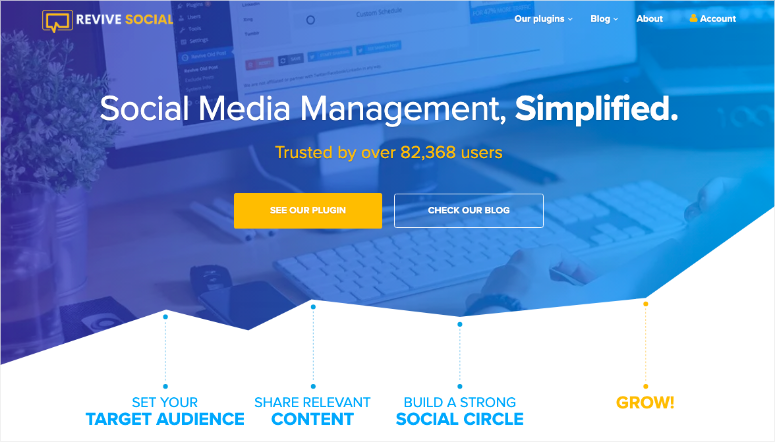 Revive Old Posts is a simple yet powerful WordPress plugin to leverage social media to grow your website traffic. It's developed by Revive Social, a team of social media management experts.
The plugin is designed to solve two problems at once: to revive old blog posts to drive web traffic and to automate social media engagement.
With Revive Old Posts, you can bring in consistent growth by syncing your blog with multiple social media channels including Facebook, Twitter, and LinkedIn.
You can create custom schedules and share your website content on rotation. You can also optimize your feed using hashtags, categories, tags, and more.
Plus, you can track your progress to see how popular your posts are and how much traffic is being generated.
That's the Revive Old Posts plugin in brief. Let's go deeper into detail to see what this plugin has to offer.
Features: What Does Revive Social Posts Offer?
Revive Social Posts is a feature-rich plugin and has a lot to offer. We'll focus on the highlights so that you know exactly what you'll be getting with this plugin.
1. Social Media Automation
You may be scheduling blog posts ahead of time and it can be a hassle coming back each time to share them on social media.
If you're looking for an easier way to auto-publish blog posts to social media, Revive Old Posts is the right plugin for you.
All you have to do is install the plugin and customize the settings. Then as soon as you publish a new blog post, it will automatically be shared to your connected social media accounts.
You can set a schedule for how often you want to share content. And you can choose custom post types – between old and newer posts – so that you add life back into your old content as well.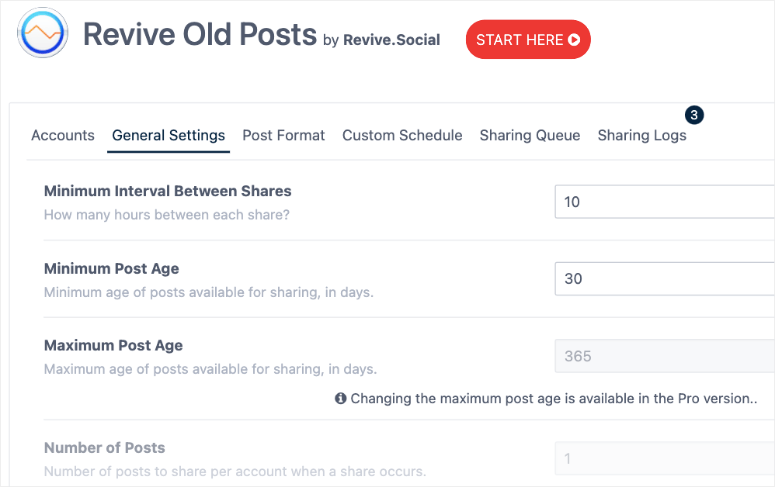 In the pro version, you can set what time of the day and day of the week you want the plugin to start sharing posts to social media. So Revive Old Posts acts as a scheduling plugin that lets you spread out your posts throughout the week.
2. Multiple Social Channels
Revive Old Posts lets you connect to all popular social media platforms.
With the free plugin, you can connect to your Twitter account and your Facebook page. If you want to sync your website to other platforms, you'll need to upgrade to the premium version.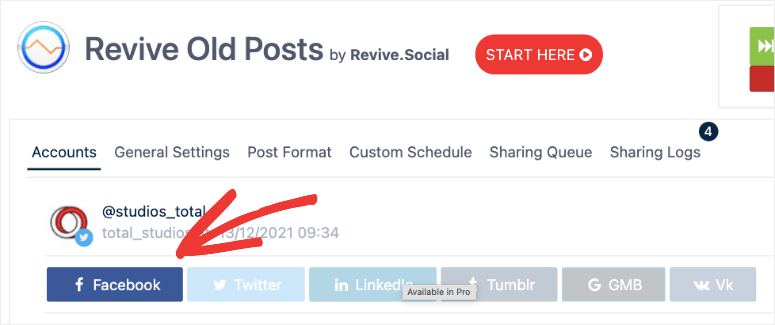 You'll get access to social media networks like Facebook groups, Instagram, Linkedin, Tumblr, Google my Business, and VK (Vkontakte).
3. Customization & Control
The great thing about Revive Old Posts is that you can customize your feed. You won't be stuck with a templated post and schedule.
Once you install the plugin, you can control the minimum interval between shares. So even if you publish multiple blog posts at one go, the plugin will delay the posts and make sure new content is posted at intervals to improve engagement.
You can also decide what goes in the caption such as the post title, content, excerpt, and custom field. You can also use taxonomies like tags and categories to include/exclude posts.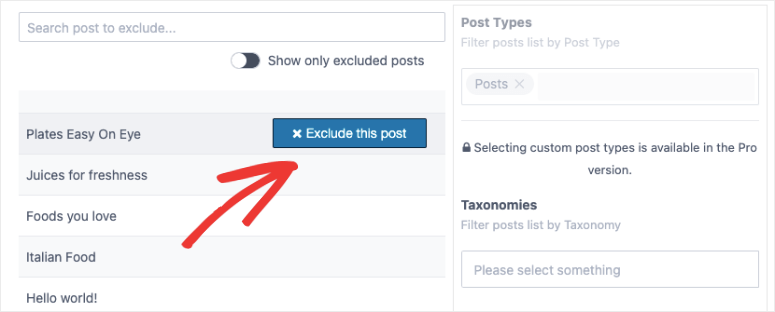 Added to this, here are a few more customization options:
Include/exclude post permalink
URL Shortener so that it looks neat when it's shared on your social media profile
Maximum character limit
Add additional custom text
Share as image post
4. Hashtags
You can choose to include or exclude hashtags on each of your posts. The plugin lets you choose common hashtags for all shares. You can also set hashtags for categories, tags, and custom fields.

This will help you maximize visibility on social media to a relevant audience.
5. Analytics & Tracking
Revive Old Posts comes with a built-in tracker that logs your publishing schedule. You can access the sharing logs to right inside your WordPress admin panel to see which posts have been published. If the log is highlighted green, it means the post was successful. If there was an issue with the automated post, the color would be orange or red.

Added to this, the plugin integrates with Google Analytics Campaign Tracking. You can include custom UTM tags in your posts to track the source of your traffic and find which posts get the most engagement.
This will help you find out exactly which social media platforms are pulling traffic to your site. You can then make data-driven decisions to shift your focus to the platforms that are driving growth.
6. Addons
Revive Social has 2 plugins which are Revive Old Posts and Revive Network. You can get Revive Network as an addon right inside your WordPress dashboard but you need to be on a Pro subscription of the Revive Old Posts plugin.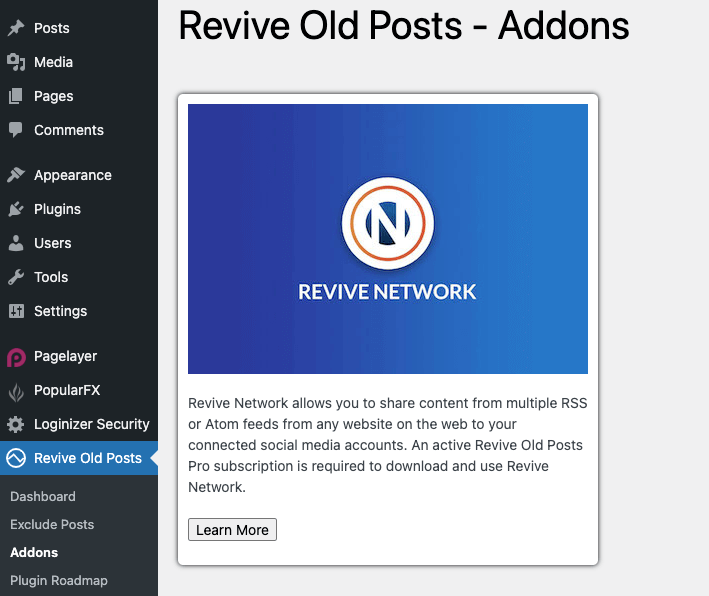 Revive Network allows you to import and share posts from any RSS feed on the web. You can increase engagement by sharing content from your favorite sites to your social media accounts.
While Revive Old Posts has a lot to offer, keep in mind that this tool is mainly for social media shares and boosting social media engagement and driving traffic from these channels to your site. If you're looking to boost SEO, then you'll need a plugin like All in One SEO. It's the best WordPress plugin for search engine optimization, even for WooCommerce sites.
That said, is Revive Old Posts easy to use? Let's check out how to set up this plugin.
How to Use Revive Old Posts
Revive Old Posts is designed to be beginner-friendly so anyone can use it. It even comes with a guided tour to show you where to access different features.

To use this plugin, there are just 3 steps from start to finish:
1: Install
You can find the free version of the plugin in the WordPress repository. All you have to do is log in to your WordPress admin panel and head over to the Plugins » Add New page.
Search for "Revive Old Posts" and you can install and activate the plugin.

If you choose to buy the pro version, you can download the premium addon plugin from inside your account and upload it to your WordPress site.
Once done, you'll need to add your license key under the Settings » General page. Then you're ready to connect your social media accounts.
2. Authorize
Once activated, you can access the plugin from the left admin menu. The first thing you need to do is to give Revive Old Posts permission to post to your social media accounts. All it takes is a few clicks to sign in to your accounts.
First, under the Accounts tab, you can choose the platform by clicking on it, like so: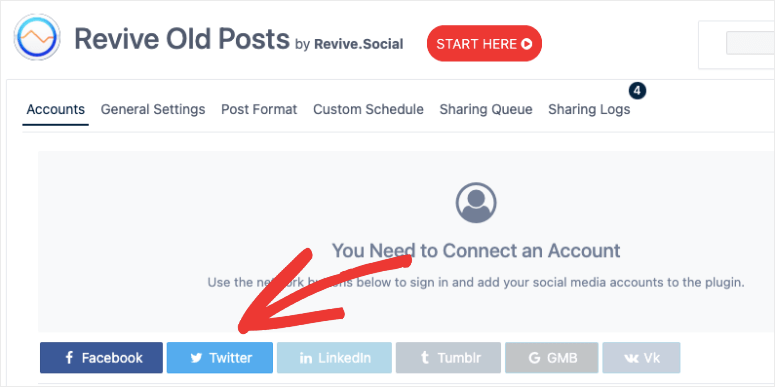 Then a popup will appear where you can sign in to your account and authorize the Revive Old Posts plugin.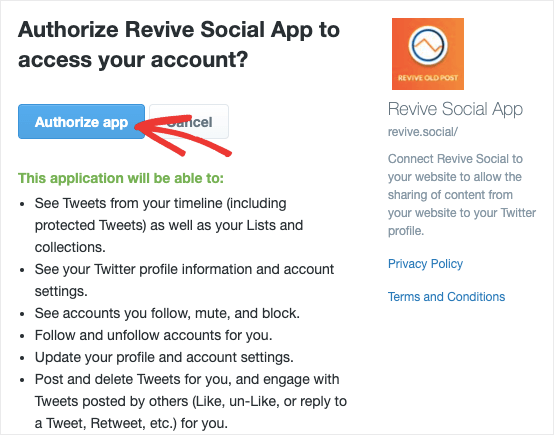 This will give the plugin permission to post to your social media feed. All that's left to do is customize your feed to match your preferences.
3. Customize
Inside the plugin's dashboard, you'll see options to change general settings and post format.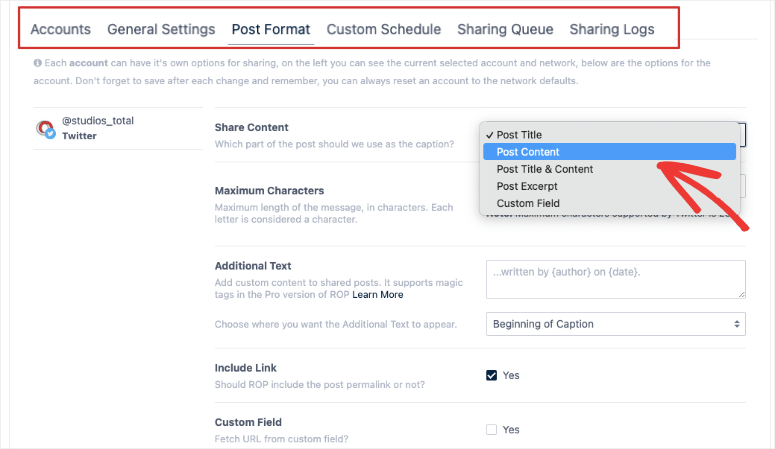 You can configure settings like:
WordPress post types you'd like to share
Minimum and maximum post age eligible for sharing
Minimum hour interval to share posts
Post format for your connected accounts
Custom posting schedule
Everything can be done using checkboxes and dropdown menus. It's that easy!
Aside from creating an automated schedule, you can also share new blog posts as soon as you publish them in WordPress. You'll find the Revive Old Posts option inside the WordPress post editor.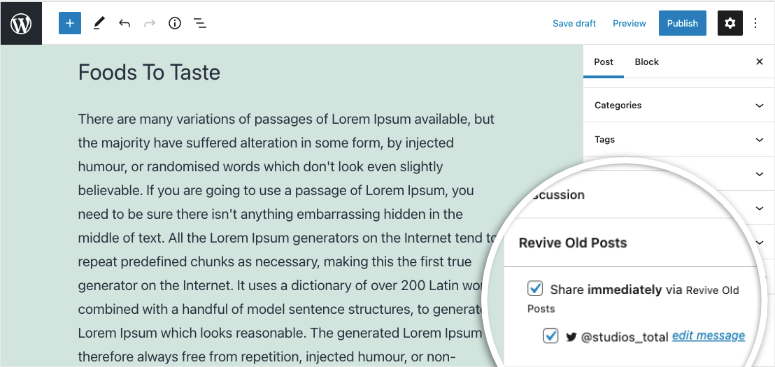 All you have to do is check the box and the plugin will instantly publish your new blog post to your social media accounts.
Who is Revive Old Posts For?
Revive Old Posts comes with a clean and easy-to-use interface so it's a great option for anyone from beginners to professionals.
The plugin can be used to share both pages and posts, so you can share products, product features, and so much more. This makes it suitable for all kinds of websites.
Here are a few use cases:
Small blogs or websites (to share posts, recipes, books, etc)
Large blogs and sites with thousands of posts or e-commerce products
E-Commerce online stores (to share products and services)
Social media marketers
Hobby bloggers
Simply put, if you have a WordPress site and social media accounts, you'll find this plugin extremely helpful.
Revive Old Posts Free WordPress Plugin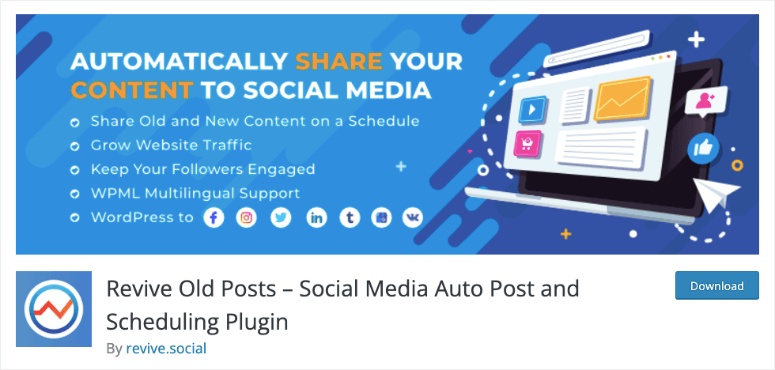 Revive Old Posts has a free version available in the WordPress repository. You can use it to connect to Twitter and Facebook.
Here are the main features you get with the free plugin:
Automatically share old and new post content to social media on autopilot
Choose the number of posts that the plugin share to social media
Customize time between social media post shares
Automatically generate hashtags for post shares from tags, categories or from custom fields
Set the maximum and minimum age of posts eligible for sharing
Create common hashtags for post shares
Include link back to your site
Include/exclude categories, tags, specific posts
Shorten URL links
Integrate with Google Analytics to track your social media traffic increase
The free plugin has plenty of features and functionality that are enough for small websites and blogs. It will also give you a good idea of what you can expect from this plugin.
For access to more social media platforms and features, you'll need a pro license.
Revive Old Posts PRO Plugin & Pricing
With the premium version of Revive Old Posts, you get access to Instagram, Facebook Groups, LinkedIn, Tumblr, Google My Business, and VK.
You can share multilingual posts to respective pages with WPML. For instance you can share English Posts to your English social media accounts and Spanish posts to your Spanish social media accounts.
Revive Old Posts premium version comes with 3 plans. You can either opt for a yearly plan or a lifetime license.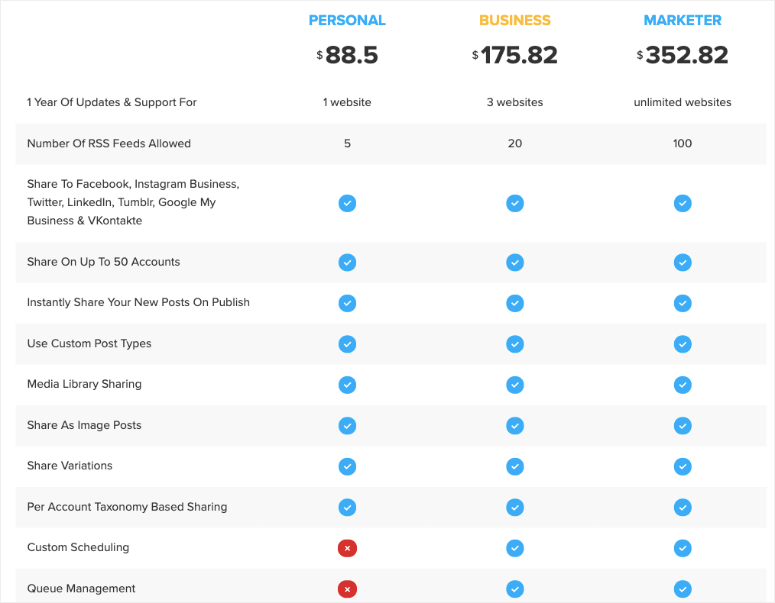 Here's the breakdown of the premium plugin pricing plans:
Personal: Costs $88.50 per year for 1 website. The lifetime license costs $265.50.
Business: Costs $175.82 per year for 3 websites. The lifetime license costs $527.46.
Marketer: Costs $352.82 per year for unlimited websites. The lifetime license costs $1058.46.
Revive Old Posts gives you access to almost all features in the personal plan. If you want access to custom scheduling and queue management, that's available only in the Business and Marketer plans.
All plans come with a 30-day moneyback guarantee.
Revive Old Posts Support and Documentation
Revive Old Posts has extensive documentation to help you setup and customize the plugin. You'll find general guides, how tos, and FAQs.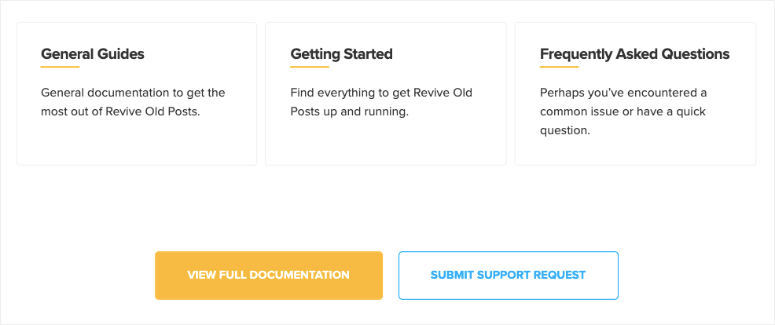 If you are unable to get solution, you can submit a ticket to the support team.
Our Verdict: Is Revive Old Posts Worth It?
Revive Old Posts has a proven track record of helping site owners increase their traffic. It also works great if you want to establish a solid social media presence without having to manually create and publish posts.
Revive Old Posts will handle it for you. It acts as a scheduling and auto posting tool. You can curate the content that's sent to your social media plugins and even set up an RSS feed for multiple channels.
You can hit multiple goals with this plugin including growing your website traffic, social media following, and keeping your audience engaged.
That's all we have for you today. If you're looking for a plugin that can fetch your social media content and automatically display it on your WordPress website, check out Smash Balloon.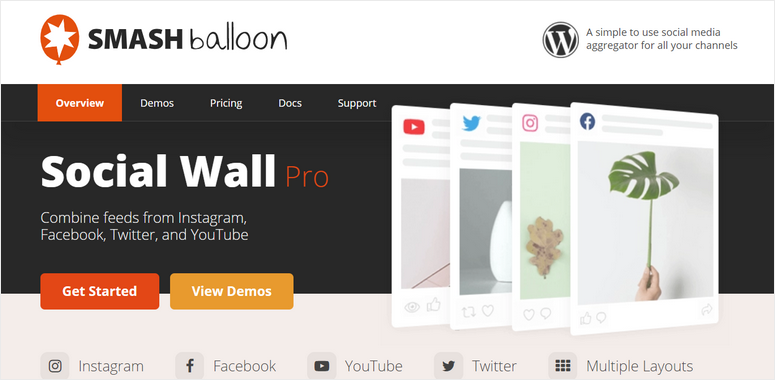 They have plugins for Facebook, Instagram, YouTube, and Twitter. You can even combine all your feeds and display a powerful Social Wall.
You may also want to check out Thrive Suite. It's an all-in-one solution packed with themes, theme builder, and conversion optimization tools to help you convert visitors into subscribers/buyers.
We hope you found this Revive Old Posts review helpful. We give Revive Old Posts 4/5 stars and here's the breakdown of our score:
Get Revive Old Posts »