Are you looking for the best tool to create surveys, quizzes, and polls for your WordPress site?
Crowdsignal is one of the most popular WordPress plugins to make and manage these kinds of forms on your site. It even lets you interpret and share the results of your campaigns.

But before you choose this plugin, you need to ask yourself if it's the best option. Are the better survey and poll plugins than Crowdsignal?
In this review, we'll take an indepth look into what Crowdsignal has to offer. We'll check out its features, pricing, and ease of use. And to keep this review completely fair, we'll also take a look at what competitors have to offer so you can make the right choice.
Here's a table of contents to help you navigate this post:
Overview: What is CrowdSignal?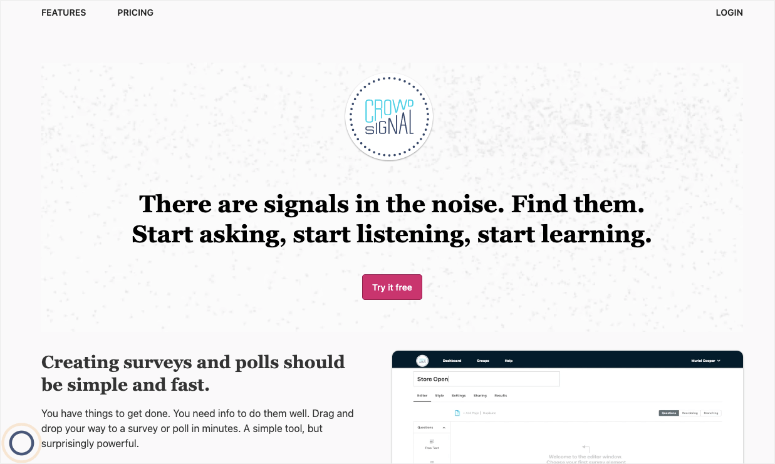 Crowdsignal, formerly known as Polldaddy, is a polls and ratings plugin for WordPress.
You can create polls, surveys, ratings, and quizzes in minutes using its user-friendly interface. These marketing forms help keep your visitors engaged and active on your site longer. You can also use these campaigns to get valuable opinions and feedback from customers.
The plugin is easy to install and everything can be done with button clicks. All you have to do is drag and drop form fields and visually edit your form. You can even style your form to match your website's design.
The best part is that you can easily share results and data analysis on other platforms like Twitter, Facebook, and email.
That's Crowdsignal in brief. Next, we'll take a detailed look at everything this plugin has to offer. Let's get started with the features of Crowdsignal.
Features of Crowdsignal
Crowdsignal is a simple tool but comes with powerful features. Here are the top highlights of this plugin for WordPress users.
1. Easy drag and drop builder
Crowdsignal is built for beginners. You can choose what kind of form you want to create such as a survey or quiz.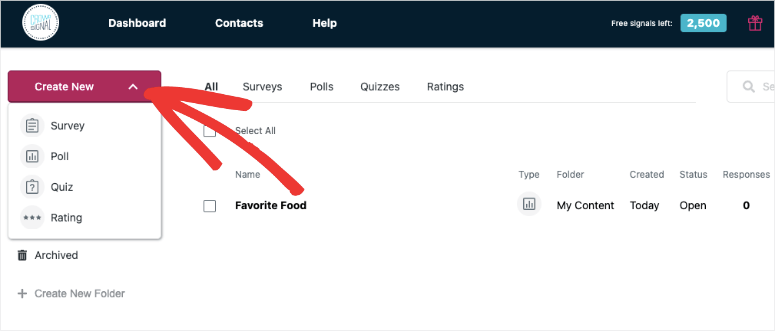 Then you'll enter the drag and drop form builder where you can add titles, explanations, and form questions that include:
Free text
Multiple choice
Likert
Rank
Rating
You can even let users upload files to submit documents, photos, videos, and other media.
Added to that, you can add form fields to collect the user's information. This includes name, email address, phone number, and much more.
2. Advanced Form Settings
Crowdsignal is great for creating simple forms to run quizzes, surveys, and polls on your site. But if you look closer, it has quite a few advanced features that you won't get with other free tools.
To begin with, you can create multipage forms. So if you're survey is too long, you can make it look less daunting by separating the questions into different pages. Crowdsignal even has options to duplicate pages so it's easier for you to create new ones.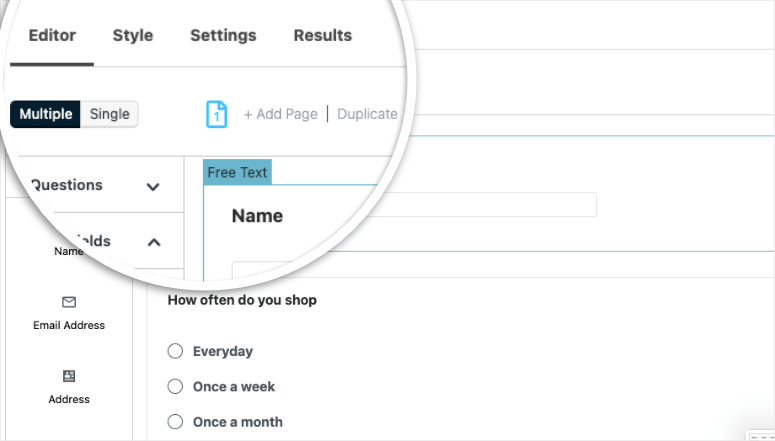 You can also make it conversational style by switching to Single mode. This will display one question at a time so users won't be overwhelmed by a long form.
What we really love is the options to reorder and branch questions. When you switch to the Reordering tab, you'll see all your questions as a list that you can easily drag and drop to rearrange the order.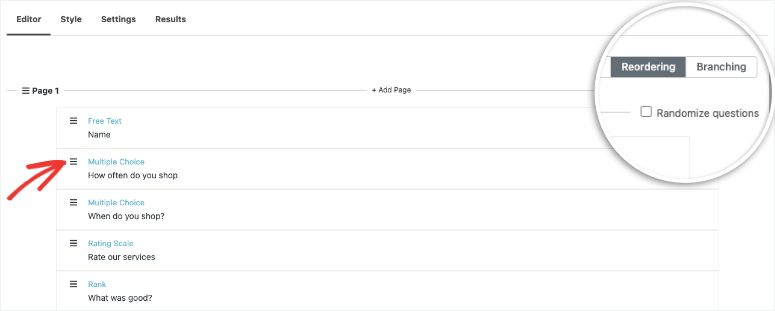 Under the Branching tab, you can create rules to display questions based on a user's response. So for instance, if they leave a form field blank, you can skip ahead to page 2 of the form.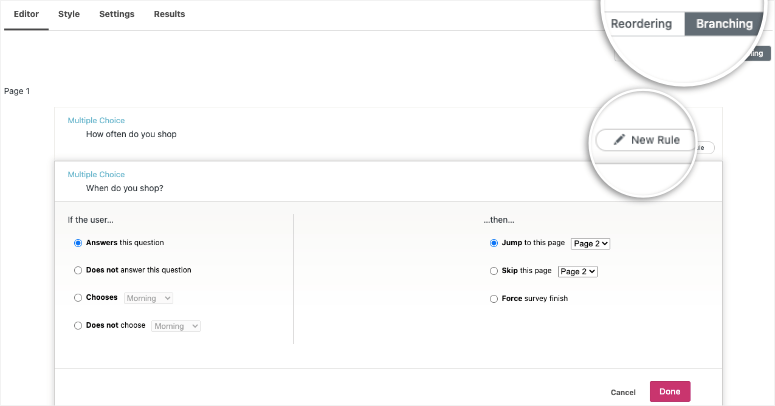 This way they won't have to go through irrelevant questions that only make the form longer. You can optimize their user experience by only showing the questions that matter to them.
3. Custom styles
Crowdsignal gives you complete control over the look and feel of your forms. You can choose from the different templates available to match your website's theme.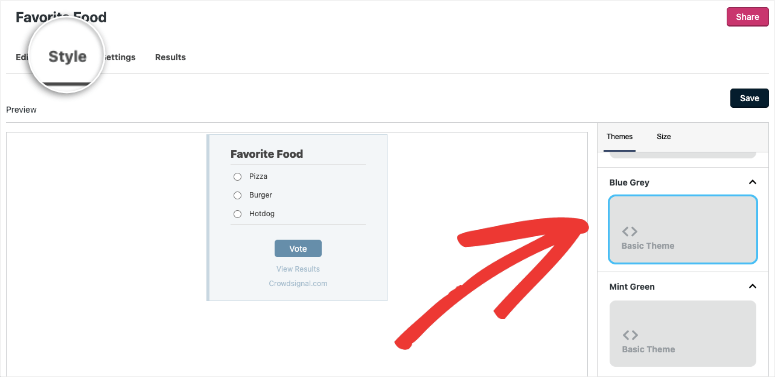 If that's not enough, you can add your own custom CSS to style the form exactly the way you want it.
Added to this, you can choose to display the following:
Customized start and finish messages
Question numbers
Progress indicator
Back button
Crowdsignal also lets you also add your own custom header and footer to personalize your form's branding.
4. Configuration controls
When you run surveys and polls, you'll need to add deadlines for submissions so that you can collect and analyze the data.
Crowdsignal lets you select the date and time that you want your form to be available for users to fill in.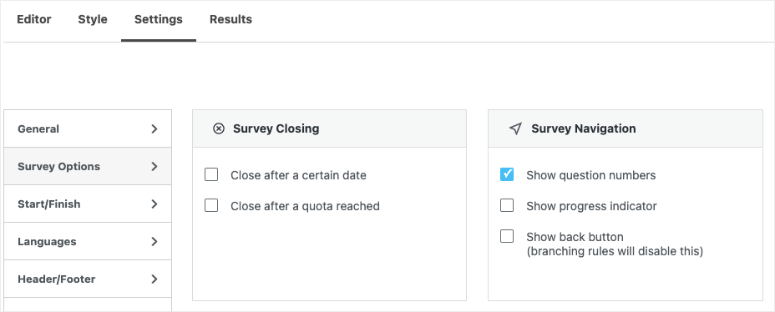 You can also close entries once your form has reached a certain quota. So for instance, if you're running a survey and need just 500 entries for your research, you can set the quote to 500.
Once 500 people submit the form, the survey will close and no longer accept new entries.
If you're on the paid plan, you can also timeout a user's session. This gives uses a maximum time limit to submit their response or their form will refresh and start again.
5. Data analysis
Crowdsignal has a built-in analytics dashboard that gives you all the information you need.
In the results tab of the dashboard, you can see an overview of your form's performance. This shows you a graph of people submitting your form by date. So you can see when they're the most active.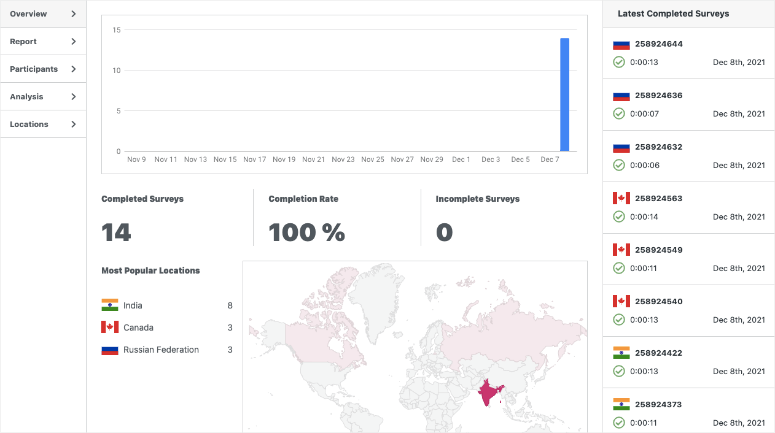 You can also view details like the number of form responses, form completion rate, and user locations.
Next, you can get reports to see data collected from your survey or poll along with percentages and bar graphs. This will give you the information you need for your research.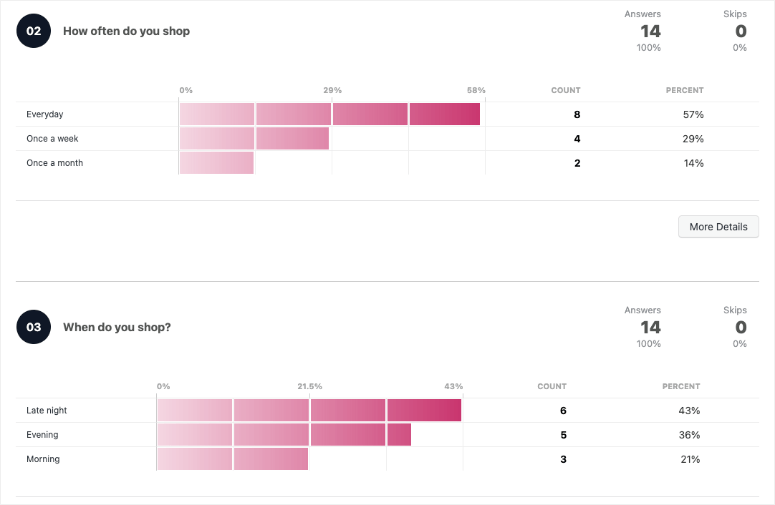 If you added form fields like name and phone number, you'll find these details in the Participants tab. You can also break down your data by user location to see how different parts of the world answered your survey or poll.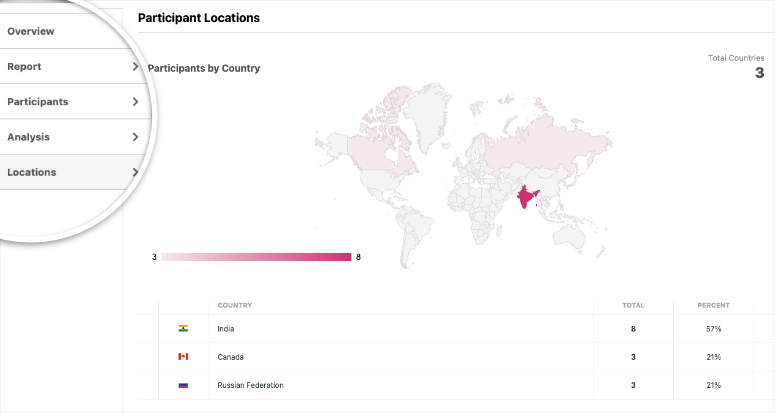 If you're on the paid plan, Crowdsignal will also analyze your data and give you actionable insights that you can use to improve your website or make changes to your business.
6. Export/share data
Inside the Results tab of your Crowdsignal dashboard, you'll see options to export, print, and share your data.
You can print your data or save it to PDF on the free plan. However, if you want to share your results, you'll need to get on the paid plan.
Then you'll be able to report to Excel, Google Docs, CSV, PDF, and XML.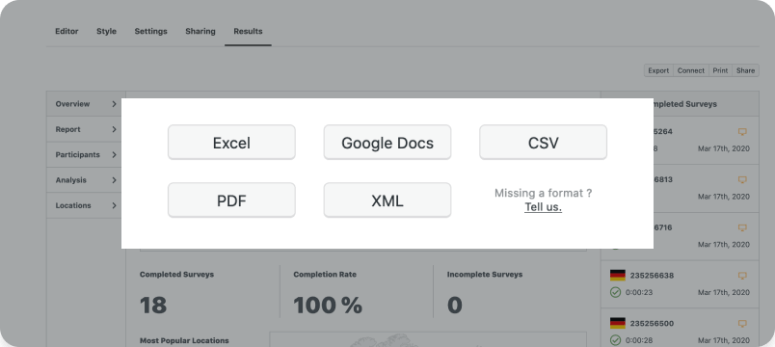 The share features let you invite others to view your survey by entering their email address and a password.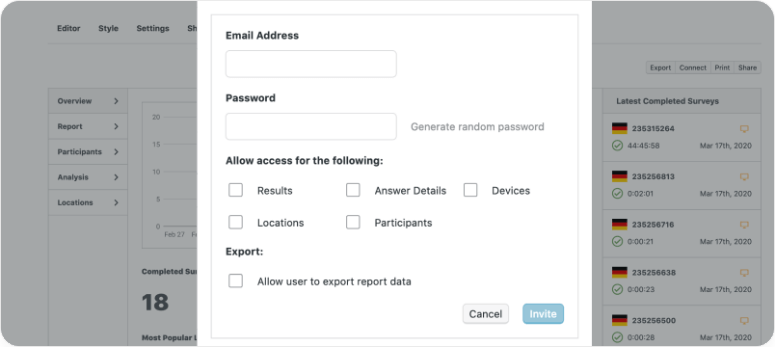 You can give them permission to view results, locations, participants, devices, and answer details. You can even grant them permission to export the report data.
7. Spam protection
It's extremely important that you protect your forms from spambots and fraud entries, or you'll waste a lot of time sorting through the spam to find real entries and accurate data.
With Crowdsignal, you get options to limit double voting. This means your users can submit only one entry.
There are also other built-in measures to protect your forms that include:
Password protection
Captcha puzzles
IP restrictions
Email restrictions
Now you don't have to carry out complex processes to add these protections to your form. It's as simple as ticking a box to enable or disable the feature.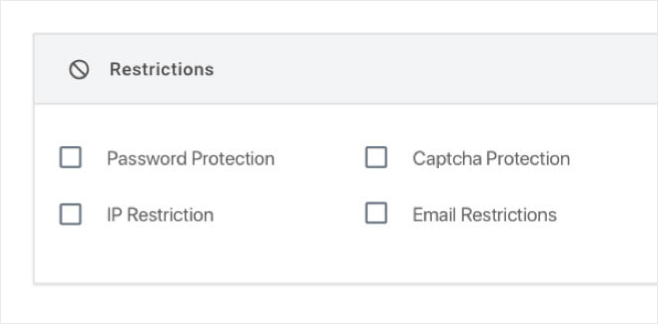 As you can see Crowdsignal has a lot to offer making it a great choice. But is there anything lacking? We take a look at the pros and cons next.
Crowdsignal Pros and Cons
One of the best ways to find a good plugin is by weighing out the pros and cons. Crowdsignal is a fantastic plugin but it isn't free from drawbacks. Let's start with what's great about it.
Pros of Crowdsignal
Easy setup: The plugin is available in the WordPress repository so it's really easy to install and activate on your site.



You'll need to sign up for a free account to get started. All surveys, quizzes, and polls can be created inside your account on the Crowdsignal website.

Simple yet complex: You can create a form with multiple questions, or display a single question on every page to make it conversational style.



The plugin even lets you create multi-page forms and add branching rules. This means you can skip questions for users based on their responses.

Easy embed: There's a share button in the form builder that gives you options to embed your form anywhere you like. There's a direct URL link that you can share with users or add to your website. If you're using WordPress, inside the block editor, you can use the Crowdsignal block and paste the direct URL link to auto-generate your form.



You can also embed HTML code, embed a popup slider on your website, send it in an email, or generate a QR code.

Unlimited forms: Crowdsignal lets you create unlimited surveys, polls and quizzes. There are absolutely no limits here.
Free plan: Crowdsignal offers a free version of their tool that gives you everything you need to run surveys and polls. You can even create engaging quizzes for your website. There are premium features like data analysis and data export that you can get by upgrading.
Cons of Crowdsignal
No restrictions on file formats: There's no option to limit what kind of file formats a user can upload. This can lead to security issues as hackers can upload malware.
Limited analytics: The data is enough for beginners. But if you're looking for detailed analysis, you may find Crowdsignal's analytics limited.
No addons: There are no addons to extend functionality and add more features to your form.
No integrations: You can't integrate with your email provider to sync your forms to your email campaigns
By analyzing its cons, you can clearly see that Crowdsignal is a great option for beginners, small websites, students, and researchers.
However, if you're looking for advanced features and detailed analytics, you'll want to take a look at some of its competitors. See our comparison: 10 Best WordPress Survey Plugins to Collect User Feedback (Compared)
Crowdsignal Pricing Plans
Crowdsignal has a pricing plan that suits different budgets. You can bill monthly or choose the annual mode to get a discount of up to 40%.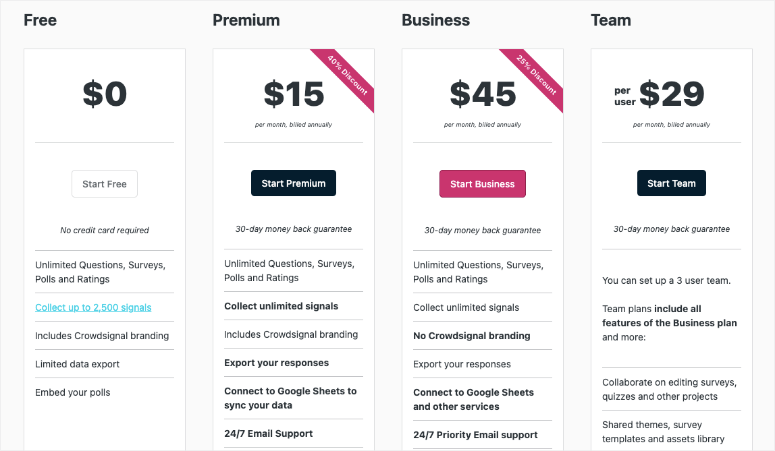 You can choose from 4 different plans that include:
Free: $0, no credit card required. You get unlimited questions, surveys, polls, and ratings. You can collect up to 2,500 signals (that is votes, poll responses, and answered questions).
Premium: $15 per month (billed annually) with unlimited forms and unlimited responses. Get access to entry restrictions, language translation, branching logic, and instant notifications.
Business: $45 per month (billed annually) with added features like customizable CSS, custom domain name, traffic redirection, email surveys, and API access.
Team: $29 per month (billed annually) for 3 members and is best suited for team collaboration.
Every paid plan comes with a 30-day money back guarantee.
Crowdsignal Support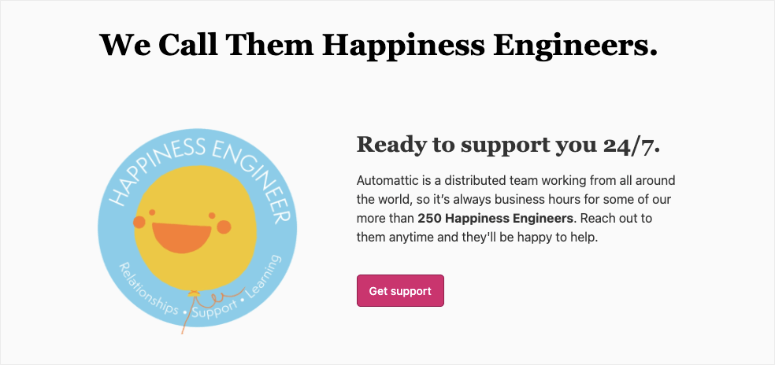 Crowdsignal doesn't offer support for the free plan. You can connect with them on the plugin's support page in the WordPress repository.
They have a series of guides and resources to help you get started and learn more about the platform on your own. In case you can't find your answer, there's an inquiry form that you can fill up and submit on their website.
If you are a paid subscriber, you get access to their support staff that's available 24/7.
Alternatives to Crowdsignal
If Crowdsignal isn't the right survey and polls tool for you, we've got a great alternative.
WPForms is handsdown the #1 surveys and polls plugin for WordPress. It lets you create just about any form you need right inside your WordPress dashboard.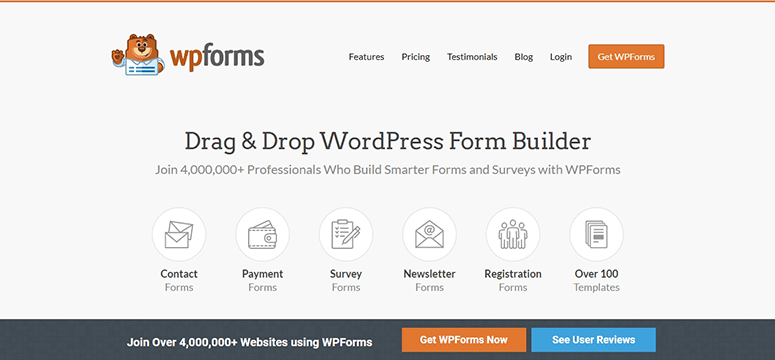 WPForms comes with 300+ form templates that you can get started with. You'll find that they are prefilled with the form fields you need so you won't have to spend too much time customizing them.
There's a visual drag and drop builder to add, delete, and edit fields. These include:
Dropdown
Multiple choice
Checkbox
Rating
Likert Scale
Net Promoter Score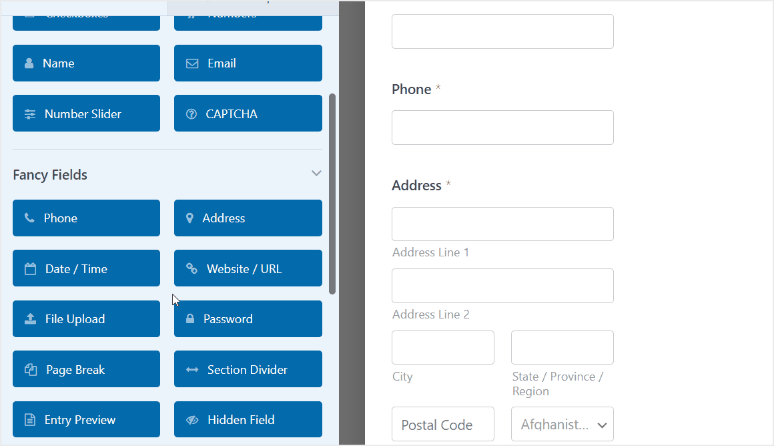 You can add conditional logic to every question. This lets you ask follow-up questions based on what option the user selects.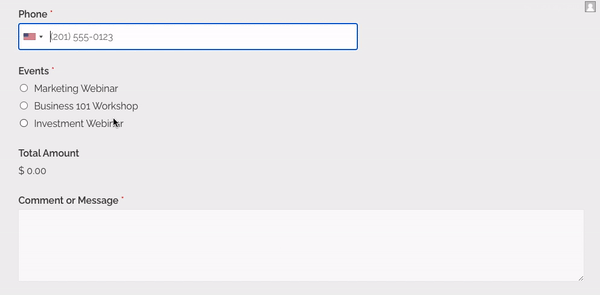 And there's more. Every form you create is responsive so it will look good on any device. Plus, the forms come with built-in spam protection so you'll never have to worry about fraud entries and hackers.
If you want to tighten up security even more, you can add captcha to your forms.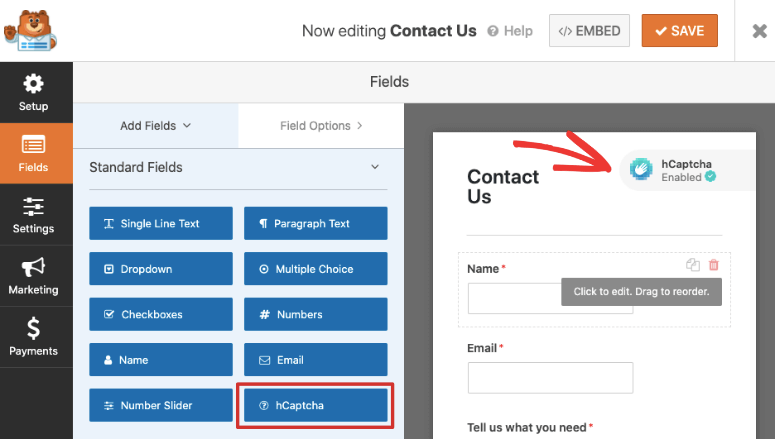 Now WPForms takes security really seriously. If you want to let users upload files, only safe file formats are allowed by default. These include:
Images like .png, .gif, .jpg
Documents such as .doc, .xls, .ppt, .pdf
Audio like .wav, .mp3, .mp4
Video like .mpg, .mov, .wmv
You also get the option to allow/restrict specific file extensions along with a maximum file size limit.
These are just some of the features of WPForms. A few more highlights include:
Multi-page and conversational forms
Plenty of addons to track user journey, access new templates, and more
Email integration with popular services like Constant Contact, Mailchimp, and Aweber
Instant admin notifications
Readymade WordPress widgets to embed forms with ease
Entry management with analytics and reports
Want to know more? Read our complete WPForms Review or go ahead and get WPForms now!
Final Verdict: Is Crowdsignal Good?
Crowdsignal is a great plugin for anyone who needs a simple solution to create surveys and polls. It's free version is packed with more features than any other free tool out there.
However, if you're looking for a more professional form builder with advanced features, try WPForms.
That's all we have for you today. We hope you found this Crowdsignal review helpful in deciding if it's the right fit for your website.
Next, you'll want to read these resources that we've handpicked for you:
These posts have all the information you need to create and optimize surveys and polls for your site.
Get Crowdsignal »