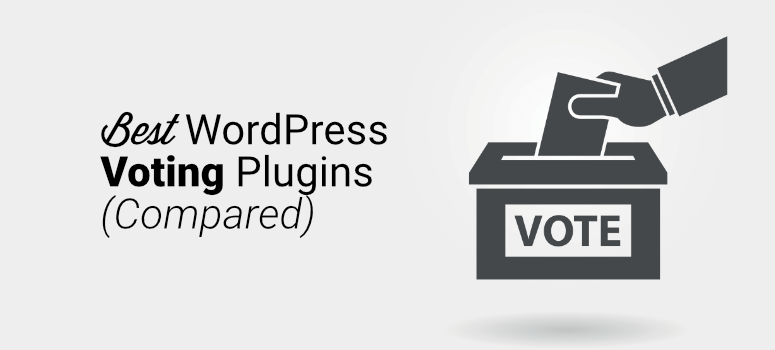 Are you looking for a voting plugin for your WordPress site? Then you've come to the right place.
Voting plugins, or poll plugins, are great tools you can use for your online store, blog, business website, and more. When used correctly, they can help you boost user engagement and conversions.
It's important to choose the right voting plugin for your needs so you can reach your goals quicker. But before we compare the best options on the market, let's go over a few benefits of using a poll plugin on your site.
Why Use a Voting Plugin for Your WordPress Website?
There are several reasons why you should use a voting plugin on your website.
1. Collect User Feedback
If you want to get inside your audience's head, polls are a great way to do so. They give you valuable insight into your target audience's interests, expectations, needs, and more. This helps you create refined marketing strategies that produce positive results and relevant campaigns.
2. Improve User Engagement
If you want an easy way to connect with your audience, giving them a way to express their opinion is a great way to do so. Polls are a quick, convenient way for users to provide their feedback and engage with your brand.
3. Reach a Wider Audience
Because online polls can be completed by anyone with an internet connection, it's easy to reach a wider audience. Polls give you access to visitors around the globe who can engage with your website and respond to your poll.
4. Create a Convenient Experience for Customers
Few customers want to spend their time filling out branded surveys or answering questions. But if it's convenient, they might consider it. Online voting polls are quick and easy. With just a few clicks, users can submit their answers and view the results to see where they stand. It's an easy way for customers to interact with your business and improve engagement.
Now, let's dive into the best poll plugins for WordPress that you can use to increase conversions on your website.
The Best Poll Plugins for WordPress (Compared)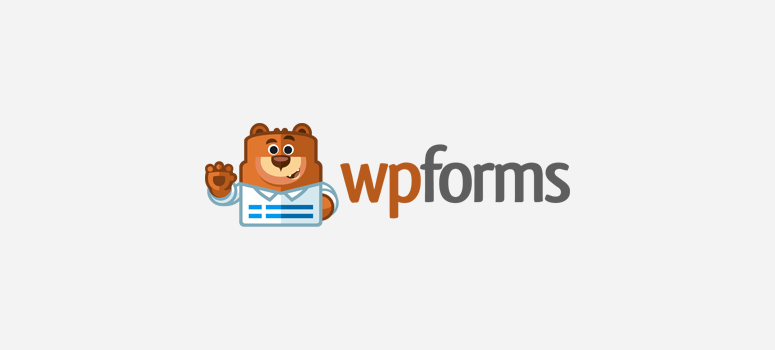 WPForms is the best form building plugin for WordPress. The Pro plan includes a Surveys and Polls Addon that's easy to create and embed on your website.
It comes with drag-and-drop form fields that let you select single or multiple answers. You can also use images along with text for your voting options.
WPForms also makes it easy to track your results so you can make data-backed decisions that grow your business. You can also display poll results immediately after a user submits their answer. Embed poll results anywhere you'd like on your website including sidebar widgets, in a post, on a page, or anywhere else you think it would be effective.
When you enable a poll on your site, the form fields are converted into smart survey fields, including dropdown fields, radio buttons, text fields, checkboxes, rating fields, and more.
Get started with WPForms today.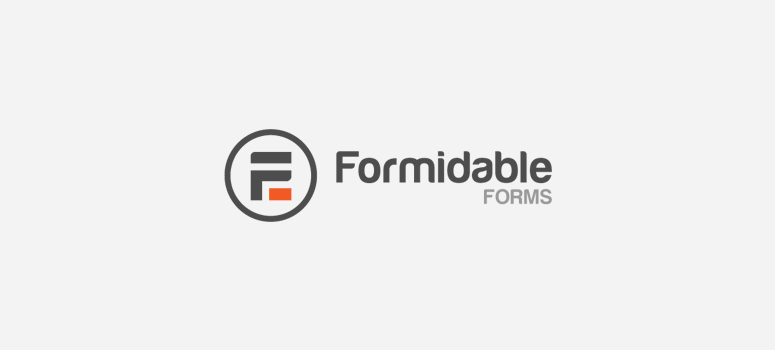 Formidable Forms is a powerful surveys and polls form builder for WordPress. It has a user-friendly drag-and-drop builder that makes it easy to create beautiful polls for your website.
Formidable's visual form styler lets you customize your poll images exactly how you want them. No coding knowledge is required so beginners and experts can make quick, easy edits.
This plugin also comes with powerful features including smart conditional logic, reviewing before submission, several integrations, data display options, and much more.
Get started with Formidable Forms today.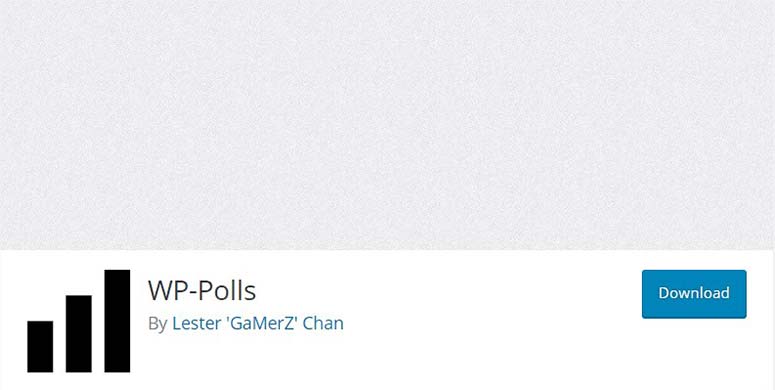 WP-Polls is a free, simple poll solution for your WordPress website. In minutes, you can add online polls to your site's posts, pages, widgets, and more.
You can let users select one or multiple options in a poll depending on your goal. Results show up immediately after a user submits their answers.
It's also easy to customize your poll's appearance to suit your branding and match your website. If you have a bit of coding knowledge, you can add custom CSS and even change your theme. The plugin is super customizable and comes with premade templates and CSS styles, so it looks exactly how you want it.
Get started with WP-Polls today.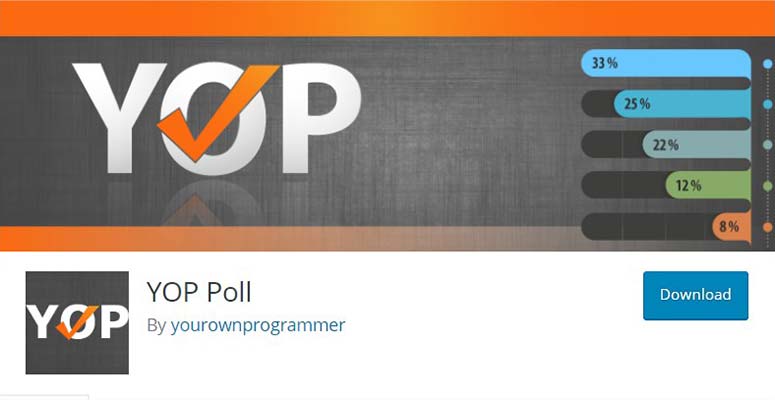 YOP Poll is a free, easy-to-use WordPress plugin that lets you add online polls and surveys to your website in minutes.
With YOP Poll, you can create polls with single or multiple answers, manage the results, decide what details to display publicly, set vote permissions, and much more. Limit your poll to registered users only or allow answers from anyone on your site.
You can also display your poll results in different styles using YOP Poll's customization options. It's also easy to schedule polls so they go live on your site exactly when you want them to.
Get started with YOP Poll today.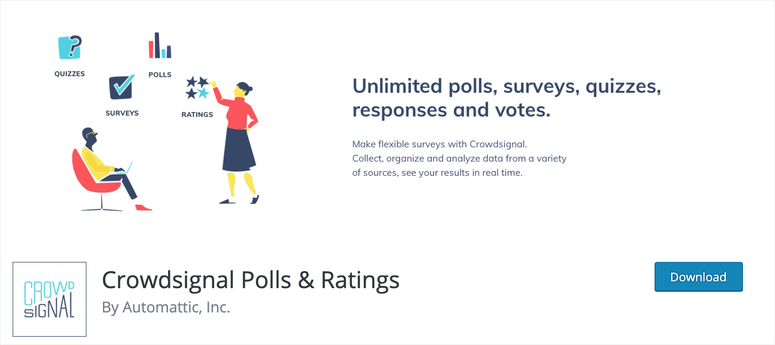 Crowdsignal Polls and Ratings lets you create polls, surveys, quizzes and forms for your website in minutes. It comes with 14 question and form types including Likert scales, free type, and multiple choice.
Choose from one of their multiple themes and add custom styles to match your brand's visuals. You can customize fonts, colors, and even use your own CSS to make your forms completely your own.
Watch your results in real-time as they come in for the most accurate data collection. Use custom filters to analyze specific data and track where responses come from.
Get Crowdsignal Polls and Ratings today.

Democracy Poll is a simple voting plugin for WordPress that lets you add online polls to your site in minutes.
Democracy Poll comes with features such as single and multiple voting options, scheduling a poll's start and end data, limiting polls to registered users, and more.
This plugin also lets users add their own answers if they don't see an option that suits their situation. It remembers users by their IP, cookies, and WordPress profiles for easy vote history cleanup.
Democracy Poll comes with design options so you can customize the look of your online polls to match your website. Choose to show a note under a poll to better explain a question and enhance users' understanding of the questions.
Get started with Democracy Poll today.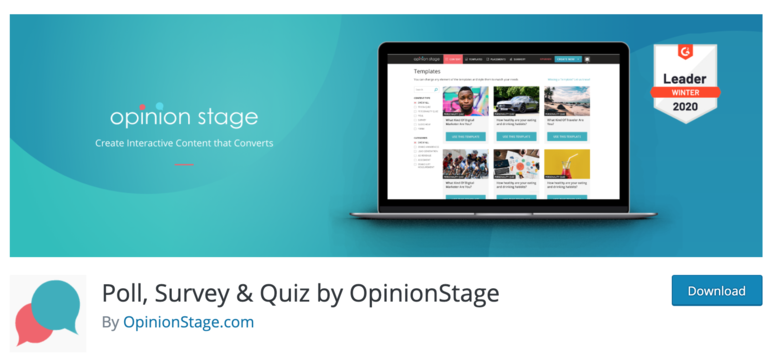 Poll, Survey & Quiz by OpinionStage is a poll, survey, form and quiz builder plugin for WordPress. Create your online forms from scratch or choose from its 100+ premade templates. Either way, you can customize your online poll to look exactly how you want it.
With this plugin, you can add images and videos to your polls for a creative way to collect user feedback. Select from multiple color schemes and fonts as well as add your own logo to make your poll stand out.
If you want to use your own code, you can use the CSS override feature to fully integrate your own design. Display the results in real-time to see the most recent, up-to-date submissions.
Plus, its advanced analytics dashboard lets you create tables and graphs based on your results to break down your poll's performance. It also integrates with popular social platforms such as Facebook and Twitter to easily distribute your content.
Get started with Poll, Survey & Quiz by OpinionStage today.
And that's it! These are the best poll plugins for your WordPress site.
If you enjoyed this article, feel free to check out our post on the best WordPress form plugins.
It compares the top form plugins for WordPress so you can choose the option best suited to your business and its needs.