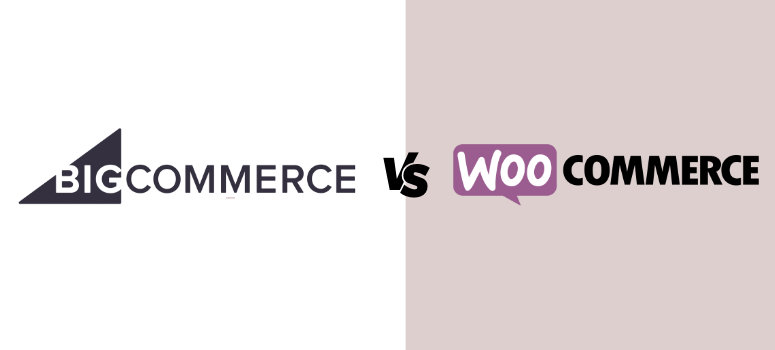 Do you want to start an eCommerce website? If so, you'll need to choose an eCommerce platform to build and host your website. But with so many eCommerce platforms on the market, how do you know which one is the best choice for you?
In this BigCommerce vs. WooCommerce article, we'll compare these 2 popular eCommerce platforms so that you can figure out which one is the right pick for your needs. We'll break down the features, ease of use, pricing, support, and more to determine which eCommerce platform will help your website succeed.
Let's get started.
General Overview: BigCommerce vs. WooCommerce
BigCommerce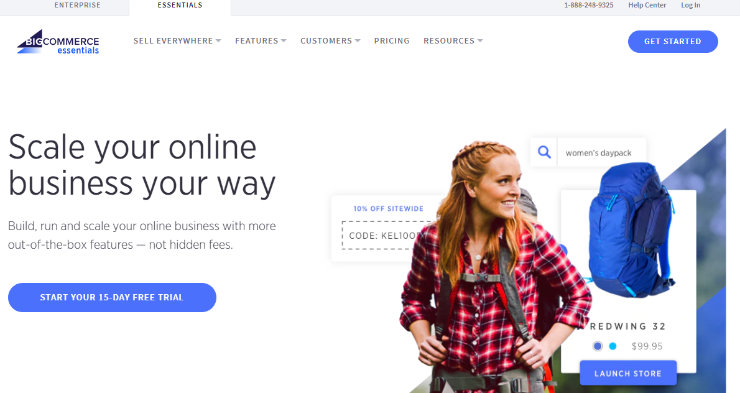 BigCommerce is a fully hosted eCommerce platform. It's a great option for small business owners who are just starting out because you pay 1 price and get everything you need to start an eCommerce site. This includes hosting (where your website lives on the internet), design, content, payments, cart, marketing features, support, and more.
But one important factor to consider when signing up with BigCommerce is their ownership and hosting catch that comes with being a fully hosted platform. Once you create an online store with BigCommerce, you're stuck there; you can't move your website to any other web hosting provider. Plus, with BigCommerce your data is shared and you're not the sole owner of the hosted space, it's shared with other BigCommerce stores.
Though, they do provide the option of integrating BigCommerce with your WordPress site so you can manage your content on the front end with WordPress and the back end of your store with BigCommerce.
WooCommerce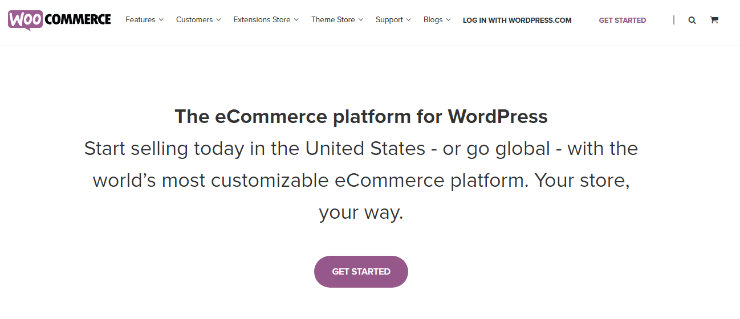 WooCommerce is popular free eCommerce plugin for WordPress, nearly 1/3 of all online stores are powered by WooCommerce. Since WooCommerce is a WordPress plugin, this means you can take any WordPress website or blog and easily turn it into an online storefront with WooCommerce. It also means that if you want to use WooCommerce, you have to build your eCommerce website on WordPress.org.
But with WordPress and WooCommerce together, you have complete control and ownership of your eCommerce website and you're free to choose any web hosting provider you want unlike BigCommerce.
WooCommerce comes with a number of built-in features to help you run your online store including payment processing, inventory management, shipping, coupons, and much more.
Check out our full WooCommerce review to learn more.
Features: BigCommerce vs. WooCommerce
BigCommerce
Like we briefly mentioned earlier, BigCommerce comes with a ton of features right out of the box. First, with BigCommerce you can design a beautiful, intuitive website in less than 1/2 of the time it usually takes to design a site. BigCommerce offers a wide array of great-looking free and paid themes for every industry imaginable including fashion, pets, food & beverage, arts & crafts, automotive & industrial, toys & games, and much more.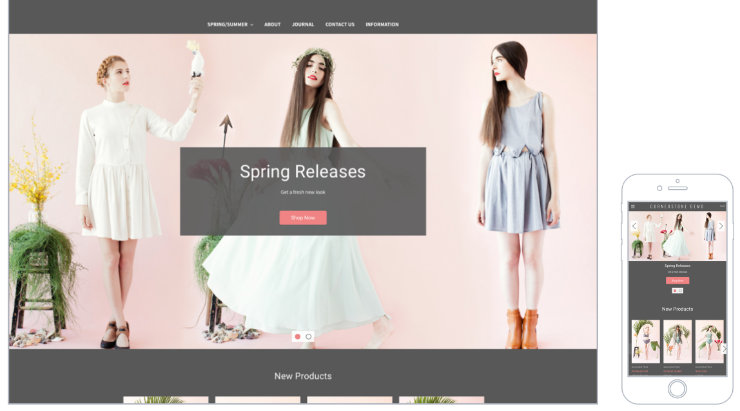 Their storefront editor lets you easily change your site's look with no coding required. With their themes you can also provide a more personalized shopping experience for users with a flexible modular code base, conditional logic, and language files. Their themes are also fully integrated with BigCommerce's faceted search to help customers navigate your site easier.
With BigCommerce you can quickly grow your revenue using their built-in conversion optimization tools. You can reduce cart abandonment with their abandoned cart server, increase checkout with PayPal One Touch, improve conversions with a 1-page checkout, increase trust with product reviews, incentivize buyers with built-in coupons and discounts, and more.
They also provide a number of features for accepting payments, shipping and fulfilling orders, eCommerce analytics, seamless integration with popular apps, boosting SEO, and more.
WooCommerce
WooCommerce also offers countless features that help you build a powerful online store on WordPress. Because WooCommerce is open-source and built on WordPress, it gives you the opportunity for endless customization. You get access to over 55,000 free WordPress plugins as well as many more paid plugins as well. They also offer numerous WooCommerce themes that will integrate seamlessly with the WordPress themes you know and love.
WooCommerce also provides a number of free and paid extensions to improve your online store's marketing, payments, shipping, store management, and more.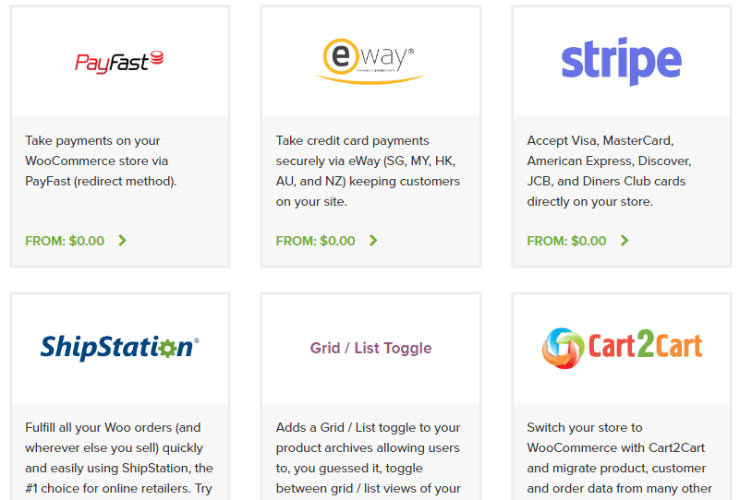 Some notable WooCommerce extensions include:
WooCommerce Subscriptions – Set up recurring payments and automatically charge customers on a regular basis.
WooCommerce Bookings – Allow customers to book appointments, make reservations, or rent equipment right from your website.
Product Add-ons – Offer add-ons to your customers like gift wrapping or a special message for your products.
WooCommerce Memberships – Give members access to restricted content or products, for free or for a price.
Shipment Tracking – Offer shipment tracking information to your orders.
WooCommerce boasts a number of other awesome features such as location customization to set language and currency, product rating and reviews, built-in payment processing from leading providers like Stripe and PayPal, reporting, and more. They even offer a mobile app so you can manage your online store on-the-go.
Related: 6 Best eCommerce Platforms for Multivendor Marketplaces
Winner: WooCommerce
Ease of Use: BigCommerce vs. WooCommerce
BigCommerce
BigCommerce is one of the easiest eCommerce platforms to use. You can design a beautiful site in minutes with their themes and website editor and you don't have to worry about any of the technical aspects of your online store, because BigCommerce handles it all for you.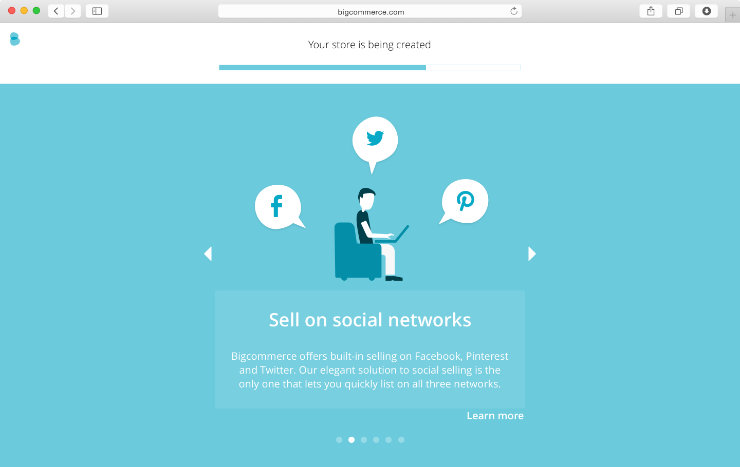 The onboarding process is clear and easy-to-understand and many of the features come built-in, so you don't have to worry about installing plugins like with WooCommerce.
With BigCommerce, you can get your online store up and running in no time very easily.
WooCommerce
With WooCommerce there's a bit more of a learning curve than with BigCommerce. While you have a ton of options for WooCommerce themes and plugins to help get your online store looking and running how you want it to, it's not as fast as building an online store with BigCommerce because you have to put in some of the work yourself.
You also have to be more hands-on when it comes to the management of your website including managing updates and making sure your website is secure. Luckily though, there are a number of plugins, like security plugins for instance, that will help you automate the process.
You don't need to be a computer wiz at all to use WooCommerce successfully, it just takes a little while to get used to and it's worth it to have complete control over your online store.
If you're already a WordPress user, building an online store will be a breeze. Alternatively, check out our tutorial on how to make a website if you're new to WordPress.
Winner: BigCommerce
Scalability: BigCommerce vs. WooCommerce
BigCommerce
BigCommerce provides a number of features that allow you to scale your business including unlimited products, file storage, and bandwidth with all of their plans.
As your business grows and your website starts to get more traffic, you also need to consider factors such as speed and security. BigCommerce offers industry-leading uptime at 99.9%, this essentially means that your store is only at risk of being down a few minutes per year, versus a couple of days. They also offer faster load page times for better conversions and improved customer experience as well as uncompromising security.
BigCommerce is a great choice for startups and small businesses. But if you want to scale your business with BigCommerce you're somewhat limited and it's going to cost you. Every BigCommerce plan comes with an annual sales cap, this means you'll be automatically upgraded to a higher-priced plan once your annual online sales go over that limit.
WooCommerce
WooCommerce offers unlimited images and galleries, unlimited products, and it has the ability to handle thousands of transactions per minute so you can grow your traffic and skyrocket your sales.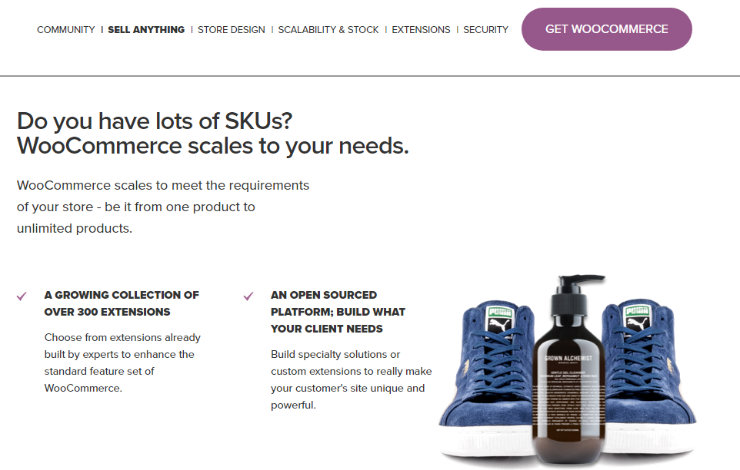 Plus, since WooCommerce is an open-source eCommerce application, you have complete control of your online store and have the opportunity to scale your business exactly how you want. You are responsible for maintaining updates, backups, and the security of your site. But this also means that you have more options for scaling your business such as caching, picking and choosing extensions and plugins, and more. As your online store grows though, you will need to upgrade your WooCommerce hosting plan.
But, since WordPress and WooCommerce are leaders in the industry and have such a huge community, there are a lot of developers who work specifically with these platforms. This means you can easily find a professional developer who can help you scale your online store to your needs.
Winner: WooCommerce
Pricing: BigCommerce vs. WooCommerce
BigCommerce
BigCommerce offers 4 different pricing plans: Standard, Plus, Pro, and Enterprise. These plans range in price from $29 per month to $299. per month and higher (you have to contact BigCommerce to get custom pricing for the Enterprise plan which is based on customers' online sales).
All plans include no additional transaction fees, unlimited products, file storage, and bandwidth, and unlimited staff accounts.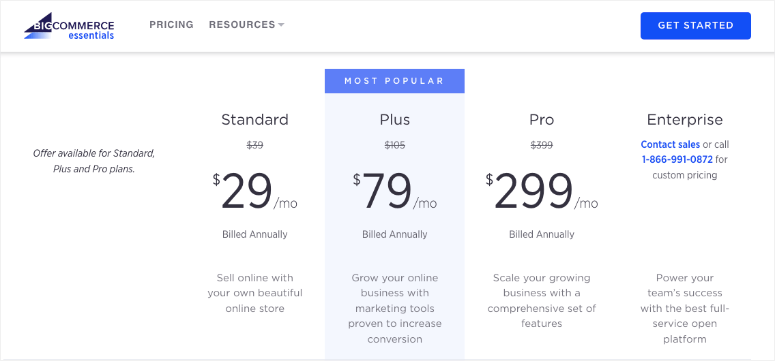 It's important to note that if you want access to some powerful features like the abandoned cart saver and customer groups and segmentation, you'll have to choose one of the pricier plans.
As we previously mentioned, you can use BigCommerce and WordPress together with any plans.
You have the option to test out BigCommerce for free with their 15-day trial and you don't have to provide your credit card info.
WooCommerce
As we mentioned earlier, WooCommerce is totally free eCommerce plugin for WordPress. That means you can download and install WooCommerce on your self-hosted WordPress site and start selling products online for free.
But of course, if you don't have a self-hosted WordPress site already, you'll need a domain name, SSL certificate, and a WordPress hosting account to start an online store with WooCommerce.
Typically a domain costs about $14.99, an SSL certificate costs $69.99, and web hosting costs around $7.99 per month. This is pretty costly especially if you're just starting out.
Luckily though, Bluehost is offering an awesome deal for IsItWP readers.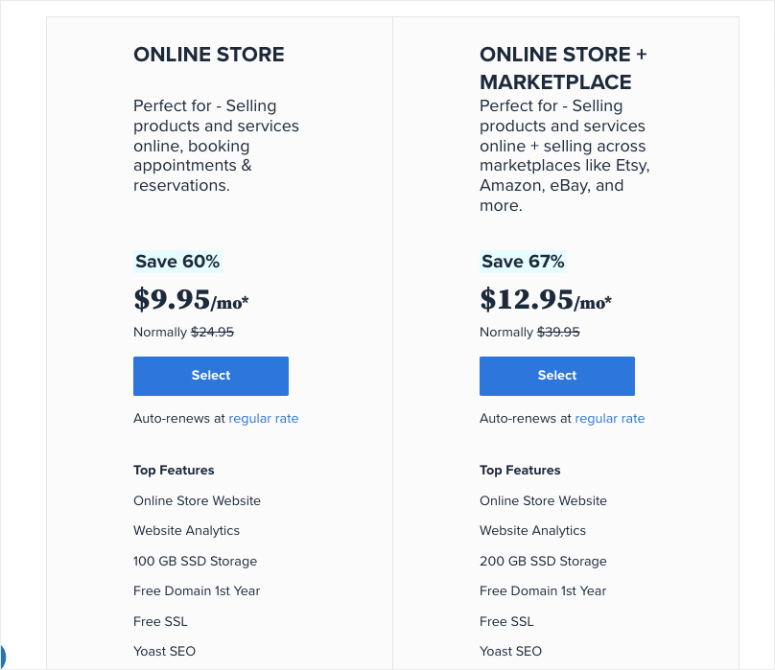 Bluehost is an official WordPress and WooCommerce-recommended hosting provider and it's also one of our top picks for the best eCommerce hosting companies. They're offering our users a free domain name, free SSL certificate, and a discount on web hosting.
This means you can start your online store for as low as $9.95 per month!
Get Started with Bluehost + WooCommerce Today »
Like BigCommerce, WooCommerce also doesn't charge any transaction fees. But similar to BigCommerce, the hosting costs will increase as your website grows.
While WooCommerce extensions can sometimes be pricey, you can purchase them as you need them. You also have the opportunity to use tons of free and inexpensive WordPress plugins for WooCommerce to help grow your sales and save money.
As you can see, WooCommerce is a lot more affordable than BigCommerce, which is perfect for starting an online store on a budget.
Winner: WooCommerce
Support: BigCommerce vs. WooCommerce
BigCommerce
As a fully hosted eCommerce platform, BigCommerce provides excellent support. First, all of BigCommerce's plans come with 24/7 live agent support. Any time you run into an issue, you're sure to get assistance quickly. If you sign up for their Enterprise plan, you also get express routing, priority support, access to strategic account management, and API support.
In addition to live agent support, they have a Help Center that includes a ton of helpful tips, tricks, and how-tos in the form of guides, user docs, videos, and developer docs.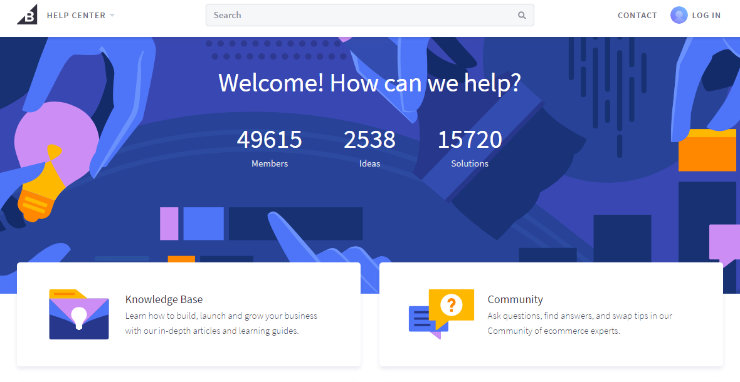 BigCommerce also has a Community section where you can post your questions and get responses from other BigCommerce users, browse topics for solutions, and join groups to connect with like-minded people.
WooCommerce
Since WooCommerce is one of the most popular eCommerce platforms, you have a ton of WooCommerce support options available to you. On their website, you can find a robust knowledge base that includes reference materials, and tutorials on everything from getting started to selling products to extending WooCommerce.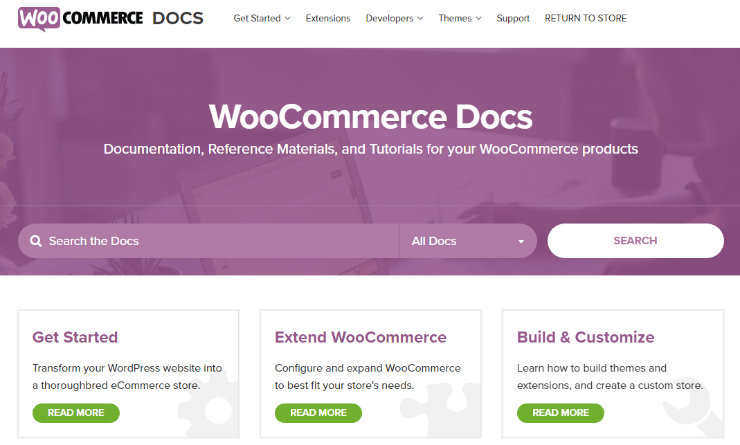 WooCommerce also offers support forums where you can talk to and get advice from other WooCommerce users and experts.
Since WooCommerce is a self-hosted platform though, they are limited in their personal customer service. They do offer live chat and you can submit a support ticket, but you can't get support via phone, email, or social media. Plus, any issues you run into regarding your server would be the responsibility of your WooCommerce hosting provider. Same goes for any WooCommerce themes and extensions, support would be provided by the developers of those products.
Winner: BigCommerce
Our Verdict: BigCommerce vs. WooCommerce: Which Should You Choose?
BigCommerce and WooCommerce are both amazingly powerful platforms to start your online store on, which one you choose all comes down to personal preference.
If you want to quickly build an online store and not have to manage any of the technical aspects of it, BigCommerce might be the choice for you. Because BigCommerce is a fully hosted solution, you don't have to worry about much. Most of what you need is already installed for you so you can sign up and start selling quickly.
The only downside is that you don't have complete control or ownership of your website. You'll also have to pay a bit more money each month than you would with WooCommerce and WordPress.
If you're still not convinced, then our guide on BigCommerce alternatives.
On the other hand, if you want complete control and ownership of your online store, you should go with WooCommerce. Because it's run on WordPress, customization is endless; you can build exactly the kind of online store you need with any of the features you desire. Plus, the cost is much more affordable for users who're just starting out.
If you want, you can check our list of WooCommerce alternatives.
The only cons are that you have to maintain the software yourself and it comes with a bit of a learning curve. But with all the documentation online to teach you how to use WordPress, it shouldn't take long before you're comfortable.
We hope you enjoyed this article on BigCommerce vs. WooCommerce and that you now have a better idea of which is the best for your online store. Once your online store is up and running you can venture into CRM software to build better customer relationship. If you liked this article, check out our post on How to Create an Amazon Affiliate Store with WordPress (and Make Money).