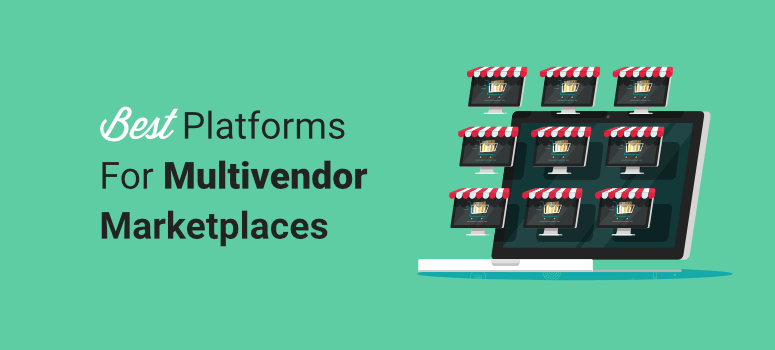 Are you looking for the best eCommerce platform to create an Amazon-like multivendor marketplace?
Having multiple vendors on your eCommerce website is a fantastic way to offer a variety of products to your users. The vendors each have different qualities, and many will provide the same products at competitive prices.
Building competition among vendors encourages them to offer the best prices for their products, ultimately benefiting your users.
With a multivendor marketplace, you can earn a good commission on every sale. You can also use different payment systems to accept and manage online payments from users.
In this article, we'll share some of the best eCommerce platforms for multivendor marketplaces.
Best eCommerce Platforms for Multivendor Marketplaces
Below, you'll find premium eCommerce platforms to set up a multivendor marketplace like eBay, Etsy, or Amazon. Each platform has unique features and options, giving you a choice to select the best eCommerce solution for your business.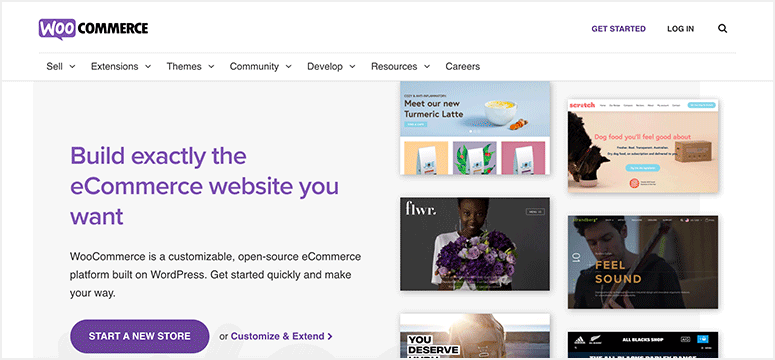 WooCommerce is the industry's best eCommerce platform for multivendor marketplace owners. It works as a plugin inside WordPress (the world's largest content management system). This means it uses all the features and flexibility of WordPress to create the best possible website.
Some of the key WooCommerce features include:
Secure payment options
Shipping options
Premium extensions
WooCommerce mobile app
Powerful integrations
WordPress themes and plugins support
While you can sell your own products, the platform also integrates with other useful WordPress plugins, like WC Vendors and Dokan, to build your multi-vendor eCommerce marketplace.
WC Vendors supports multiple WooCommerce extensions to add more features to your eCommerce store.
You'll first want to add a beautiful WooCommerce theme to design your online store. Then you can use WC Vendors to allow new sellers to register on your marketplace by filling out a simple form. The vendors can add their products to your website and manage them within the WordPress dashboard.
Additionally, WC Vendors has a flexible commission structure that helps you earn money from your website. You can set up the commission structure to charge a flat percentage from vendors on every sale.
It also allows you to charge an additional fee depending on the products. Both WooCommerce and WC Vendors are easy to set up in WordPress.
It's the most recommended multivendor marketplace solution for startups and small businesses to start with minimum investment and compete with big marketplaces in their industry. With access to thousands of feature-rich WordPress plugins, there's huge scope for scalability and automation.
Price: WordPress and WooCommerce are free. The marketplace extension – WC Vendors plugin – has two plans:
Pro – $249 per year
Lifetime – $499 (one-time fee)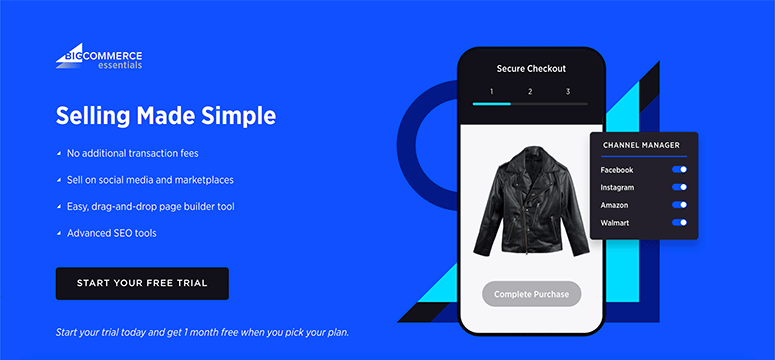 BigCommerce is an excellent eCommerce builder for creating an online store. It comes with a Multi Vendor Marketplace application to convert your eCommerce store into a fully functional multivendor marketplace.
Like any other marketplace, you can allow the vendors to sign up via your BigCommerce store. You can also add the sellers yourself manually.
Once you install the application, it'll change your account into an admin dashboard with all the options necessary to manage your multivendor marketplace.
Here are the top BigCommerce features:
No transactional fees
Drag and drop builder
Advanced SEO tools
Inventory management
Channel integrations
Image optimizer for products
Supports a wide range of payment providers
You can see information about sellers, products, orders, and more within your dashboard. It allows you to fully control vendors and products, which means you can approve a product before it goes live on your website.
It has a different commission structure than other popular marketplaces. This application offers you to create subscription/membership plans for vendors.
A vendor has to purchase a plan to sell their products in your eCommerce store. You can also charge a commission on every sale based on the membership plan of the vendor.
You shouldn't miss out on our comparison between BigCommerce vs WooCommerce. This will compare both top eCommerce platforms for features, functionalities, and prices.
Price: BigCommerce's cost starts from $29 / month, while the Multi Vendor Marketplace app costs $10 / month. The app also has a free trial for 10 days.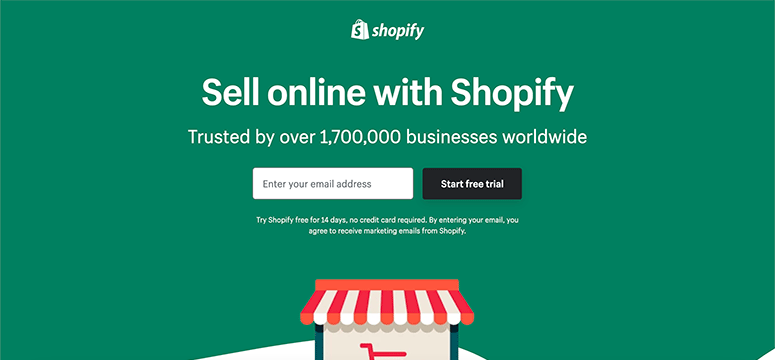 Shopify is another popular eCommerce software for building an online store. It has the same Multi Vendor Marketplace application as BigCommerce to convert your eCommerce shop into a marketplace.
Shopify has a drag and drop builder to design the frontend of your website quickly and easily. It also includes customizable ready-made themes to create an eye-catching eCommerce store.
With the Multi Vendor Marketplace application (by Webkul Software), you can build a fully functional marketplace with all the essential features to add multiple vendors to your website.
The most notable Shopify features include:
Free web templates
Secure transactions
Shipping solutions
Easy customization
Centralized admin panel
Shopify expert customer support
Digital marketing campaigns
It allows you to add unlimited vendors, unlimited products and also enables you to sync products from other eCommerce stores. Combining this with the features of Shopify, you'll get a robust admin dashboard with powerful features and options.
When it comes to commissions, Shopify is super flexible and easy to set up. You can set up multiple commission structures for vendors. It includes a global commission plan, individual vendor commission, and category-based commission.
To help you out, we have a Shopify vs WooCommerce comparison. It'll make the selection process easier by comparing the two popular platforms.
If you want to explore Shopify even more, check out our complete Shopify Review.
Price: Shopify has three premium plans that start at $20 per month.
Get started with Shopify today!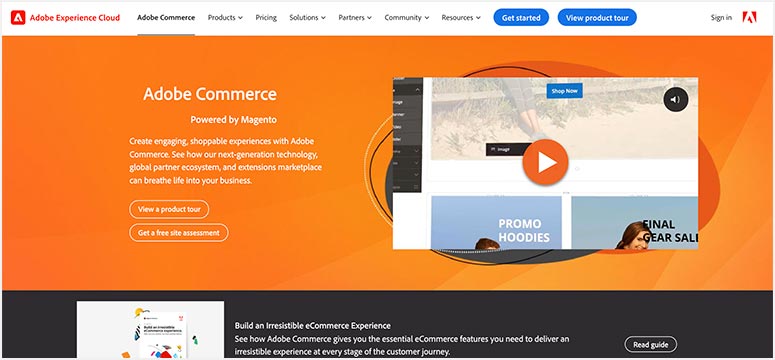 Adobe Commerce (Formerly Magento) is a popular eCommerce platform with unique features and addons. It has an extension called Multi Vendor Marketplace that helps you create a robust multi-vendor store.
Marketplace integrates with Magento to allow vendors to register on your website. Once you approve the vendor's request, they can go ahead and add their products.
Marketplace offers a complete dashboard of its own to your vendors which is built for a great user experience. This dashboard has all the options needed for a vendor to manage their products, see customer reviews, check out wishlists, newsletter subscriptions, and more.
The most highlighted features of Magento's multi-vendor eCommerce platform include:
User-friendly interface
Drag and drop tools
Custom templates
Data centralization
Stripe integration
Premium extensions
It also includes a profile page for each vendor to display their information. This profile page also shows the customer reviews and ratings publicly.
Magento Marketplace offers a flexible commission system. It allows you to charge a different commission from each vendor depending on their products. Or, you can fix the commission structure to be the same for all vendors.
This platform is well-suited for tech-savvy people and developers. The setup is not as easy as WooCommerce and other multivendor platforms on this list.
Price: You need to get a quote by contacting their sales team.
Get started with Magento today!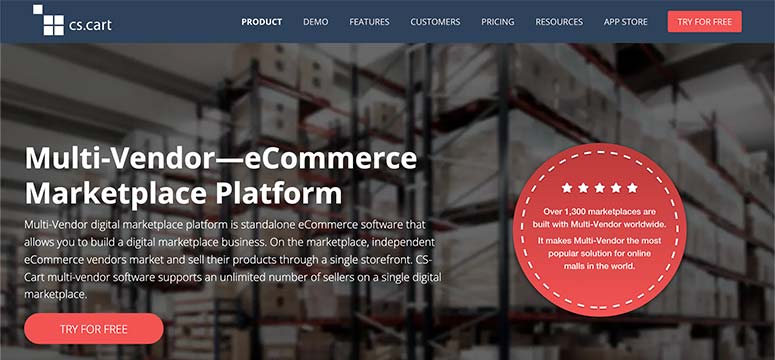 CS-Cart Multi-Vendor is a full-fledged multivendor marketplace platform built specifically to create your marketplace.
It's a standalone platform and doesn't need any other applications or extensions to run the marketplace, which means you'll get all the features of a multivendor platform right out of the gate. It allows the vendors to register on your eCommerce site and get access to a dashboard.
The CS-Cart Multivendor marketplace software offers:
Digital storefront with intuitive backend
Built-in vendor plans and seller payout system
Order management and product approval system
Powerful API to integrate with other software
70+ integrated payment methods
Mobile app for Android and iOS
Source code available
The dashboard shows statistics, income status, the total number of orders, sales, tax details, and more. Vendors can add their products with all the required information, including quantity and price.
CS-Cart has a review system that allows users to leave feedback on the products they purchase. A vendor has the freedom to enable/disable the review system for their products.
Added to that, it has a powerful vendor-specific search feature for users to find their favorite products.
The platform, by default, integrates with 8 largest delivery services including DHL, UPS, USPS, and FedEx. All these services offer delivery options with real-time rate calculations.
Coming to the commission system, it's pretty simple. You can either charge a flat fee on every sale or set a percentage for vendors according to your business needs. All the money from any sale will come to you first, and you can distribute it to the vendor after deducting your commission.
Price: Multi-Vendor On-Premises starts at $1,250 per year. Multi-Vendor No-Code starts at $75 per month.
Get started with CS-Cart Multi-Vendor today!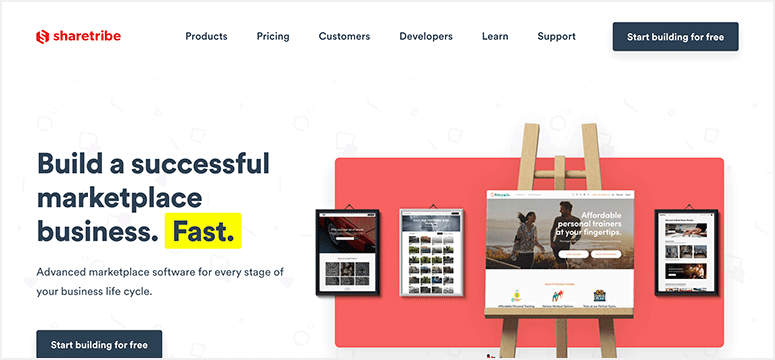 Sharetribe is a peer-to-peer marketplace platform. It allows you to set up a business model where your vendors can not only sell products but also sell services and rentals.
This approach makes Sharetribe slightly different from any other eCommerce platform in the article. It's focused more on the individual vendors than on being a full-fledged online store.
It has a simple registration process for vendors/entrepreneurs who want to set up an eCommerce business. Once registered, they can add their products and create product listings.
A cool feature of this platform is the powerful search bar. This allows customers to quickly search and find relevant products they're looking for.
Sharetribe marketplace features include:
Multi-language support
Multiple currency support
Scalable platform
Sales tracking tools
Admin access and control
Payment gateways include Stripe and PayPal. So users can make payments on your marketplace with all major credit cards, debit cards, and PayPal.
Sharetribe lets customers filter the products based on price, tags, and categories. It also includes a map view to find local vendors. Plus, you can also use the best Google Maps plugins on your website to display your business location.
While their other features may be different, the commission structure is quite similar to any other eCommerce marketplace platform. You can charge a fixed fee, a percentage on every sale, or both.
The commission will directly transfer to your PayPal account, and you won't need to get involved in payment processes.
Price: Sharetribe starts at $79 per month.
ShareTribe Flex is an API-based SaaS and the monthly cost can vary depending on your needs for hosting and a developer. You'll also get the flexibility to handle your own payment gateways.
Get started with Sharetribe today!
Need more options? Other bonus plugins that you can take a look at Arcadier and Yo!Kart. With that, we've covered the top multivendor marketplace platforms. Up next, we'll tell you our #! pick.
Verdict: Which is the BEST Multivendor Marketplace
WooCommerce is the best platform to set up a multivendor marketplace business, however, you will need to use a plugin like WC Vendors or Dokan to enable multivendor features. You'll get a website that's configurable according to your business requirements as and when you need to make changes.
With WooCommerce, since you'll be building on WordPress which is an open source platform, you'll find thousands of tools and plugins that are constantly being developed by third parties. So you can grow your business and make it better for your vendors as well. Check out: 35 Best WordPress Plugins [Mostly FREE!].
That's all for now. We hope this article has helped you find the best eCommerce platform for a multivendor marketplace.
Next, you'll want to check out the following guides:
This will further help you find more resources and the actual cost to set up your multivendor marketplace the right way.