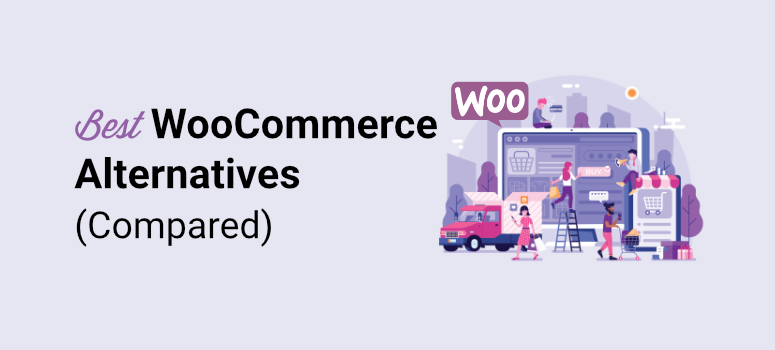 Looking for the best WooCommerce alternatives to run your online business?
With over 5 million active installations, WooCommerce is the most popular eCommerce plugin. It's free and offers many features that let you sell products on your WordPress site.
Though WooCommerce is the #1 choice, it isn't the only eCommerce platform. It's definitely worth exploring other options in the market to find the platform that's most ideal for your online store and business goals.
In this post, we've picked out the best WooCommerce alternatives that you can use to start your online store right away.
But first, to make a fair comparison, let's take a look at the WooCommerce plugin and what it has to offer.
A Brief Introduction to WooCommerce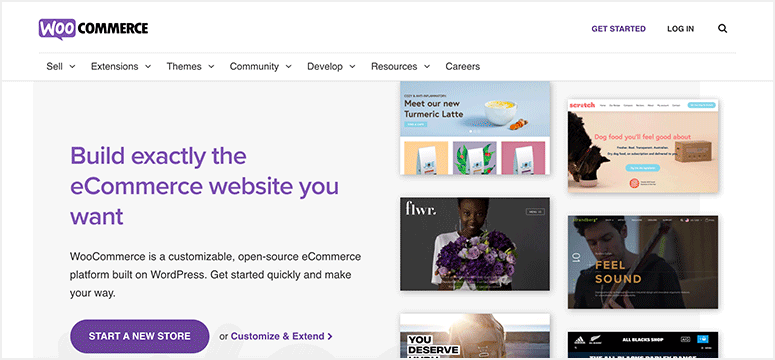 WooCommerce is an open-source eCommerce plugin designed for both small to large-sized businesses. It comes with powerful features that let you sell both digital and physical products on your WordPress site.
With WooCommerce, you can easily build a full-fledged online store, set up payment options, and start selling your products in a few minutes. And the great thing is you can download this plugin for free in the WordPress repository.
It has a large community of developers and users so you can even hire a professional to create a personalized eCommerce site. The possibilities are endless with WooCommerce as it allows you to customize and design your store the way you want.
WooCommerce has many built-in features such as PayPal payments, shipping options, inventory management and so much more. This makes creating and running an online store a piece of cake.
Additionally, there are hundreds of free and paid extensions that you can use to add more functionalities to your store. You'll find add-ons for adding new payment methods, subscriptions, memberships, and more.
What's more, WooCommerce has a collection of step-by-step tutorials and documentation that will help set up your eCommerce store.
Highlights:
Flexible and fully customizable
Easy to set up and use
SEO friendly so your product pages rank well on search engines
Built-in shipping options to calculate fees
Supports payments via PayPal, credit card, bank transfer, and cash on delivery
Inventory management system tracks stock availability
Options for generating coupon codes
Dashboard for viewing detailed reports on sales and other activities in your store
Therefore, WooCommerce is the best option for building an online store in WordPress.
So why should you look for WooCommerce alternatives? Let's take a look at some of the reasons.
Why Look for WooCommerce Alternatives?
As WooCommerce is an open-source platform, it gives you full control over your eCommerce website. You get access to tons of customization and plugin settings so you can make changes according to your preferences.
WooCommerce is a WordPress plugin so it doesn't offer hosting services and website maintenance as other hosted eCommerce platforms do. But, you'll find many cost-effective WooCommerce hosting plans from Bluehost and other services to get started.
Another thing about setting up a WooCommerce site is that you'll have to make sure other plugins and themes are compatible. This is important because plugin conflicts can hamper the speed and security of your website.
If you have experience running a WordPress site, then you won't have any issues with WooCommerce. You can go ahead with it as it is the #1 eCommerce WordPress plugin and is completely free.
So what do these other eCommerce tools and platforms bring to the table when compared to WooCommerce. Let's find out!
Best WooCommerce Alternatives
We have reviewed and listed two types of WooCommerce alternatives. One type is the dedicated eCommerce platforms and the others are tools or plugins that you can integrate on your site.
Let's take a look at them now.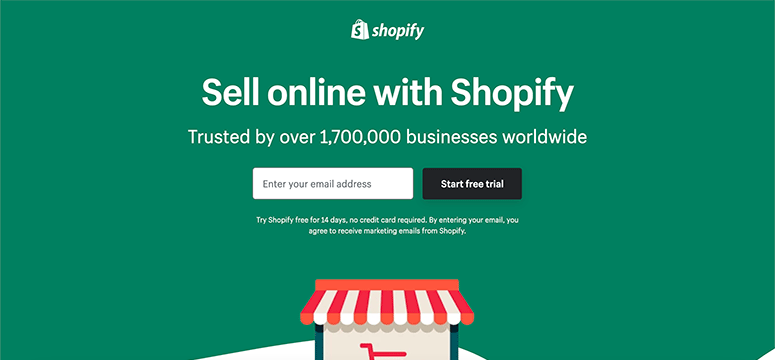 Shopify is one of the best fully-hosted platforms that lets you build a full-fledged eCommerce site with ease. All you need to do is sign up for an account and set up your store in a few minutes.
It comes with a drag and drop builder that allows you to customize website theme templates and add new elements as per your requirements. And you can do this without having to touch a line of code.
Highlights:
Pre-designed online store templates
Simple and easy to use
Integration with third-party apps
Generate discount codes and gift cards
Options to sell on other marketplaces and social media
Shopify vs WooCommerce
As Shopify is a cloud-based eCommerce platform, it takes care of all the technical aspects such as site speed, maintenance, backups, and security. So it is perfect for beginners looking for a simple tool for selling products online.
If you want to sell both physical and digital products on your site like WooCommerce, then you'll need to connect with apps like SendOwl and FetchApp.
The only drawback to Shopify is the pricing. Compared to WooCommerce and other alternatives in this list, the pricing plans are on the expensive side.
Pricing:
The basic plan starts at $29 per month. A 14-day free trial is also available.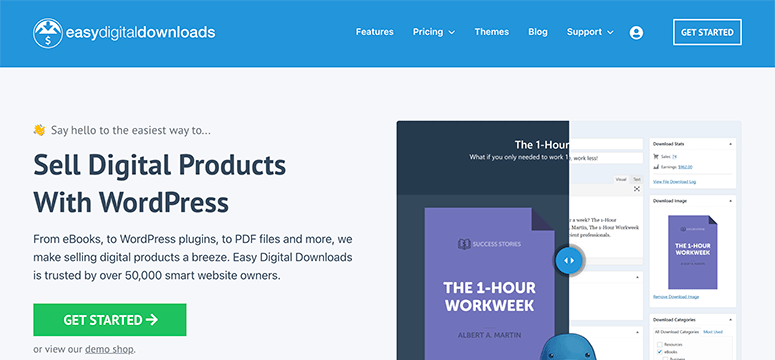 As the name suggests, Easy Digital Downloads is a WordPress plugin that lets you sell any type of digital products such as eBooks, guides, software, movies, videos, and more.
With Easy Digital Downloads, you can easily integrate popular payment gateways such as PayPal and Stripe to accept online payments. It also lets you manage coupon codes and track file downloads on your online store.
For those businesses that want more storage space, there are options for connecting with external storage tools like Amazon S3 and Dropbox.
Highlights:
Unlimited file downloads
Buy Now and Add to Cart buttons
Built-in customer management system
User-friendly account page
Download activity tracking
Integration with email marketing services
Easy refund processing and tracking
Data reporting system for viewing stats and reports
Easy Digital Downloads vs WooCommerce
When it comes to selling digital and downloadable products, Easy Digital Downloads is the best option. It comes with a simple shopping cart system that allows customers to purchase multiple products at one go.
Unlike WooCommerce, this plugin is more lightweight and ensures minimum page load time for your eCommerce website. Plus, Easy Digital Downloads offers a dedicated and responsive support team that users can reach out to whenever they face issues.
You can even sell physical products like WooCommerce if you want to. For this, you'll need to use an add-on with Easy Digital Downloads.
Pricing:
The Personal Plan starts at $99.50 per year for a single site license.
Get started with Easy Digital Downloads!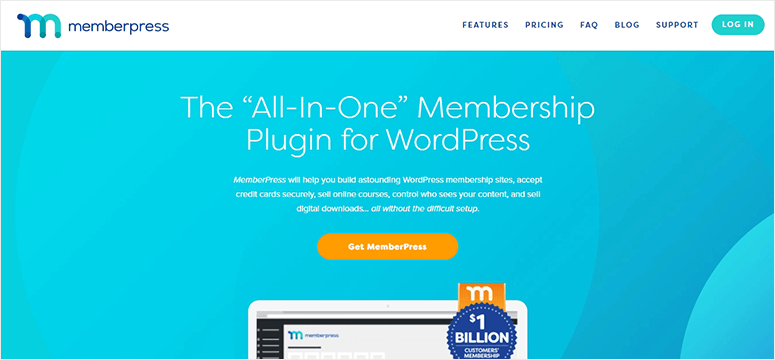 MemberPress is the best membership plugin that allows you to sell digital subscription products and courses on a subscription basis. It is one of the best WooCommerce alternatives to sell digital products.
You can use MemberPress to create a video membership site, education and learning site, and an eCommerce store. You can easily restrict your products behind a paywall and generate revenue by setting up multiple membership levels.
To accept payments, the plugin lets you integrate different payment processors such as Stripe, PayPal, Authorize.net. Then, you can set up one-time or recurring payments for your products.
MemberPress also allows you to connect with plugins like bbPress to create an online community. So your customers can comment and communicate with other members on your eCommerce site.
Highlights:
Unlimited membership levels and access rules
Content dripping and expiration date features
Dynamic pricing page templates
Generate coupon codes
Built-in reporting and stats dashboard
Dedicated addon for creating and selling courses
Integration with popular marketing platforms
MemberPress vs WooCommerce
MemberPress and WooCommerce are quite different in terms of selling products. With MemberPress, you'll need to create a complete membership website to sell your products. Once the users sign up as members they'll be able to access the content on your site.
So if you're looking to sell physical products directly from your website then, you may want to opt for other eCommerce platforms in this list.
Pricing:
Pricing plans start from $179 per year for 1 site. MemberPress also offers a 14-day moneyback guarantee if you are not satisfied.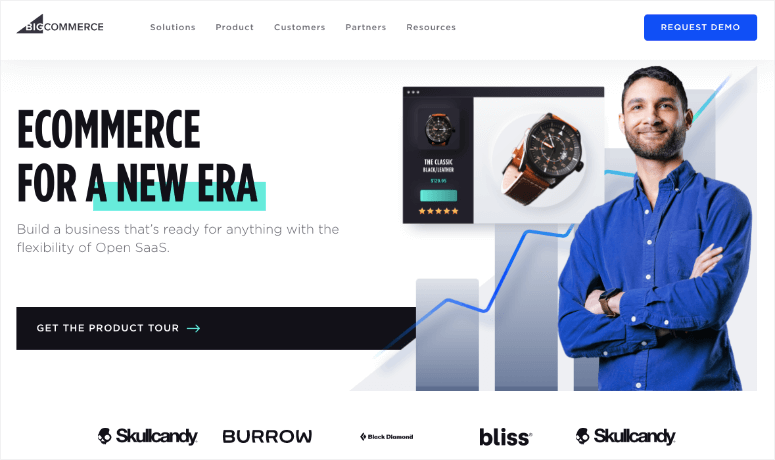 BigCommerce is next on our list for the best WooCommerce alternatives. It is a cloud-hosted eCommerce platform that is perfect for medium to large-sized businesses.
Like Shopify, BigCommerce offers hosting services and handles website security for your website. It also offers powerful SEO and conversion tools that help you grow your business online.
The best thing about this platform is that it lets you seamlessly integrate eCommerce features on your WordPress site. With its connector plugin, you can easily connect your BigCommerce account, showcase your products, and process online payments.
Highlights:
Easy to use and set up
Third-party integrations
Collection of theme templates
Multi-channel sales option
Built-in analytics tool
BigCommerce vs WooCommerce
BigCommerce doesn't require users to have coding knowledge to customize your online store like WooCommerce.
It also offers more built-in features compared to WooCommerce. There is no additional charge for these features and you don't need to pay any transaction fees.
Pricing:
BigCommerce Standard plan starts at $29.95 per month (billed annually).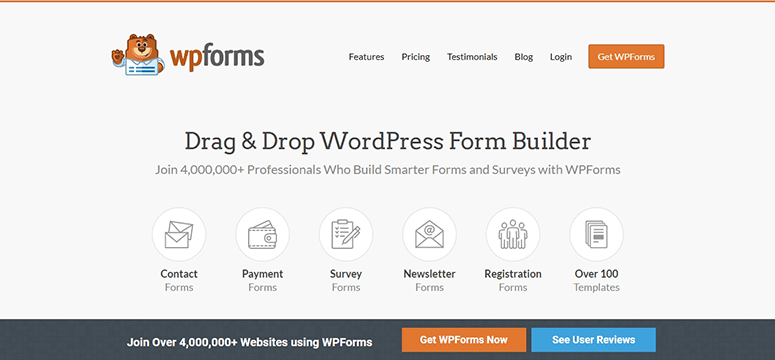 WPForms is the most powerful form builder for WordPress. It features on our list because it offers a simple solution to sell your products without having to set up a whole eCommerce store.
You can use WPForms to build professional order forms and download forms where customers can purchase your products in a few clicks. It lets you sell both physical and digital products without any trouble.
WPForms lets you accept card and online payments directly from your forms. You can choose from different payment gateways such as PayPal and Stripe.
Also, there are options to set up email notifications and confirmation messages that are automatically sent when customers complete their orders.
Learn how to use WPForms: Sell on WordPress Without an Online Store
Highlights:
User-friendly interface
Build a product catalog with product prices and images
Integrate with email marketing providers
Add purchase form in any post, page, or widget area
Track customers orders with a built-in management system
Connect with popular payment options.
WPForms vs WooCommerce
While WooCommerce is suitable for small to large-sized businesses, WPForms is a great option for those businesses that are looking for a cheaper and less complex eCommerce solution.
Pricing:
The pricing plans start from $39.50 per year.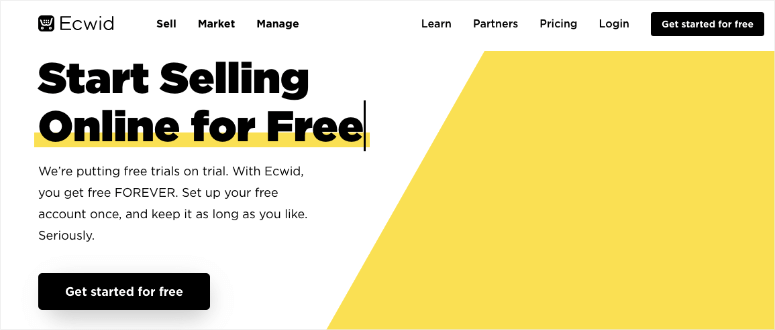 Another great WooCommerce alternative is Ecwid. It is an eCommerce platform that lets you promote and sell your products on multiple marketplaces like social media, Amazon, and more.
Creating a storefront is a piece of cake with this platform as it offers tons of pre-built templates. So you can create an account and get started in no time.
Ecwid also comes with a simple dashboard that lets you manage your inventory, orders, and pricing all in one place.
Like WooCommerce, Ecwid offers a free plan that lets you sell products on your website for free. Plus, it offers a simple plugin that you can install on your WordPress site to get started right away. 
If you're not convinced, you can check our guide on the best Ecwid alternatives.
Highlights:
Fully responsive website designs
Seamless integration with different website builders
Budget-friendly eCommerce plans
Unlimited storage options
Compatible with 30 payment gateways
Ecwid vs WooCommerce
One thing that makes Ecwid better than WooCommerce is that it can be used on all website platforms like Wix and Weebly, not just WordPress.
Pricing:
A free plan is available. Pro plans start at $12.50 per month (billed annually).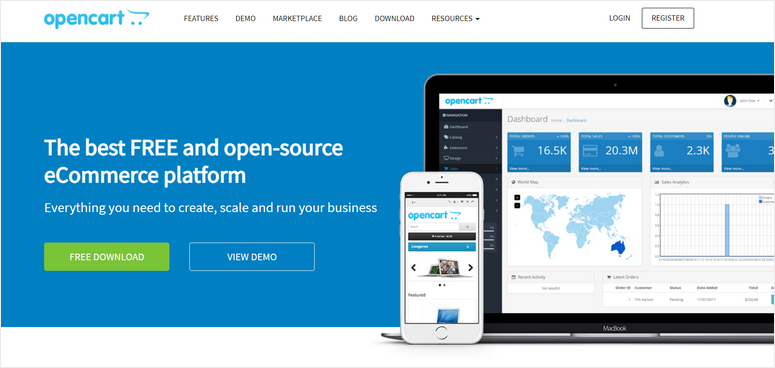 OpenCart is an open-source platform that lets you customize your eCommerce website to the fullest. Similar to WooCommerce, you'll need to hire a developer if you want to personalize your store the way you want.
With OpenCart, you'll get access to built-in store tools that will help you manage your products, customers, and orders effortlessly. It also offers SEO options so you can optimize your eCommerce store for better search result rankings.
The downside here is that you won't find any pre-made themes so getting started can be tough for non-tech-savvy users. On top of that, to extend the functionality of your site, you'll need to purchase paid extensions.
Highlights:
Powerful reporting and analytics feature
Product and order management
Search engine optimization options
Payment and shipping functions
Developer-friendly
OpenCart vs WooCommerce
OpenCart is a standalone open-source platform whereas WooCommerce is an open-source WordPress plugin. Both offer eCommerce functionality for their users.
WooCommerce has an intuitive and simpler interface when compared to OpenCart.
Pricing:
Free. Premium addons are available.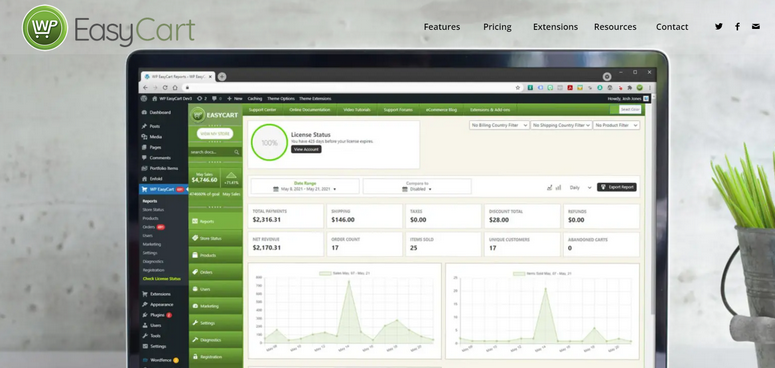 WP EasyCart is a simple and lightweight eCommerce plugin. It comes with a very user-friendly dashboard that lets you add and manage products without any hassle. You can start with the free version of the plugin which offers all the basic features to sell products.
To get access to advanced features such as subscription-based products and recurring payments, you'll need to upgrade to the premium version.
Highlights:
Complete management dashboard for admins
Built-in product editor
Marketing tools such as coupons, gift cards, and more
Tax management
WP EasyCart vs WooCommerce
WP EasyCart pro version, you get access to all the major payment gateways such as PayPal, Square, FirstData, and more. With WooCommerce, you'll need to purchase addons for each payment gateway.
Pricing:
Free. Premium version costs $99 (one-time payment).
Which is the Best WooCommerce Alternative?
We've compared the best WooCommerce alternatives in this list.
But if you're still having trouble choosing the best one, then you can go ahead with our recommendations here.
That's all for today! We hope this article helped you find the best WooCommerce alternatives that are easier to use and cheaper.
After you choose the right eCommerce platform, you can check these resources out:
These posts will help you find the best web hosting services and the right website theme. The last one will guide you on how to improve the conversions on your online store.