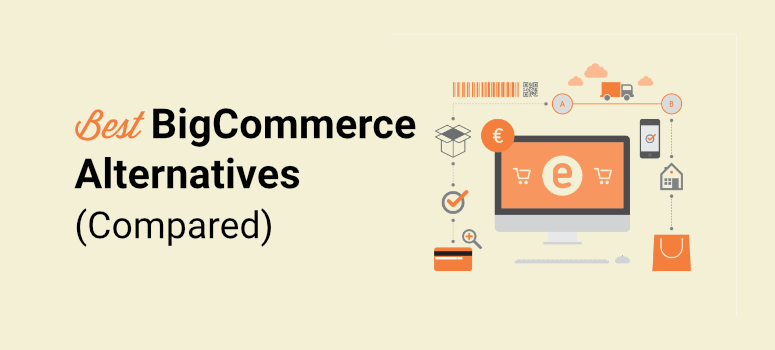 Looking for the best BigCommerce alternatives to manage your online business?
With 60,000 active users, BigCommerce is one of the most popular eCommerce platforms in the market. It is a cloud-based platform that lets you customize your website, manage orders, accept online payments, and more.
BigCommerce offers tons of features to help you build a full-fledged online store but this doesn't mean that it is the perfect solution for all types of businesses.
On a closer look, there are many drawbacks that make business owners seek out other available options.
In this post, we've handpicked the best alternatives to BigCommerce to sell your products and grow your business.
Before that, let's be clear on what BigCommerce offers and what it lacks so that we can make a fair comparison with the other platforms.
Why Look For BigCommerce Alternatives?
Being a renowned eCommerce platform, many businesses choose BigCommerce without any questions. However, there are many factors you need to consider before you start your online business.
First of all, BigCommerce has a steeper learning curve compared to other eCommerce website builders. It does offer a collection of theme templates to create your online store but the free themes are pretty similar in terms of design.
Also, there are not many customization options to personalize your website design and styling. When it comes to selling your products, there is a limitation on the number of sales you can make annually.
If your annual sales cross the set limit, then you'll have to upgrade to a higher pricing plan. You'll even need to pay more to get access to advanced eCommerce features like the abandoned cart option.
Additionally, if you're in the European Union, BigCommerce doesn't manage VAT MOSS rates which is crucial for selling digital products on your site. So you'll have to take care of that manually.
This is why many website owners migrate their online stores to other alternatives that are worth the money.
With that, let's take a look at the best BigCommerce alternatives that are cost-effective and offer more customization options.
Best BigCommerce Alternatives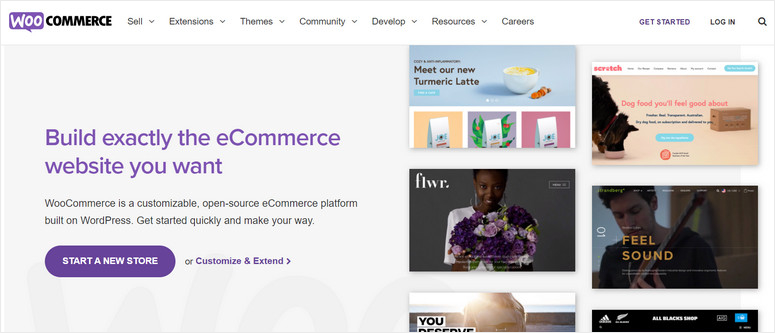 WooCommerce is the best eCommerce solution for WordPress websites. If you already own a WordPress site, then you can use WooCommerce to create a fully functional online store in minutes.
WooCommerce is an open-source eCommerce platform that is developer-friendly and easy to use. This means the platform is designed to fit the requirements of different users from a beginner to a tech-savvy person.
With WooCommerce, you can easily create a custom product page, landing page for your store, or simply insert product blocks on any post or page. You'll also find attractive WooCommerce themes that match your brand.
The best thing about this plugin is that it is fully customizable and free for everyone. It lets you take full control of your online store and make adjustments as per your business needs.
Besides this, WooCommerce comes with hundreds of free and paid extensions to extend the features of your online store. With these extensions, you can optimize your SEO, connect to an external service, and do more without any trouble.
It also offers a built-in payment system that allows you to accept card payments, recurring payments, and Apple Pay payments without the help of 3rd party services. For more payment methods, you can install addons other payment gateways as well.
Another reason why WooCommerce is the best alternative to BigCommerce is that you can automatically calculate taxes on your store with WooCommerce Tax and other integrated services.
Highlights:
Easy to set up and start selling
Unlimited sales for different products
Customization options for your storefront
Powerful inventory management system
Shipping and tax configuration
Wide range of addons and extensions
Full control over the design and sales process
Secure and reliable payment methods
Categories, tags, and attributes to make products more accessible
Pricing:
The feature-rich core plugin is free to download. But you'll have to pay for the website domain and hosting which starts at $3.95 per month.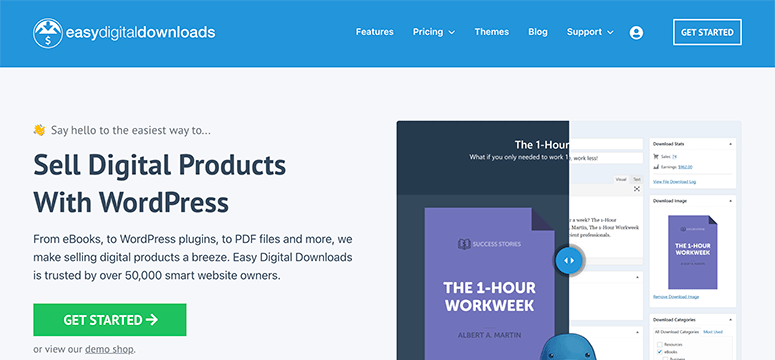 Easy Digital Downloads is the best BigCommerce alternative to those businesses that want to sell digital products on their site. It is a lightweight plugin that is packed with all the features to manage and sell your digital products with ease.
With Easy Digital Downloads, you can easily create an online store, set up shopping cart options, and generate coupon codes right inside your WordPress site. No need to touch a line of coding.
It also makes accepting payments a piece of cake with payment gateways like Stripe, PayPal, Braintree, and many more. With this, your users can easily make online payments to your store.
Living up to its name, Easy Digital Downloads makes it easy for you to manage customer file downloads on your site. You can restrict your products to authorized customers and set up download link expiration as per your preference.
What's more, the plugin lets you connect with your favorite email service provider and make customers subscribe to your newsletters. It also integrates with Affiliate WP, the best affiliate program plugin so you can allow affiliates to promote your digital products on the internet.
Highlights:
Developer-friendly platform
Custom customer account page
Supports external file storage like Amazon S3 and Dropbox
Easy refund processing and tracking
Flexible payment options and gateways
Download activity tracking
Comprehensive customer management
Real-time data reporting
Pricing:
Pricing plans start at $99.50 per year for Personal Pass.
Get started with Easy Digital Downloads!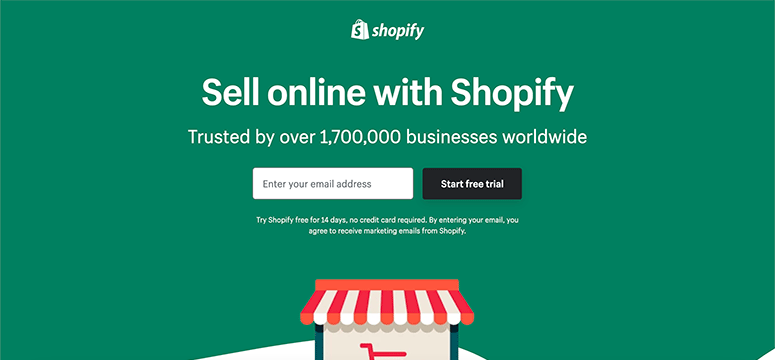 Another great BigCommerce alternative is Shopify. It is also a popular eCommerce platform that lets you sell digital and physical products on any website.
You can even use this platform to sell products from your WordPress site. For more details on this, you can check our guide on how to set up Shopify with WordPress.
Shopify is easier to learn compared to BigCommerce. You only need to sign up for an account and get your eCommerce store started in no time. It offers beautiful themes for your storefront that you can customize to make them look just the way you want.
One of the reasons to choose Shopify as your eCommerce platform is that it is a cloud-hosted solution. So you do not have to worry about upgrading your server when your online business grows.
This eCommerce platform also takes care of all technical aspects of your site such as site speed, security, and server issues.
Shopify isn't as developer-friendly and flexible as WooCommerce or Easy Digital Downloads but you can use it as an easy tool to start an online store.
To learn more, you can check out our complete Shopify Review or see our list of Shopify Alternatives.
Highlights:
Option to sell products through social media and online marketplaces
User-friendly dashboard
Integration with 3rd party services
Connect with 60+ payment gateways
Mobile responsive pre-made themes
Offline retail tools
Pricing:
Starts at $29 per month.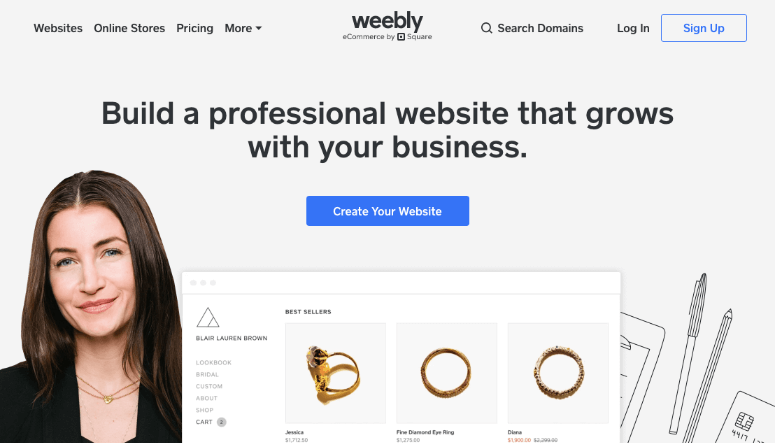 Weebly is a popular website builder that you can use to create an eCommerce website. It comes with many customization tools to add your own touch to your web store.
The advantage of using Weebly as a BigCommerce alternative is that you can get started for free. You'll get access to basic features and easy-to-use tools.
Later, when you get used to the interface and want to explore more advanced features, you can upgrade to a pro plan. These pro plans offer domain and hosting features to set up your site easily.
Weebly offers a drag and drop builder that lets you customize your online store and add your own branding elements. It also integrates with payment gateways like Square, PayPal, and Stripe so you can sell products on your site.
However, Weebly lacks essential features like inventory management tools and unlimited products. For those businesses with a large number of products, WooCommerce is a better option.
To learn more, you can check out our complete Weebly Review.
Highlights:
Domain and hosting options
Drag and drop web store builder
Customizable designs
Built-in blogging features
Reporting and statistics functions
Pricing:
The starter plan starts at $5.00 per month (billed annually).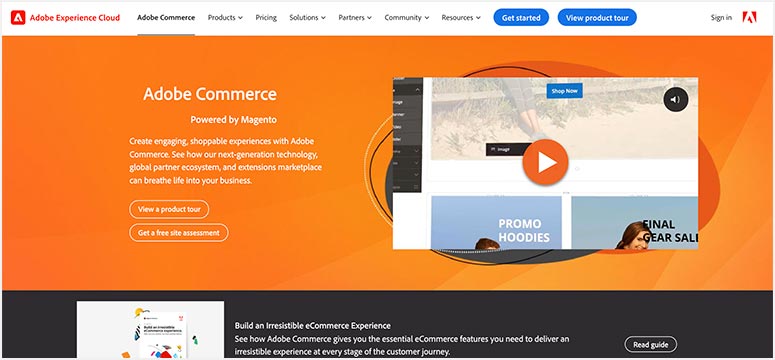 Magento is one of the oldest eCommerce platforms and is best for medium to large-sized businesses. Like WooCommerce, it is an open-source platform that offers all the essential features to set up an online store.
If you're good at coding, you can easily make changes to your web store and add your personal touch as you like.
When it comes to customization and taking control over your online store, you need to hire a developer or know how to code yourself. Otherwise, you won't get the best out of this eCommerce platform.
For beginners just starting their online business, you can go ahead with easier options like Easy Digital Downloads and WPForms.
Highlights:
Set up customer accounts
Product and order management
Search engine optimization options
Payment and shipping functions
Developer-friendly tools
Pricing:
Pricing plans start at $8.99 per month.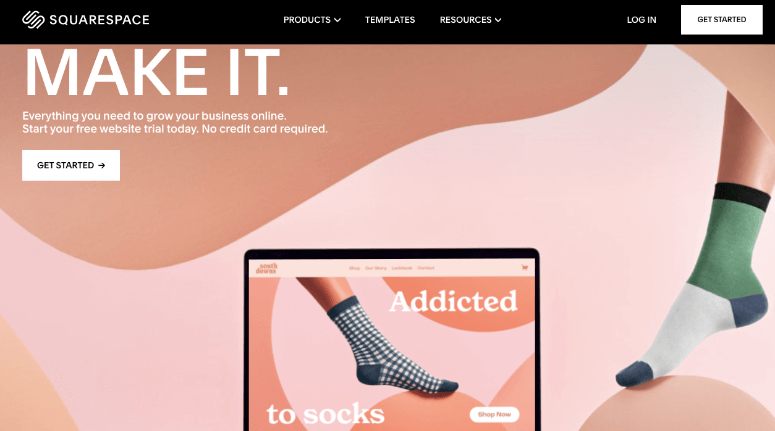 Squarespace is another website builder that has useful features to set up an eCommerce site. It has the best designs that allow you to highlight your products and engage your customers.
It comes with a drag and drop builder that lets you personalize your online store according to your requirements. You can add new features, control the layout of your product pages and change the designs without any coding.
With Squarespace's built-in analytics tools, you can track the growth of your online store. There are also options for social media integrations to make your site more accessible.
However, Squarespace offers fewer payment integrations compared to other BigCommerce alternatives like Easy Digital Downloads.
Highlights:
Custom color and layout options
Built-in photo edition functionality
Easy to maintain
Mobile-friendly designs
Password-protected pages and locks
Pricing:
Pricing plans start at $26 per month.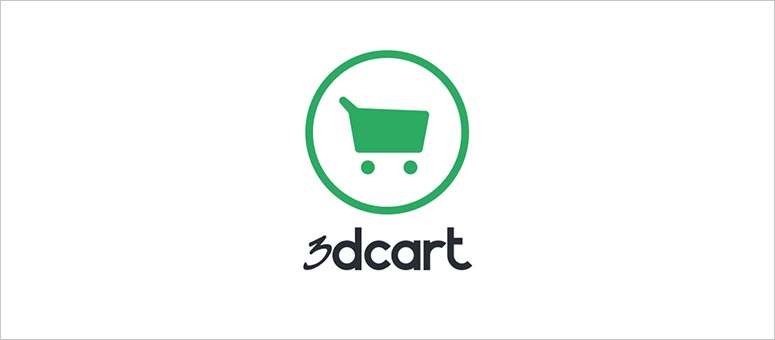 3dcart is an excellent alternative to BigCommerce. It is a fully hosted eCommerce platform that lets you build online stores for all types of business.
This platform is scalable as it offers 5 pricing plans you can upgrade whenever you want to expand your online business. It is suitable for solopreneurs and small business owners who want to sell their products easily.
Also, 3dcart has built-in tools such as Customer Relationship Management (CRM), Search Engine Optimization (SEO), and Point of Sales (POS). This allows you to provide an end-to-end solution to your online store.
Plus, it offers a long list of integration options with popular service providers like payment processors, tax calculators, and shipping carriers.
As it is a hosted service, you won't have much control over your eCommerce store like with other alternatives like WooCommerce.
Highlights:
Fully responsive templates
SEO optimized
Built-in marketing tools to promote products
Customizable design options
100 payment method integrations
Pricing:
Plans start at $9.50 per month.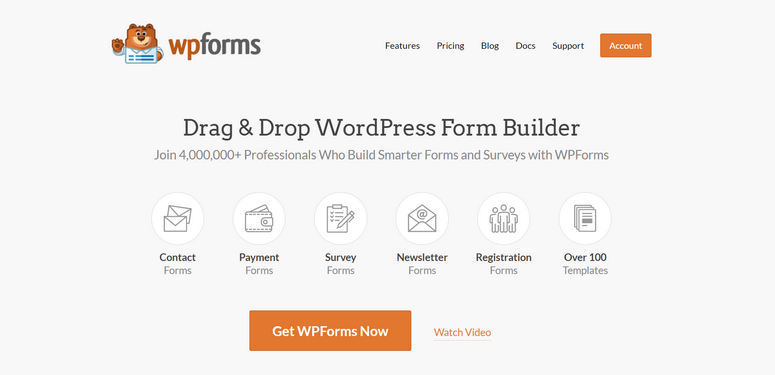 WPForms is the best form builder for WordPress but it also lets you sell your products without setting up a complex eCommerce store.
With WPForms, you can create product order forms or a complete product catalog, and add product images. So your customers can make their choice and purchase products on your site in a few clicks.
It also lets you accept payment directly on your WordPress site so your customers can checkout easily. There are integration options for popular payment gateways like PayPal, Stripe, and Authorize.Net.
WPForms is the perfect solution for beginners and small businesses that want to create a one-product store or simple store to sell a few products. And you don't need any coding knowledge for this.
And there's more! WPForms comes with email automation. You can set up email notifications and confirmation messages that are sent after the customers hit the submit button.
The plugin also comes with an entry management system to manage your orders and keep track of your customer activities on your site.
WPForms offers ease of use for you and your customers. It's a great choice for individuals, small businesses, and startups.
To learn more, you can check out our complete WPForms Review.
Highlights:
List single or multiple items with pricing and images
Drag and drop form builder
Integration with payment service providers
Send automated form notifications and order confirmation emails
Embed purchase form on any page, post, or widget area
Connect email marketing services such as Constant Contact, AWeber, and Drip
24/7 friendly and reliable customer support
Pricing:
A lite version is free to download. The pricing plans start at $39.50 per year.
9. Wix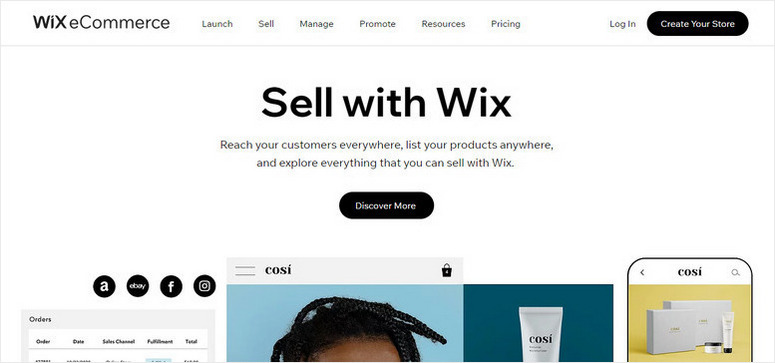 Wix is a great website-building platform that allows you to easily set up an eCommerce business.
Wix offers drag and drop features and many page layout options that make customizing your web store hassle-free. You'll also be able to use over 500 templates to promote and showcase your products. But the customization options are extremely limited and you'll likely get stuck with a run-of-the-mill website design.
Wix is a hosted platform so you won't have to get your own web hosting plan to start selling online.
You can add payment options to accept payments from customers. Wix lets you integrate popular payment processing services such as PayPal, Authorize.Net, and more.
It doesn't offer inventory management features like WooCommerce. Plus, Wix charges high processing and transaction fees.
So ideally, you should choose this platform if you want a basic website to sell fewer products. Keep in mind that once you start with Wix, it's extremely difficult to migrate to any other platform if you want to scale and grow later on.
To learn more, you can check out our complete Wix Review.
Highlights:
Eye-catching templates
Detailed documentations
Customization tools
Drag and drop builder
Options to add website branding
Pricing:
$24.50 per month.
Get started with Wix!
That's our list of the best eCommerce software and platforms for business owners that are looking for an alternative to BigCommerce.
Our Verdict: Which is the Best Alternative to BigCommerce
If you're still wondering which option is right for you, then go ahead with any of these recommendations.
WooCommerce: Whether you're selling physical products or digital goods, it is the best all-in-one platform to create a full-fledged eCommerce store with your WordPress site.
Easy Digital Download: It is the best alternative to BigCommerce for selling and managing digital products right from your WordPress site.
WPForms: It offers a simple solution to sell your products without setting up a shopping cart. Just create a simple purchase form and start selling without wasting any time.
And that's it! We hope this article helped you find the best BigCommerce alternative for your business.
Here are some useful resources you can check out to skyrocket your online store conversions:
These posts will help you market your products, nurture your leads and convert them into paying customers.