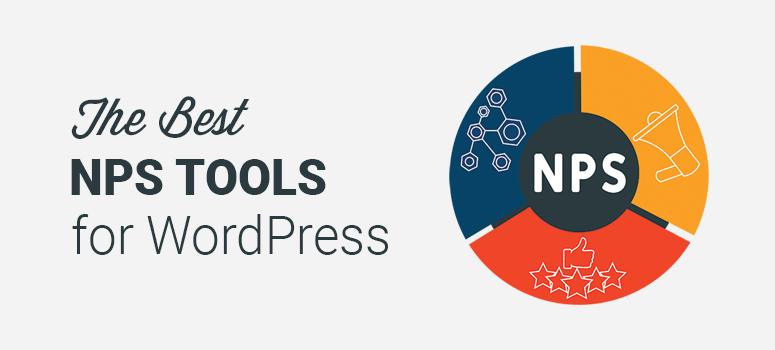 Looking for the best NPS survey tools and software?
Net Promoter Score (NPS) survey tools are helpful to collect user reviews and measure customer satisfaction for your brand or products.
There are dozens of online tools and software for WordPress to create NPS surveys. This makes it difficult for beginners to invest in the right software and get the best results with an NPS survey.
In this article, we'll share some of the best NPS survey tools and software for WordPress.
Best NPS Survey Tools and Software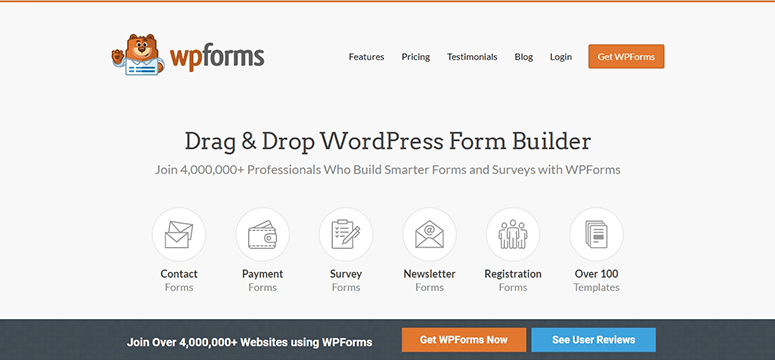 WPForms is the best contact form plugin for WordPress. It comes with 2 built-in NPS survey form templates that you can launch in just a few clicks to collect user reviews on your website.
The plugin has a drag and drop builder and a real-time preview to customize your survey forms. You can reorder fields in a form in the live preview and publish your form quickly.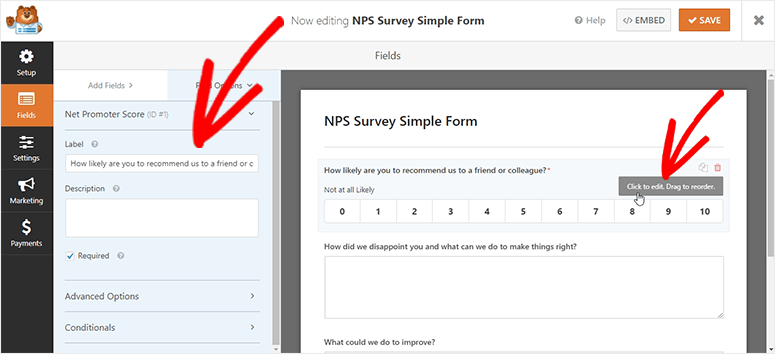 WPForms also has conditional logic to show/hide fields based on customer's responses. This makes your surveys highly engaging, and you can get detailed feedback and suggestions from your customers.
This is a basic NPS survey we created with WPForms: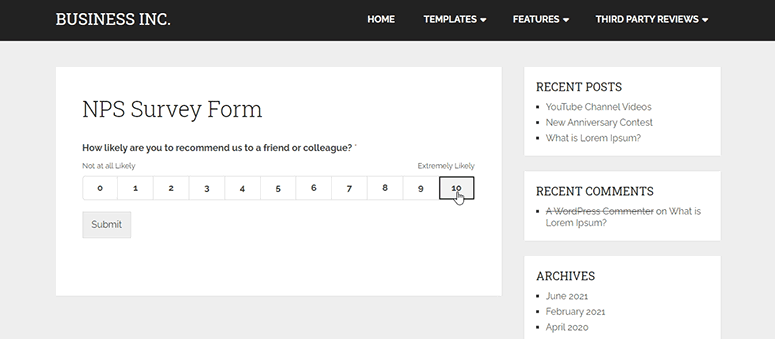 It was pretty simple to create and we did it in under 5 minutes.
WPForms fully integrates with email marketing services like Constant Contact to share your NPS surveys with your email list and get more responses. WPForms shows survey results within your WordPress dashboard that help improve your brand and marketing campaigns.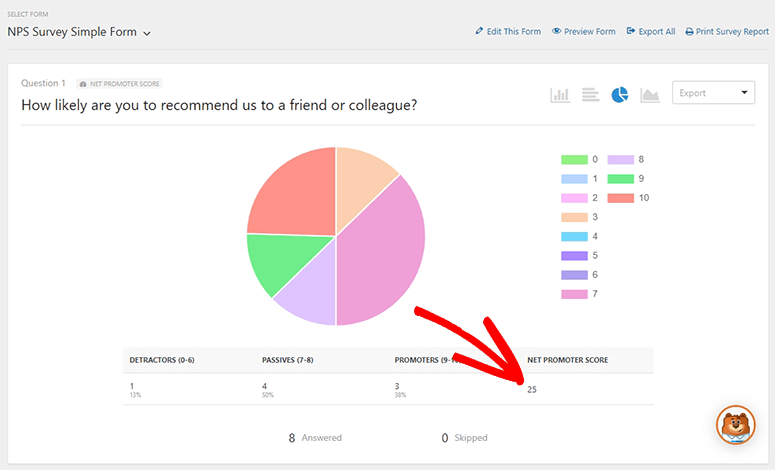 For more information on using WPForms, you should check out our complete guide on how to create NPS surveys in WordPress.
Price: $49.50 per year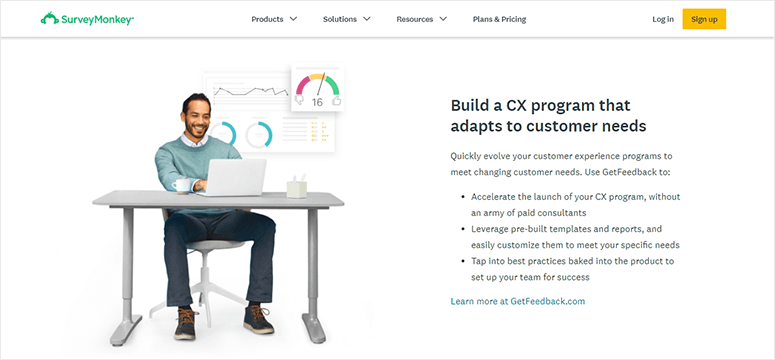 SurveyMonkey is one of the most popular online survey tools on the market for non-WordPress users. It comes with powerful templates and reports to create NPS surveys to collect customer reviews.
The tool lets you automate feedback collection on your website. It supports multiple channels to get user feedback, including website, email, SMS, and mobile apps.
SurveyMonkey is compatible with third-party tools like Salesforce, Slack, and Jira to let your team work together. You can use this software to share data and insights across your organization.
Price: $25 per user per month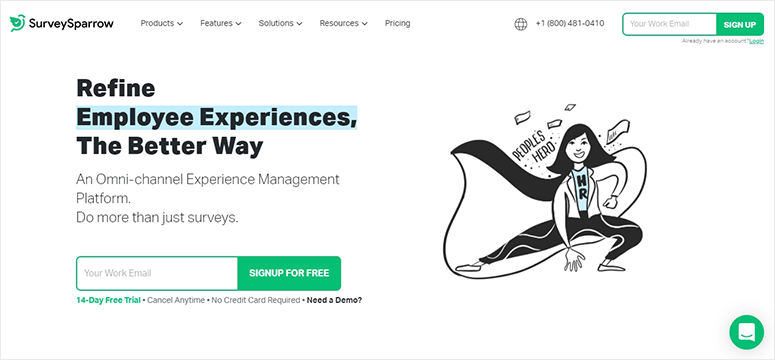 SurveySparrow is a premium experience management platform. It offers NPS survey tools to run a continuous feedback loop and improve your brand/products for maximum sales.
It has a built-in process to grow, listen, analyze, and improve your business. This process repeats to get more feedback and new customers easily.
Other top-notch features include dynamic lists, user segmentation, follow-up questions, emails, survey automation, and more. SurveySparrow provides a real-time dashboard to view customer responses, filter responses, and gather insights to plan your next marketing strategy.
Price: $99 per month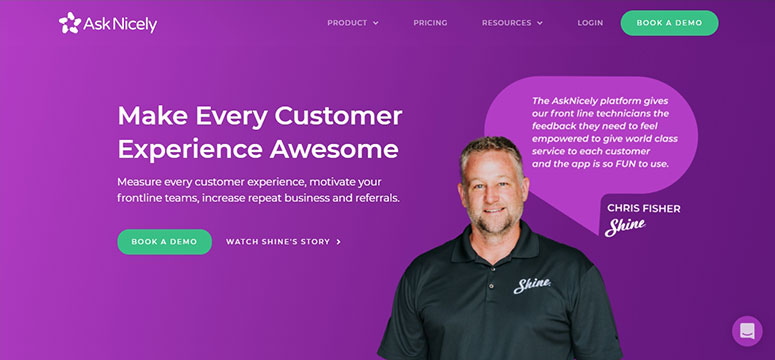 AskNicely is a powerful customer experience platform. It comes with a Net Promoter Score framework to collect user feedback and share it with your team.
This tool focuses on building conversations and engagements with customers using survey tools. AskNicely lets you send NPS surveys to customers through email, SMS, or your website.
This software offers workflow management tools to ensure your customers get a quick response to their feedback. It has built-in responses to automate the complete process and improve communication between your team and customers.
Price: Not provided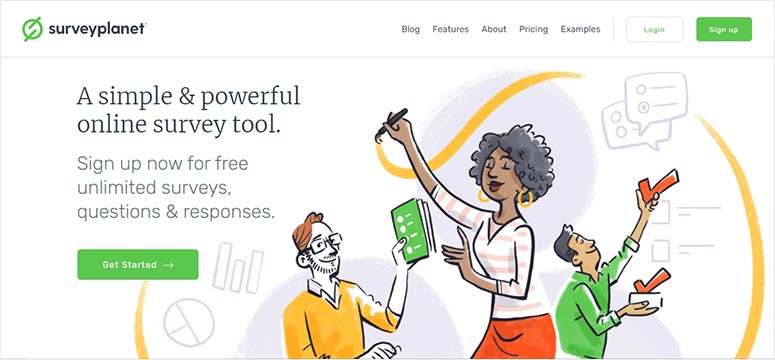 SurveyPlanet is a professional online survey tool. It comes with built-in survey themes, and you can also design custom themes with your choice of colors, fonts, and background images.
It lets you add images next to your survey questions to make them more attractive and engaging for users. You can also create NPS surveys with images to get more reviews and feedback.
With conditional logic, you can display more questions based on the answers given by customers to previous questions. The surveys are fully responsive and look great on all screen sizes and devices.
Price: $20 per month
We hope this article has helped you find the best NPS survey tools and software for WordPress.
You may also want to check out our guide on how to easily create a survey in WordPress.
This will further help you learn what you can include in a survey to make it impactful for users and engage them to build loyalty and trust. Customer loyalty leads to more revenue!