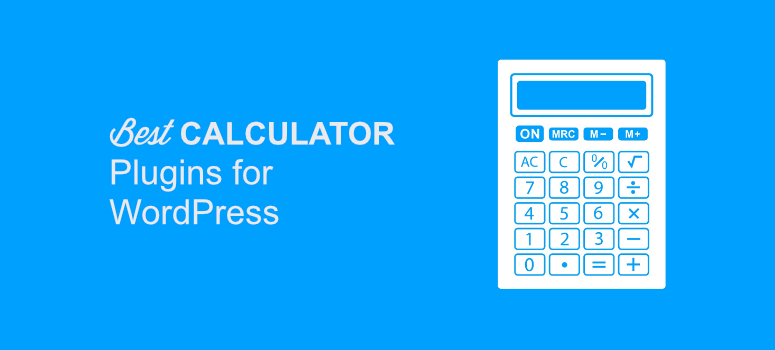 Are you looking for a good calculator plugin for your WordPress website?
Using a calculator plugin can be a great idea if you want to add a calculating feature to your site. This can make it easier for your visitors to get the specific numbers they need without having to manually do the math.
Online calculators can be used for processing orders and payments, measuring weights and calories, calculating financial information, and a lot more.
In this article, we'll tell you about some of the best calculator plugins that you can choose from. We've narrowed the list down to our top picks so that you can have the best option for your business.
But before we get started, let's look at why you may want to add a calculator to your site in the first place.
Benefits of Adding a Calculator to Your Website
There are many advantages to adding a calculator to your website. Here are a few of the biggest benefits:
Transparent Pricing: If you have an eCommerce website, the right calculator plugin helps you create the price automatically and will be reflected at checkout. This makes it convenient for users because they can keep track of the amount they are paying and can easily remove or add more products to meet their budget.
Attract Traffic: By adding specialty calculators like body mass index (BMI), bra size calculators, calorie calculators, and others, you can make people come back to your website whenever they need a specific metric. This can quickly increase your traffic and improve your ranking in search results.
Boosts Engagement: Adding a calculator to your website can help boost engagement. For example, a lot of real estate websites have mortgage calculators. Customers can calculate how much they'll owe before expressing interest in a home. You'll also see fitness sites with a calorie calculator to track nutrition. These types of calculators can quickly increase engagement on your website and get people interacting with your site.
Now let's move on to find out the best calculator plugins that you can use for your website.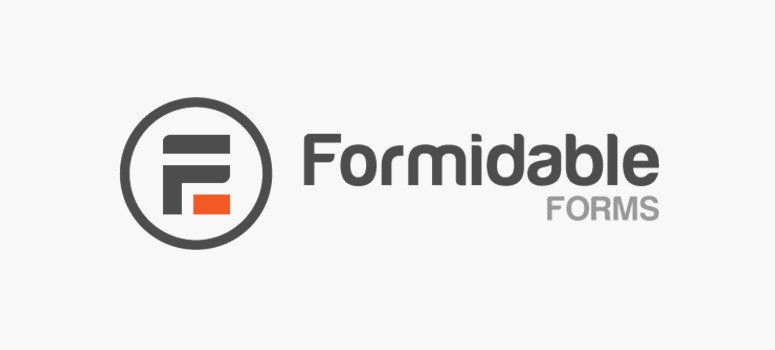 Formidable Forms is a powerful form builder plugin that lets you create various forms for your website in a matter of minutes. It comes with powerful features to create any kind of calculator for your site.
The drag and drop builder makes styling your calculator super flexible. Since it's a visual styler, you can easily match the look of the form with the theme you're using. The integrated views can transform entries into listings, directories, calendars, and powerful front-end content.
To give you a look inside the dashboard, here's an example of a BMI calculator we created with Formidable Forms: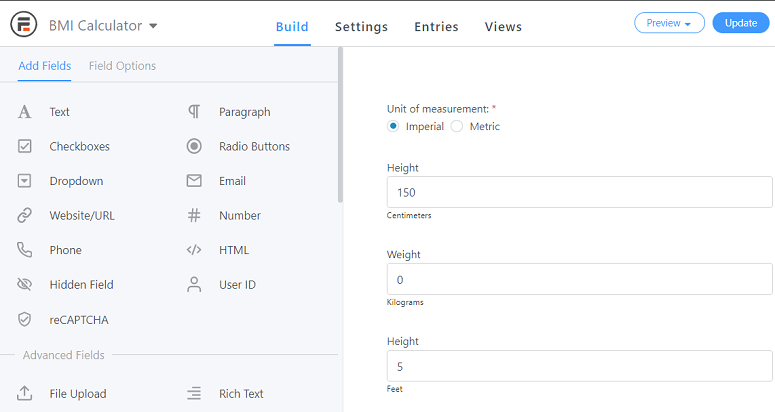 The form builder is easy to use, so even beginners will find it so simple to set up. You can either create your form from scratch or use one of its pre-built templates.
Want a step by step process to follow? We create a tutorial on How to Add a BMI Calculator to WordPress.
You can even add 'on submit messages' based on the calculation done by the user.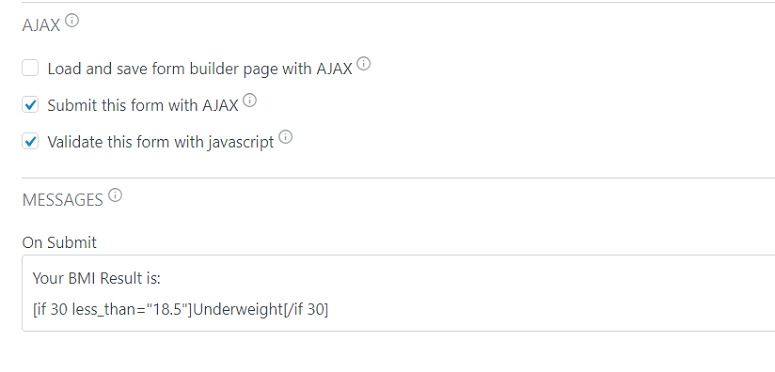 We also used Formidable Forms to create a quote calculator. The result was quite impressive. See our step by step process here: How to Create a Quote Calculator in WordPress.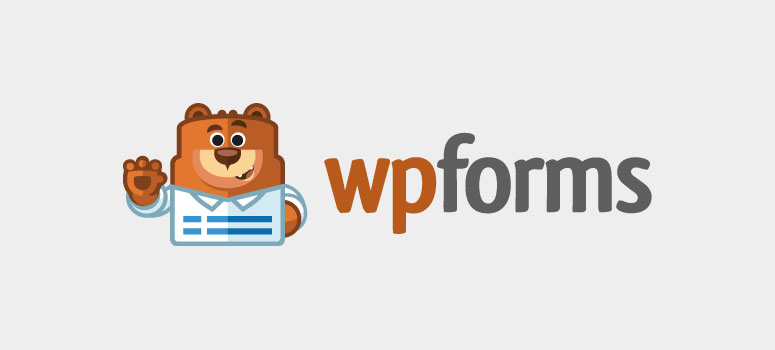 WPForms is another form builder plugin that lets you add a calculator to your website. We've used WPForms to create all sorts of forms that we need including contact and registration forms.
We also tried and tested its calculator features and it works like a charm. Keep in mind this plugin is best for websites selling tickets, membership subscriptions, physical and digital products. WPForms will help you create a pricing calculator that will display the price based on what the customer selects.
Here's how you can add prices to your form: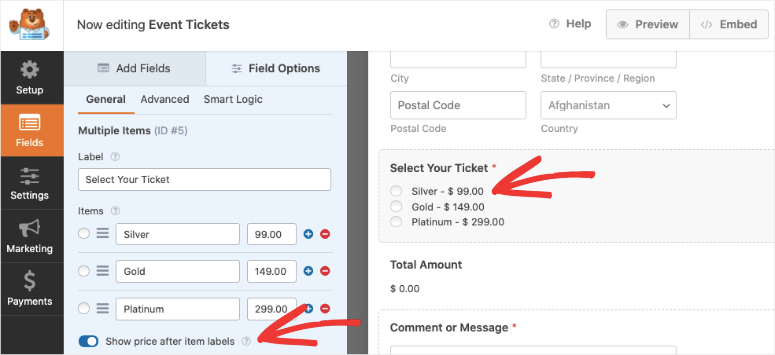 WPForms comes with conditional logic, so you can set up 'If, then' rules for your form. The 'Total' form field will automatically change based on the rules you set.
You won't have to code or hire a developer to do this for you. You just have to drag and drop form fields and add rules. That's it.
You can get a calculator form that works like this: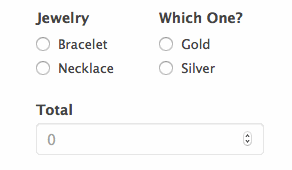 WPForms is so flexible so you can get creative with this plugin and use the calculator feature to build all sorts of calculators that go beyond product pricing. Its a drag and drop page builder plugin so its super flexible in terms of customization, meaning you can have the exact look you want for your calculator.
It offers various pre-built templates that are highly responsive and look crisp on all devices. You can also choose to build your form from scratch if you're good at designing. It offers advanced features like spam protection, captcha, custom CSS, and more.
Here's an example of how you can use WPForms to calculate prices on your website.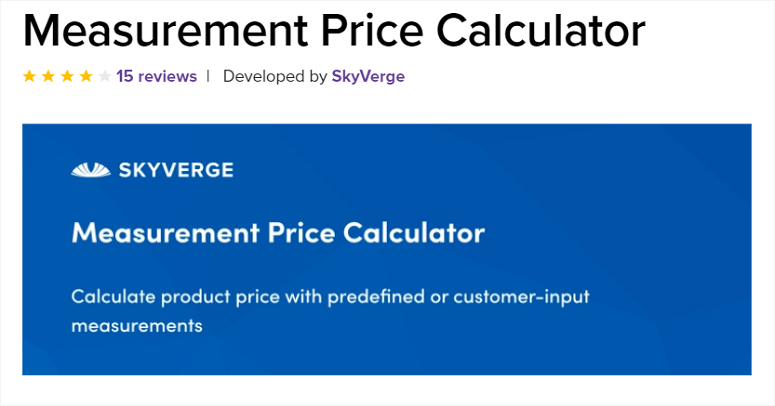 WooCommerce Measurement Price Calculator is another powerful tool that lets you calculate the product price with pre-defined or custom input measurements. It's not exactly a plugin but an extension that works with the WooCommerce plugin.
It lets you customize every bit of the calculator on your site. You can change its units, set price breaks based on simple product measurement ranges, calculate area, volume, surface areas, and do a lot more.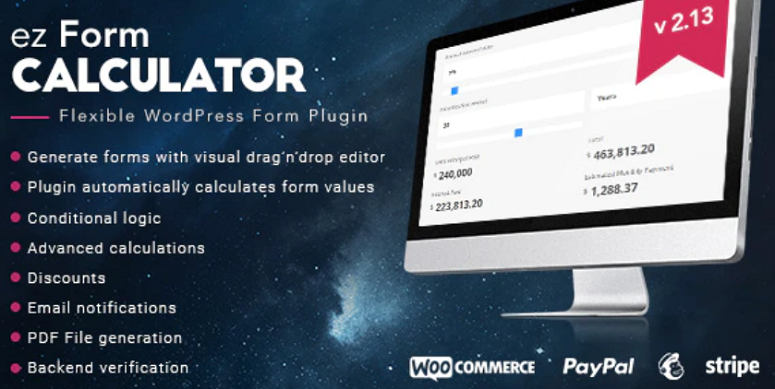 Ez Form Calculator is another powerful calculator plugin that lets you create estimation forms, cost calculators, payment forms, and more for your WordPress site.
And all of this can be done without any coding.
With this plugin, it's easy to add elements like checkboxes, drop-down menus, or radio buttons to your calculator form. It also lets you create responsive emails and PDF files for your forms. With this plugin, you can add mortgage calculator forms, loan calculator forms, LED saving calculator forms, and a lot more.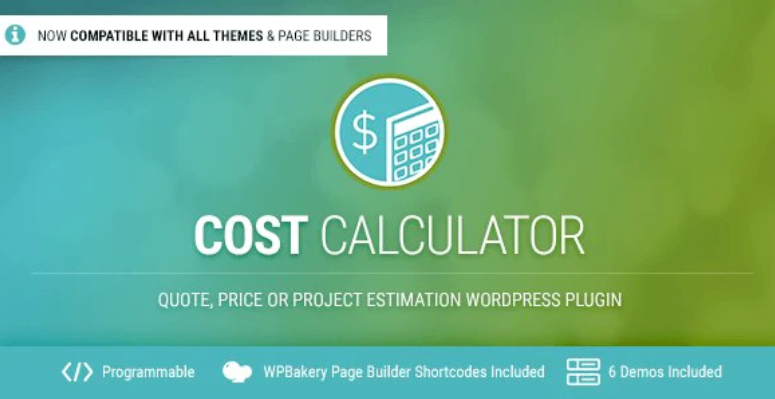 Cost Calculator for WordPress is another amazing calculator plugin that lets you create quote or price estimation forms for your WordPress site. You can also integrate your forms with Paypal to make accepting payments easy.
The plugin has been designed to support WP Bakery, so creating your forms is super easy. You can also have full flexibility in terms of design. It offers tons of elements for your calculator forms like text boxes, numeric sliders, advanced drop-down menus, and more.

Calculated Fields Form is a free calculator plugin that lets you create responsive forms with dynamically calculated fields. You can add any number of calculated fields to your forms using this plugin.
It supports multiple field types like drop-down menus, checkboxes, radio buttons, dates, and others. The plugin also supports multiple page forms, form separators, and comments sections too. It works wonderfully with all themes and is cross-browser compatible.

Price Based on Country for WooCommerce is a free calculator plugin that lets you sell the same product in different currencies. If you have a business that's spread across the globe, this plugin will work great for you.
You can add a calculator that will automatically calculate the price for you by applying the exchange rate. It also lets your users set the price manually if they want.

Cost Calculator Builder is a free calculator plugin that allows you to create price estimation forms for your website. This helps users get a better idea of the price of your products and services.
The plugin comes with its own calculation builder with 8 different calculator elements. You also have the option to assign your own calculation formula with the ability to add, subtract, multiply, and divide elements of the form.

Forminator is another free form builder plugin that lets you add beautiful custom forms to your website complete with calculation fields. It also lets you accept payments, create polls and quizzes, and do a lot more.
You can also create forms to add loan calculators, a due date calculator for mid-wives, add an ROI calculator for your agency, and do a lot more. The plugin is compatible with other advanced plugins, so you can add many other features as well.

Fitness Calculator is a great option if you have a fitness website. It helps you add a calculator for giving your visitors a detailed insight into their health.
You can do this by adding a calculator for BMI calculations, water and protein intake calculations, checking body fat percentage, and other fitness-related features. You can either use this calculator within your posts and pages or as a widget on your website.

Stylish Cost Calculator is a calculator plugin that's perfect for any business website. You can use it to create an instant quote for your business. The plugin is super light-weight so it doesn't affect your website's performance. The calculator created with this plugin is fully customizable and supports various elements too.
These are some of the best calculator plugins that you can choose from. Since you're looking for calculator plugins, you might also want to learn how to create a quote calculator for your website.
Adding a quote calculator can be helpful for any business because visitors can use it to instantly know the price of your products or services directly from your site.