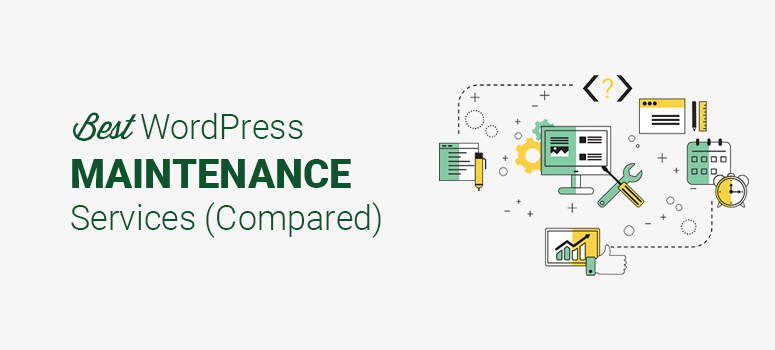 Are you looking for the best WordPress maintenance services?
WordPress maintenance services can save a lot of your time. Outsourcing your website's regular tasks to professional companies can provide you more time to focus on the growth of your business.
Most maintenance services offer backup, updates, security, development, and support solutions. It also extends to performance and speed optimization, search engine optimization, and other maintenance tasks.
In this article, we'll share some of the best WordPress maintenance services and plans for website management, support, consultation, and development.
Best WordPress Maintenance Services
Below, you'll find the top WordPress maintenance services that you can use to manage your website. Each solution has unique features and different prices, so you get several options to choose the best maintenance service for your WordPress site.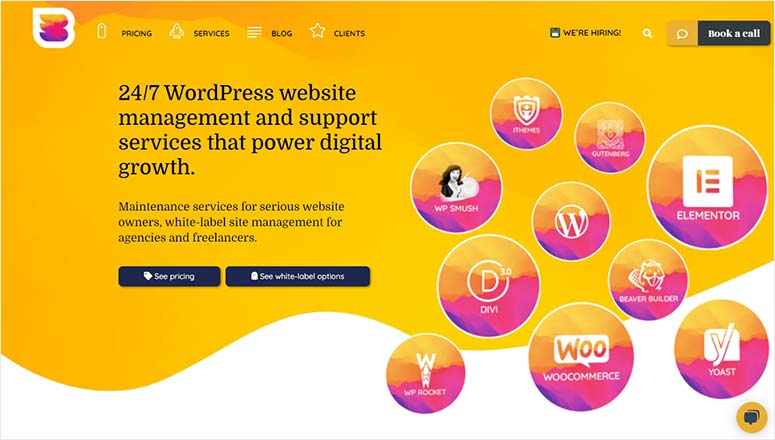 WP Buffs is a popular WordPress maintenance service for small business websites and agencies. It offers 24/7 website edits, weekly updates, timely website backups, security checks, emergency support, and speed optimization.
It has a dedicated team of WordPress engineers and technical support to manage your website. If you're looking for advanced maintenance, WP Buffs also provides priority support all the time.
For eCommerce stores or membership sites, it has a separate team that works behind the scenes while you work on your business's marketing and promotions. It's compatible with the iThemes Security plugin to make sure that your website is fully secured.
WP Buffs also has a monitoring service round the clock. They check for updates for your WordPress core, plugins, and themes weekly. If anything goes wrong, there's always a backup of your website on the cloud servers.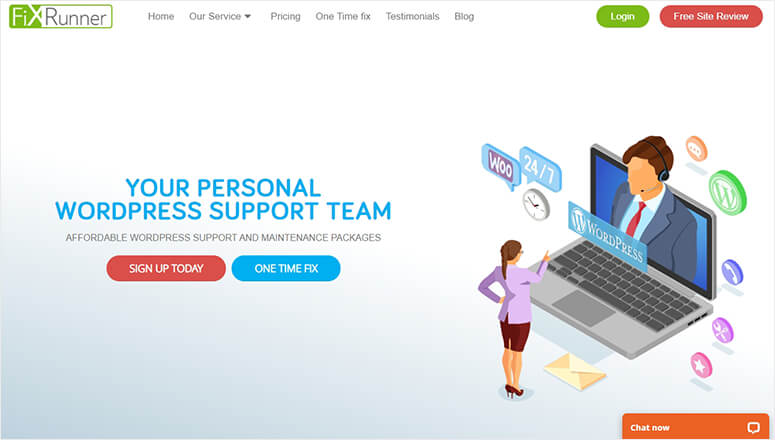 Fixrunner is a professional WordPress support and maintenance service. It provides an affordable website management solution for startups and personal website owners.
The services include regular cloud backups, uptime monitoring, security scanners, speed optimization, WordPress updates, and more.
It has two types of solutions:
First, there's a one-time fix package that includes troubleshooting your problem, fixing the issue, and payment for the work done.
Then there's an ongoing WordPress support plan that has a team monitoring your site, improving performance, and charging a regular fee.
Fixrunner also offers WooCommerce maintenance service, malware removal service, and other useful solutions. It comes with free WordPress checkups to give you an idea about your site's improvements and performance.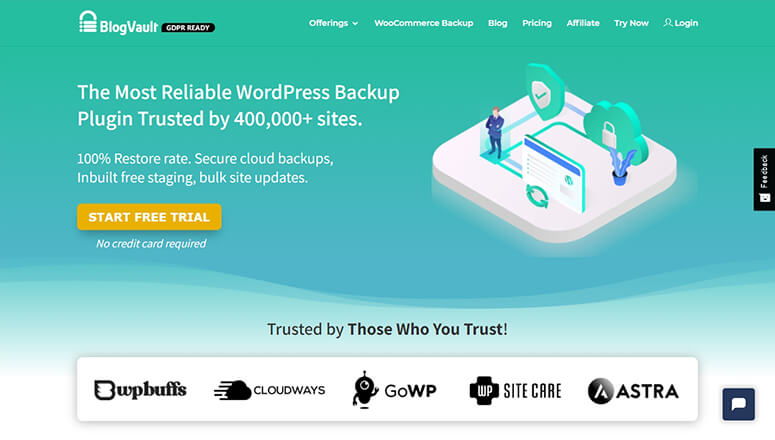 BlogVault is a reliable WordPress backup solution. Unlike other maintenance services on this list, it provides secure cloud backups and a 1-click restoration process in case of a website crash.
It also has a WordPress management service that includes 1-click updates for plugins, themes, and your WP core. If you're running a multisite, BlogVault makes bulk updates for all your sites incredibly easy.
With incremental backups, there'll be next to no server load. You can also create a staging site to test updates and changes and then merge them to your live website.
It detects malware and threats to protect your website from malicious activity. Moreover, BlogVault has login protection, website hardening, and a firewall to prevent real-time threats.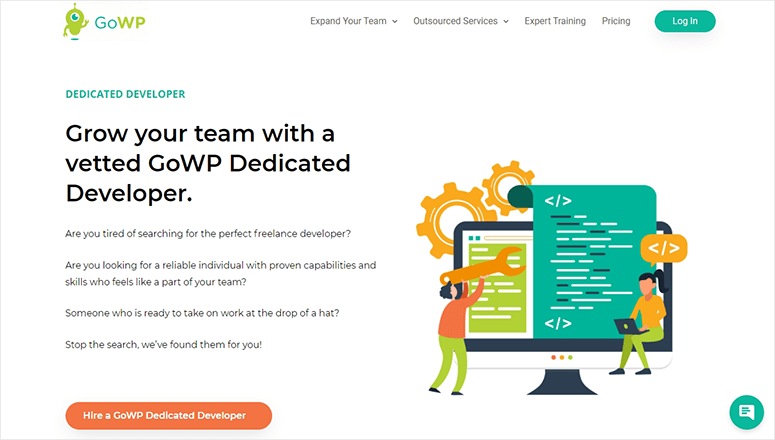 GoWP is a premium WordPress development company for agencies and businesses. If you want to get your website developed or make changes to your site, hiring a professional developer for every tasks can be costly.
That's where GoWP comes in with a team of dedicated developers. These developers will work on your schedule and use the provided tools to get the work done. This also helps you stay on budget for the software.
If you're starting a website, GoWP offers complete development and project management tools. With time tracking, you'll know the progress of each member working on your site.
GoWP developers have expertise in responsive website creation, page builders, WordPress installation and setup, third-party integrations, custom development, theme and plugin updates, custom theme and plugin development, WooCommerce site setup, backups, migration, and more.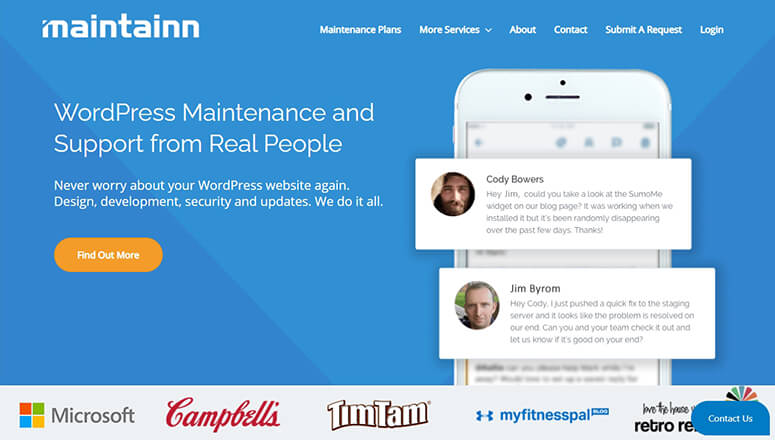 Maintainn is one of the most popular WordPress maintenance services and support providers on the market. It offers design, development, security, updates, and other website management services as a whole.
You can hire Maintainn for your ongoing WordPress maintenance, including weekly updates, regular offsite backups, and security checks. It takes care of your WordPress core, themes, and plugins updates out-of-the-box.
For your website security, Maintainn partners with Sucuri, a top-of-the-class WordPress security plugin. This adds multiple security layers to protect your site from threats and malicious attacks.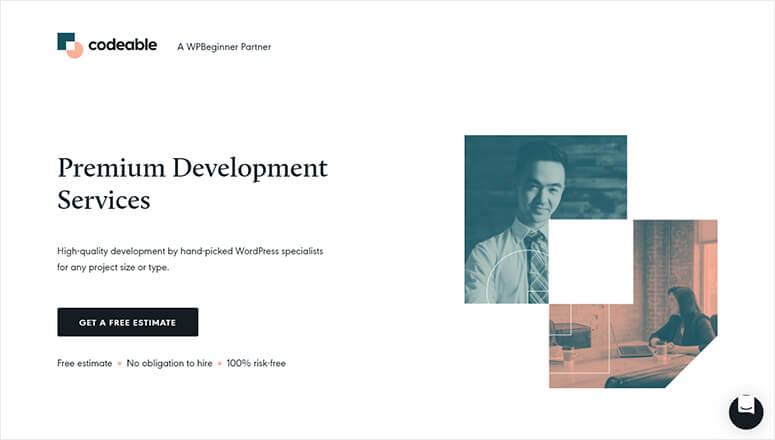 Codeable is a high-end WordPress development service offering world-class experts and developers to make a website. These developers are also perfect for changes and updates on your WordPress site.
With a proper onboarding process, it's easier to leave the development work on the Codeable team while focusing on other aspects to grow your business. In case you're not satisfied with the results, it has a risk-free money-back guarantee. No questions asked.
Codeable development teams can take short-term, recurring, and full-time tasks with dedicated support assistants. You can monitor the progress of your work and request changes to achieve your goal.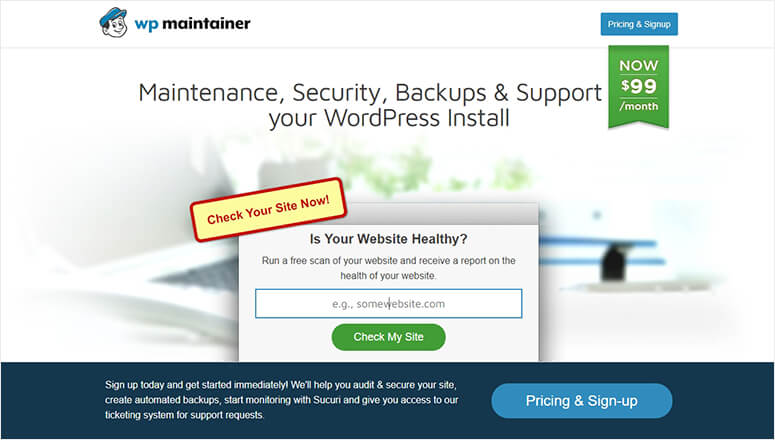 WP Maintainer is an ultimate WordPress maintenance service and website audit company. It takes control of your site with your permission to ensure security, backups, updates, and support.
From WordPress installation to regular updates, it covers everything to manage your website. It has on-site and off-site backups and follows a schedule to update backups regularly.
Other services include free WordPress migration, compatibility support, monthly WordPress support, custom website development, and so on. It's a complete maintenance package for agencies and startups.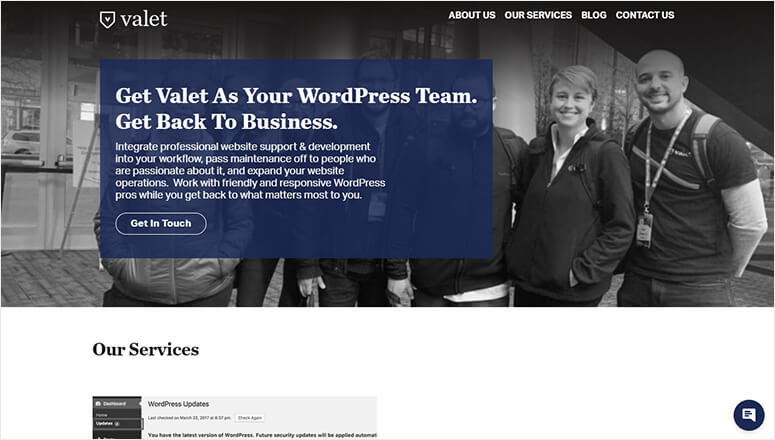 Valet is a professional WordPress development and maintenance service on the market. It provides website support, maintenance, operations, and development solutions for your business site.
The services include core WordPress maintenance, eCommerce maintenance, website troubleshooting, audits and assessment, accessibility check, and more. If you're running an online store, it offers seamless checkout workflows to increase your revenue.
Valet is a 1-stop solution for every business niche. It also covers SEO, design, and marketing strategies to boost your website's traffic.
We hope this article has helped you find the best WordPress maintenance services and plans.
You may also want to check out our guide on the best content marketing tools and plugins for WordPress.
This will further help grow your business in the right direction by using marketing tools that fit your unique needs.