Looking for an easier way to add and manage your custom fields? Advanced Custom Fields uses WordPress's built-in custom fields features, but makes them more accessible with a user-friendly GUI. Find out how you can save time managing your custom fields in our Advanced Custom Fields review.

Why You Need a Custom Fields Plugin
Custom fields allow you to add your own meta data to your WordPress posts and pages.
Many powerful plugins — like Yoast SEO or Edit Flow — take advantage of custom fields to add data to your posts.
By creating your own custom fields, you have complete control over what data gets added and how it's displayed.
But the default interface for WordPress custom fields just isn't that user-friendly:

There's just a basic text field to work with — you can't upload images or enter other specific types of data.
The Advanced Custom Fields (ACF) plugin uses WordPress's custom fields functionality, but creates a much more user-friendly GUI for them.
You can create custom fields that appear only for certain posts, categories, pages, custom post types, etc. And you can choose exactly what kind of data can be entered in those fields, including:
text
numbers
email addresses
URLs
images
files
true/false
and more
In order to display your custom fields on the front end of your site, you still need to understand how to use basic PHP to modify your theme files.
But ACF has several built-in functions that make that easier, too.
How to Set Up Your Advanced Custom Fields
Step 1: Adding Your Custom Field Data
Install and activate the plugin, and you can navigate to Custom Fields » Custom Fields to get started.
Click the Add New link at the top of the page to create your first field group.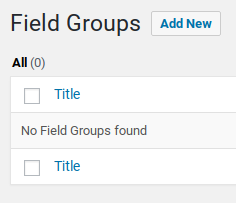 Every custom field you create must belong to a field group. The field group determines when the custom fields are displayed. Custom fields that are in the same field group will display together.
So, for example:
Need to use a few custom fields on just one post category, or just on your custom post type? Then they should be in the same field group together.
Want to add a certain custom field to posts in one category, but a different custom field to posts in a different category? Then they should be in separate field groups.
In our example, we're going to add kitten GIFs to every post in the "Cats" category.
Type in your field group name, and click the Add Field button to add your first field.

Enter the field label and select your field type. In our example, we're choosing "Image." When you've finished selecting your field options, you can close the field to collapse it. Just hover over the field name to edit or delete it.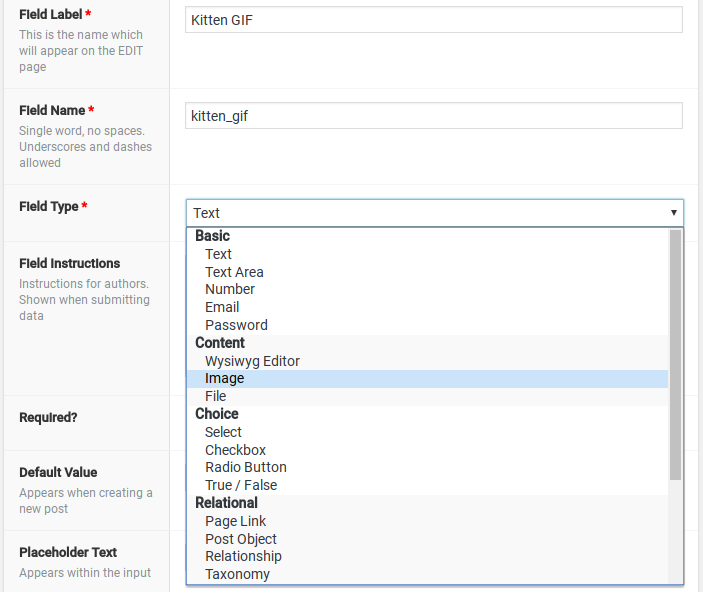 Under Location, select where you would like to display the custom fields in this group.

When you've selected all your options, click Publish on the right.
Now when you edit a post, page, or custom post type that matches the location you selected, you'll see your custom field input.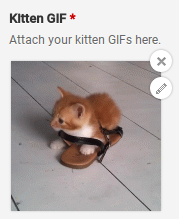 Step 2: Displaying Your Custom Field Data
The first step attaches that data to the post in your database, but it doesn't automatically display it on the front end.
The data that's displayed with every post and page on your site is controlled by your theme files. This means that in order to display new data, you'll need to modify your theme files.
The Advanced Custom Fields plugin has many built-in functions that make displaying your data easier than using WordPress's default functions. That's because ACF's functions will also format your data instead of just outputting it raw.
To display your fields, you can use the the_field() function.
The function has two arguments:
the_field($field_name, $post_id);
$field_name: (required) the name of the field to be retrieved
$post_id: (optional) the post ID where your value was entered (defaults to the current post ID)
You set your field name when creating it. To find it again, navigate to your field group and it will be displayed at the top:

To display this custom field in our posts, we can edit our single.php theme file and place this code where we'd like it to display:
the_field('kitten_gif');
For more info on using and displaying custom fields, see WPBeginner's article on WordPress Custom Fields 101: Tips, Tricks, and Hacks.
Get More Options With ACF Pro
With the premium version of Advanced Custom Fields, you can:
add simple image galleries
create flexible custom fields for different types of content
duplicate existing custom fields
…and more.
A personal license is just a $25 one-time fee and includes lifetime updates.
Documentation and Support
The ACF website includes basic documentation for all of the plugin's features, including code examples and troubleshooting. You can also post in the community forums or open a support ticket if the documentation doesn't address your problem.
Our Verdict
The Advanced Custom Fields plugin is a great solution for intermediate to advanced WordPress users who are looking for an easier way to use custom fields.
If you find yourself using a lot of custom fields on your WordPress sites, ACF will help you to save time and effort, and make it easier to manage them all.
Unfortunately, ACF doesn't give you a way to display your custom fields without editing your theme files, so the plugin isn't suitable for beginners who aren't interested in modifying their site code.
We give Advanced Custom Fields 4 out of 5 stars. Here is the breakdown of our review scores:
Get Advanced Custom Fields Now »