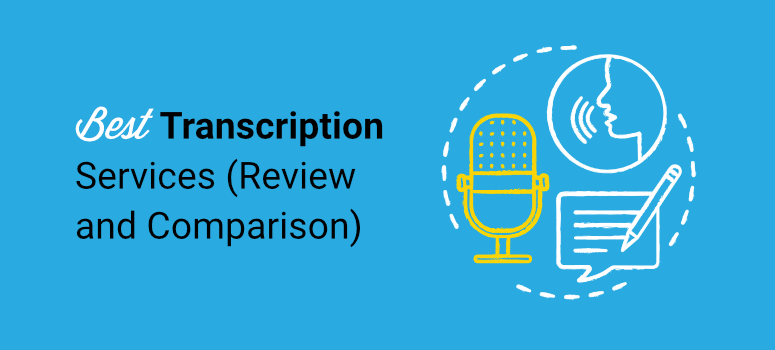 Are you looking to convert speech into text for your business or project?
Transcription services help individuals, websites, and businesses of all sizes convert audio and video into written text. You can use these transcripts for video subtitles, podcast scripts, written notes, and more.
We checked out the best transcription services on the market and narrowed it down to the top 9. In this post, we'll show you what they have to offer so you can pick the one that's right for you.
But first, let's get clear on why you'd want a transcription service in the first place.
Why Use a Transcription Service?
Transcription services help you create high-quality written notes for your audio and video files.
While it may seem easy to listen and type out text, it takes an experienced transcriptionist about 4-10 hours to transcribe 1 hour of audio. And if you need it in a particular format and layout, it can take even longer.
That's precious time that you could use to focus on other aspects of your project or website.
There are both manual and automated transcription services that you can choose from depending on your needs and security concerns. Plus, these services have their own software and tools so you won't need to invest in any.
There are all kinds of ways you can use transcribed text with your WordPress site. Here are just a few:
Recording meetings, calls, webinars
Making podcast scripts and notes
Adding subtitles to video
Publishing written material for online courses
Converting video/audio into blog posts
Creating eBooks/scripts
Having said that, let's dive into the list of the best transcription services to help you get high-quality written files.
Best Transcription Services for 2021
Below, you'll find the best transcription services that cater to both small and large businesses so you can find the service that suits your needs.
Ready? Let's get started.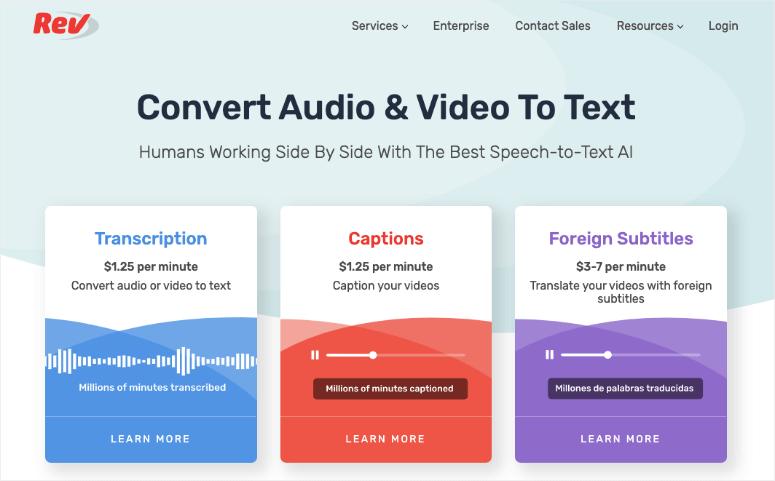 Rev is one of the best transcription services that comes at an affordable price.
With Rev, you can tap into a network of 50,000+ professionals to create drafts, captions, translations, live Zoom subtitles, and more.
Rev has one of the best transcription speeds and is available 24/7. You can submit it before you go to bed, and your transcribed file will hit your inbox before you get to work the next day.
Plus, their error rate is really low. For clear audio files, they offer a 99% accuracy rate.
Highlights
12-hour delivery and rush options to meet tight deadlines
English and foreign languages
Supports specialized terminology
Timed sync files so text appears exactly with audio
Files are private and protected
With over a million minutes transcribed, Rev is definitely a top player in the market.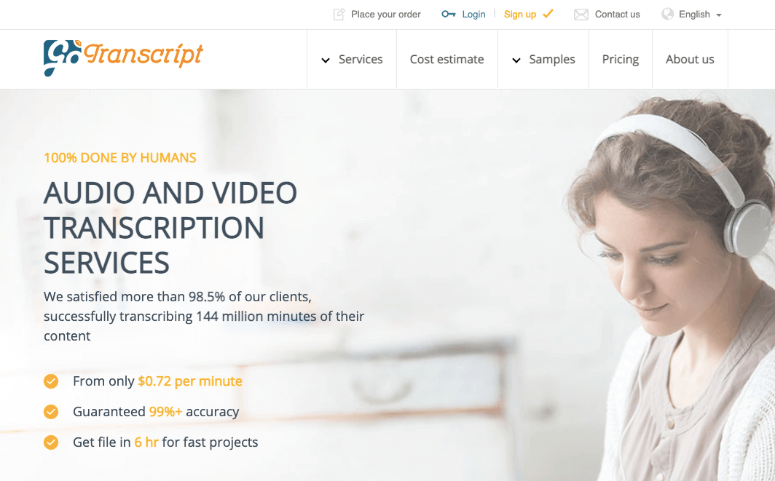 GoTranscript provides accurate transcriptions and can handle difficult accents and audio files.
GoTranscript doesn't only rely on speech recognition software, but instead, it uses proprietary tools to help transcriptionists work more accurately and faster. Every word is always typed by humans.
They also cover everything from academics, media, marketing, legal, medical, and many others.
Highlights
Guaranteed 99% accuracy
6-hour file delivery for fast projects
47+ languages
Privacy with 2048-bit SSL encryption and an NDA (non-disclosure agreement)
Get started with GoTranscript today.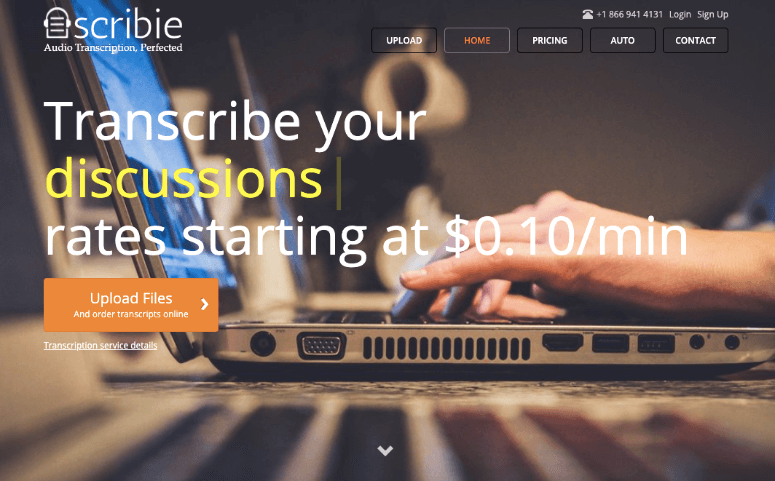 Scribie offers both manual and automated transcription services.
Scribie is one of the top contenders on this list of the best transcription services because they have features like no other service.
First, they have a wide range of options and price ranges to fit any budget.
Scribie also lets you track the progress of your transcription tasks so you can see how fast they're completed. You can even download versions of the file before they're finalized.
This is helpful if you need a rough draft right away or want to use a part of the script to get started on your project.
Highlights
Low transcription fee with 'pay as you go' option
Unique in-browser transcription editor paired with the audio
AI-powered automated transcripts
Access to your files is restricted on a need to know basis
Get started with Scribie today.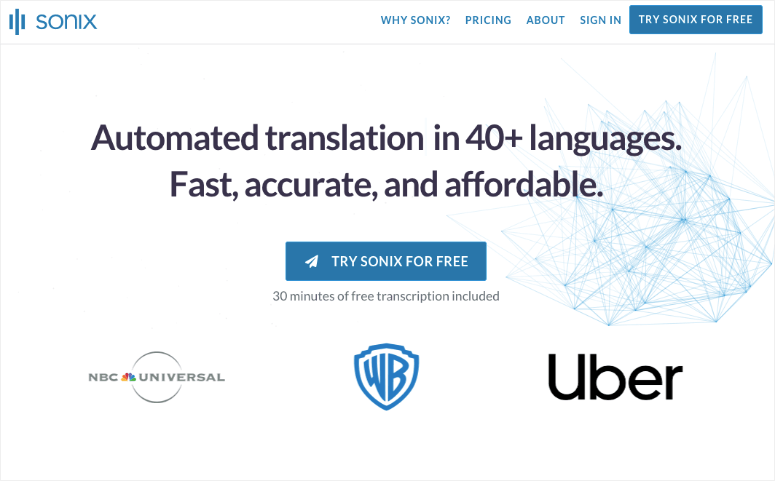 Sonix is a fully automated AI transcription software. This means you won't get the same level of accuracy as a human transcriber but turnaround times are incredibly fast.
Sonix also comes with easy-to-use editing tools so you can correct errors, make changes, and polish up your transcript.
It's perfect for any kind of audio and video files including meetings, lectures, interviews, and films.
You'll also find tools for automated translation, subtitles, and collaboration. Plus, there are plenty of integrations with tools you already use like Zoom, Vimeo, YouTube, Dropbox, and more.
Highlights
Supports 40+ languages
Collaborate with teams to comment, upload, edit, and more
Share and publish transcripts easily
World class security and privacy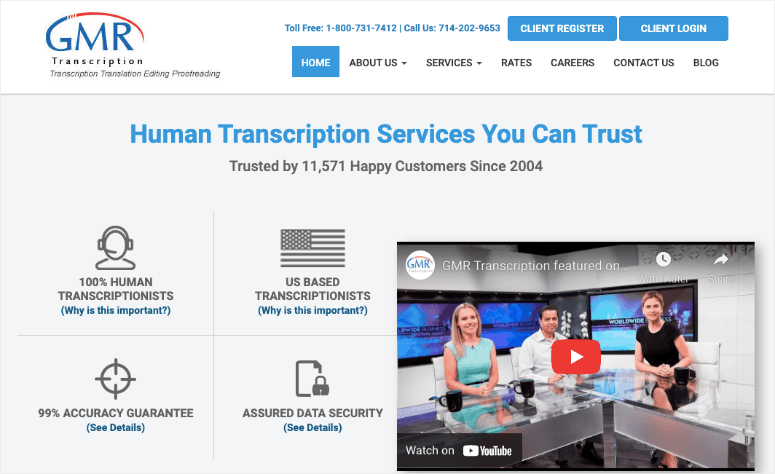 GMR Transcription offers 100% human transcription services which means they don't have any automated speech recognition software. While this improves accuracy, it can slow down the delivery speed quite a bit.
The GMR Transcription team has transcribed over 6.5 million minutes serving 10,000+ clients so they do have a good amount of experience under their belt.
GMR Transcription has only American-based transcribers and offers academic, legal, video, business, and podcast transcriptions.
Highlights
99% accuracy
Assured data security
Accepts file uploads and URL links
Get started with GMR Transcription today.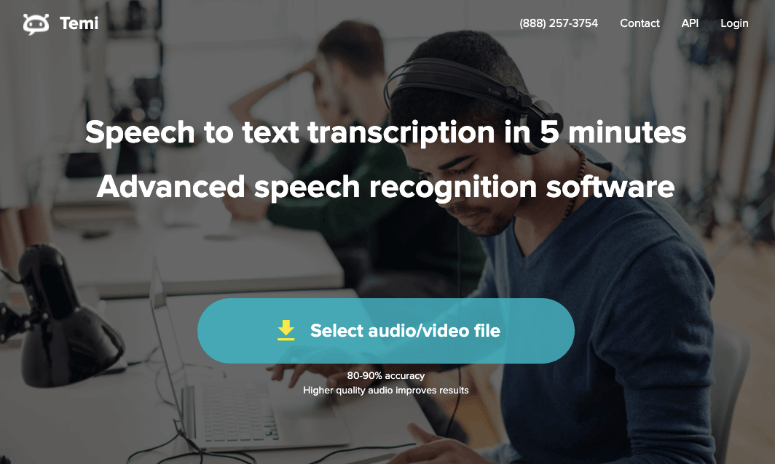 Temi is an advanced speed recognisition software from Rev. You can upload your audio or video files in any format.
Then you can use the editor to review the script with timestamps and speakers. Once you're done, you can download it as a Word doc, PDF, SRT, VTT, and more.
They offer a free trial with access to all features for 1 transcript under 45 minutes.
Highlights
80-90% accuracy
Lightning fast delivery
Organize, edit, and share recordings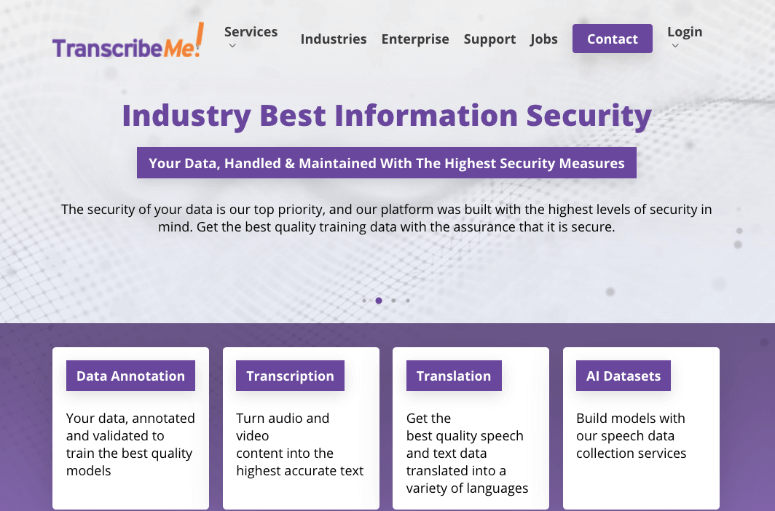 TranscribeMe is a transcription platform with over 2 million registered transcribers. They also use AI-powered machine-learning technology to improve speed and accuracy of transcriptions.
TranscribeMe offers a range of services including transcription, translations, annotation, and speech data collection.
Plus, they customize the workflow to your business needs and project requirements so you can seamless integrate their service into your current schedule.
TranscribeMe also has one of the best delivery speed and accuracy rates on the market.
Highlights
Consistent high quality
Manual and automated transcriptions
Best information security protocols and processes
Get started with TranscribeMe today.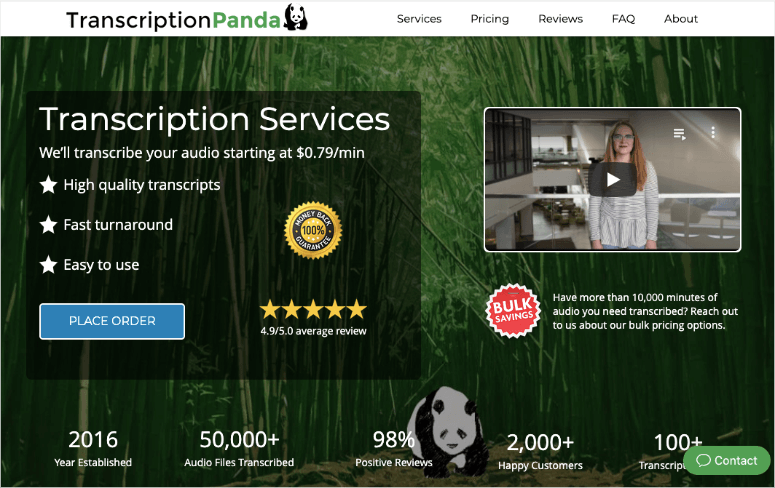 TranscriptionPanda provides high-quality video and audio transcription and translation services.
They cater to a wide range of industries including corporations, hospitals, universities, non-profits, and individuals.
All transcripts are created in-house by their experienced team and delivered in Microsoft Word format. Their process is 100% human-based and involves multiple levels of quality checks to ensure best-in-class accuracy.
To use TranscriptionPanda, you can place an order online and upload your audio or video file, or provide a link to YouTube or Vimeo. Their standard delivery time is 2 business days, but if you're pressed for time, they offer expedited deliveries as well.
Highlights
98-100% accuracy
Upfront, transparent pricing
Files are highly confidential and stored on a private, encrypted server
Get started with TranscriptionPanda today!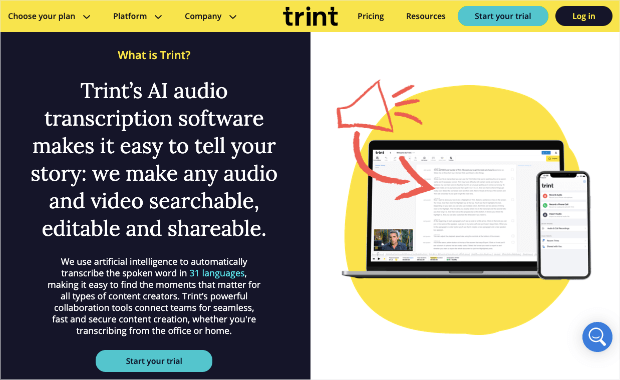 Trint is the most secure transcription service on the market. They use artificial intelligence to automatically transcribe your audio files in 31 languages.
Trint works in such a way that only you can see your transcription files. Trint employees never look at your data without your permission. Plus, they enforce high standards of security and protocol to protect your data.
Trint's software works great for individuals, teams, and enterprises. There are powerful collaboration tools to connect teams and share access.
If you're looking to transcribe confidential files and sensitive information, Trint is the most secure platform you can use.
Highlights
Keep documentation in-house
iPhone app available
Integrates with Adobe, Zoom, and Zapier.
And there you have it! That's our list of the top 9 transcription services available on the market. We hope this post helped you find the right transcription service for you.
You may also want to check out our guide on the 7 Best WordPress Import Export Plugins [FREE].
This will help you import your transcription files into WordPress so you can use them for blog posts, page content, and more.