Looking for a simple WordPress theme for your website? SimplePress is a slick page-based theme that you can use to create professional and clean sites in WordPress. In this Elegant Themes SimplePress review, we'll show its features and help you decide if it is the right theme for your needs.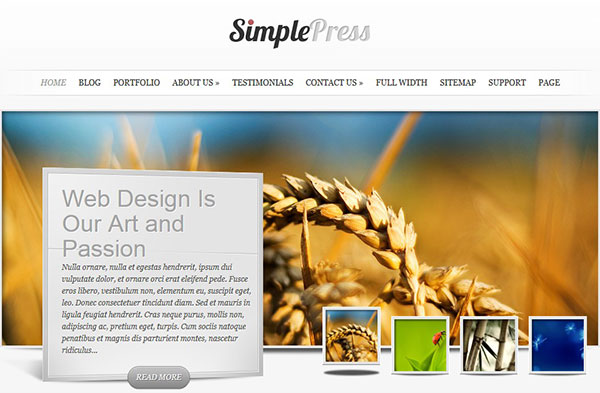 About SimplePress
SimplePress is designed by Elegant Themes, known for selling the best WordPress themes and recognized worldwide for its products.
This theme is best for small businesses and websites looking for professional slick page-based theme. It can also be used to create personal blogs. SimplePress has less content on the homepage, yet it gives the feel of a corporate business theme. The design is simple and features are amazing.
Features of SimplePress
SimplePress is a theme with basic features to adopt your requirements of a website or personal blog. The features are not bloated on the front page. The homepage is simple and elegant with a beautiful jquery slider, quotes and the service pages. There is no long footer in the theme and it only offers the copyright text.
Like other themes by Elegant Themes, SimplePress has colorization, navigation, layouts and more. Let's take a detailed look into its features:
Responsive Theme
SimplePress is a fully responsive theme. The content of the theme pages appears beautifully on all mobile devices.
Having a responsive theme is necessary for your site to rank in the search engines. SimplePress solves this problem for you. You need to simply install and activate the theme, and the responsive structure set up automatically.
Widgets
This theme comes with one sidebar widget area in general. The widgets used in this sidebar will appear on all pages of the site other than those with full-width layout.
However, the theme comes with the ET widgets itself. These widgets are very professional and helps in making your sidebar looks amazing.

There are 4 widgets by Elegant Themes:
About Me: You can display the user profile in the sidebar with this widget. It allows you the option to add your image and text description too.
Adsense: Drop your adsense code in this widget to display the adsense ads.
Advertisement: The advertisement widget is amazing. It allows you to add 8 banners with their meta information to appear in your sidebar.
Search: It is a simple search widget. You just need to drop it in your theme's widget area and there are no more settings for it.
The other WordPress widgets are general and can also be used in the sidebar widget area of SimplePress theme.
Colors of the Theme
There is a built in color visualizer tool to find the hexadecimal values for the colors of the theme.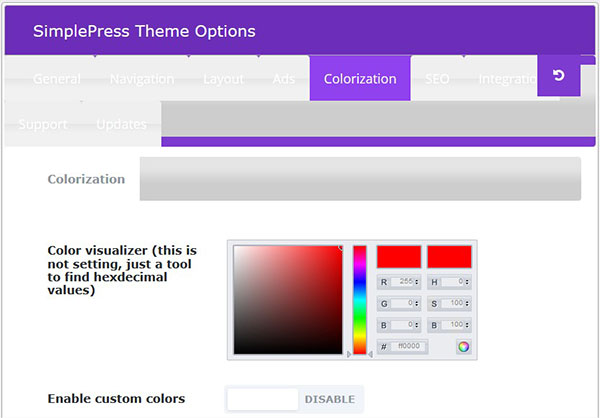 You can move the mouse on the visualizer tool to find the hexadecimal code and scroll down to the fields to add your background, font, and other colors.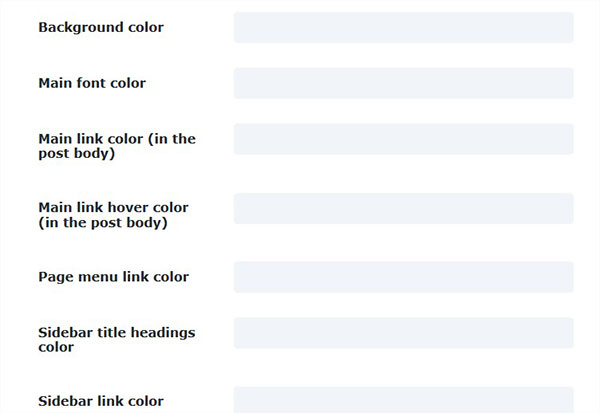 Isn't it simple? SimplePress makes it more simple with the visualizer tool, so you can edit any color again to get the best of what you need.
Service Pages
The homepage of the SimplePress theme is simple. It consists of 3 service pages that displays at the bottom with the featured image and excerpt of the content.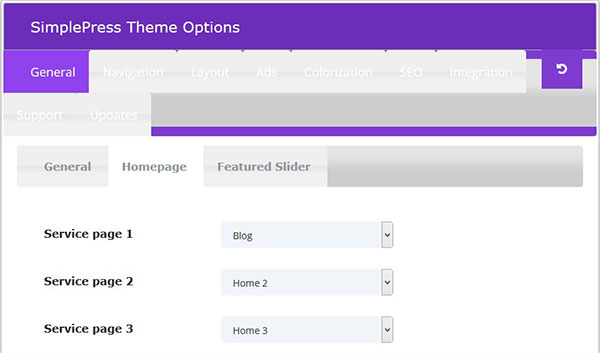 These services pages will appear on the homepage as shown here in this image below:

The excerpt word count can be set from the general WordPress excerpt settings.
Homepage Quotes
The homepage quotes setting is also available under the homepage tab in your theme panel. You can simply enable or disable quote and write them in the fields below.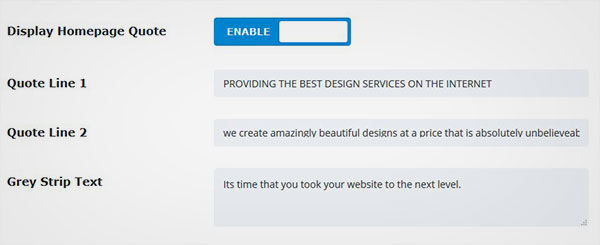 These quotes have their position on the homepage and appear accordingly.
Customize Panel
The customize panel in the SimplePress theme is similar to the default WordPress customize options with its own features.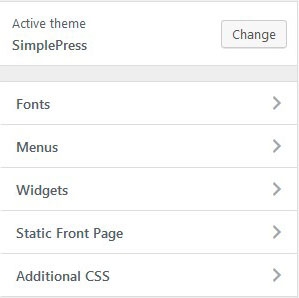 You can edit the fonts for the header and body, create menus, add widgets in the sidebar and more from these settings in the customize panel.
Documentation and Support
Elegant Themes SimplePress has extensive documentation that guides you on installing and configuring the theme. Useful screenshots and videos are also included in the doc, so you can easily skim through the content whenever you need assistance.
To download SimplePress, you'll need to join the Elegant Themes club. Their plan starts from $89 per year. After joining, you'll get complete access to all themes.
To get lifetime access to all themes and plugins with lifetime premium support, lifetime updates and unlimited website usage, you'll need to pay a one-time fee of $249.
Support is offered through their official support forums. Elegant Themes are well-known for the quality and speed of their support.
Our Score
SimplePress is a clean and simple theme with its simple design, perfect for your WordPress site. It is packed with tons of great features for you to play around with and get the customization just how you want it to be.
We give SimplePress 5 out of 5 stars. Here's the breakdown of our scores.
Get SimplePress Now »
If you liked this article, then please consider following us on Twitter and Facebook. If you have any questions, please let us know by leaving a comment below.