Looking for a three-column magazine WordPress theme? Nexus is a versatile magazine theme that comes with custom widgets and content modules that help you to create a fully customized homepage in just a few minutes.
In this Elegant Themes Nexus review, let's take a look at various features of it and determine if it is the best option for your needs.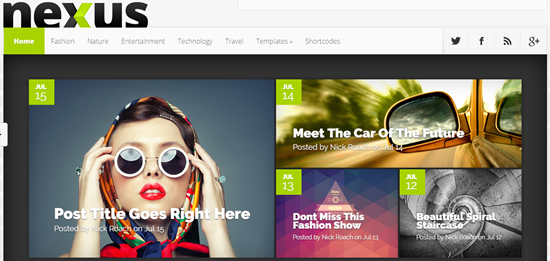 About Nexus
Nexus is yet another magazine WordPress theme released by Elegant Themes, a popular hub for premium WordPress themes and plugins.
Nexus comes bundled with homepage builder that gives you complete control over what appears on the homepage. Additionally, it also gives you different ad placement options for high visibility.
Unlike most other magazine theme released by Elegant Themes, Nexus is not bundled with their flagship drag and drop Divi builder. If you don't want to use a drag and drop builder, Nexus might be the right option for you.
Let's take a look at a few features of the Nexus theme.
Three Columns Magazine Styled Homepage
The Nexus theme comes with a Nexus Homepage Builder option that lets you create a highly customized homepage with ease.
The homepage builder is a drag and drop builder that allows you to add, edit and remove content modules.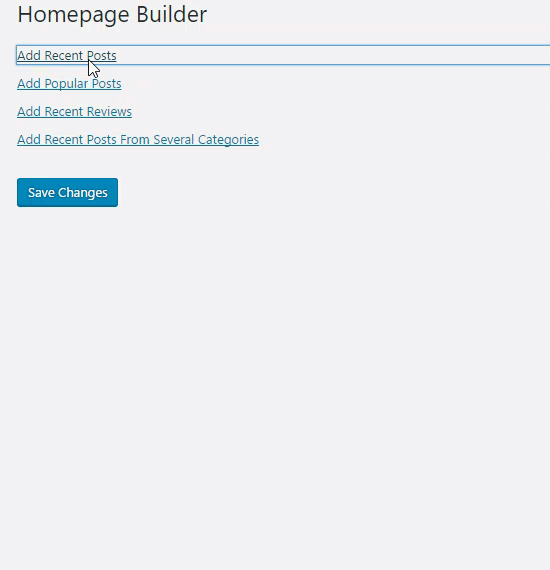 The theme supports three columns in its homepage.
Left column
Middle column
Right column or sidebar
With the homepage builder, you can manage content modules in the left column only. You can add content modules like recent posts, popular posts, recent reviews and recent posts for several categories.
The content module of the middle column can be managed by going to Widgets in your WordPress dashboard. You can add any content module to the homepage sidebar widgetized area, which will be reflected in the middle column of your homepage.
The right most column of the homepage is the sidebar.
Many Widgetized Areas
Besides sidebar and homepage's middle column, you can manage footer areas in the Widgets section. This theme supports four footer areas.

Nexus comes with the following built-in widgets.
ET Advertisements: This widget supports advertisement banners in many different sizes.
ET AdSense Widget: This widget is specifically built for displaying AdSense ads.
ET Centered Ad: It helps you to display a centered advertisement on your site.
ET Recent Posts Widget: This widget lets you add recent post modules in your sidebar.
ET Tabbed Widget: It lets you add recent, popular and random tabbed widget on your homepage. It's a perfect widget for the middle column of the homepage.
ET Recent Videos: It displays recent videos
ET Top Authors: It displays top authors of your site
ET About Me Widget: It is a personalized widget for displaying information about you or your company.
Extensive Theme Options
The Nexus theme comes with an extensive list of theme options that lets you easily customize various elements of your site. The theme options can be found inside the Appearance tab in your WordPress admin panel.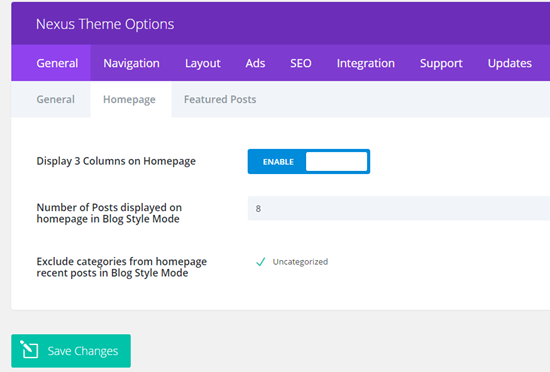 Nexus vs. Extra
Both Nexus and Extra are WordPress magazine themes released by Elegant Themes.
The main difference between Nexus and Extra theme is the Divi builder. Nexus is not bundled with the Divi builder whereas Extra comes with the Divi builder.
While Nexus allows you to add content modules to the homepage with ease, you can't add content modules the same way you do with the Extra theme.
However, some users do not prefer using the Divi builder because it creates tons of shortcodes in the backend when adding content modules. It is due to the fact that you'll need to spend a significant amount of time to remove the shortcodes if you decide to switch to a new theme.
Nexus is a perfect fit for users who are looking for a magazine theme that comes with the right features without any bloat.
Another difference is that Nexus doesn't offer a one-click demo builder just like the Extra theme. With Nexus, if you'd like to build a site like a demo site, you'll need to use the default WordPress importer function.
Documentation and Support
Elegant Themes has extensive documentation that explains how to start a new WordPress website in a magazine style using Nexus. Additionally, you can find interactive content like videos and screenshots, which gives you a thorough explanation of how to use the content modules and other theme features.
To download Nexus, you'll need to join the Elegant Themes club. Their personal plan starts from $69 per year. After joining, you'll get complete access to all themes.
To get premium support, you can use the Elegant Themes support forums. Elegant Themes are well-known for the quality and speed of their support.
Our Score
Elegant Themes Nexus could be the right choice for you if you're looking for a WordPress magazine theme that offers everything you need but doesn't come with bloated built-in features.
Comparing with other WordPress magazine themes released by Elegant Themes, Nexus is a lightweight theme. Its drag and drop homepage builder allows you to create a highly customized homepage in just a few minutes.
Plus, it supports different ad placements out of the box, so you can easily monetize your website with ads without any hassle.
We give Nexus 4.8 out of 5 stars. Here's the breakdown of our scores.
Get Nexus Now »
If you liked this article, then please consider following us on Twitter and Facebook. If you have any questions, please let us know by leaving a comment below.