Looking for a real estate WordPress theme? ElegantEstate is a beautifully designed theme that converts your normal blog or website into a property dealing hub. In this Elegant Themes ElegantEstate review, we'll show its features and help you decide if it is the right theme for your needs.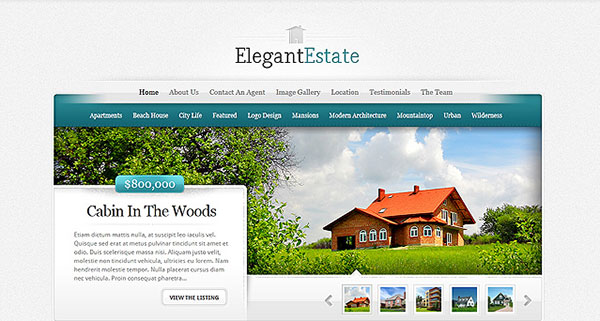 About ElegantEstate
ElegantEstate is a product of Elegant Themes, primarily well-known for their amazing WordPress themes and plugins.
This theme turns your website into a real estate online venture where you can deal with your clients. It allows you to create property listings, share information about any property, add property photos, maps integration and more.
Features of ElegantEstate
Elegant Themes ElegantEstate is a complete package for a real estate and property website. It has tons of amazing features like browse listing widget, property posts, featured slider, extensive menu and more.
The other basic features are background image, color scheme, fonts, link styling, layout and more, that you can edit from the custom panel or epanel of the theme.
Let's take a detailed look into the features of ElegantEstate theme:
Menus
The theme offers two menu locations: Primary and Secondary. These two menu appears below the logo parallel to each other horizontally.

You can edit these menus from the WordPress menu settings. Simply add pages and other useful links to the menu and assign them the available locations.

You can also add categories and custom links to these menus.
Unique Colors
This theme has 5 unique colors to match the website with your real estate business theme. You can change the color scheme from the general settings in epanel of the ElegantEstate.

The color choice is bold, so your site looks great with any of the theme styling you choose.
Browse Listing
ElegantEstate theme has a core feature of browsing listing that you can add on your site to entertain your customers. It comes with 4 options to filter the property listings.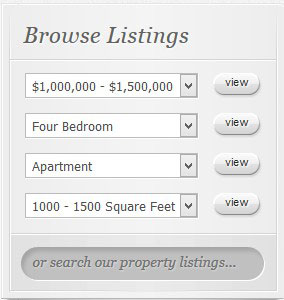 You can edit these four options from the epanel of ElegantEstate theme. Browse Listing is a separate section in the theme's epanel that allows you to enable/disable this feature.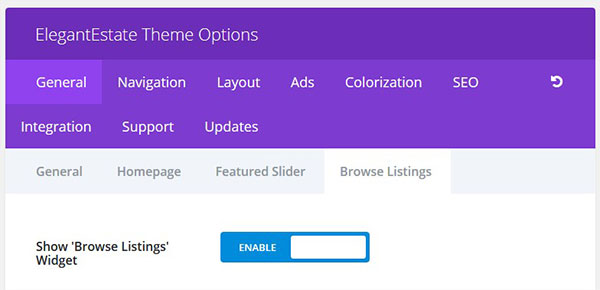 Once enabled, you can scroll down to add categories for each listing section.
Page Templates
Most of the WordPress theme offer page templates to ensure that the website owners can easily select the display of each page as they need. In this ElegantEstate theme, there are multiple page templates available that you can choose when creating the pages for your site.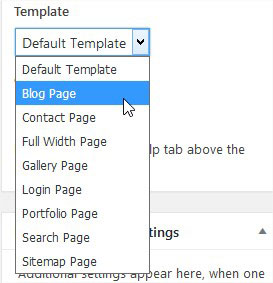 These page templates are like default template, blog page, contact page, fullwidth page, gallery page and a lot more. All these page templates have different display settings that means you have a variety to show your content on your site pages.
Featured Slider
It is another important feature of the ElegantEstate theme. The featured slider appears with thumbnails below the two menus and looks elegant.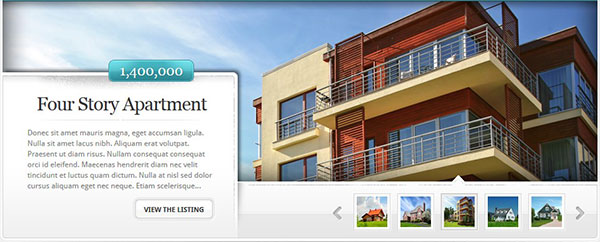 You can edit the slider settings from the theme's epanel. However, we recommend you to use a slider plugin like Soliloquy that has tons of amazing features to customize the image slider as you need.
Customization
In the custom panel of ElegantEstate theme, you can edit and change the background image, background color, menus, site identity and more.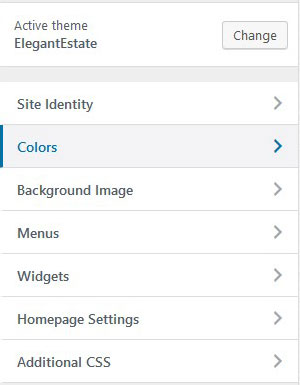 It has a section for homepage settings where you can choose what you want to display on the homepage. You can display the recent property posts from your blog or create a custom page separately.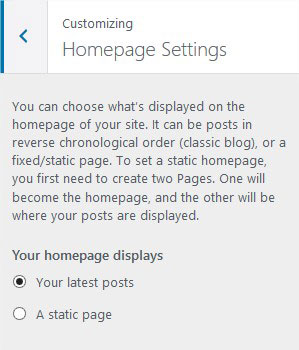 If you select the custom static page, then it will allow you to choose a page from your WordPress site to be displayed on the homepage.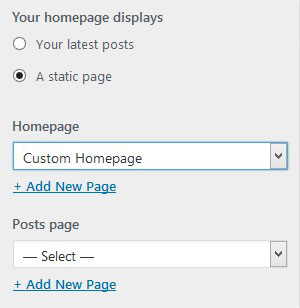 You can also choose a WordPress post or create a new page/post for this setting accordingly.
Mobile Responsive Layout
ElegantEstate is a fully responsive theme and compatible to all the latest browsers. The theme looks great on any mobile or tablet device. Content and widgets adjust themselves according to the screen size.
Documentation and Support
Elegant Themes ElegantEstate has extensive documentation that guides you on installing and configuring the theme. Useful screenshots and videos are also included in the doc, so you can easily skim through the content whenever you need assistance.
To download ElegantEstate, you'll need to join the Elegant Themes club. Their plan starts from $89 per year. After joining, you'll get complete access to all themes.
To get lifetime access to all themes and plugins with lifetime premium support, lifetime updates and unlimited website usage, you'll need to pay a one-time fee of $249.
Support is offered through their official support forums. Elegant Themes are well-known for the quality and speed of their support.
Our Score
ElegantEstate is a real estate theme for property dealers to connect with their users. The fluid design makes it easy for your users to read all the content on your website or blog. It is packed with tons of great features for you to play around with and get the customization just how you want it to be.
We give ElegantEstate 4.8 out of 5 stars. Here's the breakdown of our scores.
Get ElegantEstate Now »
If you liked this article, then please consider following us on Twitter and Facebook. If you have any questions, please let us know by leaving a comment below.