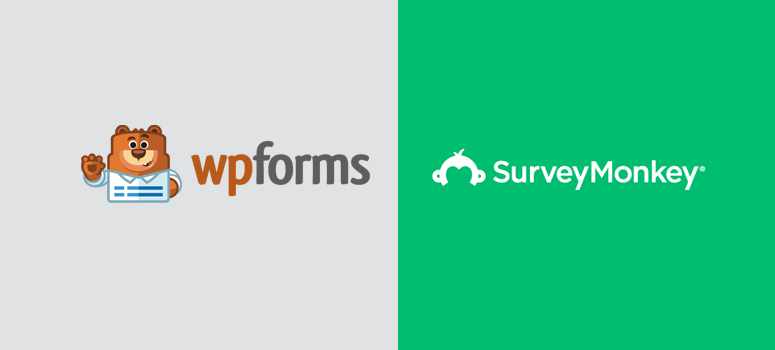 Are you looking for a SurveyMonkey alternative? If you're trying to find the best WordPress survey plugin for your website, you'll need to give WPForms a try.
In this article, we'll compare WPForms and SurveyMonkey so that you can decide which online survey tool is the best option for you.
Since we're going to give you a detailed comparison of WPForms vs. SurveyMonkey, here's a quick table of contents to guide you through the article:
General Details: WPForms vs SurveyMonkey
Before we dive into our comparison of WPForms and SurveyMonkey, let's first take a look at the basics of each survey tool.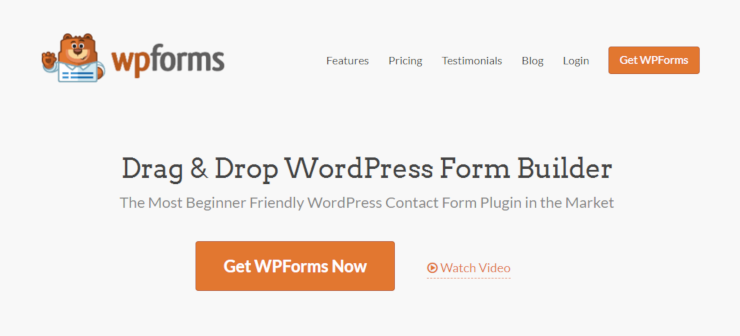 WPForms is one of the best contact form plugins available and one of the most beginner-friendly. In minutes, you can create a powerful form for your website without having to know a thing about code using their drag and drop builder.
Aside from basic contact form, WPForms lets you build highly engaging surveys and polls on your website. Unlike most contact form plugins, WPForms gives you beautiful survey reports with best visualization. This means you can easily analyze your survey results in real-time. And you can export and share individual charts as PDF or JPEG with just 1 click.
Not only can you see your survey results in a visually stunning way but so can your website users. After they submit a form, you have the option to display real-time results to them too. WPForms also makes it super easy to turn any existing form on your website into a powerful survey or poll with just the click of a button.


SurveyMonkey on the other hand, is a popular online survey tool used to collect opinions from people like your website visitors for instance.
SurveyMonkey comes with a number of pre-made templates and pre-written survey questions written by experts to help you build a survey for the web, email or social. They offer a partial drag and drop feature so you can customize templates to fit your brand and to rearrange and add different form fields.
Other features of SurveyMonkey include metrics reporting to analyze the results of your survey and the ability to collect survey responses and credit card payments at the same time.
Now that you know the basics of each survey tool, let's take a look at the specifics of each to find out if WPForms is a good SurveyMonkey alternative.
Ease of Use
WPForms is one of the most user-friendly form plugins on the market and there's no coding involved at all.
The simple drag and drop editor makes it easy for beginners to create a powerful form including survey. Even if you've never created a survey for your website before, you'll be able to in minutes with this plugin.
With WPForms, you can use their pre-designed templates for surveys or polls that have all the form fields you need to get started. You can easily add fields such as dropdowns, Likert scales, radio buttons, check boxes, star ratings and more. It's also very simple to delete, edit and rearrange the order of fields using the drag and drop functionality.
WPForms also shows a live preview of what your form will look like as you're building it so you don't need to keep switching between the editor and preview.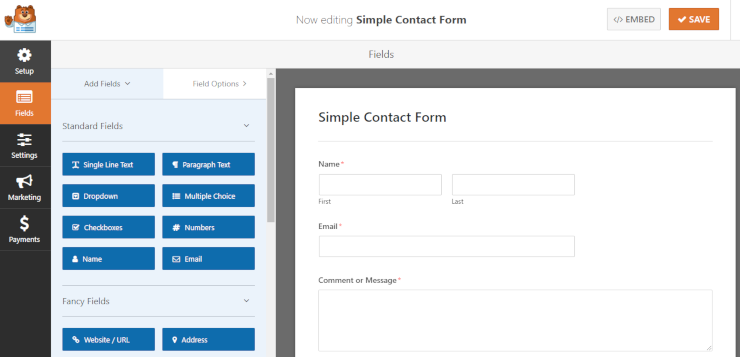 Plus, since WPForms is a WordPress plugin, users can quickly build a survey right from the WordPress dashboard, which makes the entire process easier. You can also collect the info from your surveys on your own website, instead of having to log in elsewhere like with SurveyMonkey.
Embedding your finished form or survey onto your website is also very simple with WPForms. In just 2 clicks you can add your form to any page or post of your website. It also comes with a WPForms widget that allows you to display your form in the sidebar, footer, or any other widget areas of a website.
You can also enable survey reporting with 1 click and WPForms will automatically generate a beautiful-looking report.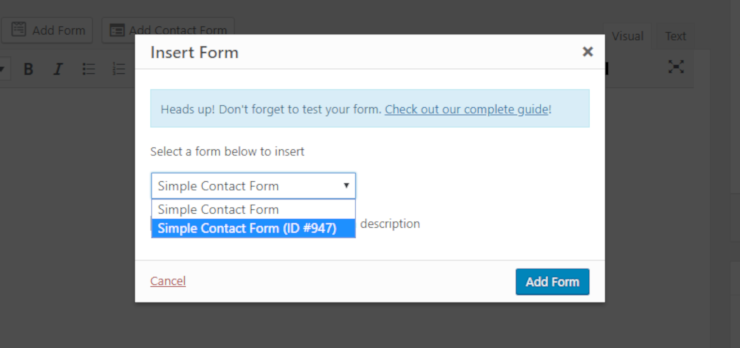 Ease of Use: SurveyMonkey
SurveyMonkey is an online form builder that lets you create only 1 type of form: an online survey.
When creating a survey, you're able to choose from a dropdown menu the field format of your choosing like multiple choice, comment box, star rating, and more. If you're having trouble thinking of questions there's a Question Bank in the panel on the left side to give you some ideas. Once you see a question you like, you can add it to your form with the click of a button.
The interface of SurveyMonkey isn't very user-friendly. At first glance it seems easy to use but it takes several clicks to figure out how to add a question, add a form field, and get it looking the way you want it to.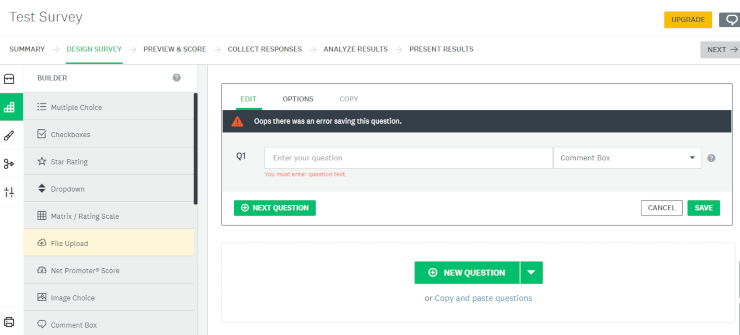 You can't rearrange questions in your form by dragging and dropping because their drag and drop functionality is only partial. You have to click several buttons to choose the arrangement of your fields which means creating a form will take you much longer compared to WPForms.
When creating a form with SurveyMonkey, you need to type in a question before you can add any more fields to your form. This means you can't design an online form without adding questions which is not helpful for creating contact forms.
Plus, if you only want to create surveys, there are still more steps involved to do so with SurveyMonkey than there is with WPForms. Since SurveyMonkey is an online form builder, users have to log in to SurveyMonkey to build a survey and then embed it on WordPress, instead of being able to build it right in the WordPress dashboard.
Winner: WPForms
Features
WPForms comes with a wide array of features right out of the box. These features allow you to take your simple surveys and contact forms and turn them into powerful forms for business.
Like we mentioned earlier, the Poll/Survey addon from WPForms lets you easily create a poll or survey to add to your WordPress site. The Poll/Survey addon comes with all the features you need to create awesome polls/surveys for your website visitors.
WPForms boasts a number of awesome survey and poll fields including multiple choice, check boxes, star ratings, Likert scale, Net Promoter Score and more.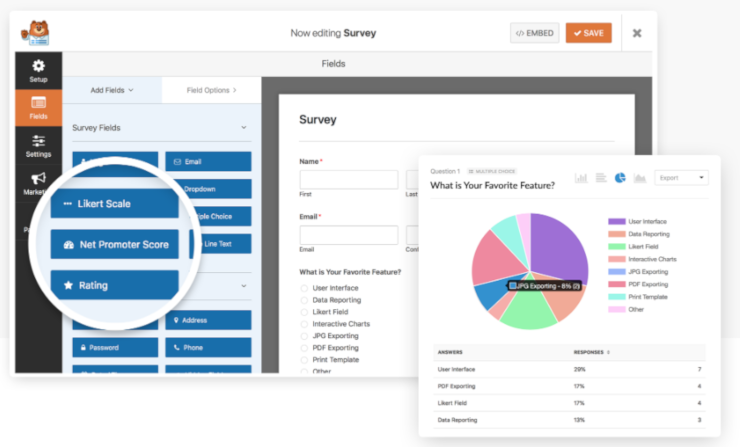 With WPForms' smart conditional logic, you can personalize the survey based on the responses from users. You also get interactive survey reports with real-time insights and the ability to display real-time results from polls on your website.
You can access many other cool features in WPForms to further enhance your surveys, polls or contact forms like the user registration addon. This gives users the ability to sign up and login to your site. You can embed the user registration form in any page, post, or widget-area of your site.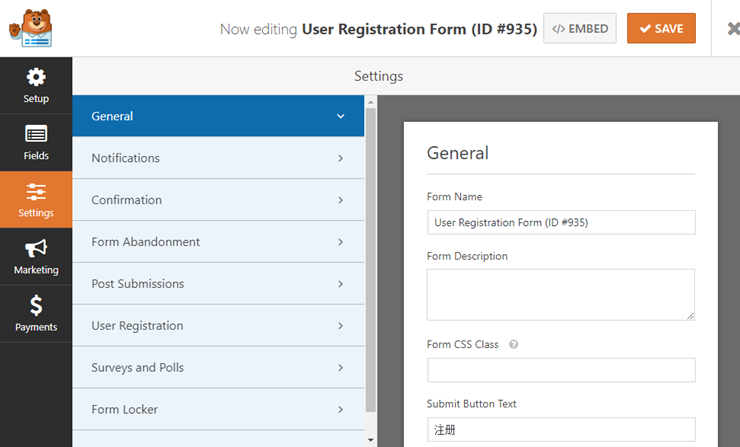 The user registration form is great for eCommerce stores, membership sites, forums, and more.
You can also create multi-page forms. If you have a really long survey or form that you want users to fill out, with WPForms multi-page forms, you can split it up into multiple pages. This helps improve the user experience, so instead of endless scrolling, users can go easily from one page to the next, ultimately reducing form abandonment.
WPForms comes with other awesome features and addons including additional form templates, captcha, geolocation, automatic form confirmations,payment gateways, email marketing services and more. All of these features make WPForms a powerful form plugin.
Features: SurveyMonkey
SurveyMonkey offers a number of added features to spruce up your online forms including file upload, A/B testing, the ability to accept payments, quizzes with custom feedback, and more. But compared to WPForms, the feature set that SurveyMonkey offers is limited.
For instance, SurveyMonkey doesn't offer any specialty fields like Captcha, password fields, or WPForms' GDPR Agreement. Conditional logic questions also have to be on their own separate page, which makes surveys longer than necessary and brings down the user experience.
While they do offer file upload like we mentioned, the file upload field is limited to the 2 highest priced plans. Same with payment integrations; you can only accept payments with your forms on the 2 highest priced plans. And you can only translate your form into multiple languages if you purchase the highest priced plan.
The template designs that SurveyMonkey offers are quite basic as well. Plus, branding and customization capabilities are limited. One of the biggest downsides is that all plans except the most expensive one have the SurveyMonkey logo in the footer. You're also unable to preview what your survey will look like without typing in an answer to each question.
In addition to all that, with SurveyMonkey you can only create 1 type of form, an online survey. Whereas WPForms has many more features available for users who want to create a survey or many other types of online forms.
Winner:WPForms
Support
WPForms offers a wide array of support for its users in a number of different formats. So, no matter how you prefer to find solutions to your issues, WPForms has you covered.
You can access their support ticket system right from your account and receive assistance from their knowledgeable and friendly support team. The support team is fast and has great ratings from their users.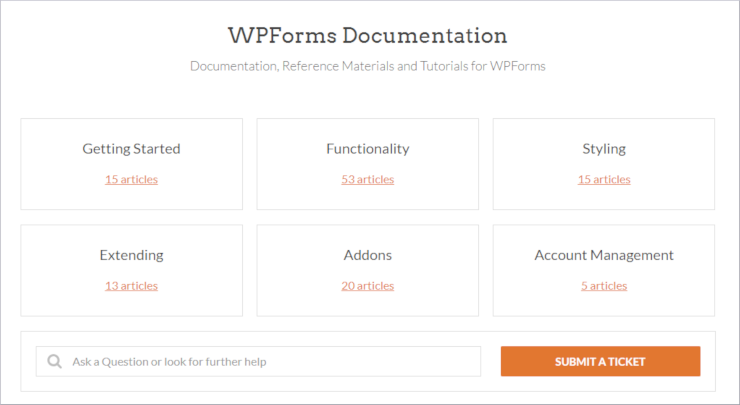 You can also read through their extensive documentation that's organized into categories like Getting Started, Functionality, Styling, Addons, and more. Finally, you can also refer to the WPForms blog where you'll find tutorials and how-to's that include screenshots and video to help you any time you run into a problem.
Support: SurveyMonkey
SurveyMonkey offers 24/7 email customer support, but to get prioritized email support you have to upgrade to a pricier plan. You upgrade your plan if you want to get access to phone support as well.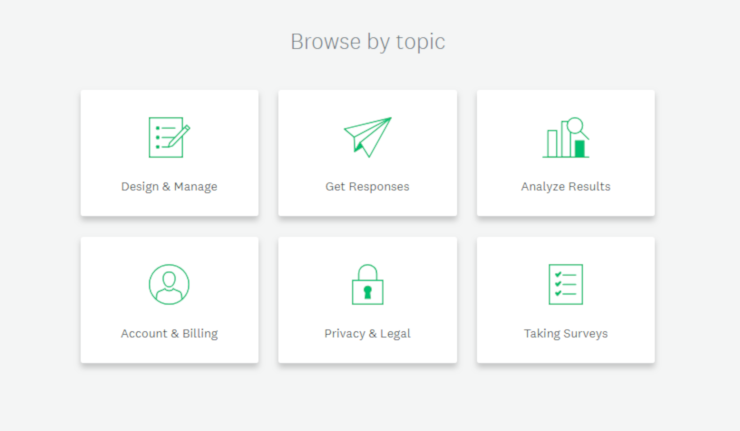 SurveyMonkey also offers support through the Help section on their website, but that means having to browse through questions and hope you find one that matches your issue. They don't offer any blog posts or tutorials for users to follow.
Winner:WPForms
Price
WPForms has multiple pricing plans which gives you the opportunity to stay on budget if you're just starting out or get access to all the features you need if you're an established business.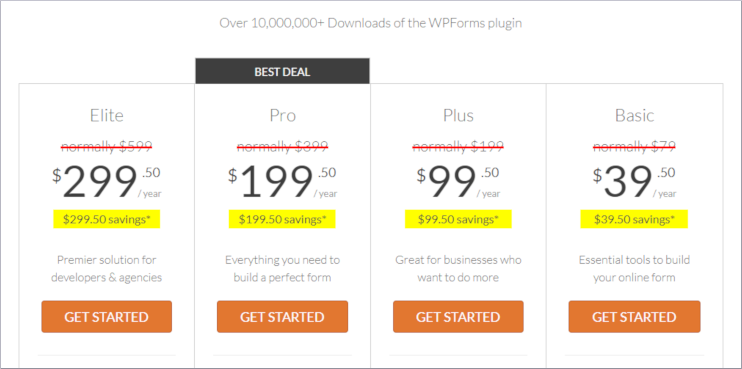 Their Basic plan starts out at $39.50 per year which is a great option for most blogs and personal websites. Plus with the Basic plan, you still get the ability to create and receive unlimited forms, conditional logic, advanced fields, and more.
They also offer a Plus, Pro, and Elite plan if you need to upgrade at any time to get more robust features like email marketing service integration or payment integration with PayPal or Stripe for example. Whatever the size of your business or your budget, you'll find a WPForms price plan to match your needs.
Price: SurveyMonkey
SurveyMonkey has 3 individual premium pricing plans to choose from and the prices range from $32 per month to $99 per month. When compared to WPForms, you get much less bang for your buck in terms of features with SurveyMonkey.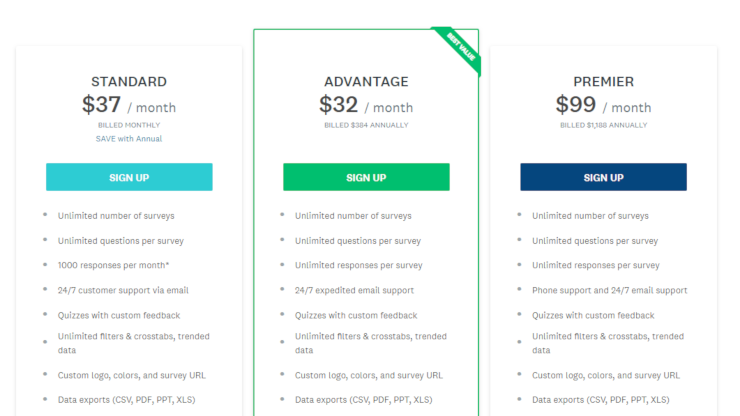 You get an unlimited number of surveys, questions, and responses with each paid plan but most of the best features are only offered with the 2 most expensive plans like payment collection, file upload, advanced logic, and priority support. And with all of the plans except for the most expensive one, you'll have to put up with the SurveyMonkey logo in the footer.
While there's a free version for SurveyMonkey, you can collect only 100 responses per survey. So, it gets quite expensive if you want to collect more responses and conduct a survey for a long duration of time.
Winner:WPForms
Who Should Purchase It? WPForms vs. SurveyMonkey
WPForms is the best choice for everyone who wants to conduct a survey from a WordPress site, regardless of their budget. Not only is it more affordable but it's more user-friendly and it comes jam packed with features to help you create a number of different types of powerful forms for your website including contact forms. With WPForms you can create awesome surveys for your website visitors and so much more.
Get Started with WPForms Today!
SurveyMonkey is best suited for users who want to collect advanced surveys from across multiple platforms like websites, social media platforms, and email lists. Before jumping in, double check whether you have the budget to afford it because you have to opt for the most expensive plan to get access to the best features.
You'd also like to check out these comparisons between,
We hope you enjoyed this article on WPForms vs SurveyMonkey and that you now know which solution is the best choice for you.
If you liked this post, you also might enjoy our in-depth review of the WPForms plugin.