Are you looking for a WordPress theme for your fashion or photography site? Zephyr is a beautiful and elegant theme with many amazing features and options. In this Zephyr review, we'll show its features and help you decide if it is the right theme for your blog.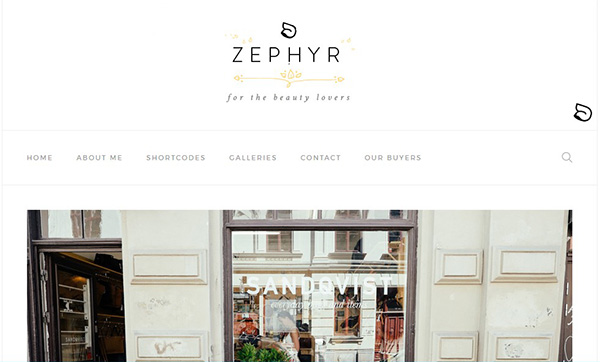 About Zephyr
Zephyr is a WordPress theme on Mojo Marketplace that gives you all the features to create a simple and sleek blog.
The design of Zephyr is clean and eye catching, so it attracts your visitors at first glance. You can create a fashion, personal or photography blog using this theme. It has good reviews from the users and can be used by beginners to advanced bloggers on their WordPress site.
Features of Zephyr
With tons of useful features, Zephyr has a different and unique layout. It comes with a simple homepage design to display posts. The layouts can be changed easily to create the best look for your blog. The sidebar has a scroll that is separate from the overall page scroll which makes it different from other WordPress themes.
Zephyr has multiple image gallery styles, so you can display your photos into one, two, three and four columns. It also has a never ending scroll on all the pages, so you can display as many posts as you want.
Let's take a look into key features of Zephyr theme to know why it can be a good choice for your blog:
Indefinite Scroll
Zephyr theme has an indefinite scroll on pages, so the content loads only when you scroll down. This feature comes with very few themes, and it helps in loading your site fast.
You can set the number of posts per page from WordPress settings. However, it allows you to display maximum posts on one page.
Scrolling Sidebar
This theme has a scrolling sidebar that you can place on the left or right side of your screen. You can find the sidebar settings in the WordPress customizer in Layout section.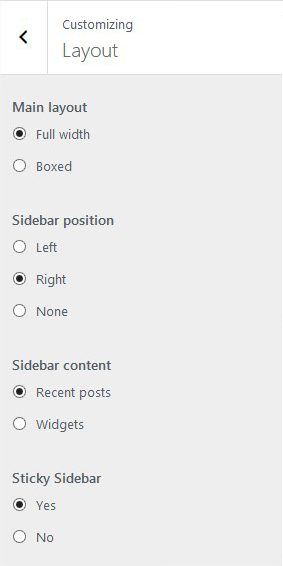 It also let you choose what content you want to show in the sidebar. In case, if you are displaying the recent posts, then you can set the infinite scrolling in the sidebar too.
The sidebar in Zephyr theme has a lot of other options, so you can use your widgets to customize your blog to give it a unique look.
Header Customization
WordPress themes allow you to customize the header using the default customizer. However, the customization is limited to logo and tagline.
Zephyr not only gives you the option to manage layout of header, but it also allows you to change the logo position from left to center and modify header backgrounds colors.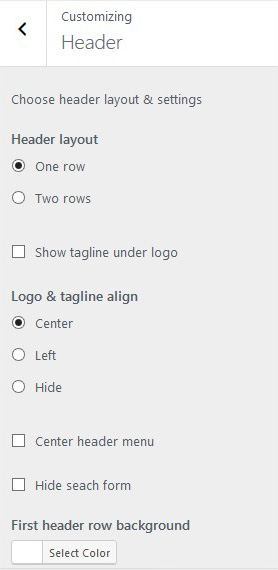 You can also display lines to add borders to your page and upload any background image of your choice to make your blog look beautiful.
Slider Revolution
You may know that there's no default image slider in WordPress. Zephyr adds the Revolution Slider on your site, so you can create beautiful image sliders on your blog.
If you find this Revolution Slider too complicated and slow to use, then you should use Soliloquy slider plugin. It's a simple yet most powerful image slider plugin that let you create beautiful WordPress sliders in no time.
ZillaLikes
ZillaLikes is a WordPress plugin required by Zephyr on the theme installation. You can install and activate it simply from the Zephyr plugin requirement page.

Once the plugin is activated, you can add the like button on your posts, pages, and other pages. It gives the option to your users to like your blog.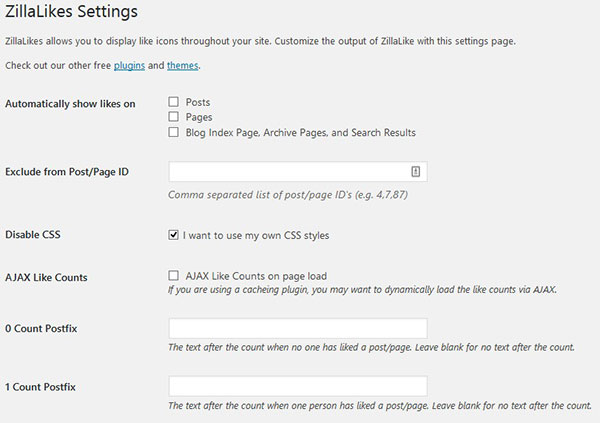 You can also use the shortcode to use the ZillaLike on specific pages or posts. It can also be added in the theme files with the template tag.
Social Options
Social Options comes built-in on theme installation. You can go to Appearance » Social Options to add the information of your social applications.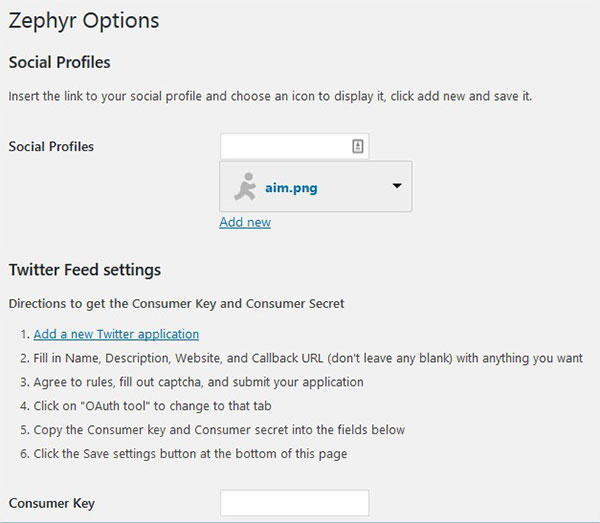 You can add tons of social profiles from the options available in the dropdown. Zephyr makes it easy for you to integrate your blog with social media sites.
Advertising
You can display ads on your blog and earn some money out of it. Since Zephyr has an indefinite scroll, you can place your ads between the content to keep them in front of readers and get more clicks.
To set up these ads, you can go to Advertising » Ads.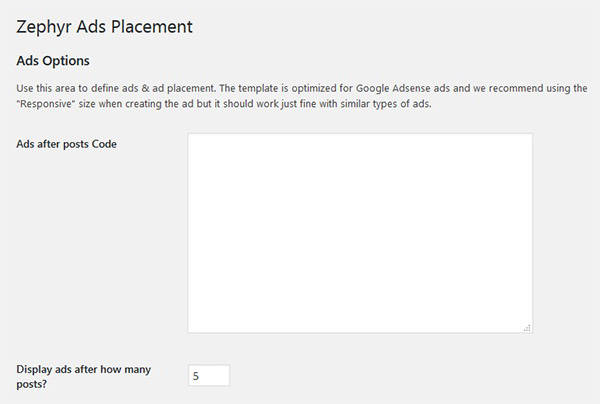 It's a great way to make money from your blog and it looks professional too. You need to make sure that your ads are responsive, so it won't effect the mobile version of your site.
Other than Ads, you can also set up optin popups to engage your abandoning visitors. However, if you find this optin less useful, then you need to check out OptinMonster. It's plans starts from $9 per month and the most popular Pro version can be purchased in $29 that comes with endless possibilities.
The OptinMonster's powerful exit-intent technology helps you to convert your abandoning users into subscribers and customers.
Documentation and Support
Zephyr WordPress theme comes with an extensive written documentation that covers every aspect of the theme. Video tutorials are also available on the YouTube channel.
This theme is available for a one-time fee of $49. By paying another $49, you will let the theme owner to install it on your site. However, if you pay $149 additionally after purchasing the theme, so the theme owner will match your blog with demo with all the features working.
With every copy of Zephyr theme you are getting free lifetime updates that are automatically downloaded and installed.
It also comes with free lifetime premium support that is available to you 24/7. You are able to browse thousands of answered questions about the theme or you can even ask your own.
Our Score
Zephyr is the perfect blog theme to create a beautiful personal, fashion or photography blog. With its different blog layout styles, link boxes, post types, different customization settings and scrolling sidebar you can create a very simple, eye catching blog for you and your users.
We give Zephyr 4.8 out of 5 stars. Here is the breakdown of our review scores:
Get Zephyr Now »