Enfold is one of the most popular WordPress themes on Themeforest. It is a responsive multi-purpose WordPress theme with focus on user-friendliness and beautiful design. In this Enfold theme review, we will take a look at it's different features and how well they work.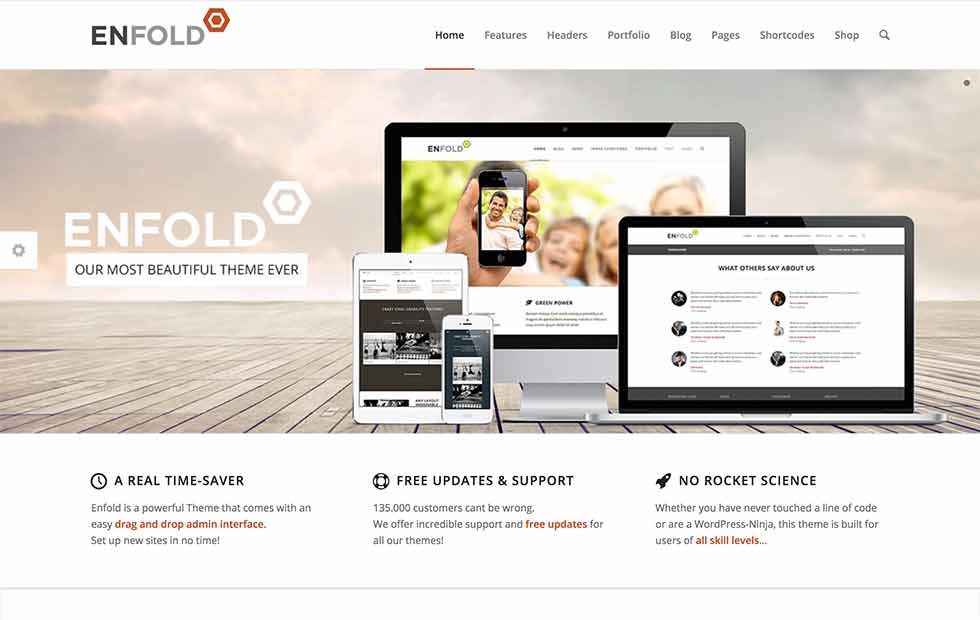 About Enfold
Enfold is created by Kriesi, a web design and development team from Vienna, Austria. Kriesi is selling WordPress themes on Themeforest marketplace for a long time, and they have many popular WordPress themes on their portfolio.
The team has 9 members from South America, US, Europe, and Asia. They have released 18 WordPress themes so far and have more than 138,000 customers from all over the world.
Enfold is by far their most successful WordPress product. It has been purchased by more than 72,000 customers.
Features of Enfold Theme
Enfold comes packed with all the features you would expect from a premium WordPress theme, and then some more. Here are some of the main features that make Enfold standout among other WordPress themes.
Easy Setup with Pre-defined Content
One of the most common issues that users face when setting up a premium theme is to make it look like the demo. Users need to add lots of content, images, sliders, to achieve the same look like the demo.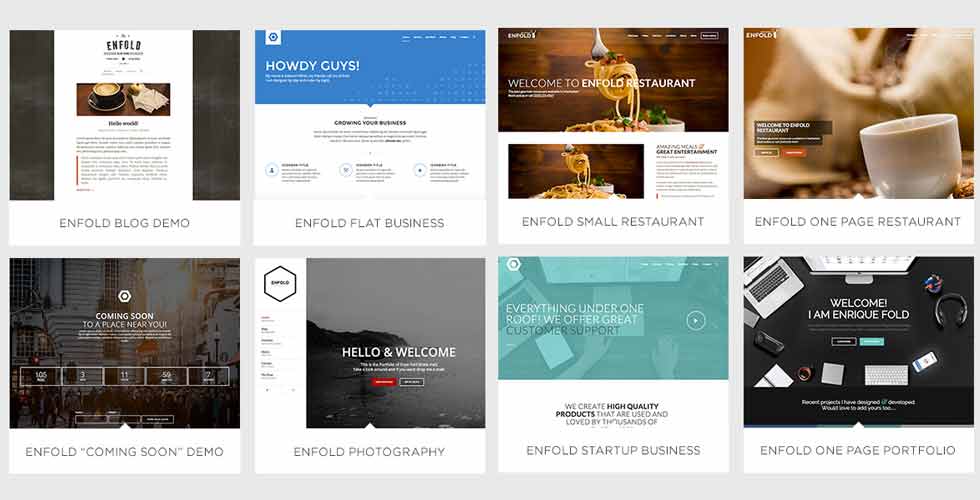 Enfold solves this problem by offering pre-defined content for various use cases. You can simply choose the layout that you want and it will be filled with the demo content. You can now easily replace the demo content with your own.
Advanced Layout Editor
Enfold comes with a powerful layout editor. This easy to use drag and drop page editor allows you to create virtually any kind of layout you can think of. You can add grids, columns, slideshows, call to action buttons, videos, image galleries, etc. The advanced layout editor is extremely flexible and very easy to use even for new users.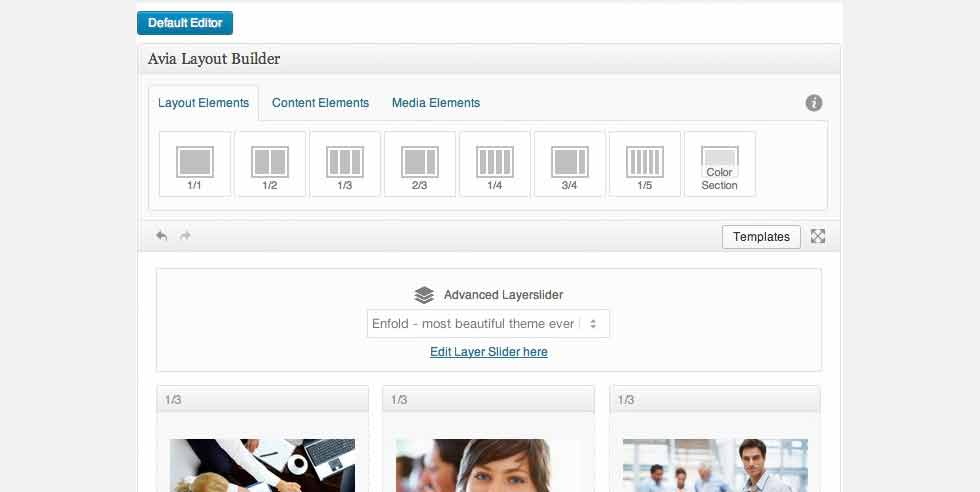 Easy to use Sliders
Enfold comes with an easy slider which allows you to create full-width sliders with a simple user interface. This is particularly very helpful for users who find sliders a bit complicated to use. Enfold also comes with 3D animations for sliders that you can add to your slides using the same easy interface.
Enfold comes with your own copy of Layers Slider plugin pre-packaged with the theme. Layers Slider is a feature slider that allows you to create beautiful slideshows and use them anywhere on your WordPress site.
Sidebar Manager
Sidebars can be a pain to work with. Most WordPress themes come with just one or two pre-defined sidebar or widget ready areas. Enfold comes with its own Sidebar manager which allows you to create custom sidebars and then use them when creating a post or page. You can use any widgets in your custom sidebars and place them anywhere using advanced layout editor.
A Visual Shortcode Editor
Enfold comes with tons of shortcodes that you can use with your theme. Shortcodes can be used to add many things in WordPress. Most WordPress themes come with shortcodes but it is always a challenge to make it easier for users to actually use these shortcodes. Enfold comes with a visual shortcode editor which allows you to easily add shortcodes when you need them.
Misc Features
There are many more features built into this powerful theme. Here is a quick list of some more incredible features:
Mega Menus
4 Layouts for blog section
Style generator
Entypo icon font
Dozens of header layouts
Instant search feature
Portfolio manager
bbPress forum support
Translation ready
Compatible with WPML for creating multilingual site
Retina ready
Custom styles for Gravity Forms
Ease of Use
Many premium WordPress themes feel a bit bloated with features which makes them difficult to use. We decided to check how easy it is to set up a small business website using the Enfold theme.
As we mentioned earlier that the theme comes with demo content importer. Once activated you can choose the desired demo and import it into your website with a single click. The next part is to replace the demo content with your own content. Taking this route eliminates the need to set up theme options and perform other tasks.
If a user decides to setup theme manually, then it is not that difficult either. Enfold comes with a powerful theme options panel which makes it quite easier and simple. Advanced users can take advantage of its built-in template builder to create their own unique layouts.
Documentation and Support
Enfold is developed by a team of WordPress experts who are in the business of premium WordPress themes for quite some time now. Folks at Kriesi know how to create and support WordPress products.
There is extensive documentation available for the theme. Each feature of the Enfold theme is described with step by step instructions. This attention to detail makes it very easy for users to set up their websites quickly. For users who don't like to read too much, there are also video tutorials available which show you how to setup your theme and use its powerful features.
Users can also get support by accessing the support forums on developers website as well as at Themeforest. Each license entitles you for six months of support and updates.
Our Score
After a thorough review, we believe that Enfold is a great choice for a multi-purpose theme with loads of features. We give it 4 out of 5 stars.
Get Enfold Now »