Brooklyn is a popular and highly rated premium theme that's a favorite on Themeforest. It's flexible and comes packed with a huge array of options to customize your site's design. Check out our Brooklyn review to see if this theme is all it's cracked up to be.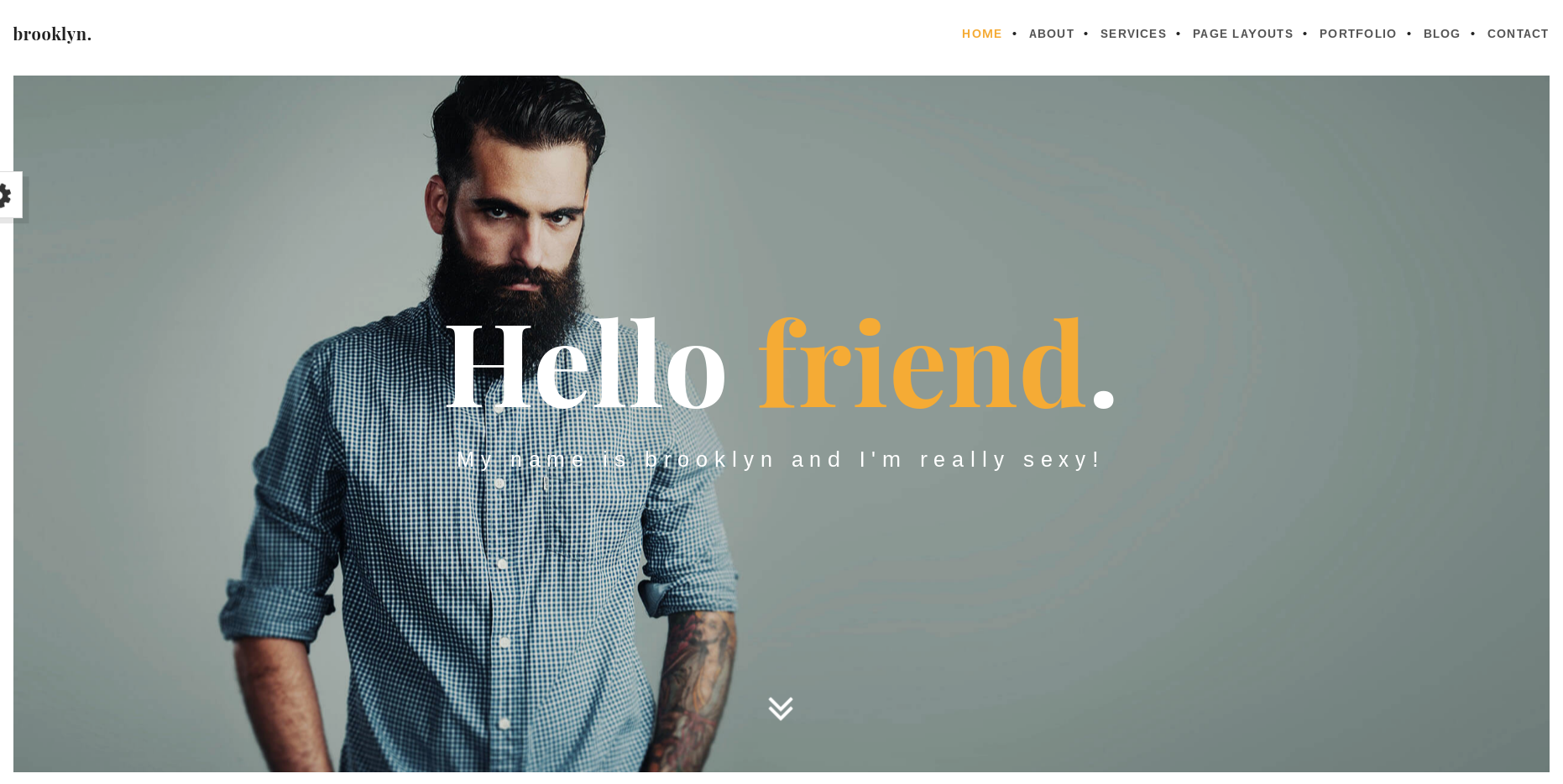 About Brooklyn
Brooklyn is a multipurpose theme designed to be flexible enough to use for any kind of business or blog. It comes with 12 premade site demos, installable with one click to make setting up your site quick and easy. It also comes with a few premium plugins packaged in.
Brooklyn is developed by German web development company United Themes, the authors of several popular WordPress themes on Themeforest.
Features of Brooklyn
Brooklyn comes packed with several unique features and options. Here are the highlights:
"Theme Health" Feature
Brooklyn is a large theme that uses a lot of resources, so it comes with a built-in "theme health" feature that lets you know if it's working properly.
If you navigate to Brooklyn Child » Theme Health, you can see information about your WordPress installation and whether the theme is installed correctly and has enough resources to run.
While there are brief troubleshooting instructions, users who don't have advanced technical knowledge of PHP or hosting configuration settings may have trouble with this section. If you can't figure out how to get the theme working, you can try contacting support — more on that below.
Easy Setup With 20+ Demos
Brooklyn has a ton of features and options, and it can be overwhelming to sort them all out to get started.
But the theme comes with over 20 different demo styles that make it a bit easier.
After installing the theme and required plugins, you can navigate to Brooklyn Child » Theme Demos to take a look at all the available options.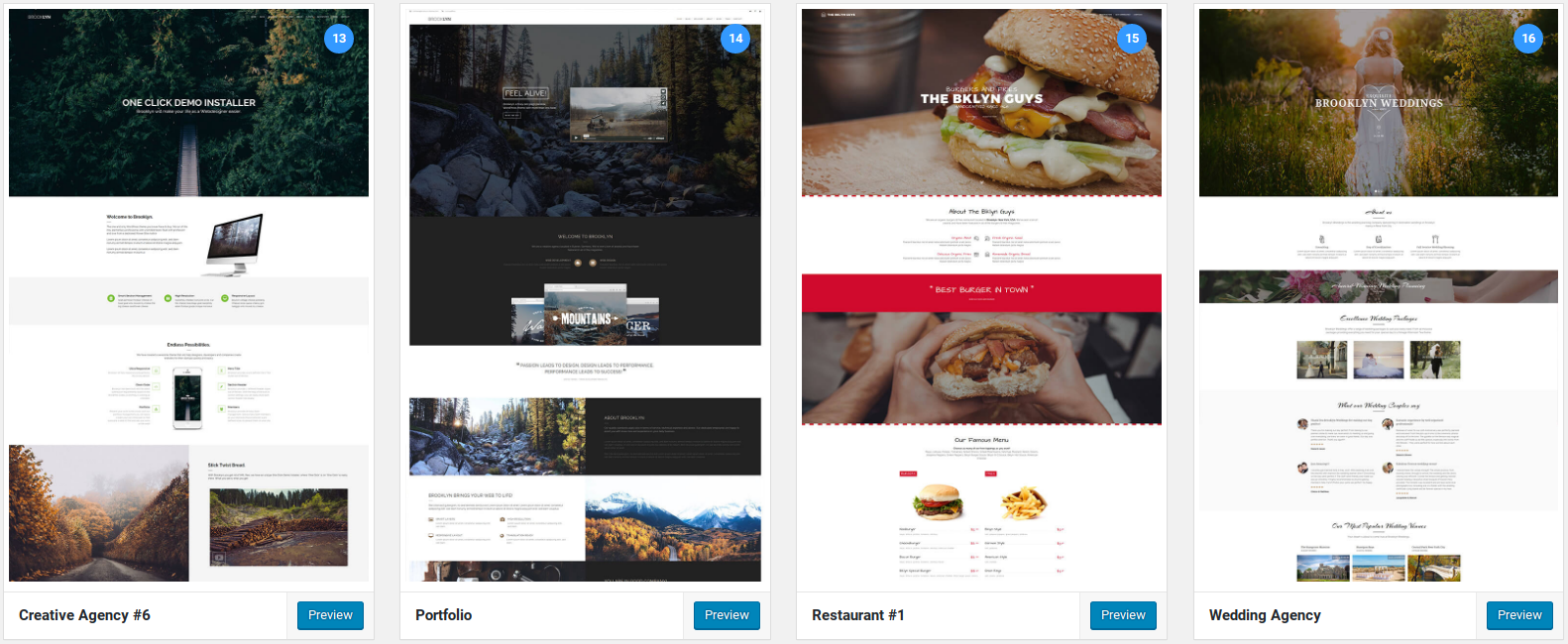 There are different designs for:
creative agencies
businesses
wedding and engagement agencies
blogs
gaming sites
barber shops
dentist sites
…etc.
Once you've chosen your demo, you can then customize your theme from there.
Enormous Amount of Design Options
Brooklyn has a huge menu of design options for every aspect of your site under the Brooklyn Child » Theme Options menu.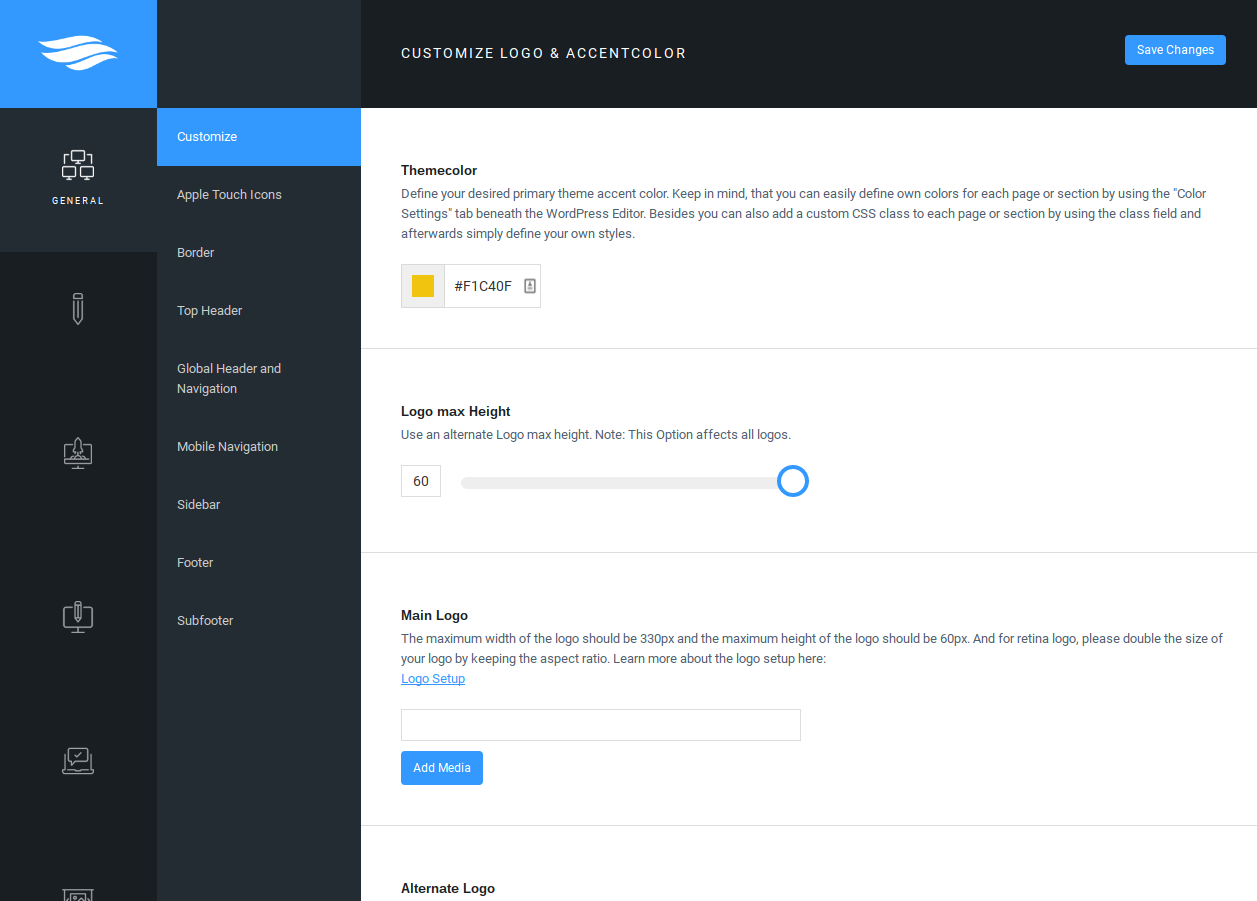 For example, you don't just have the option to upload your own logo. You can also choose separate:
main logo
alternate logo
retina main logo
retina alternate logo
According to the documentation, the alternate logo is needed in certain demos when the sticky header switches from transparent to light when the user scrolls down. In certain cases, you'll need to upload a dark version of your logo as an alternate.
You can choose different colors and styles for every separate element of your site, for both desktop and mobile versions, from the "Header Color Skin" and "Mobile Menu Open / Close Button Color," all the way down to the "Footer Border Hover Color" and "Subfooter Copyright Font Weight."
You can also customize the font for every section of your site separately, with a live preview right in the dashboard. There doesn't seem to be a way to change the font globally across your entire site — you'll have to change each element separately.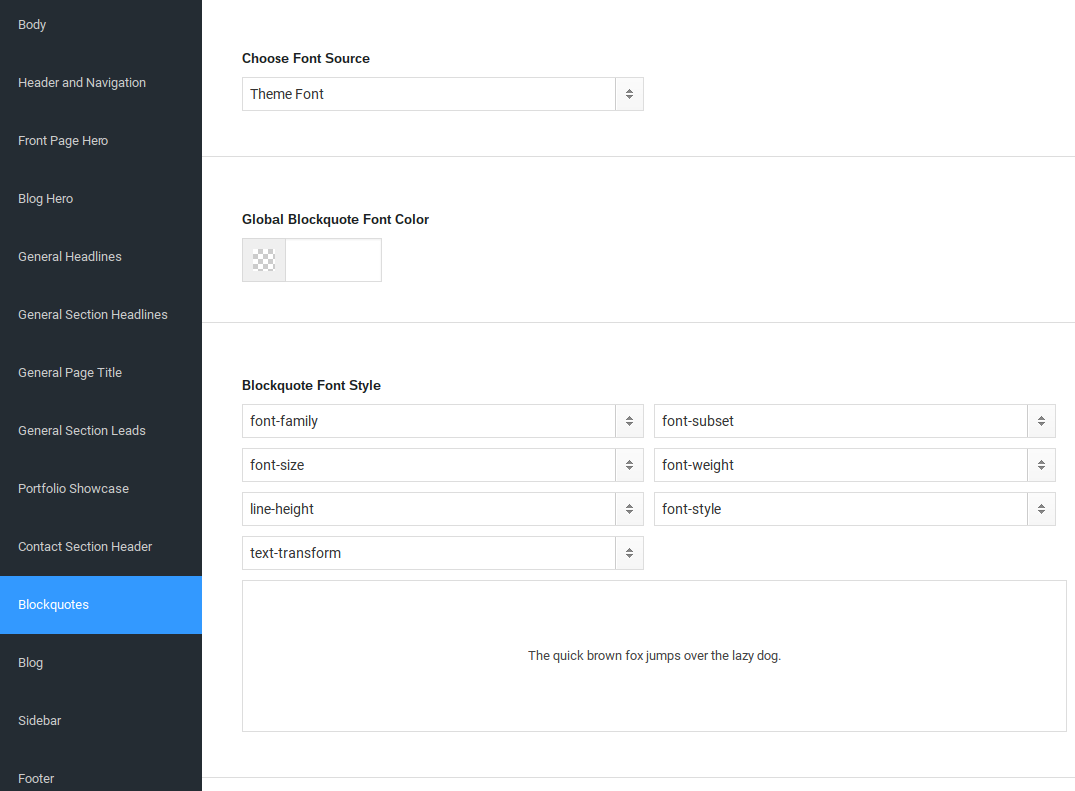 The Theme Options menu is also where you customize and enter content for the hero image on the front page, and your contact page.
Under the Advanced Settings tab, you can also modify animations, add custom CSS, and change the lightbox settings.
Lots of Built-in Shortcodes
Brooklyn includes plenty of shortcodes you can use to easily add more advanced elements and styling to your posts and pages.
They include:
columns
tabs
animated "count up" box
image animations (slide in, fade in, etc.)
quote rotator (with or without images)
progress bars
dropcaps
buttons
…and more
You can access the shortcodes from the visual editor when editing any post or page. You'll see three new buttons on the top right of the menu: add the custom shortcode, add a custom icon, and add custom button.

Click the new Add Custom Shortcode button and select the shortcode you'd like to use.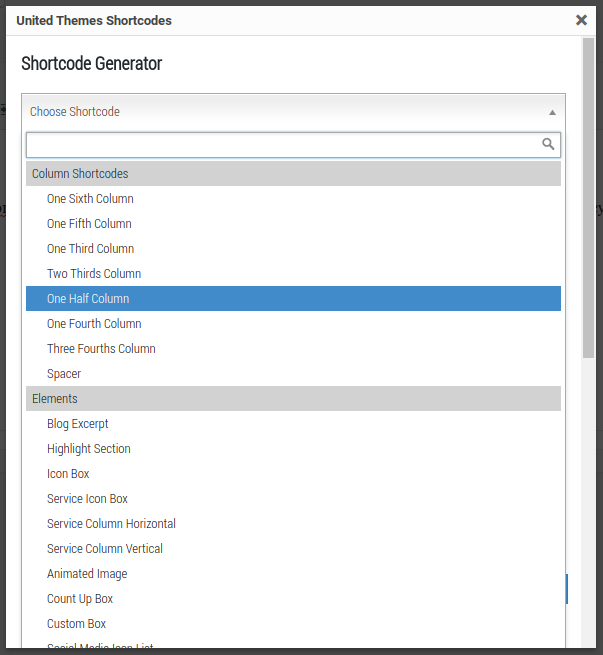 Then enter the required settings, and click Insert Shortcode at the bottom.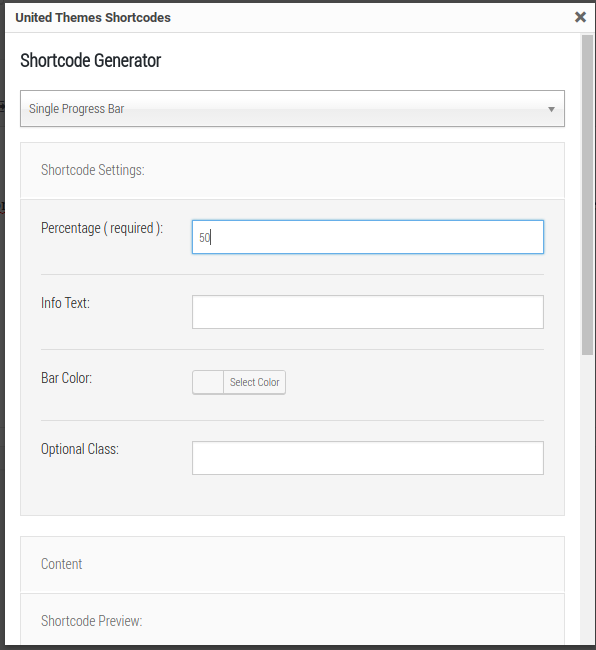 Unfortunately, once the shortcode is generated, there's no way to edit it except by manually altering the code.
Includes Premium Plugins
Brooklyn comes packaged with several premium plugins at no extra charge:
Portfolio Management by United Themes: add a portfolio to your site using custom post types
Pricing Tables by United Themes: create basic pricing tables with up to 4 columns
WPBakery: Previously known as Visual Composer, check our review Visual Composer review for details
Revolution Slider: a complex slider plugin — see our Slider Revolution review for details. (We recommend the more user-friendly Soliloquy plugin instead.)
Documentation and Support
United Themes offers very basic documentation for setting up Brooklyn and using some of the main features. Unfortunately, the documentation doesn't go into much depth and doesn't cover all the features, and there's no way to search it to find what you need.
Your purchase of the theme comes with 6 months of support from the developers, via a support forum. You can register on their site with your license key to view and post in the forums. They promise a 24-48 hour response time.
Our Score
Brooklyn is a very popular and highly rated theme. It comes packed with a lot of features and options that let you customize your site without knowing any code.
There's definitely a learning curve to using this theme properly since many of the features aren't self-explanatory. Unfortunately, the documentation is lacking.
The demos are helpful in quickly setting up a site. But it will take you a significant amount of time to customize the site to your needs.
We give Brooklyn 3 out of 5 stars. Here is the breakdown of our review scores:
Get Brooklyn Now »