Are you looking for a modern and colorful WordPress theme? Flat is a bold designed theme that follows the latest standards of coding. It is an inspiration from the hot trend by different operating systems like Windows. In this Themify Flat review, we'll show its features and help you decide if it is the right theme for your needs.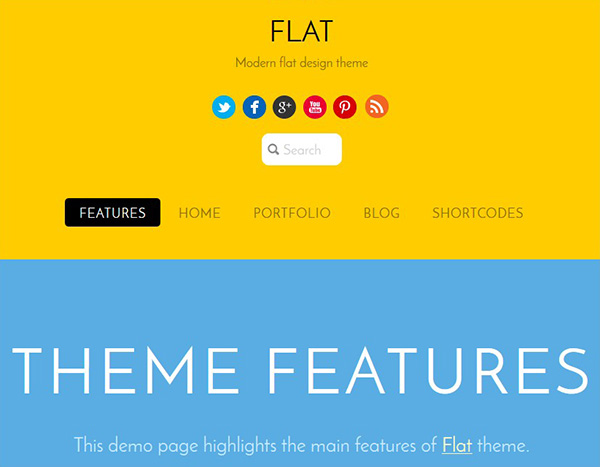 About Flat
Themify Flat is a modern theme developed on the best coding standards to meet the expectations of its users. It comes with tons of great features. The core attributes of this theme are the extra shortcodes and custom post types like timeline, portfolio, team and more. Flat uses HTML5, CSS3, and JavaScript, so it's fast in loading and beautiful in colors at the same time.
Features of Themify Flat
Flat in colors and corners, this theme is a trendsetter for bloggers, designers, journalists and more. It gives a variety of options to develop your site without editing a single line of code.
Let's take a detailed look into the features of Themify Flat that defines why it can be the best choice for you:
Develop with the Drag and Drop
This concept of drag and drop saves you from editing any code to develop your site. However, the output is similar to what you drag and drop at the backend. Themify Builder is similar to any other WordPress builder that gives you the ease to create your site and add content easily.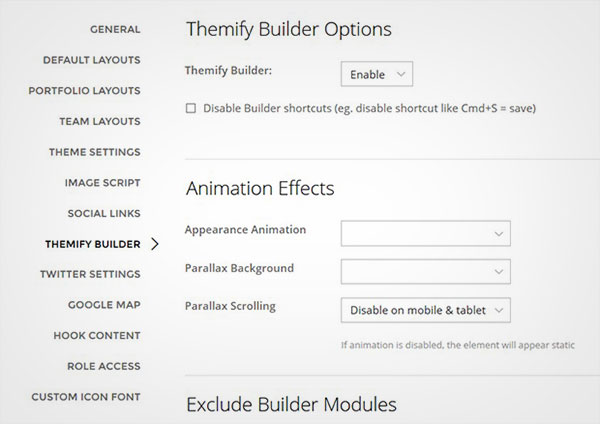 It uses the content blocks to build multiple modules like a menu, tab, image gallery, image slider and more. Flat theme allows you to enable the builder and manage animation effects and exclude modules, so you can take full control of what you are making in your site.
Flat Layouts
Themify Flat theme is based on the latest styling and colors, so the layouts attached to it are flat too. It comes with a range of options for default layouts, team layouts, and portfolio layouts.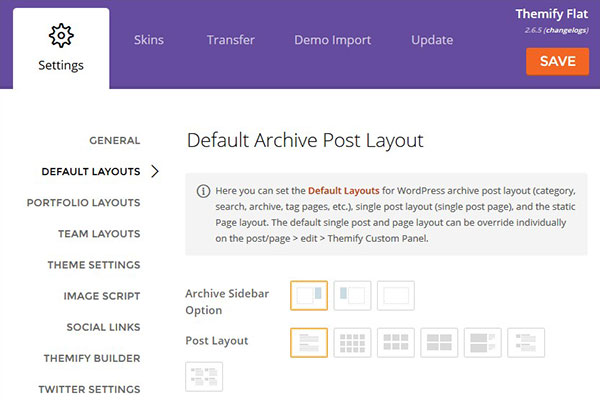 All these layouts have their own structural settings. You can manage the content blocks, single post layout and page layout for the default options. However, the other layout settings have their own combinations and features.
Circle Animation
The circle animation is a great feature of this theme to present your services and featured products to your clients. It rolls up the animation on the user scroll to this section of the site.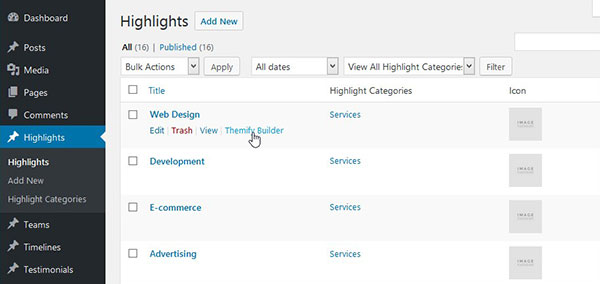 You can set up the image and content from the Highlights post type in your WordPress admin backend. It also allows you to customize the services with Themify Builder.
Sticky Header
Themify Flat has a sticky header that moves with the scroll and allow the users to navigate from any block of the site to a new page.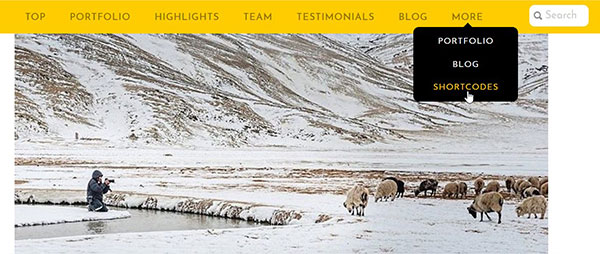 The sticky header covers the menu and search bar that adjusts to the edges of the screen on top and works smoothly for submenus.
Responsive Structure
The modern standards of coding allow this theme to be fully responsive. It appears professionally on all mobile screens. The content blocks adjust automatically to the size of the screens of mobile devices, and the content is easily readable.
Responsive presentation of flat colors and content is beautiful with this theme. It manages to display flat colors to the edges of the mobile devices, so the appearance of the site may look like a mobile application.
Google Map Integration
Themify Flat allows you to integrate your Google Map API settings, so you can use the Builder Map module and Map shortcodes in your theme. This setting is available under the general theme options.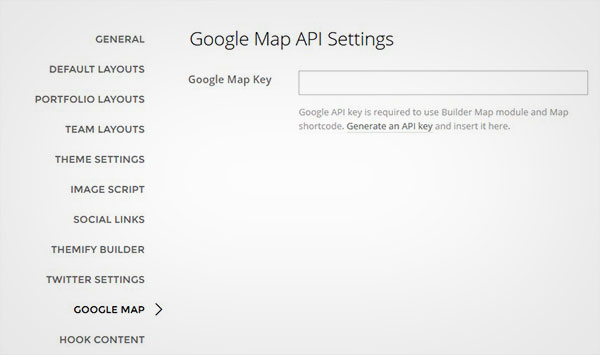 On this page, you can easily navigate to generate your Google Map API key that you need to enter in the field.
Role Access
This theme has a detailed role access settings in the general options. The role access tab will let you define the authority to each of the managers of the site.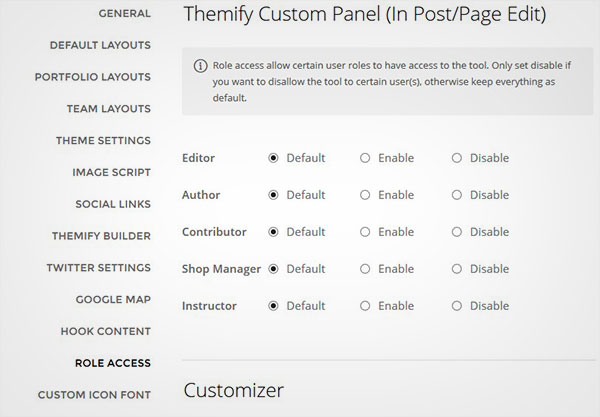 It makes the process simple for defining roles like managing the panels, pages, backend, and frontend. The roles are much similar to the default WordPress role settings.
Testimonial Slider
Testimonials from the clients will get more business to you. Themify Flat allows you to present the customer testimonials beautifully in a slider, grid or list post style. It gives you the option to add the image of the customer with their testimonial that slides automatically to display the next one.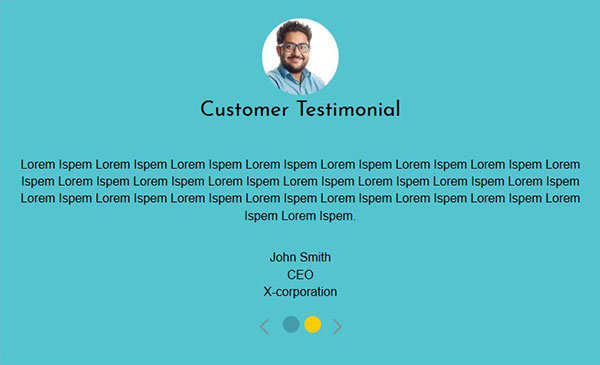 You can add new testimonials from the Testimonials custom post type in your WordPress backend.
Documentation and Support
Themify Flat's documentation walks you through the entire list of features. All of the tutorials are well explained with beautiful screenshots and videos.
Whenever you need any help, you just need to scan through the documentation. Everything is listed in a step by step method.
Themify offers support through their forums. They are well-known for their fast response time.
Themify Flat is available for a one-time fee of $49. When you purchase the Themify Flat theme, you'll get a bonus theme to download for free and the 30 day money back guarantee.
If you want to access the Photoshop files as well along with the theme to create design customization, you need to pay a one-time fee of $69.
You can use the Themify themes on unlimited sites. To access all the Themify themes, you can join their Theme Club for just $79.
Our Score
Themify Flat is built for content, community, construction and events sites, it'll be perfect for real estates, builders, organizers and agencies. With the timeline, team, and portfolio post type you can create a stunning site that promotes your events and services to its finest.
If you're concerned about the page speed of your site, you can disable unnecessary animation effects in Themify Settings. If you usually crop images manually, you can disable image script settings as well, which can help to improve the loading time.
We give Themify Flat 5 out of 5 stars. Here is the breakdown of our review scores:
Get Flat Now »
If you liked this article, then please consider following us on Twitter and Facebook. If you have any questions, please let us know by leaving a comment below.