Are you looking for a fashion, photography or travel blog theme for WordPress? Wunderful is a fully customizable theme with amazing features for your blog or website. In this Wunderful review, we'll show its features and help you decide if it is the right theme for your needs.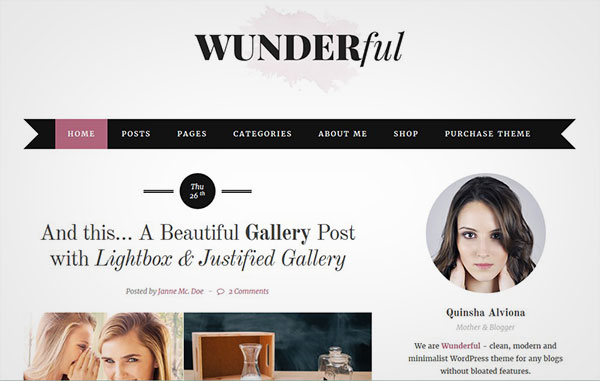 About Wunderful
Wunderful is a wonderful theme by Mojo Marketplace, one of the largest WordPress theme sellers. The theme set up is so simple that it takes a few minutes to create your blog or website.
The general options and other theme panel settings are easy to understand. These settings save you from editing any code. Wunderful is fully responsive and contains two layouts: Grid and List.
You can also integrate WooCommerce with this theme to create an online shop easily.
Features of Wunderful
From setting up the logo to personal blog profile, all the features are available in the theme panel settings, and they are simple to set up. Some of the core features are sticky sidebar, custom styling, profile widget and more.
Let's take a detailed look into its features:
Responsive and Minimalist Layout
Wunderful has a fully responsive and minimalist layout that automatically adjusts to any screen size. The theme has neat design and structure to focus on content beautifully.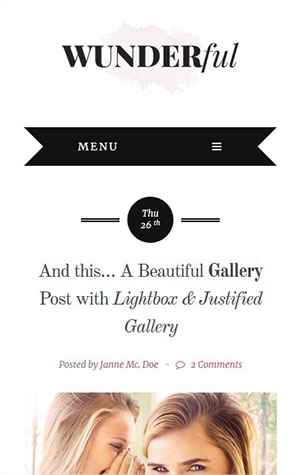 On the mobile device, the fonts gets bigger, so the users don't need to zoom in to read the content on your site. Menu goes under a beautiful dropdown and makes the navigation easy.
Dropdown Menu
The theme comes with one menu location: Main Menu. You can simply create your menu in WordPress and add it to the Main Menu of Wunderful theme.
Sticky Sidebar
It is a widget area in the theme that allows you to add widgets. Once you add widgets in this section, these widgets will will move with the scroll.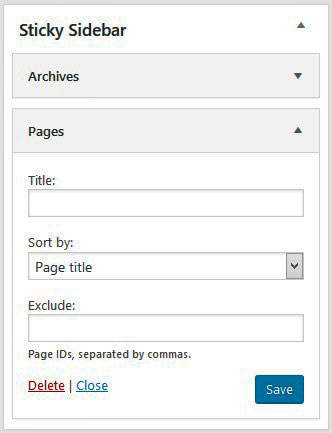 You can keep the important ads, pages, posts, or anything you need in this sticky sidebar area.
Footer Options
Like the other settings, footer options are also simple for this theme. It doesn't support the long tail of widgets and other bloated settings. The footer contains your logo and copyright text.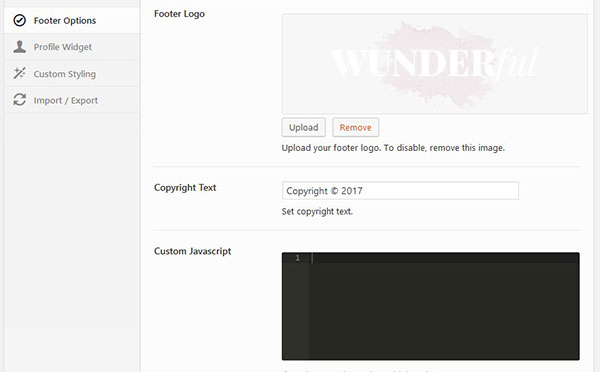 You can remove the logo to simply disable it. If you are interested in writing code, then footer options allow you to add your custom javascript.
Profile Widget
The sidebar profile widget is a great space to display your profile on the personal blog. You can simply drop the Wunderful Profile Widget in any of the two available widget areas: Sidebar and Sticky Sidebar.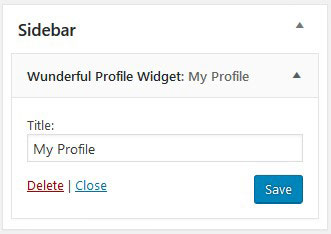 You need to go to Theme Options » Profile Widget in your WordPress admin backend. It allows you to add a new avatar, profile name, subtitle and description.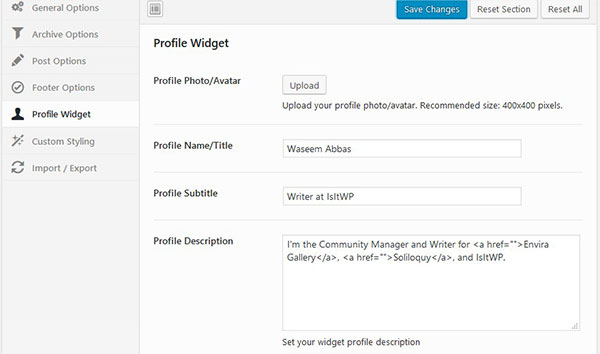 The profile widget displays beautifully in your website's sidebar.
Custom Styling
The custom styling for Wunderful theme includes the following:
Body Font: You can simply define the body font from hundreds of fonts. This font will remain same on all general website body content. It also asks for the font subsets with each font.

Heading Font Family: For all the headings of your site, you can define a font from here. It has the font subsets option too. You can see the preview of the font below this setting.
Accent Color: A full set of color selection for you to choose in this option. This color is your theme color, so it will appear on your menu and all other important locations.

Background: This section covers multiple settings like background color, size, attachment etc. If you upload an image for the background, then there are settings for it too.
All these settings will have a preview under each option, so you can get the result of your selections without going to your site. The other custom settings are font sizes and custom CSS.
Documentation and Support
The Wunderful theme comes with a detailed documentation that clearly explains how to get your site/blog up and running quickly and easily.
Wunderful is available for a one-time fee of $59 for a single site license. You can also purchase a 5-site license or a developer license. If needed, you can also include addon services with your purchase, like WordPress theme installation and WordPress site backup.
You can post your support questions by logging into Mojo marketplace. ThemeDsgn, the team behind Wunderful resolves all the support queries in a timely manner.
Our Score
Wunderful is one of the best WordPress fashion, photography and personal blog themes in the Mojo marketplace. With Wunderful, you can easily get your site up and running. In case you need assistance, you can easily find a solution by referring to the documentation.
The intuitive theme options panel makes customization easy.
We give Wunderful 4.6 out of 5 stars. Here is the breakdown of our review scores:
Get Wunderful Now »