Looking for an ecommerce WordPress theme? Themify Simple is a known for its simplicity and swift set up of an online shop using the Shopify store. In this Themify Simple review, we'll show its features and help you decide if it is the right theme for your needs.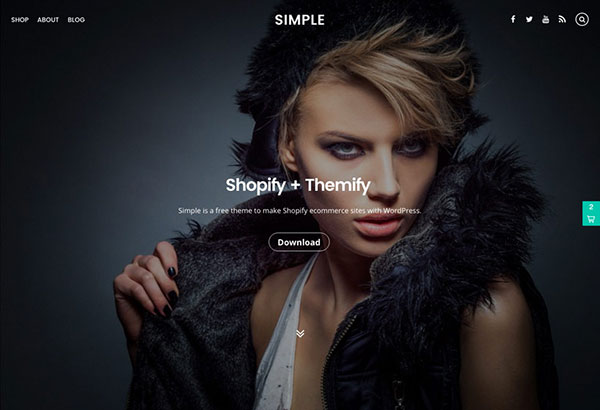 About Simple
Simple is a free WordPress theme by Themify. This theme is elegant and not bloated with features. It is easy to set up an online store with Themify Simple and Shopify.
It is flexible to create your personal blog and other static websites too. The theme is powered by the Themify Builder that makes it easy to create an online store or website.
Features of Simple
The features of this theme are simple like its name. Simple theme allows you to integrate Shopify store with the help of Shopify Buy Button plugin.
The theme has multiple layouts, widgets, transparent sticky header, unique page title header and a lot more customization options.
Let's take a look into the features of Themify Simple:
Widgets and Widget Areas
Any theme is easy to set up if it has the right widgets and widget areas. Themify Simple comes with the 6 locations to add your widgets like Sidebar, Social, Footer Social, and a range for footer.
Sidebar: The sidebar widget area is similar to any default WordPress theme sidebar of the website where you can add pages, posts, categories, search form and more options for the content. It is also flexible for other widgets like Themify Twitter, Themify Flickr, and more.
Social: It is an important widget area that is only built for the Themify Social widget. This widget will display your social icons with links in the header of the website. The settings for the Social Links can be managed from the Themify Settings for the Simple theme.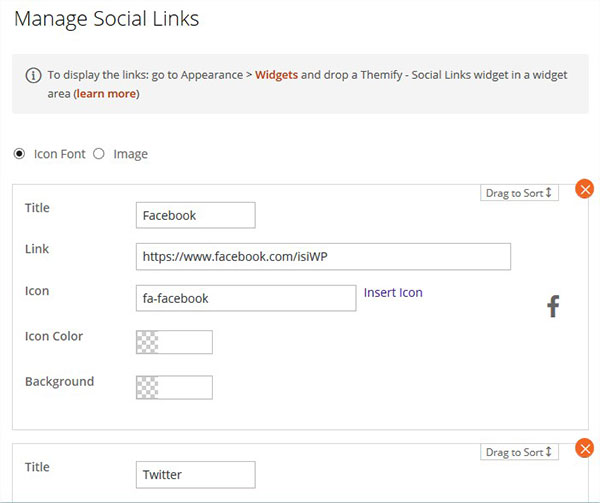 Footer Social: This widget area is similar to Social. It will display your social links in the footer. The settings would be same as for the previous Social widget.
Footer Widgets and Text
Footer settings will allow you to choose the layout. Normally it depends on the widget areas of the footer. You can add widgets to the available locations for footer, and it will display accordingly.
In Simple, you can fix the layout for the footer from your theme settings. You can also add your footer text easily from here.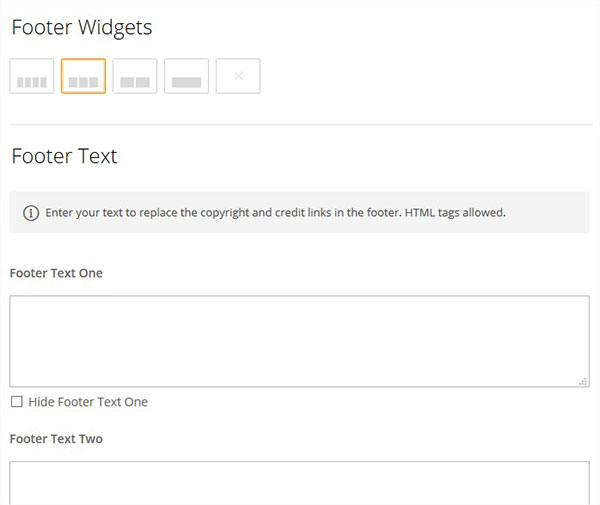 There are two text options for the footer in this theme. You can enable or disable these text options in the settings easily with a check mark.
Layouts
Like the other paid themes of Themify, Simple has everything you need in the layouts, and its free. You can set up the archive post layouts, default post and page layouts and more.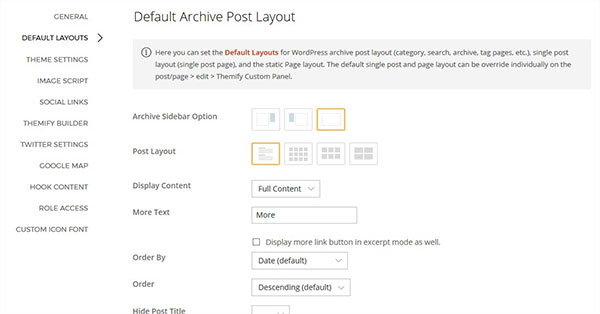 These settings can be changed on one-click. You can manage the sidebar archive, post sidebar, page sidebar and a lot more options in the default layout settings.
Transparent Sticky Header
You may have seen the sticky header with multiple themes. However, Simple theme has a new and unique header with features like transparency.
The transparent sticky header makes it easy for you to navigate to any page from any position. You can scroll freely to any position on the page, and the menu in the header is visible beautifully to overlay with the content.
Responsive Design
Simple is a fully responsive theme with powerful options in the Themify Builder to design your shop pages and static pages. These pages and content will appear beautifully on any resolution or device.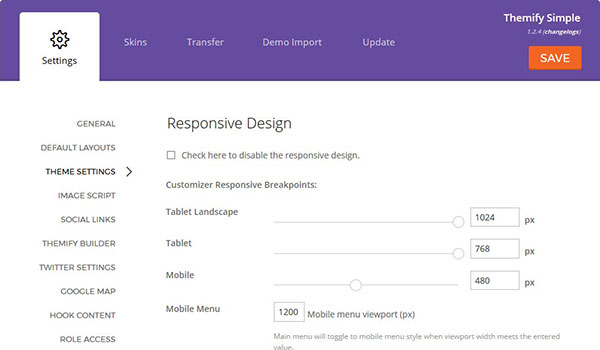 You can also edit the responsive design settings from the Simple theme settings on your WordPress admin backend.
Customization
The customize option in Simple has all you need to edit the fonts, colors, links, background, images, and more for your website or online store. The styling of the theme is made easy with the Themify Options in the customize panel.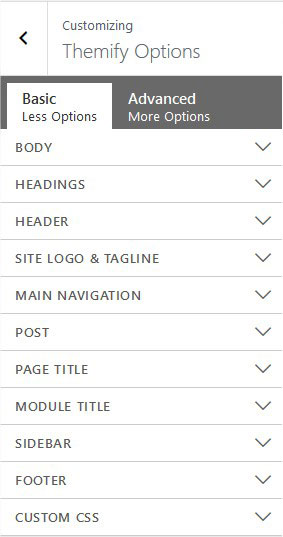 You can see the two options: Basic and Advanced. It is divided into less and more options to edit your theme styling. Simply go through each option one by one to manage the fonts, colors, links and other useful theme style settings.
Documentation and Support
Themify Simple has detailed documentation that walks you through the entire list of features. All of the tutorials are well explained with beautiful screenshots and videos.
Whenever you need any help, you just need to scan through the documentation. Everything is listed in a step by step method.
Themify offers support through their forums. They are well-known for their fast response time.
Themify Simple is available for FREE. When you download the Simple theme, you'll get a bonus theme to download for free and the 30 day money back guarantee.
If you want to access the Photoshop files as well along with the theme to create design customization, you need to pay a one-time fee of $69.
You can use the Themify themes on unlimited sites. To access all the Themify themes, you can join their Theme Club for just $79.
Our Score
Simple is built for online stores, blogs or personal websites. With multiple layouts and theme skins, you can display your products and services beautifully to the users.
If you're concerned about the page speed of your site, you can disable unnecessary animation effects in Themify Settings. If you usually crop images manually, you can disable image script settings as well, which can help to improve the load time. You should also check this ultimate guide to boost speed and performance.
We give Themify Simple 5 out of 5 stars. Here is the breakdown of our review scores:
Get Simple Now »