Do you want to create a website with masonry tiles layout? The Themify Peak theme is a grid based WordPress theme that allows you to build a website in masonry tiles layout. In this Peak theme review, let's take a look at its features and whether it is the right theme for your site.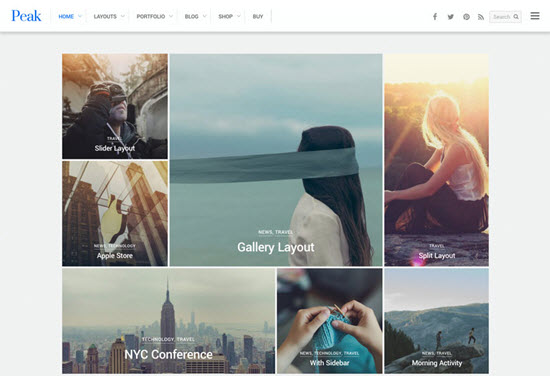 Features of Themify Peak
Themify Peak supports various grid-based layouts that adapt perfectly to fit on the screen regardless of the size of your screen.  Just like any other Themify theme, Peak is also shipped with Themify builder, a drag and drop builder that lets you design your posts and pages the way you imagine.
You can also make use of the tons of its built-in shortcodes to populate your content with ease.
Let's take a detailed look at the various features the Peak theme offers.
One Click Demo Importer and Skins
After installing the Peak theme, you'll be given an option to import the demo content to your site with just one click. You can either import it or use the demo tab to import the content later.
You'll also be prompted to install the Themify Portfolio Posts plugin if you want to showcase your portfolio using the portfolio post type on your site.
You can also choose an appropriate skin, which changes the color palette of your entire site.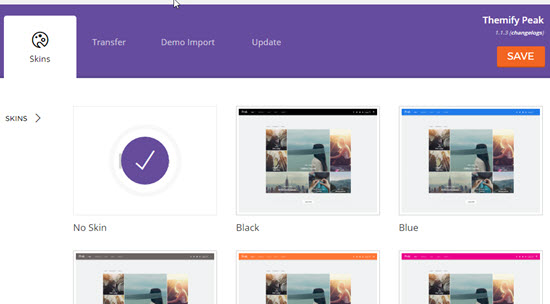 Shipped With Themify Builder
The theme is bundled with Themify builder, a drag and drop tool that helps you to create any type of layouts without having to hire a developer.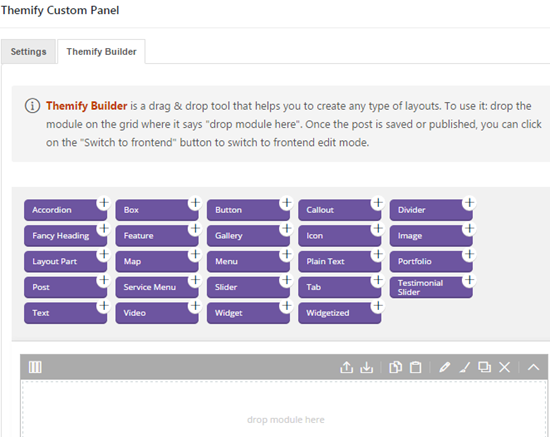 The Themify builder option is available in post, page and portfolio editors. Best of all, it allows you to edit content modules from the frontend of your site, so you don't have to switch between preview tab and page editor tab to review the style.
Wide Variety of Layout Options
Themify Peak allows you to pick from different built-in layout options. It also supports left, right and no sidebar layouts.
Single Post and Portfolio Layouts
Themify Peak allows you to pick from four different layouts in single view and portfolio view: full-width image, slider, gallery and split.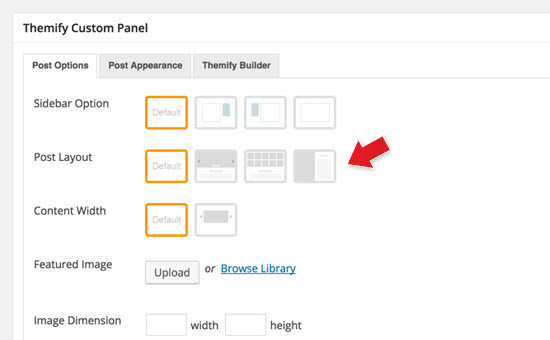 Portfolio post type comes with post filter, which gives visitors the ability to view portfolio based on a selected category.
Archive Layouts
Layout options are extremely flexible in the archive view. The theme comes with four different archive layouts to choose from.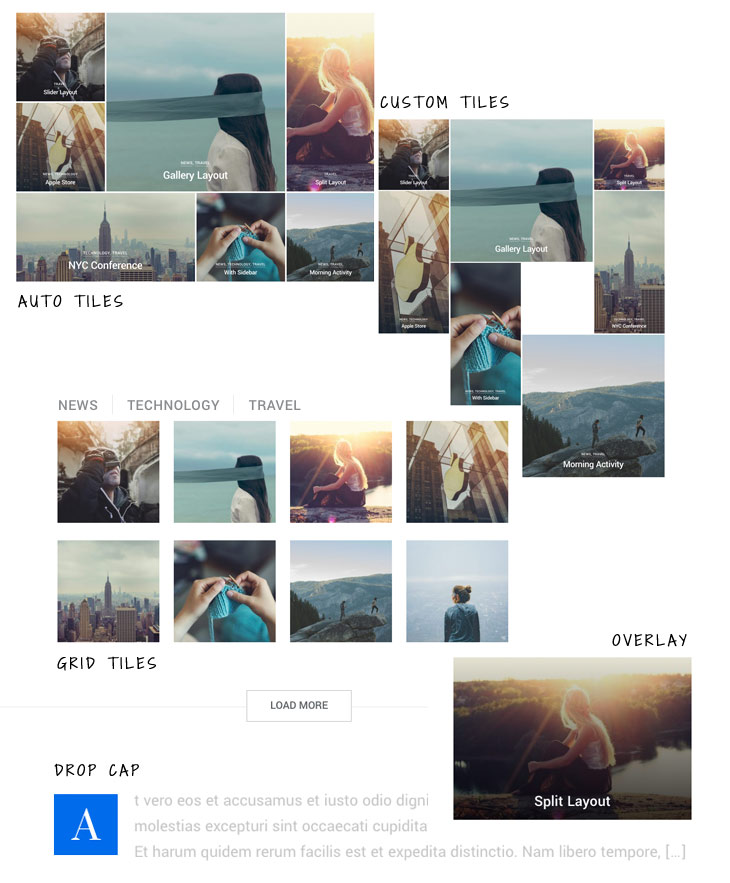 Auto tiles layout allows you to create a Pinterest style page that automatically generates the masonry grid. It aligns perfectly on your screen.
Custom tiles layout allows you to set the custom tile size for each category. The grid style will be automatically adjusted based on your selection.
Grid tiles layout resizes all of the featured images to a single default size.
Overlay or Split layout splits the content into two vertical sections. The main content is shown in a section and the featured image is shown in the other section.
These layouts allow you to provide a Load More button at the end of your blog posts, so visitors can click on it to view more posts on the same page.
Blog Layouts
For your blog, you can choose from two different masonry tiles layout options: auto tiles and custom tiles.
Other Cool Features
Below are a couple more features that help you to make the appearance of your site unique.
Mega menus: You can add recent posts, multi-column menus or even widgets into the menu.
Slideout widgets: The theme comes with slideout widget support. When you click on the button, it shows the specified widgets. To specify widgets for slideout widgets, you can go to Appearance » Widgets, and then, add your widgets to the slideout widgets.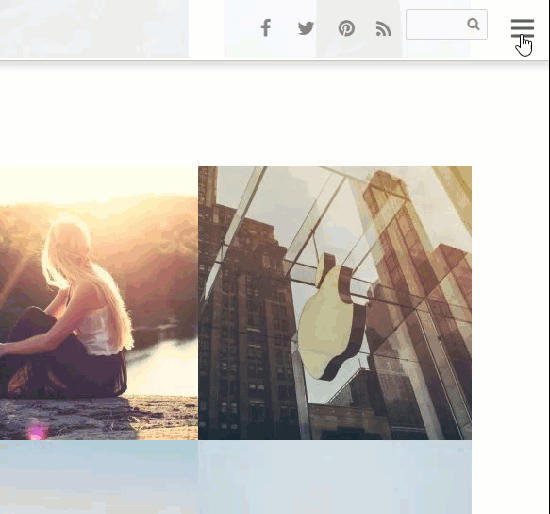 Themify Peak vs. Themify Ultra
Both themes come with the Themify's drag and drop builder and an extensive list of built-in shortcodes.
The main difference is that Themify Ultra lets you pick from a wide variety of demo content to import from whereas Themify Peak offers only one demo layout.
Another difference is that Themify Peak is focused on the masonry tiles layout whereas Themify Ultra is focused on parallax scroll effect.
Documentation and Support
The documentation explains everything you need to know about >creating a stunning website with Themify Peak. All of the tutorials are well explained with beautiful screenshots.
Whenever you need any assistance you just need to skim through the documentation, and likely you'll find solutions in there.
Themify offers support through their forums and emails. For faster support response, it is recommended you to use their forums to post questions.
Themify Peak is available for a one-time purchase fee of $49. When you make a purchase, you can choose a free bonus theme to download. You are allowed to install the theme on as many sites you'd like.
The developer license is available at $69, including Photoshop files as well. To access all the Themify themes, you can join their Theme Club for just $79.
Our Score
If you're looking for a theme that supports masonry tiles layout, Themify Peak is an excellent choice for you.
As Themify Builder is shipped with it, you can create any type of layouts without hiring a developer.
We give Themify Peak 5 out of 5 stars. Here is the breakdown of our review scores:
Get Peak Now »