Do you want a simple WordPress theme for your personal blog or business site? StudioPress Beautiful Pro is a beautifully designed blog theme powered by Genesis Framework. In this Beautiful Pro review, we'll show its features and help you decide if it is the right theme for your needs.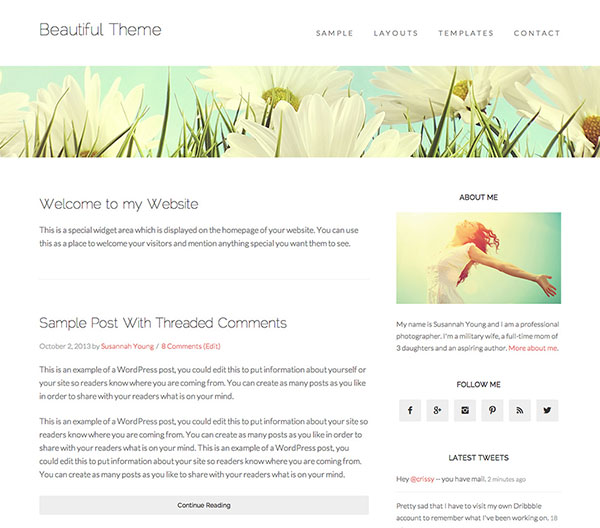 About Beautiful Pro
Beautiful Pro is a theme by StudioPress. It comes with the Genesis Framework that makes it fast, elegant, and up to code standards. This theme is your canvas to design your website with simple features and options. Your users will like the beauty and simplicity for the services or information that you portray with Beautiful Pro.
Features of Beautiful Pro
When it comes to features, StudioPress Beautiful Pro has all what you need to build up the personal portfolio or a small business website. The Genesis Theme Settings covers the basic options that makes the theme easy to set up. However, the customize option will give you a free hand to easily modify your theme on a larger scale.
Beautiful Pro has multiple widget areas that helps you to develop your site in minutes. The widget ready spaces cover your blog needs amazingly.
Here are some key features that make Beautiful Pro theme a great choice for your blog.
Widget Areas
The supported widget areas in the Beautiful Pro theme are as follows:
Header Right: It is the widget area to display your menu, search form, social icons, and any important text that you want to add in your website's header. All other widgets are not suitable for this widget area.
Primary Sidebar: The Beautiful Pro theme has multiple layouts. This sidebar widget area will be the primary space to display your widgets.

Before Header: Widgets added in this section will appear before the header. It is recommended to add the search widget here.
Welcome Message: The theme supports a welcome message that can be added using a Text widget. To disable the welcome message, you can leave the widget area empty.
Bottom Sidebar: This widget area will allow you to add your widgets below all other used widgets in the sidebar. If you are using Split Sidebar widget areas, then this is helpful to display your widgets in the bottom.
There are other widgets like After Entry that is supported in most of the StudioPress themes. After Entry allows you to add your call-to-action or any other important links and messages that you want to display at the end of all posts on your WordPress blog.
Split Sidebar
The sidebar divides your web page into two sections. In Beautiful Pro theme, there is one sidebar only. However, the theme allows you to split this sidebar into 2 sections with the help of widget areas.
These widget areas will be available in the Appearance » Widgets section of your WordPress admin backend.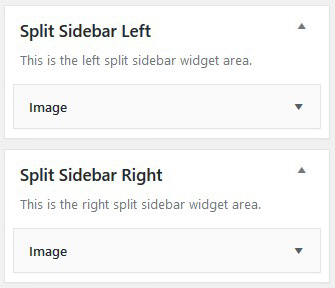 The Split Sidebar Left and Split Sidebar Right are the 2 widget areas that you can use to split your content in one sidebar.
Footer Section
The footer has 3 widget areas. Like the other sections in this theme, footer is made easy with the widgets. You can add the useful items in footer like your portfolio, important sites, and more.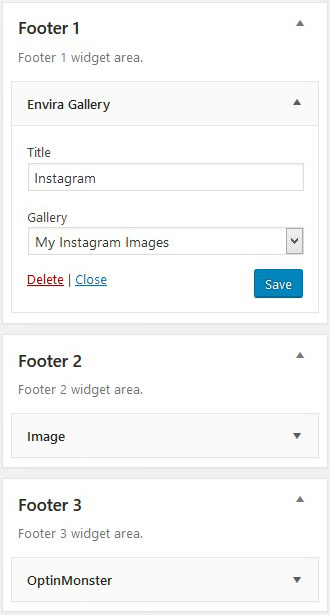 These 3 widget areas are equally distributed and adjusts in their defined span. If you add a widget that takes more space, it will wrap to the other line.
Responsive Design
Beautiful Pro is a responsive WordPress theme. It focuses on better readability for the users, so there is no need to zoom in or scroll for the content.
The sections in the theme adjusts automatically with the screen size of your device. You don't need a different version for other devices. One website or blog using the Beautiful Pro theme will work perfectly on all screens.
Customization
The basic settings are available under Genesis post type in your WordPress admin. However, you should go to Appearance » Customize for a major overhaul to customization.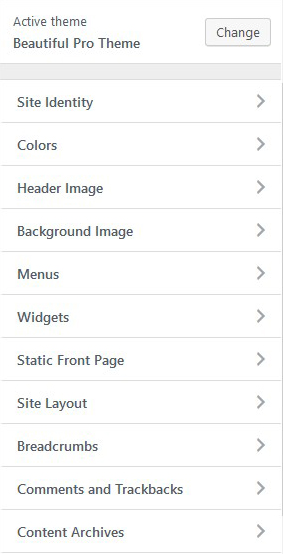 From the site identity to writing custom CSS, you'll get the options to customize each section of the site. Whatever changes you make in the customize section will appear on the right size of the screen. This is the preview and will not be appear on the final site till you hit the Save & Publish button.
Few of the key customization options are:
Site Layout
There are 3 layouts available in this theme. Two of them have the sidebar in the left or right side, and one with the full-width content.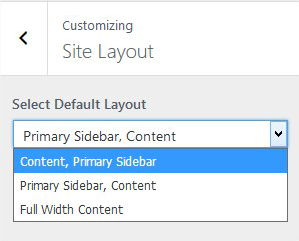 Content Archives
The major content settings that can make your life super easy is available in this section. If you own a personal blog or website, your content listing on pages and posts will be affected by customizing these settings.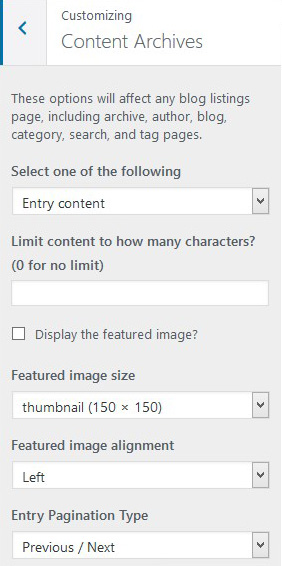 The other customize options are like the colors of the site, background color and image, header image, menus, and more.
Documentation and Support
With Beautiful Pro you get access to detailed, step-by-step tutorials on how to set up the theme for your site just like the demo.
Beautiful Pro is available for a one-time purchase fee which allows you to use the theme on an unlimited number of sites. You also get access to unlimited email support. StudioPress is known for the quality and speed of their user support.
If you're a fan of the Genesis framework, you can save a lot of money by investing in StudioPress ProPlus. With a one-time fee, you get access to all StudioPress themes, plus lifetime updates and support. You'll also get automatic access to any new themes they release in the future.
Our Score
StudioPress Beautiful Pro is a simple theme for personal blogs and small businesses. The layout is neat, beautifully designed, and hassle free.
Also, we found the theme to be easy to use with just enough customization options. It is built on the Genesis framework, which is fast, lightweight, and well-coded. Plus, it includes excellent unlimited support and lifetime updates for just a one-time fee.
We give StudioPress Beautiful Pro 5 out of 5 stars. Here is the breakdown of our review scores:
Get Beautiful Pro Now »