Tired of building contact forms with bloated and buggy WordPress plugins? Chances are you haven't tried WPForms, the most beginner-friendly forms plugin in the WordPress ecosystem. In this WPForms review, we'll take a look at its features, add-ons, and what makes WPForms the most intuitive WordPress plugin in the market.

Why Your Site Needs a Form Builder Plugin
Every WordPress website requires a contact forms plugin, regardless of its niche or traffic.
Using a contact form will protect you from spammers and hackers. You can keep your WordPress site more secure by using a contact form instead of displaying your email address. This way, you're protecting your email from spammers who send unwanted offers and phishing emails.
Using forms also saves you time. By using a contact form, you can specify what necessary details you'll need to know when your visitors and potential customers are reaching you out.
A best WordPress form plugin will also allow you to integrate extra features such as an email newsletter subscription checkbox in your contact form. This helps you to follow up on prospects and build a long-lasting relationship with them.
Easily Build WordPress Forms in Minutes
Building online forms in WordPress has never been easier thanks to WPForms.
WPForms often claims to be the most beginner-friendly WordPress form builder in existence and hugely emphasizes the convenience it offers to build a WordPress form.
With WPForms, you don't have to hire a WordPress developer or even touch a single line of code to create a WordPress form. You should be able to create a form in a matter of minutes no matter you want to create a simple contact form or a complex form, like registration or payment form.
Does WPForms live up to their hype of being the most beginner-friendly WordPress form builder? Let's take a look:
1. The Powerful and User-Friendly WordPress Form Builder
With WPForms' easy-to-use drag and drop builder, you can create any kind of forms in just a few minutes without having to touch any code.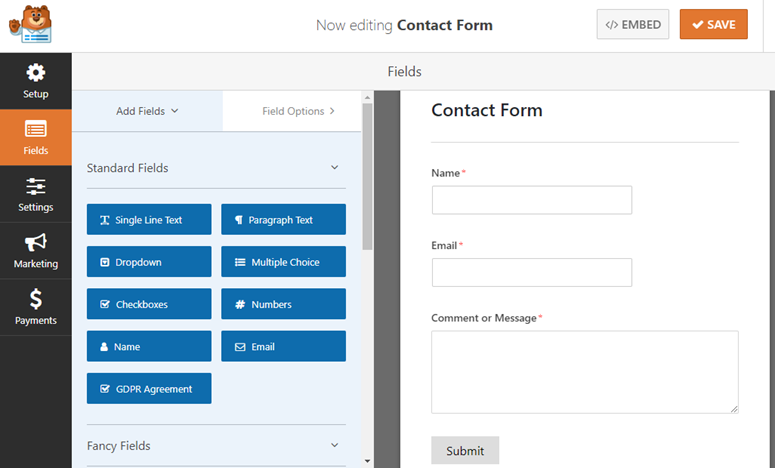 Adding and removing form fields can be done in just a single click. Plus, you can easily rearrange the fields per your needs with drag and drop.
2. Hundreds of Form Templates to Choose From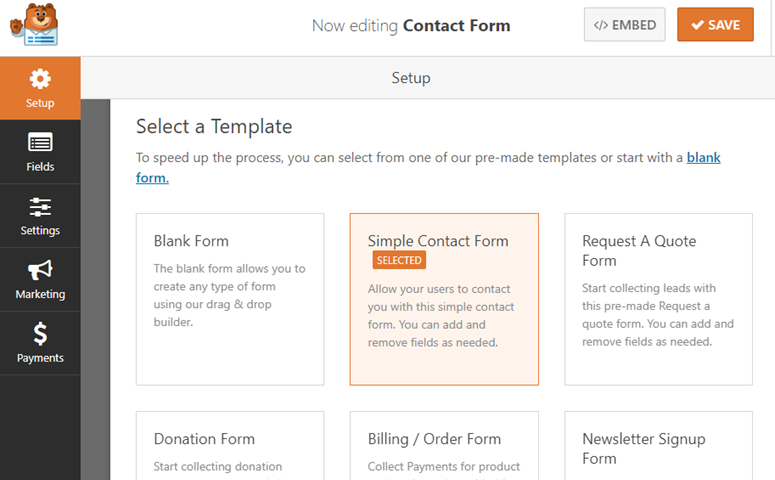 With WPForms, you don't necessarily need to create a WordPress form from scratch. The core plugin comes bundled with several pre-built form templates to choose from such as:
Blank Form
Simple Contact Form
Request a Quote Form
Donation Form
Billing / Order Form
Newsletter Signup Form
Poll and Survey Form
And a lot more…
Want to create a WordPress form tailored to your industry or niche without having to build it from the ground up? Then you have to install the Form Templates Pack addon.
The Form Templates Pack addon lets you choose from a huge variety of pre-built templates for every industry. That means regardless of the industry you're in, you can find the right form template in WPForms. This saves you time as you don't always have to build a form from the ground up.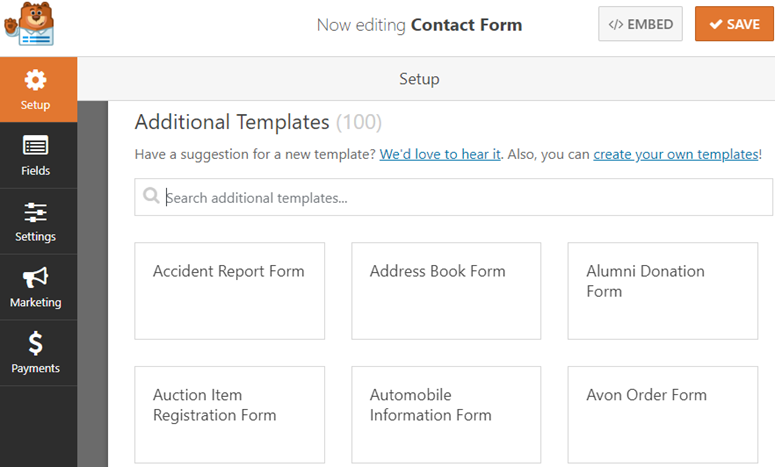 Instead, simply search for the form template you want to use and once it appears, click on it. Your form should now be created instantly. After making the necessary changes, you can go ahead and publish the form.
3. Easily Embed Your Form From the Post/Page Editor
To embed a form in a post or a page, you're not required to copy and paste the shortcode manually. Rather, head over to your post/page editor where you want to publish your form. Click the Add Form button which you can find just above the text editor. A modal popup will now appear asking you to choose the right form. Select the right form and hit the Add Form button.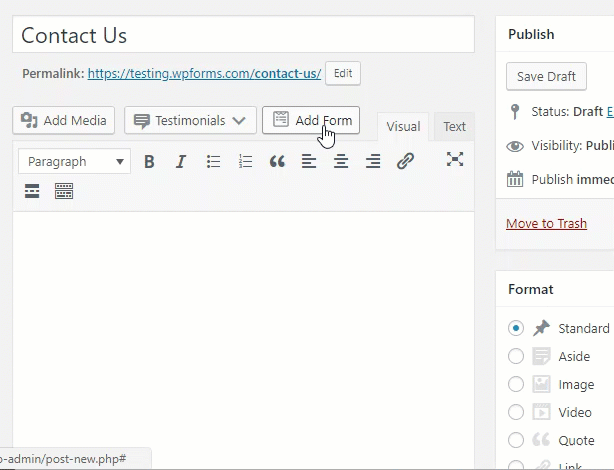 Build Advanced Forms in Minutes, Not Hours
With WPForms, building an advanced form on your WordPress site is a breeze. Let's take a look at a few examples of how WPForms enables you to build advanced WordPress forms quickly and easily.
1. Create a Survey / Poll Form
The Surveys or Polls addon enables you to quickly conduct a survey or poll on your WordPress website. In addition, you also get best-in-class survey reports with WPForms.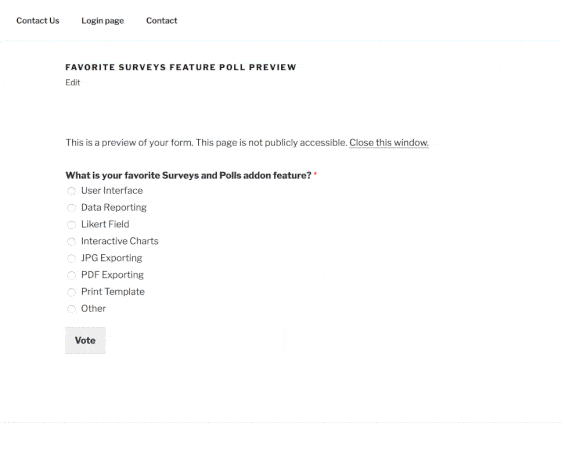 When combined with conditional logic, you can even personalize your survey questions based on users' responses.
WPForms also enables you to publicly share your results on your website or with your followers on social media.
2. Create a Custom Login or Registration Form
If you're running a community-powered site like membership sites, forums, niche social networks, or any other sites that require users to register an account, then you might want to create a custom login form on your site. The main benefit of creating a custom login or registration form is that you can embed it anywhere on your site.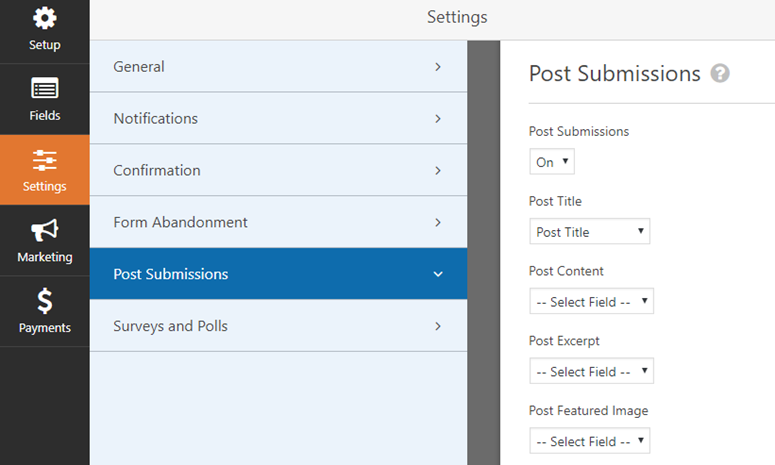 This way you don't necessarily have to direct users to the default login page. By creating a custom login page, you can display a consistent brand to your users, giving your site a more professional appearance.
3. Collect Payments Within Your Form
Whether you want to accept online donations for your nonprofits or need to collect payments for digital downloads, WPForms makes that easy for you.
You can accept payments via PayPal Standard or Stripe integration.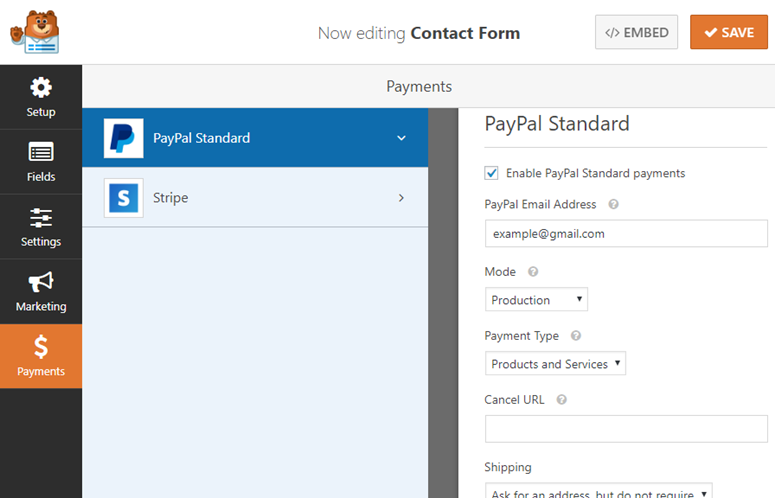 WPForms also allows you to display images of your products in the order form, giving users a visual look at what they're ordering.
4. Create a Post Submission Form
Do you want to accept user-generated content on your site?
With WPForms' Post Submission addon, you can accept user-generated content, like guest articles, user reviews, testimonials on your site without having to provide the backend access to each user. When a post is submitted through your post submission form, it will appear in your post editor for your review as a new pending post.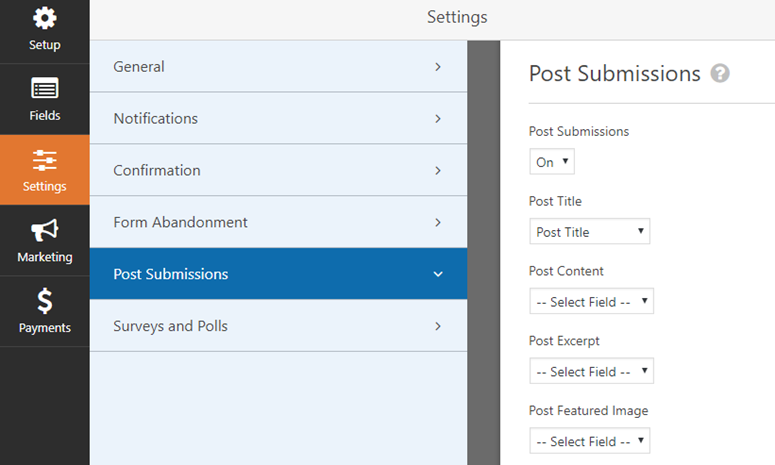 After making the necessary changes, you can publish or even discard the post.
Related: How to Submit a Form Without Page Refresh in WordPress
All the Necessary Features Out of the Box
WPForms comes with all the set of features out of the box, without the bloat.
All field types are categorized into 3 separate sections: Standard Fields, Fancy Fields and Payment Fields.
Standard Fields comprises basic field types Name, Email, Single Line Text, Paragraph Text, Dropdown, Multiple Choice, etc.
Fancy Fields consists of fields like Phone, File Upload, Website / URL, Page Break, Captcha, etc.
Payment Fields contains fields including Credit Card, Total (amoun), Single Item (payment), Multiple Items (payment), etc.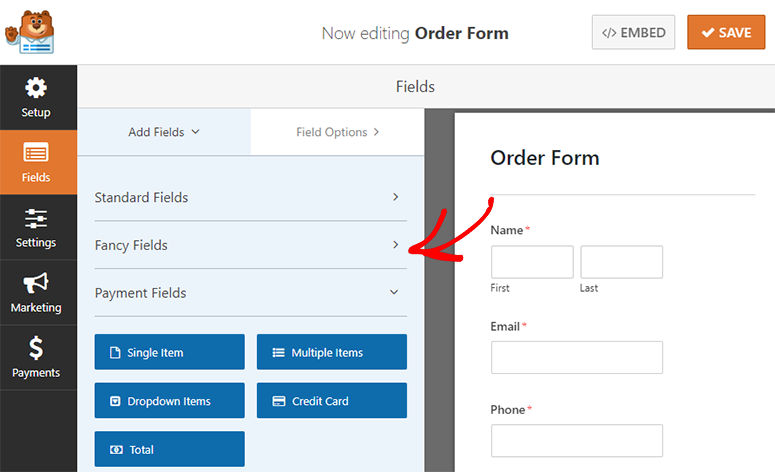 WPForms is highly optimized for web and server performance to ensure maximum speed. You can also deploy a CDN service to enhance your site speed.
Every form you create is 100% mobile responsive, so your forms will always look great on all devices.
Best of all, you can easily embed your forms anywhere on your site whether it is blog posts, pages, sidebar widgets, footer, etc. All you need to do is to grab the shortcode and paste it where you'd like to embed the form, or use the built-in widget.
With WPForms, you'll also have the ability to create multi-page forms, allow file uploads, display or hide fields with conditional logic, and much more.
Dozens of Integrations With Add-ons
WPForms also has a wide variety of add-ons that lets you extend its built-in functionalities and integrate with other popular email marketing tools and cloud apps.
Let's take a look at some of its add-ons below.
Email Marketing Integrations: You can automatically add subscribers to your email list from any form. WPForms integrates with the following email marketing tools:
Constant Contact (no addon required)
AWeber
MailChimp
Campaign Monitor
GetResponse
Custom Captcha: Combat spam form submissions by enabling Custom Captcha. You can specify either your own questions or random math questions.
Geolocation: Collect and store your website visitors' location data along with their form entry.
Payment Processors: Create donation forms or order forms by integrating PayPal and Stripe with your form.
Post Submissions: Create a front-end post submissions form and start accepting user-generated content like guest posts, user reviews, and more without your visitors having to log in.
Signature: Create a contract form or agreement form and allow users to sign it online with their mouse or touch screen.
User Registration: Create a custom user registration form and embed it on the most convenient location, so users can create an account on your site without visiting the default login page.
Zapier: Connect your form with 500+ web apps. With this addon, the integration possibilities are endless.
Surveys and Polls: Build surveys and forms and analyze the data with interactive reports.
Form Abandonment: Connect with your leads even if they abandoned the form halfway.
Offline Forms: Save forms data in the browser while offline and submit the data when the internet is restored.
Form Templates Pack: Choose from a huge variety of pre-built templates to save you time.
Pricing and Support for WPForms Plugin
The best thing about WPForms is that it's best suited for websites of all sizes and budgets.
Whether you're running a blog, small business, a non-profit organization, eCommerce business or any other website, you'll find the WPForms plugin immensely helpful alike.
If you don't have a budget for a contact form plugin or want to test drive the basic features before spending on the premium version, you can start with the lite version, which is available to download for free from the official WordPress plugin repository.

The pricing for the basic version starts from $31.60 for a single site license. Additionally, you'll get access to the Form Templates Pack addon.
Their most popular plan is Pro, which gives you access to all addons for 25 sites and priority support for a year, which costs $159.60.
They also offer an Elite plan for unlimited sites, WordPress multisite support and client management feature for $239.60.
Support is offered by the ticket-based email support system. WPForms support staff is fast and highly rated in user reviews. All the features and add-ons are well explained in their extensive documentation, with step by step tutorials and easy to follow guides.
WPForms Lite vs. Pro
The free or the lite version of WPForms is a great option if you're just starting out. It offers limited form features that lets you create a basic contact form on your site. The drag-and-drop form builder makes designing your form and adding fields to it super easy. Plus, you only have 4 different templates to choose from.
WPForms Pro obviously offers more features than its lite version. Apart from all the templates available in the lite version, the pro version also offers 3 additional templates.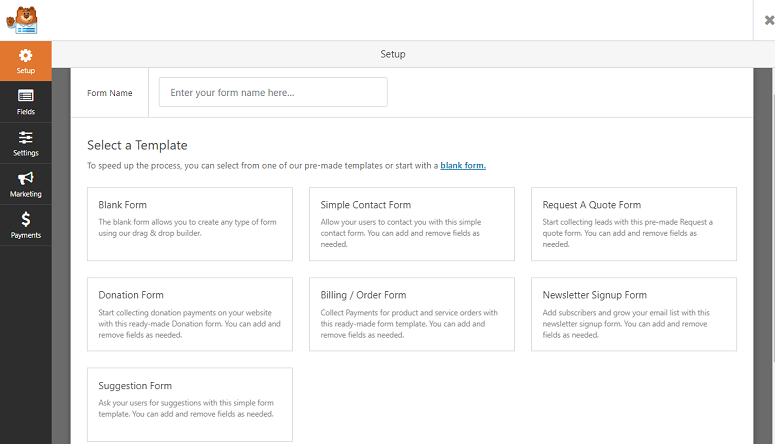 You also have some additional fields that you can add to your site like phone number, date and time, star ratings, etc. The pro version also lets you upload a file and password protect your form.
The Pro and the Elite plan offers priority support too. And just like the lite version the pro version too is super responsive to mobile devices and is cross-browser compatible. If you want to create an advanced contact form like a billing order or a newsletter then we would recommend you to opt for the pro version.
Our Verdict on WPForms as the Best WordPress Forms Plugin
WPForms was built with a single goal in mind: build a WordPress plugin that's both easy and powerful, so even an absolute beginner can create WordPress forms without having to hire a developer.
The forms created with WPForms are incredibly fast and SEO friendly. The drag and drop builder makes form creation a breeze. Best of all, it allows integration with various tools like email marketing tools, payment processors, web apps and other useful add-ons.
You may also want to check out the full comparisons between,
We can confidently say that WPForms is the most beginner-friendly WordPress forms plugin in the market. We give it 5/5 stars. Here is the breakdown of our review scores.
Get WPForms Now »