Zerif theme is a popular choice among WordPress users. It is a multi-purpose WordPress theme with great set of features. In this Zerif theme review, we will take a look at those features to find out what makes Zerif theme distinguishable from other WordPress themes.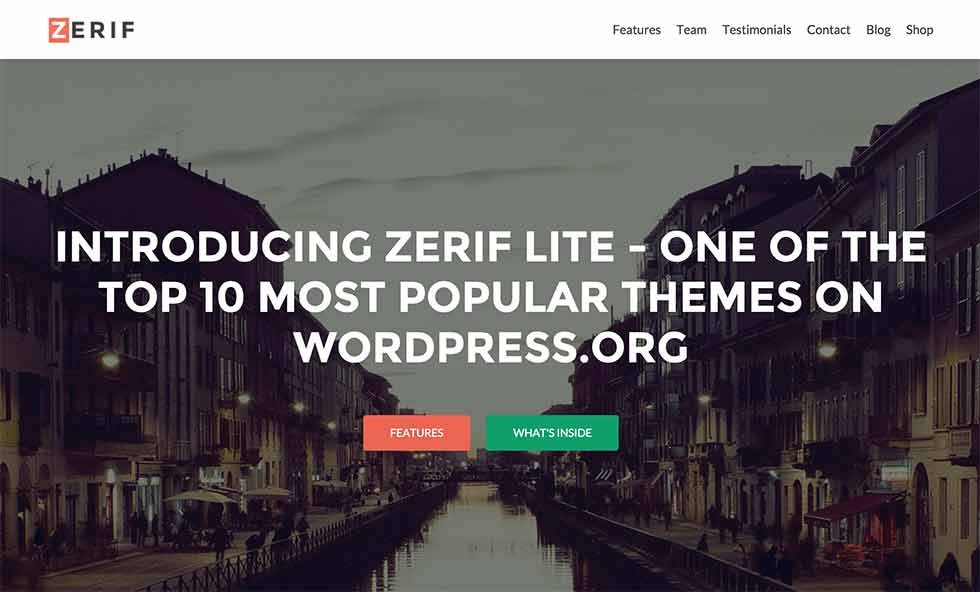 About Zerif
Zerif theme comes in two variations, Zerif Lite which is the free version of the theme and Zerif Pro the paid version with extra features. Zerif is created by ThemeIsle, a premium WordPress theme shop.
ThemeIsle itself is a product of CodeinWP, a professional WordPress solutions provider. ThemeIsle was founded in November 2012. Since then, it has steadily grown into a well known WordPress theme shop with 16+ WordPress themes and thousands of customers from all over the world.
Zerif Lite is their most popular product. The free version of the theme has been downloaded by more than 490,000 times.
Features of Zerif WordPress Theme
Zerif theme comes in two versions the free and paid one. The pro version of theme has additional features including all the features of the free version. In this review we will look at features offered in both versions, we will highlight when a feature is only available in the pro version.
I have been really impressed with Zerif Lite, it is the easiest one to work with so far, considering it is free, the sites looking good, you can make it really great with some well chosen plugins. Overall you can come up with a really decent site. I have found no clashes between the theme controls and the wordpress standard controls and all the other themes I used before had that problem.
Full-Width Header
Zerif comes with a full width large header on the front page. You can replace this header with a slideshow. The header also features call to action buttons that you can easily customize from theme's options panel. Full width header image allows you to add stunningly beautiful high resolution images on the front page.
Contact Form on The Frontpage
Zerif theme is designed to be an ideal theme for business websites. One of the most important feature on any business website is to provide users an easier way to contact you. The front page in Zerif theme comes with a built-in contact form displayed on the front-page. You can easily show or hide it from theme's customization options. The form works out of the box and eliminates the need to create a contact form and then manually add it to your front-page.
Parallax Effect
Zerif theme is designed to be the perfect fit for single page websites. It allows you to easily use parallax effect on your site's front page. The parallax settings can be changed using the theme customizer.

Frontpage Sections
As a single page website theme, Zerif comes with great options to create and customize your frontpage. It uses sections on the front page, each section is a separate block containing information about your business. All these sections can be customized using the same theme customizer panel.
Unlimited Colors (Pro)
The pro version of Zerif theme allows you to change colors anywhere on your website using customizer. These sections remain the same in both free and paid versions of the theme. The sections are Big title, Our focus, About us, Our team, Testimonials, Ribbons, Latest news, Contat us.
Portfolio Section (Pro)
Many business websites need a portfolio section to showcase their work. The Zerif lite does not have a portfolio section but it is compatible with many plugins that can add a portfolio section. On the other hand, the paid version Zerif Pro comes with a built-in portfolio section. You can create the portfolio and add it as a section on the frontpage or have its own separate page on your website.
WooCommerce Ready (Pro)
WooCommerce allows you to easily sell things online using WordPress. It is one of the most commonly used eCommerce platforms in the world. The pro version of Zerif comes with full support for WooCommerce. You can easily create an eCommerce website with all the features of Zerif theme.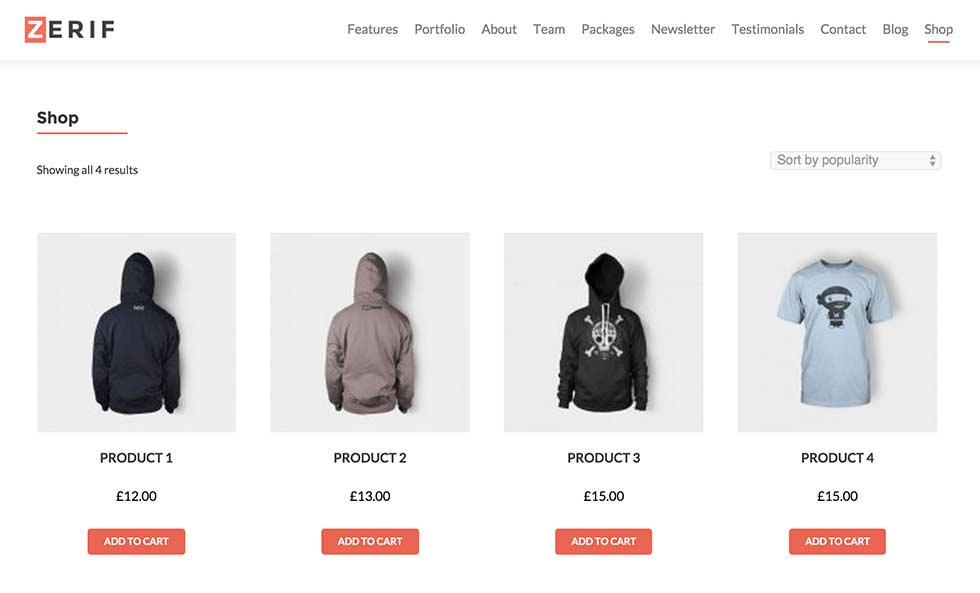 I have been using this theme for almost a year. The creative result is amazing and the support is awesome. Note that it is compatible with WPML and Woocommerce.
Documentation and Support
Most free themes do not come with detailed documentation. Configuring them can become difficult for users unfamiliar with WordPress. Most free themes also have very limited support options and users find it difficult to get answers from the developers.
However, Zerif theme comes with excellent detailed documentation. It explains each and every feature of the theme in great detail. Documentation is easy to understand and both free and paid users can access it. All users also get free support from the theme's WordPress.org forums as well as the forums on ThemeIsle website.
Our Score
Zerif theme offers an excellent option for WordPress users to create professional looking business website. It can be used on single page sites as well as multi-page business websites. It offers an easy to use set of features which is excellent for beginners and provides a stable platform for advanced users to extend. We give Zerif 4 out of 5 stars.
Get Zerif Now »