Are you looking for a mac-style responsive WordPress theme? iTheme2 is a beautifully designed theme powered by the Themify framework and perfect for Mac related or technology blogs. In this Themify iTheme2 review, we'll show its features and help you decide if it is the right theme for your needs.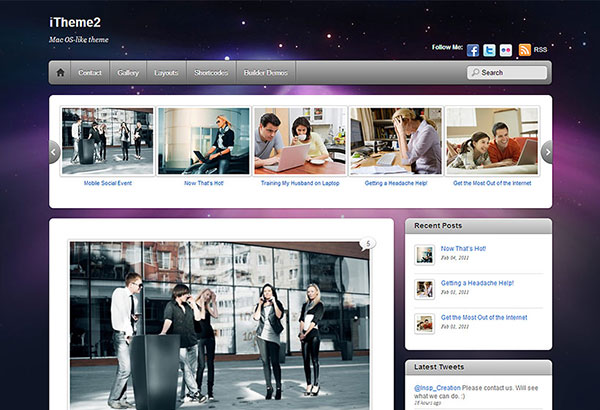 About iTheme2
iTheme2 is a Mac OS style blog theme available at the Themify marketplace. This theme is responsive and retina ready to display the content beautifully on all mobile and desktops especially Mac based devices.
It has 2 Mac OS look-a-like skins and multiple layout options in the theme settings. For the bloggers who want their blog to look like a Mac application, this theme is for you.
Features of iTheme2
The theme has tons of great features like customizable header slider, social media widgets, footer widget areas, header widget area, multiple-level dropdown menus, footer navigation and more.
iTheme2 has a theme customize panel with amazing options to edit the website fonts, colors, link colors, images, etc. Let's take a detailed look into the features of Themify iTheme2:
Fluid and Responsive Layout
Fluid layouts make their spaces on the screen of any size and display the content with images beautifully. iTheme2 is a fully responsive theme that works for all mobile devices like iOS, Android, Windows and more.
Responsive design is a key feature that helps in ranking your blog or website in the search engines. You should check this ultimate WordPress SEO guide for more options.
Skins
The Mac based theme has 2 skins: Gray and Black. Both these skins has the same design but with a different background. This design is similar to an iOS application.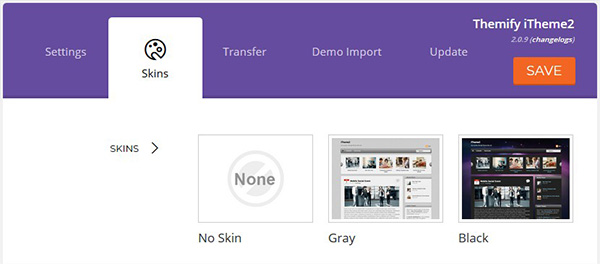 You can shift to any of the theme skins by simply clicking on them. Make sure to hit the Save button after choosing your option.
Header and Footer Navigation
iTheme2 has two navigation: Header and Footer. You can add the menu to any of these locations with the general WordPress menu settings or the custom panel of the theme.
Header menu appears in a the top bar below the logo and tagline. However, the footer menu depends on the footer settings that are available in the Themify iTheme2 options panel.
Featured Header Slider
It happens automatically with the launch of the theme on your WordPress website. The slider display the posts of your choice and the settings can be changed from the Themify options.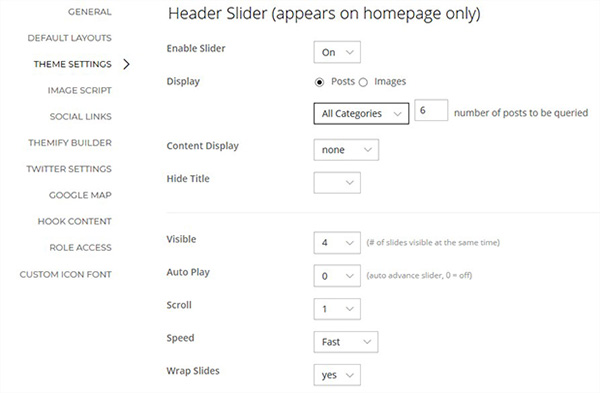 You can choose the categories, number of posts to display, hide title, content display, and more. If you don't like the slider, then it also gives you the option to simply disable it.
Widgets and Widget Areas
Themify has its built-in widgets that are flexible to add great features in the website. Few of the important widgets are like featured posts, comments, Flickr, social links, Twitter and more.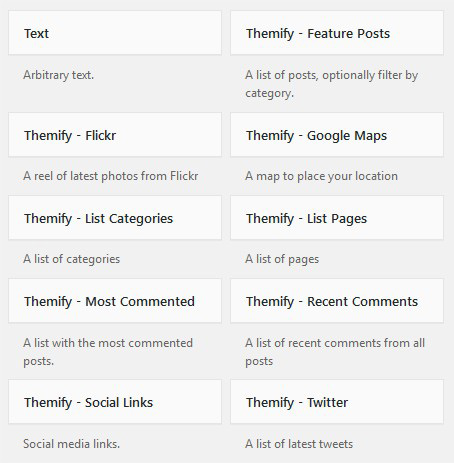 iTheme2 has some useful widget areas that helps in adding social links, sidebar, header and footer widgets on your website.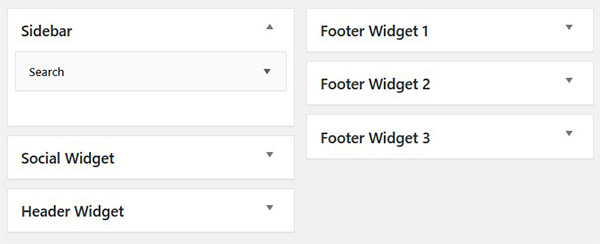 You can also use the WordPress default widgets in these widget areas. For the footer widget areas, you need to change the display options from Themify settings.

There are options for two, three and four columns footer. After adjusting these settings, you can go ahead and add the widgets in the footer widget areas.
Themify Custom Panel
Most of the Themify themes has the same custom panel that comes with tons of options to edit the website. This panel has the basic and advanced settings.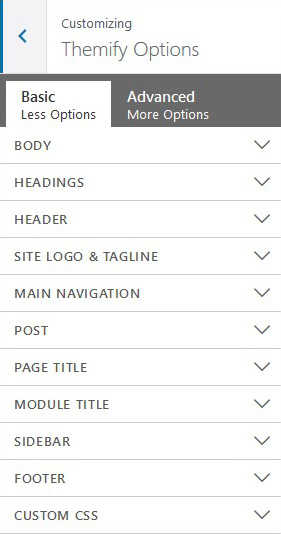 These options allow you to change the settings for body, header, headings, posts, taglines, page titles, modules, sidebar, footer and more. The settings include font styling, colors, link styling, background images, etc.
Documentation and Support
Themify iTheme2 has a detailed documentation that walks you through the entire list of features. All of the tutorials are well explained with beautiful screenshots and videos.
Whenever you need any help, you just need to scan through the documentation. Everything is listed in a step by step method.
Themify offers support through their forums. They are well-known for their fast response time.
Themify iTheme2 is available for $69. When you download the iTheme2 theme, you'll get a bonus theme to download for free and the 30 day money back guarantee.
If you want to access the Photoshop files as well along with the theme to create design customization, you need to pay a one-time fee of $69.
You can use the Themify themes on unlimited sites. To access all the Themify themes, you can join their Theme Club for just $79.
Our Score
Themify iTheme2 is built for the technology and Mac related blogs. With Mac OS layouts and theme skins, you can display your content for the tech lovers beautifully.
If you're concerned about the page speed of your site, you can disable unnecessary animation effects in Themify Settings. If you usually crop images manually, you can disable image script settings as well, which can help to improve the load time. You should also check this ultimate guide to boost speed and performance.
We give Themify iTheme2 4.8 out of 5 stars. Here is the breakdown of our review scores:
Get iTheme2 Now »