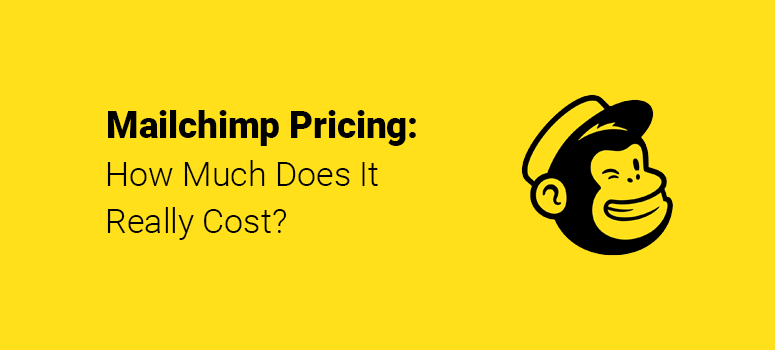 Are you trying to find more information on Mailchimp pricing and plans?
Mailchimp is one of the most popular email marketing services available. In the past few years, it evolved from a full-time email software to a marketing automation platform, offering several creative tools, products, and resources.
With all these features, it can be hard to tell what you're really paying for: an email marketing subscription or a marketing automation tool.
So, what price should you pay for an email marketing plan, and is Mailchimp worth buying?
In this article, we'll answer all your questions and share the complete and most recent breakdown of Mailchimp pricing.
This post will not only tell you about Mailchimp's paid plans, but we'll also explain which pricing plan is suitable for which type of user.
You can also click here to download our FREE PDF of Mailchimp alternatives.
Mailchimp pricing is complex, so we'll elaborate on each plan with its features and make it simple for you. For a better understanding, you should also read our complete Mailchimp for WordPress review.
Note: This is a long article, so we made a table of contents for you to jump to your preferred section. However, we recommend you to read it until the end to get all the information you need to make the best decision for your business!
Table of Contents
Quick Overview: Mailchimp Price
If you're in a hurry and want to take a quick look at Mailchimp pricing, then you can read this first section. However, we recommend you to read the full article for a better understanding of Mailchimp pricing and plans.
Mailchimp offers multiple pricing plans. Each plan is made for different types of users and audiences. Pricing is based on the total number of contacts on your email list, and you can get an estimated cost using the Mailchimp price calculator.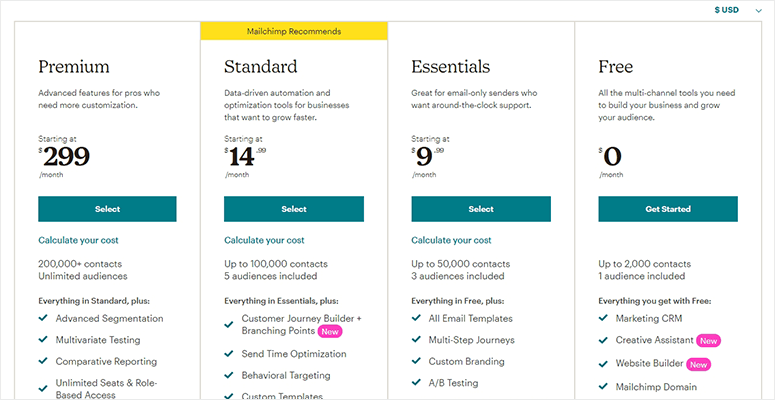 Free Plan: Yes, Mailchimp has a FREE plan for up to 2000 contacts. This plan is designed for startups and new marketers starting from scratch.
Essentials Plan: This plan costs $9.99 per month for up to 50,000 contacts. It includes everything from the free plan and built-in email templates, custom branding, A/B testing, 24/7 support, and so on.
Standard Plan: A powerful package built for small and medium-sized businesses. The Standard plan costs $14.99 per month for up to 100,000 contacts. This includes behavioral targeting, email send-time optimization, and dynamic content.
Premium Plan: The most advanced plan starting at $299 per month and built for larger audiences. It supports over 200,000 contacts with powerful segmentation, comparative reporting, role-based access, and full-time phone support.
This is a simple overview of Mailchimp pricing and plans. You should keep reading below for a complete and detailed analysis of Mailchimp features with prices.
Mailchimp Pricing Plans

Let's take a look at each of the Mailchimp pricing plans one by one, starting with Mailchimp's free plan.
Mailchimp Free
The Mailchimp Free plan has everything you need as a startup or new marketer. It helps find new customers, collect signups, and target your contacts with emails.
Inside the free plan, you'll get a marketing customer relationship management tool (CRM) to build a strong relationship with your customers. Mailchimp provides CRM tools to make conversations with your contacts. It also offers ready-made segments to filter contacts and data for better user management.
You can create custom segments and tags to manage your email lists. And, you can send automated emails to customers based on your settings.
It also provides basic email templates with the free plan. Use the marketing calendar to manage your campaigns and send emails to users in an organized way.
Other than that, you'll get 30 days of email support and access to the Mailchimp knowledge base and glossary. With these features, Mailchimp's free plan gives you a great start to build an audience.
Price: $0 for up to 2000 contacts.
Essentials Plan
The Essentials plan comes with everything from the Mailchimp Free plan. However, it has more email marketing and automation features, including pre-built email templates, email scheduling, A/B testing, automated emails, and more.
It also offers behavioral targeting, which means you can send emails to your customers based on their actions from your website. You can also take this to the next level by segmenting the users' behavior based on their clicks, campaign views, purchase history, and so on.
With automated targeted messages, you can save time and focus on the growth of your business. Mailchimp sends welcome messages, product recommendations, and other emails to your customers automatically.
It seamlessly integrates with over 250 apps and web services. The Mailchimp Essentials plan also offers smart tools to create better content and suggest tips to grow your email lists.
With this plan, you get 24/7 customer support via email and live chat. It's designed for marketers who want to build strong customer relationships and increase sales revenue.
Price: The starting price of the Mailchimp Essentials plan is $9.99 per month for up to 50,000 contacts.
Standard Plan
The Standard plan is purely designed for experienced marketers. It comes with all the email templates that you need to design powerful and stylish emails. It also includes custom email templates for developers and designers.
With this plan, you get free signup forms to collect user data and send more personalized emails that convert potential leads into paid customers. It lets you display signup forms in creative popups, sidebar, footer, or anywhere on your website.
Mailchimp also recommends the standard plan as it covers a lot of features and options to automate your marketing campaigns. It provides several useful content tools and a creative assistant to set up your emails.
You can download the Mailchimp mobile app to manage your account, add contacts, and send campaigns. It works out of the box with third-party apps and services.
Price: The starting price for the Mailchimp Standard plan is $14.99 per month for up to 50,000 contacts.
Premium Plan
The Mailchimp Premium plan is designed for most advanced users with top growth tools. It comes with full email customization and automation features to send thousands of emails quickly.
Some of the key features include customer journey builder where you can create a custom roadmap for each user based on their interaction with your website. And, multivariate campaigns help edit campaigns based on user reactions.
It offers advanced segmentation to design complex but flexible campaigns for specific user targeting. This type of segmentation allows unlimited conditions and combines any or all logic to grow your customer base.
This plan also provides a dedicated marketing platform for social networks to run Facebook and Instagram ads, retargeting ads, scheduling social content, and more. Plus, you can create custom landing pages to connect with your customers.
While Mailchimp provides support to all users, it has a priority support system for the Premium plan. If you take this plan, you'll get phone support, 24/7 live chat support, email support, and more.
Price: The starting cost is $299 per month for over 200,000 contacts. It's scalable and the price increase as you add more contacts.
Price Calculator
Mailchimp's price calculator gives you an exact idea of the price you'll pay each month. It lets you calculate pricing on the basis of your selected plan and the total number of contacts you'll add to your list.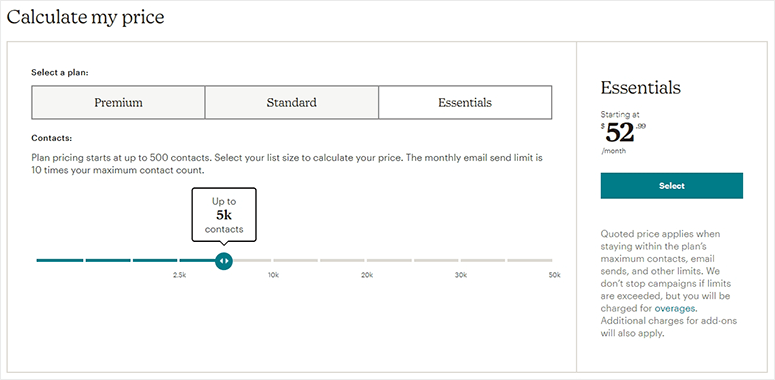 You can drag the scale to see the price difference for your selected number of contacts. Also, you should know that this price doesn't include the cost of additional addons and Mailchimp dedicated IP.
Pay As You Go and Credits
Mailchimp offers a pay as you go plan for seasonal users who want to send emails without a monthly or yearly subscription. It includes all the features of Mailchimp's Essentials plan.
You'll get an email builder to create and send emails easily. It also offers advanced features, including A/B testing, email marketing automation, real-time analytics, transactional emails, and so on.
When you select the Pay As You Go payment method, Mailchimp will ask you to purchase credits to send emails. It has several packages to choose from. The credit system charges 1 credit for each email that you send.
You can buy credits as you like, but you should know that credits expire after 12 months from the purchase time. If at any time you don't want to send emails, Mailchimp has a non-refundable policy on credits. However, you can use these credits to buy a monthly plan or adjust your regular billing with Mailchimp.
Price: The starting package costs $150 that comes with 5000 credits. You can scale it up to your requirements and purchase as many credits as you need to send emails.
Mailchimp Pricing for Transactional Email Plans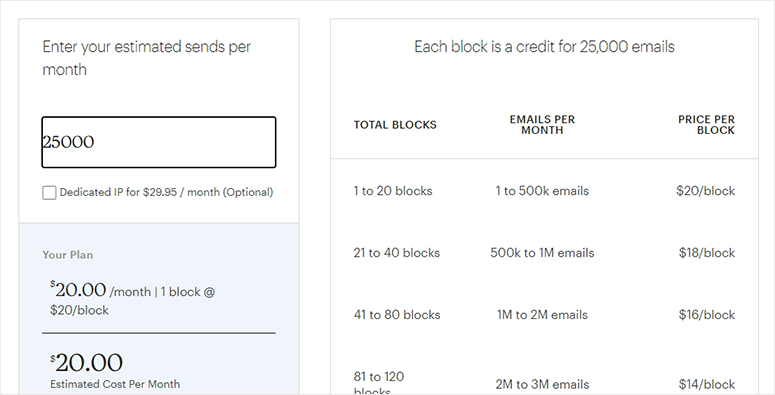 Transactional email plans are designed specifically for developers. It offers email blocks and each block consists of 25000 emails.
You can calculate the estimated cost by entering the total number of emails that you want to send each month. It will automatically tell you how many blocks you'll need to purchase to send transactional emails.
This price doesn't include the initial cost of your Mailchimp monthly plan. To send transactional emails, you'll need a Mailchimp plan. Transactional emails are available as addons for Standard and Premium plans.
Price: It offers a free demo for new transactional email users with a limit of only 500 emails. The starting price of an email block is $20 per month which lets you send 25000 emails.
Mailchimp Dedicated IP Price
This is an optional feature that you can add to your transactional email plan. Mailchimp's dedicated IP helps send and deliver emails more safely to your users. With a dedicated IP, your emails are MUCH less likely to end up in the spam folder.
Price: It costs $29.95 per month.
Mailchimp Price Comparison
Mailchimp offers a detailed feature comparison for all their plans. This pricing comparison helps decide which plan is best for your website.
Let's take a look at the contacts and tiering offered with each plan: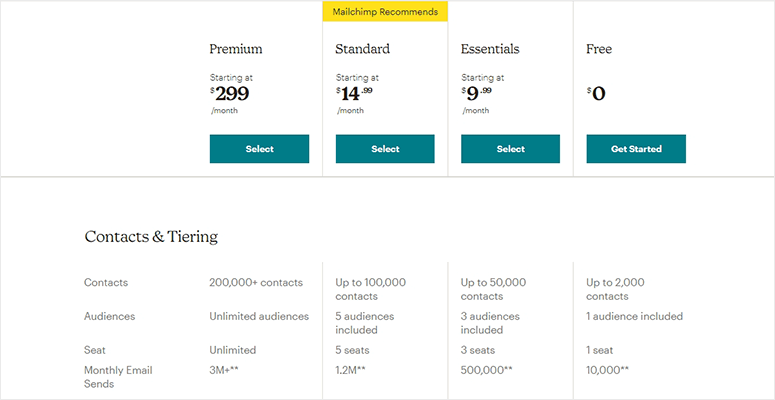 Next, you should take a look at the detailed comparison of audiences. It shows that the free and essentials plan lack behavior-based automation and other features. However, standard and premium plans cover all options.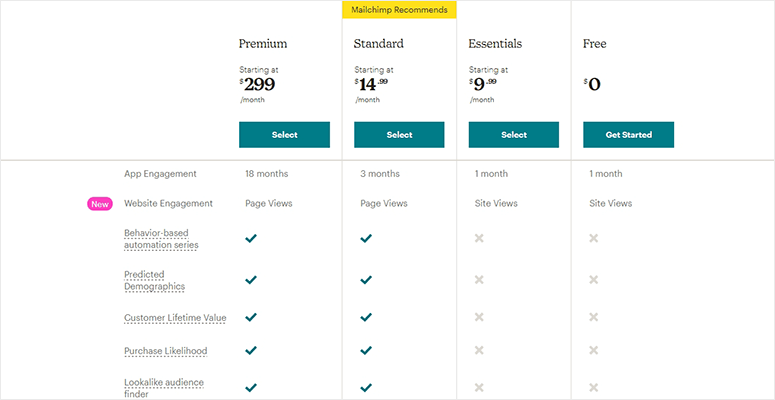 When it comes to branding, including pre-built templates, Mailchimp footer notes, and custom templates, you can see the complete details below.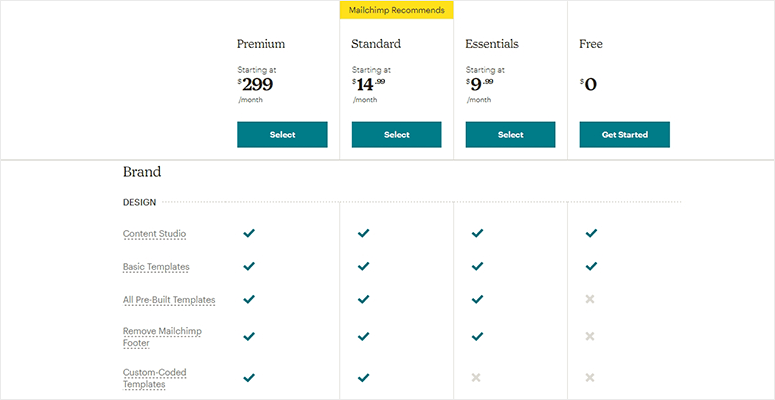 You can also check out the difference between all plans offering insights and optimization features. Comparative reporting and multivariate testing options are only available for the Premium plan.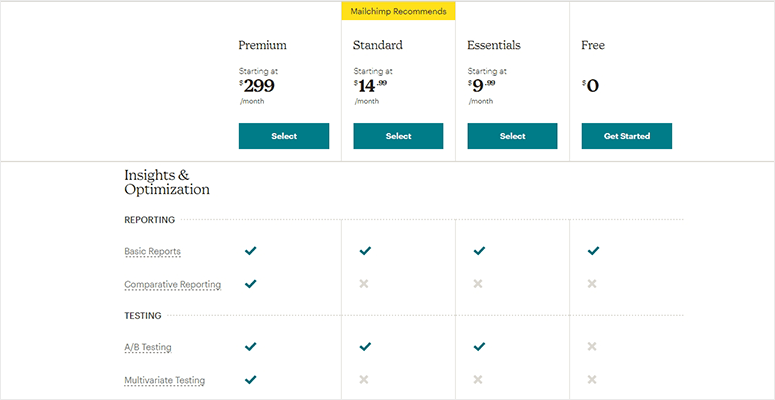 Lastly, Mailchimp customer support is limited for the free plan. However, priority phone support is only available with the Premium plan.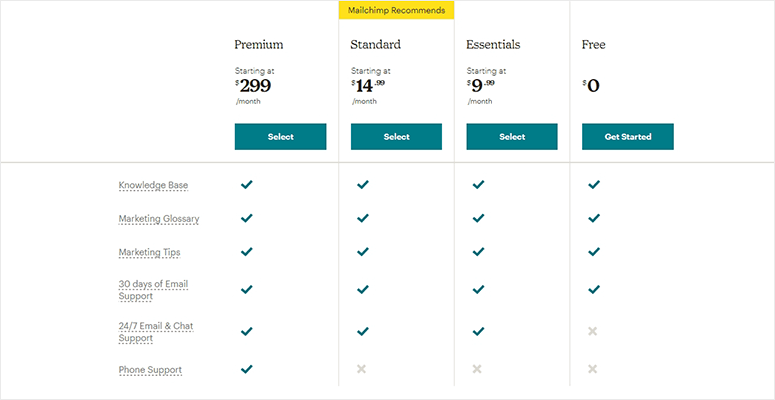 With this detailed comparison on Mailchimp pricing, you can easily choose a plan to get started with email marketing.
Mailchimp Pricing for Nonprofits
Mailchimp has special pricing for nonprofits and charitable organizations. If you're a nonprofit business, simply sign up on the Mailchimp website for a free account and connect with their billing team.
For all plans, they offer a flat 15% discount. However, you need to have a website for your nonprofit or charitable organization that you can share as proof to get this facility.
Mailchimp Discounts
The discounts that come with your own safety and security are the best kind of discounts. Mailchimp offers a flat 10% OFF for 3 months on the activation of two-factor authentication.
You need to use an app like Google Authenticator or SMS two-factor authentication. Simply add it to your Mailchimp account and receive a 10% discount for the next 3 months.
For more details, you should check out our recommended list of the best WordPress security authentication plugins.
Payment Methods and Currency Support
With Mailchimp, you get multiple payment methods. This includes all major credit cards, PayPal, and direct debits (respective to selected countries).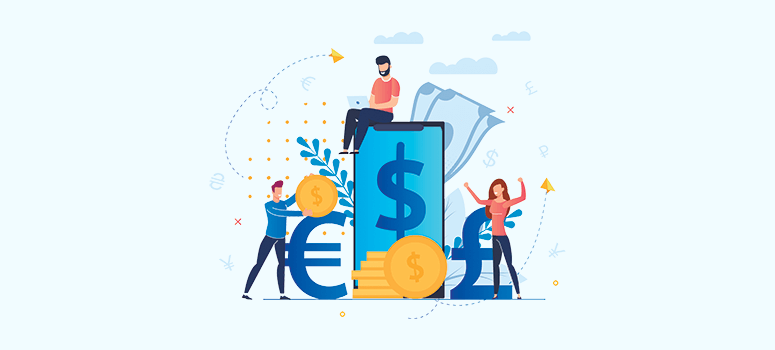 Mailchimp also supports several currencies, including US Dollar, Singaporean Dollar, Australian Dollar, Euro, GB Pound, Japanese Yen, Indian Rupee, and so on.
When it comes to payments, Mailchimp is quite flexible and fast in the process. You can always talk to their billing team for any payment related questions.
Switching Plans
When your business grows, you need to upgrade the features of your email marketing service. Mailchimp makes it easy.
It comes with 4 different options starting from the Free plan to the Premium (top-notch) plan. Mailchimp is fully scalable and you can switch to an upward plan right away by going to the billing page from your Mailchimp's account.
Popular Mailchimp Alternatives
While Mailchimp offers bundle solutions, it's quite expensive for small businesses to send emails. When you add more contacts to your plan, it can quickly become out of budget.
Also, the Mailchimp pricing structure is complex for beginning users.
There are many other email marketing services for small businesses that you can use as Mailchimp alternatives, including Constant Contact and SendinBlue.
Constant Contact is the best email marketing solution with more features than Mailchimp. And, it's pocket-friendly for small businesses to grow email lists.
In their starter plan, you get all custom templates, A/B testing, email automation, and more.
You should also check out our complete guide on Constant Contact vs Mailchimp for more details.
Plus, SendinBlue is another excellent email marketing software. It comes with useful tools for email marketing, SMS marketing, CRM, transactional emails, and advanced segmentation.
When you compare them with Mailchimp, SendinBlue offers a simple pricing structure and more contacts in their Lite plan making it feasible for small businesses.
Conclusion
If you're a small business and want to start with a free plan, then you may consider Mailchimp. However, as soon as your business starts growing and you plan to scale your email plan, Mailchimp will become expensive.
With the features it offers, Mailchimp may not be the best option for startups and small businesses.
And, when there are many better options available on the market, it's always good to compare plans before you select an email marketing service for your business.
That's all for now. We hope this article has helped you understand Mailchimp pricing.
You may also want to check out our guide on best email capture tools to grow your email lists quickly.