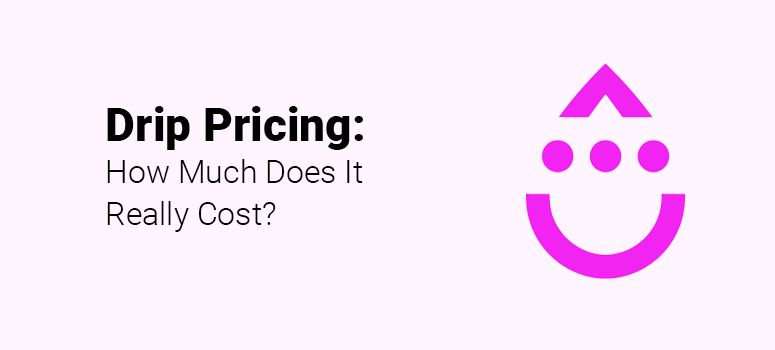 Are you looking for a breakdown of Drip's pricing and plans?
Drip is a popular email marketing and CRM solution for eCommerce stores. It comes with multiple tools to build engagement and strong relationships with customers to increase your sales.
It sends targeted emails (both promotional and transactional) to generate more revenue. You also get post-purchase support with Drip to build long-term customer loyalty. But how much should you pay for an eCommerce email marketing service?
In this article, we'll share the full Drip pricing breakdown to help you select an email service for your website.
This post will not only cover Drip plans (because you can find that information on their website easily). But we'll also explain which pricing plan is suitable for which type of user.
Drip's pricing model is based on the total number of contacts you have, and you can start by paying an initial fee. We'll elaborate more on their features and make it simple for you.
For a better understanding, you should also read our complete Drip review.
Note: We made a table of contents for you to jump quickly to your preferred section. However, we put a lot of research and time to make this an interesting read for you, so you may want to go through it all!
Table of Contents
Quick Overview: Drip Price
If you're in a hurry and want to take a quick look at Drip pricing, then you can read this first section. However, we recommend you read the full article for a better understanding of Drip pricing and plans.
Drip has a simple pricing structure based on the total number of active contacts. It comes with an initial fee, and then you can enter the total number of contacts in your list to get an estimated price.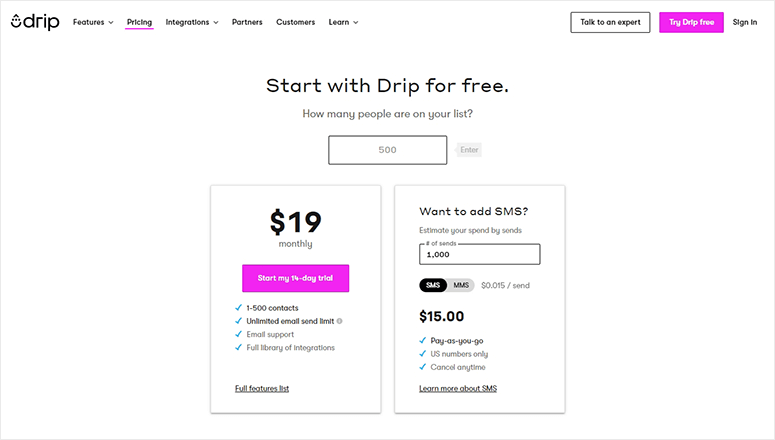 Free Trial: You can start with a 14-day free trial with all the features except SMS marketing. Drip's free trial includes an easy-to-use email builder, beautiful email templates, eCommerce features, and more. It lets you send 20,000 emails to your contacts during the free trial.
Premium Plan: Drip offers a pay-as-you-go model for their premium plan. It costs $19 per month for up to 500 contacts and unlimited emails. It comes with behavior tracking, A/B split testing, list pruning, and more. This plan also includes SMS and MMS marketing with an additional cost.
Custom Plan: For a large scale business with over 150,000 contacts on your email list, you'll need a custom Drip pricing plan. The price of the custom plan varies each month depending on the active contacts. You can look at the demo to check all features and connect with Drip's billing team for an estimated price.
This is a simple overview of Drip pricing and plans. You should keep reading below for a complete and detailed analysis of Drip features with prices.
Drip Pricing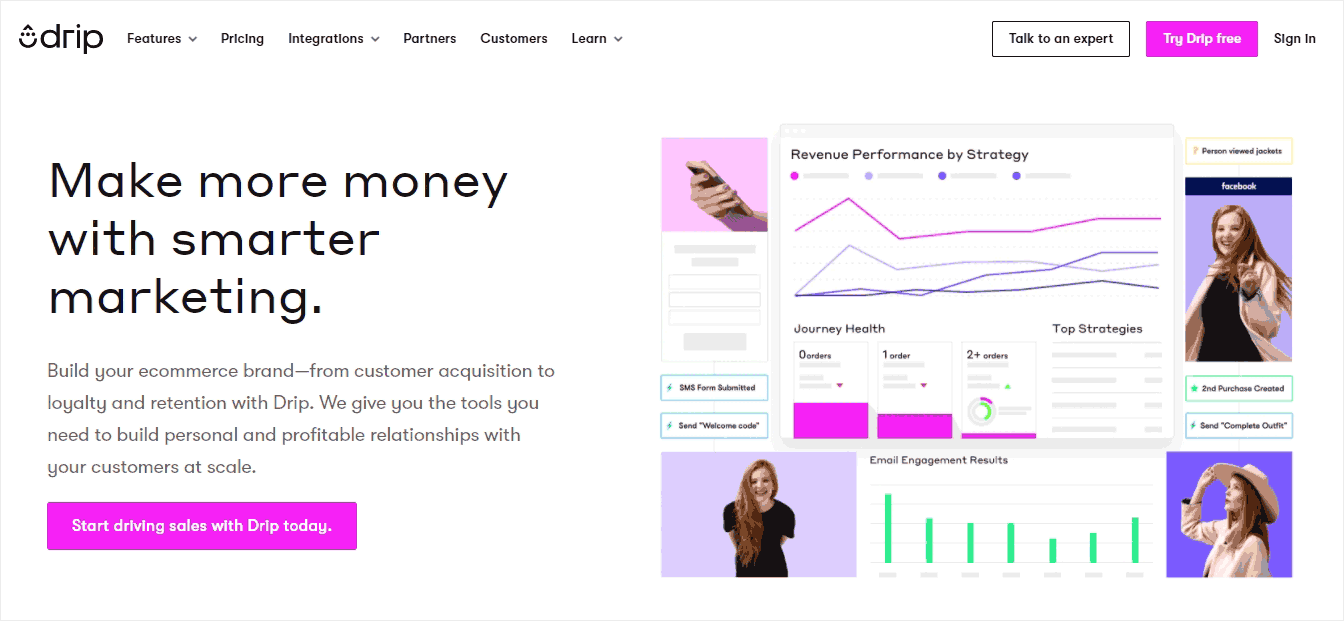 Let's take a look at each of the Drip pricing plans one by one, starting with Drip's free trial.
Free Trial
Drip offers a 14-day free trial to start with email marketing and automation. During this period, you can integrate Drip with your application to test all the features and options for free.
The free plan limits you to 20,000 emails. Other than that, you can take advantage of all their features, including visual email builder, workflow editor, dashboards, integrations, custom tracking, and more.
It doesn't require your credit card details, and you'll be prompted after 14 days to add payment details to continue using the Drip email marketing service. If you don't provide payment details, then all campaigns and forms will become automatically made inactive.
After starting the free trial, you can also upgrade anytime from the billing page on your Drop account. As soon as you add your payment details, you'll be entitled to use unlimited emails, SMS, and MMS marketing.
Price: $0 for 14 days and only 20,000 emails.
Premium Plan
Drip's Premium plan gives you access to all the features, including unlimited email send limit, email support, full integrations, SMS and MMS marketing, liquid templates, and more.
It comes with a powerful email builder that you can use to create professional emails. It lets you add recommended products, top-selling products, abandoned products, and other items to your email.
The Premium plan has advanced A/B split testing to find the best subject lines, header, email content, and so on. You can compare the performance of two different emails with the same audience to understand which email campaign works better for your users.
Drip lets you define custom rules for your contact list. You can create groups and add tags to your contacts based on the data you have about your customers. It lets you display or hide lead generation forms to certain users according to your contact group settings.
With detailed analytics and performance reports, you'll know which email campaign works well for your business. This way, you can improve your content to send more productive emails to your users. It also provides reports on event tracking, behavior tracking, and engagement tracking through which you can monitor your customers' activity on your website and send more personalized emails.
In the Premium plan, you'll also get a Facebook audience integration tool that helps design Facebook ads for your products and increase your revenue.
Price: The starting cost of the Drip's Premium plan is $19 per month for 500 contacts. The more contacts you add, the more you pay.
Custom Plan
Drip's custom pricing is not complex. It has a single plan with a starting cost, and your email marketing expense increases with the growth of your contact list.
However, if your email list reaches over 150,000 contacts, you need to connect with Drip's billing team to design a custom plan and continue with your email marketing services.
Price: The price varies each month based on your active contacts. Though initial pricing will stay the same, and you can still take advantage of all features.
Drip Price Comparison
Drip only offers 1 plan, so there's no proper comparison of pricing plans. However, you can look at their features breakdown to see what's available in the free trial and premium plan.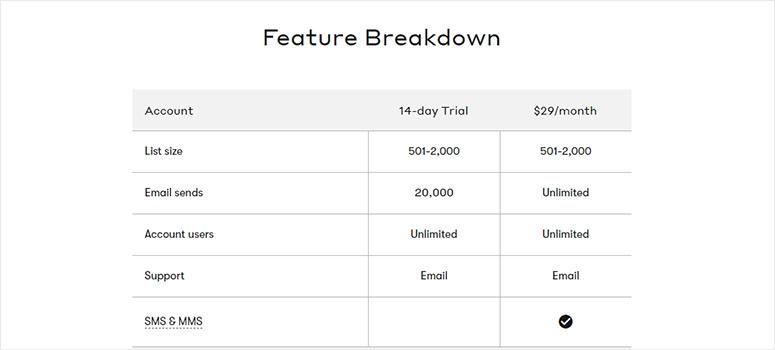 Currently, the 14-day free trial has a limit of 20,000 email sends. And it doesn't include SMS and MMS marketing. Since you don't need to provide your credit card details during the trial period, you can easily test all their features without paying a thing.
On the other hand, if you upgrade to their paid plan, then you can add as many contacts as you need and send unlimited emails. It also lets you send text messages to your users as part of your marketing campaigns.
Scalable Pricing
Drip offers scalable pricing, and that's really helpful for small businesses. With scalability, you'll only pay for the services you use. Plus, it changes the pricing as needed, automatically.
So, how does it work?
Drip's pricing is based on the number of contacts in your email list and the volume of emails you send during the month. If you exceed the active contacts limit, then it'll upgrade your plan, and your services will continue to work without any problems.
This also works in the opposite situation when you have less active email contacts than your plan. Drip downgrades your plan to a level required for your website for email marketing campaigns.
Drip Customer Support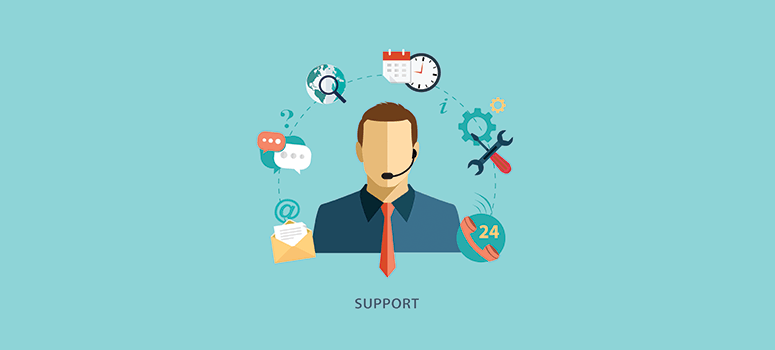 Drip's customer support is also based on your pricing plan. If you're a paid customer below $99 per month, then you can connect to the customer support team through email.
However, premium customers with a plan above $99 per month can access live chat support from Drip's experts. The customer support operates during working hours (9 AM to 5 PM CT) from Monday to Friday.
Drip Alternatives
Drip has a pay-as-you-go pricing model, and users are forced to follow it. There's no flexibility in terms of pricing packages and feature breakdown accordingly. And, there's no free plan.
Though Drip works for general business websites, they claim to be an eCommerce marketing platform. If you're an online store, then Drip can be a good choice to start with email marketing.
However, there are other email marketing services for small businesses that you can use. Constant Contact and SendinBlue are two of the top Drip alternatives.
Constant Contact is the best email marketing solution with tons of features and options. It lets you send unlimited emails to your contacts with the basic plan. Each plan has custom email templates, a powerful email builder, A/B testing, email automation, and tracking.
It also works with eCommerce websites out of the box, making it a direct Drip alternative.
And SendinBlue's pricing is quite flexible. They also offer a free plan for beginner users. The paid plan starts at $25 per month for 10,000 contacts and no email sending limit daily. When it comes to features, it has A/B testing, advanced segmentation, and complete statistics.
SendinBlue has multiple pricing plans from beginners to advanced users, making it a great Drip alternative.
Conclusion
Drip's pricing is flexible with the pay-as-you-go method. You pay for the services that you use, and it changes automatically. For eCommerce businesses, Drip can be the right choice for email marketing.
With powerful integrations, you can easily connect your eCommerce platform with Drip and boost your sales. It offers workflow automation and built-in workflow libraries to do all the heavy lifting for you.
And that's it for now! We hope this article has helped you understand Drip's pricing.
You may also want to check out our guide on best WordPress CRM plugins for small business websites to connect and build relationships with customers.