Are you looking for a premium and powerful email marketing solution? Do you want to know if ConvertKit is the right choice for you?
ConvertKit is a popular but relatively new email service provider on the market. In the last few years, it has evolved from an email platform to an all-in-one marketing solution for content creators.
In this ConvertKit review, we'll go over the features, pricing, and other factors to determine whether ConvertKit offers everything you need to create awesome email marketing campaigns for your customers and subscribers.
We'll be reviewing the ConvertKit platform in depth so we've created a table of contents for you to make it easier to navigate this post. Feel free to skip to the section that interests you the most.
ConvertKit Review: Summary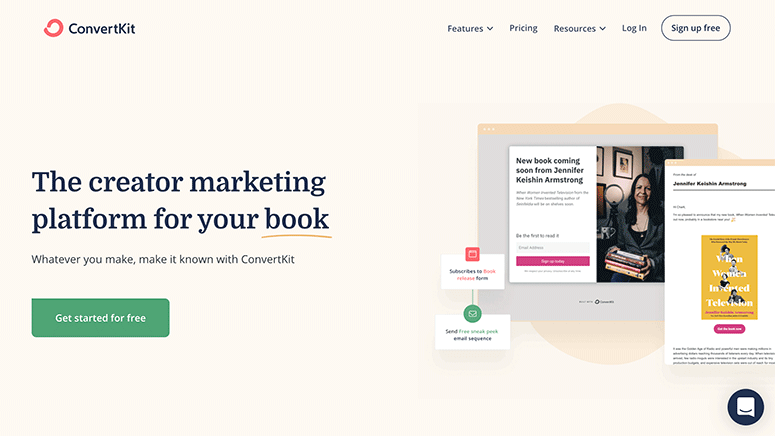 ConvertKit is a marketing platform designed to help content creators monetize their work. It helps you grow your audience, create a community, and sell products to earn a living online.
There's a landing page builder, signup forms, email designer and automation services, eCommerce options, and more.
This makes ConvertKit more than just a regular email marketing software but rather a complete email marketing and automation platform.
As an email service, ConvertKit lets you send email broadcasts, transactional emails, and automated campaigns. It has an advanced reporting system that gives you insights on email open rate, click-through rate, and other details you need to improve your email campaigns.
ConvertKit is a bit expensive when you compare it with other email marketing services. The ConvertKit free plan is for absolute beginners with minimum subscribers, but as your subscriber count grows, the price for email marketing plans increases exponentially.
If you're looking for a solution that focuses on email marketing, alternatives like Constant Contact offer more flexibility and features at affordable pricing.
ConvertKit Features
ConvertKit has a lot to offer but is designed to suit a particular niche. Let's explore its features to see if it's truly what you're looking for.
1. Email Marketing Campaigns
ConvertKit's email marketing tool is built for creative professionals to design beautiful email campaigns. It's beginner-friendly but there's a learning curve to using the tools and editors.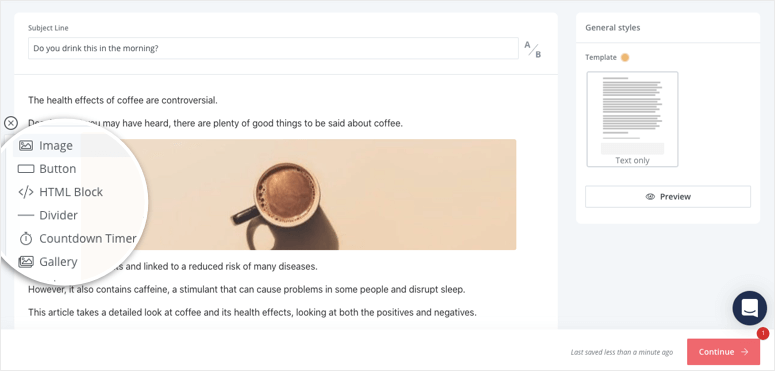 You can take advantage of:
Branded email templates
Inline styling options
Add buttons, images, and videos
Simple interface, and more
Visual builder
Plus, ConvertKit lets you customize a default email template that you can use every time you send emails to users. You'll only have to make a few changes to the content so you'll save a ton of time.
2. Email Broadcasts
Email broadcasts are one-time emails sent for announcements, updates, weekly newsletters, and more. These are bulk emails and you need to make sure subscribers have given you their permission to send them marketing emails.
ConvertKit lets you easily segment your audience so that the right subscribers are in your broadcast list. You can then add filters to your email list before you send it out.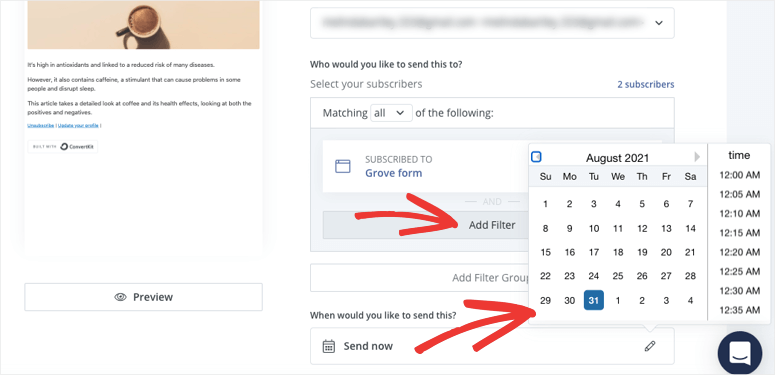 You can create and send emails right away or yu can also choose to schedule email broadcasts for another time or day. This lets you work ahead of schedule and have marketing emails sent out regularly without fail.
3. Automated Email Marketing
ConvertKit has an advanced email automation system that tracks the user journey and sends emails accordingly.
The best part about ConvertKit's email automation software is that it lets you write custom emails based on the users' behavior and set up emails automatically.
You can choose the event that triggers an action. So for instance, if a customer buys a product, you can trigger an email to be sent out to the customer immediately to confirm their purchase and welcome them to your brand. You can even create conditional rules to be met for the automation to take place.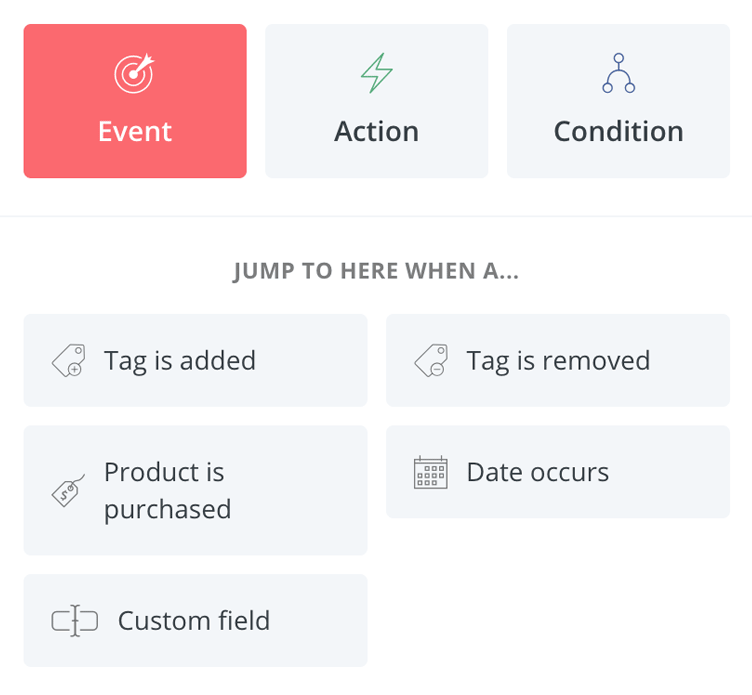 ConvertKit also lets you create automated replies to users to make sure customer aren't left waiting for long hours when you're on break or time off.
Whether you're busy growing up your business, ConvertKit autoresponder can take care of the email responses and marketing on your behalf.
4. Landing Pages
ConvertKit comes with a variety of landing pages templates to help create a dedicated page to sell, promote, and market your product, service, or art. You can use this page as a centralized location to direct interested people from social media, online ads, and other platforms.
Inside ConvertKit's landing page builder, you'll find a template to suit every marketing goal you have.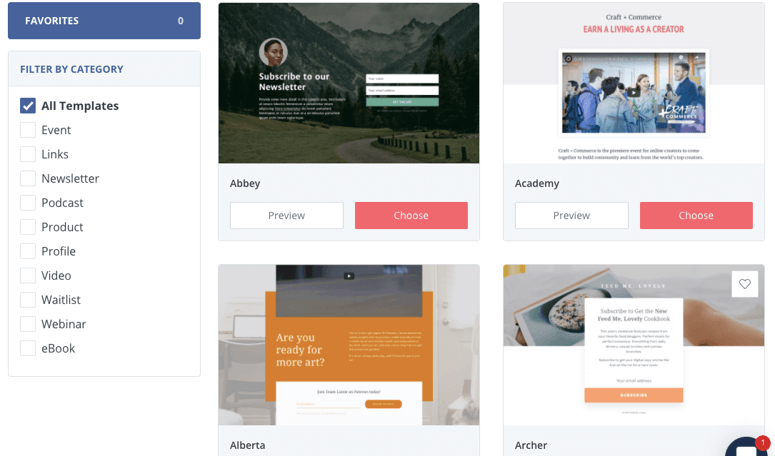 To customize the page or form, there's a drag and drop landing page builder. You'll never need to touch any coding. You'll see a preview of your page that you can edit in real time so you'll know exactly how it would look when it's live.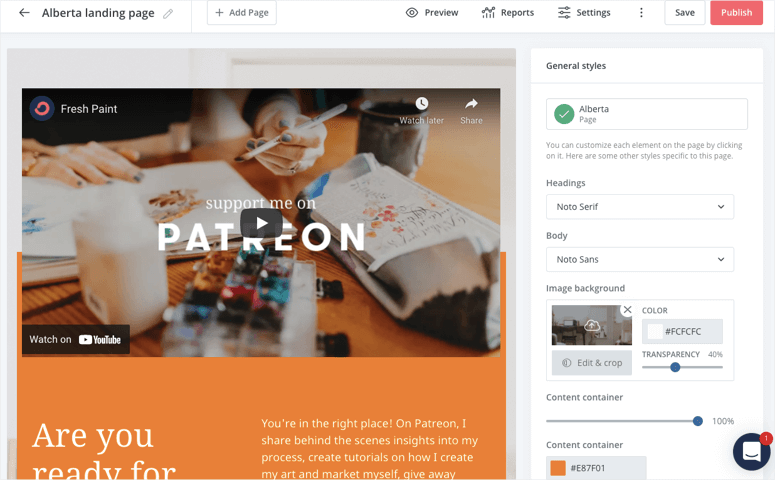 When you're done customizing your page, you can preview and publish it. So it's really easy to start marketing and selling your content with ConvertKit.
Having said that, ConvertKit's landing pages are quite limited in terms of features and funcationality. These landing pages are enough if you're a small-time content creator and are just getting started. But as you grow, you'll want to expand and when you do, creating a website on WordPress will be your best option.
5. Signup Forms
You can add a signup form to your landing page to capture leads and subscribers. ConvertKit lets you offer a digital incentive such as a free eBook to users if they join your email list.
You can create 4 kinds of forms: inline, modal, slide in, and sticky bar. So you'll have a few opportunities to grab the visitor's attention.

There are lots of form templates to choose form. Plus, form builder is similar to the email and landing page editor. So you'll find it easy to create and customize your signup form.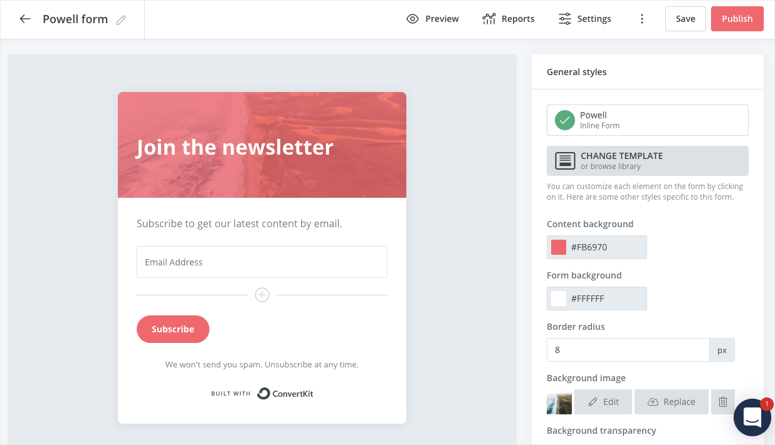 ConvertKit will manage the automatic delivery of the digital download upon sign-up. You can change the incentive as per user interests from time to time to build and grow your email list faster.
6. Email List Management
With a subscriber-based system, you can rely on ConvertKit to segment your contacts to stay organized. It lets you create a single email list and add tags for each user so you won't have to create multiple lists.

The tags let you easily identify your audience's interests and what they signed up for. So you can create highly-personalized emails and target your subscribers better.
ConvertKit also offers a filtering system to create user groups based on tags, custom form fields, locations, and more. It gives you a choice to manage users manually and send emails as you need.
6. Advanced Email Funnels
ConvertKit's automation features let you create email funnels. This means you can set up automated workflows to control a user's journey through your marketing funnel.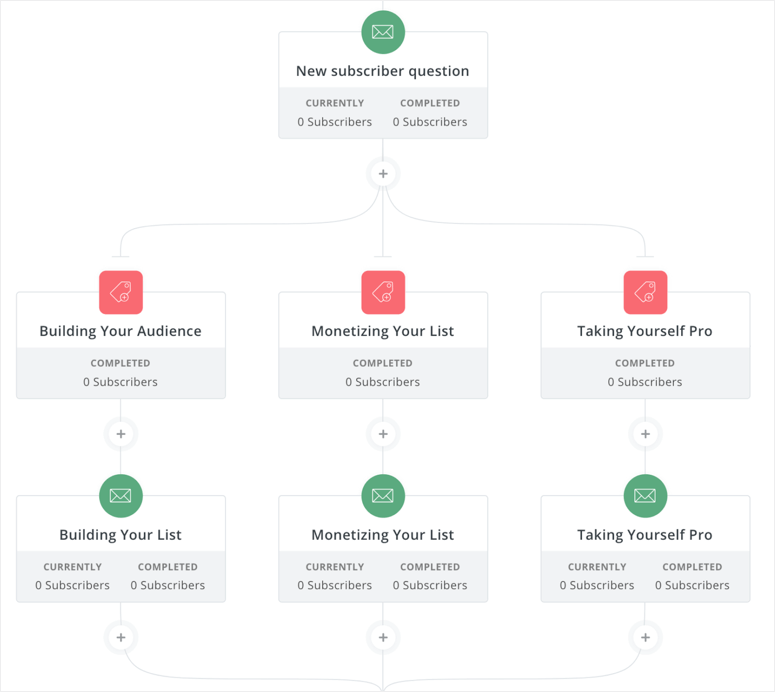 In simple terms, you can send targeted emails built for custom audiences at the right time. And based on their interaction, you can send follow up or reengagement campaigns.
ConvertKit's email automation software learns from user behavior to always send welcome emails, product launch emails, daily offers, and more to the right users.
It also comes with smart filters to let you control the email funnel system. You'll be able to automate your marketing and slash admin time.
ConvertKit Pros and Cons
ConvertKit is quite an impressive platform but it does have its pros and cons. We keep our reviews fair so that you can genuinely decide whether this email solution best fits your needs. So let's take a look at where ConvertKit excels and where it falls short.
ConvertKit Pros
Free Plan: The ConvertKit free plan is actually free with no hidden charges. If you have a small subscriber list, then you can use basic ConvertKit features for free. This includes email broadcasts, landing pages, and signup forms.
User-friendly Builders: ConvertKit comes with dozens of templates and drag and drop builders that are easy to use. You can customize your email campaigns, landing pages, and sign up forms using the same interface.
Automated List Management: It's easy to manage email lists of all sizes by tagging users based on the behavior and form submissions. The complete process works automatically and you can also filter users to send targeted emails.
Impressive Support: There are multiple support channels and a dedicated community forum. The free plan has basic support while ConvertKit paid plans get premium support from email marketing experts.
Paid Newsletters: ConvertKit lets you create premium newsletters that people can subscribe to. This feature lets you monetize your email marketing as well.
ConvertKit Cons
Affordability: The paid plans are expensive and out of the range for a small business. As your susbcriber list grows, the price goes up and beyond.
Features: ConvertKit lacks some of the advanced tools and features that you can find with other email marketing solutions.
Limited Email Templates: There are very few email templates compared to what other platforms offer. Some of the templates are text based and lack visual appeal.
ConvertKit Pricing
The great part about ConvertKit is that the basics are absolutely free! This makes it a really good choice for beginners but keep in mind that it may be difficult to switch platforms later on if you decide to do so.
Coming to the pricing, ConvertKit offers 3 plans:
Free
Creator
Creator Pro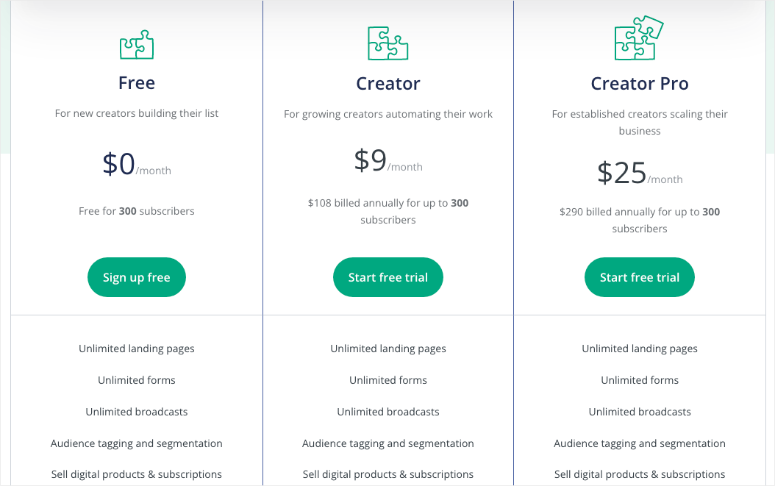 The ConvertKit Free plan is limited to 1,000 subscribers with basic features and limited support. This plan is generally built for users who want to try out ConvertKit's email service before purchasing a premium plan.
The ConvertKit paid plans include Creator and Creator Pro. These plans are structured based on the number of subscribers you have.
ConvertKit Creator plan allows you to migrate from another email marketing tool to ConvertKit for free. This plan also offers automated email funnels and email sequences that you don't find in the free plan.
The pricing for the ConvertKit Creator plan starts from $9 per month. You get unlimited forms, landing pages and broadcasts.
The Creator Pro plan comes with a subscriber scoring option, a newsletter referral system, and advanced reporting. You can also create custom Facebook audiences to share your content and get traffic and potential leads from social media.
The pricing for the ConvertKit Creator Pro starts at $25.
When you bill annually, you'll basically get a 2-month free email marketing service on Creator and Creator Pro plans.
For more and complete details, you should check out our guide on ConvertKit pricing and how to get the best deal.
ConvertKit Alternatives
ConvertKit is one of the popular email solutions on the market. It has premium plans and an advanced subscriber management system that has no comparison.
However, it still lacks basic features that you can find with other email services with better pricing plans. Here are some of the ConvertKit alternatives that you should check out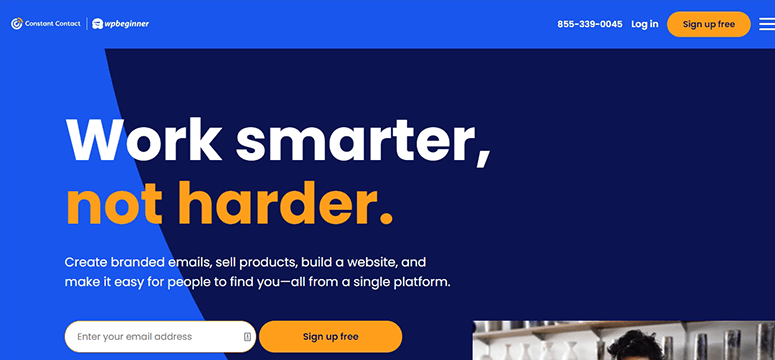 Constant Contact is the most popular email marketing software and a reliable one too! It has a deliverability rate of 98% so you can be sure your broadcast emails reach the inbox.
Constant Contact has a powerful drag and drop email editor to customize and design beautiful emails. It also includes eye-catching and visually attractive email templates.
When it comes to pricing, Constant Contact paid plans are less expensive than ConvertKit. Their basic plan has app integrations, advanced reporting, and eCommerce email marketing features. See our Constant Contact pricing guide to find more details.
2. Sendinblue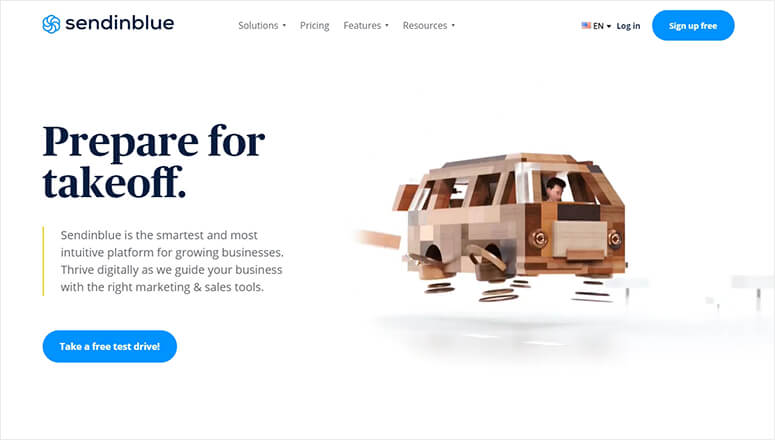 Sendinblue is another well-known email marketing solution. It offers several communication options, including email, SMS, live chat, and more.
Sendinblue has CRM software to manage clients and build relationships with customers. It also comes with marketing automation, signup forms, landing pages, Facebook ads, and transactional emails.
The free plan that may not be as good as ConvertKit but its paid plans are affordable and pocket-friendly for small businesses. Check out the Sendinblue pricing guide to learn more about the features and plans.
Conclusion: Is ConvertKit Worth the Money?
ConvertKit offers quality features that are worth having in an email marketing solution. This includes:
Powerful subscriber management features like user tagging and filters
Email marketing automation and smart funnels
Landing pages and signup forms to grow your leads
Lots of opportunities to monetize your content and sell products
Highly personalized and targeted email marketing
When it comes to pricing, ConvertKit is comparatively expensive and goes out of budget for many small businesses.
If you're a content creator looking for an easy way to monetize your content and make a living from it, ConvertKit is a good option for you. But if you already have a website and need an email service provider then we recommend looking at the alternatives we suggested.
That's all we have for you. We hope this ConvertKit review helped you decide if it's the right email marketing software for your website.
If you like this review, you should also check out our guides:
These articles will further help you improve your email marketing campaigns, build an email list, get new leads, and take your business to the next level.
Get ConvertKit »
Get Discount Coupon »