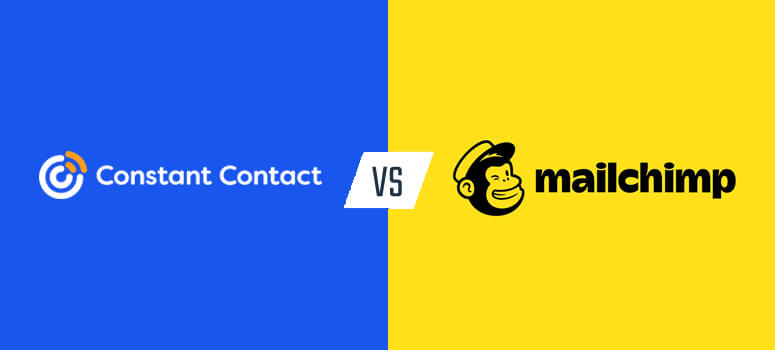 Constant Contact and Mailchimp are 2 of the best email marketing services on the market. But which is truly the email marketing solution: Constant Contact or Mailchimp?
The good news is that both these service providers are two popular names and each has its own set of advantages.
By deciding to choose between Mailchimp and Constant Contact you've already made a good start. With our unbiased comparison, we'll help you decide which one is the best choice for you.
Constant Contact vs. Mailchimp – Table of Contents
In this Mailchimp vs. Constant Contact comparison, we'll mainly look at 6 aspects.
1. Overview
Mailchimp and Constant Contact are 2 excellent email marketing services that let you build and grow your email list.
While Mailchimp was originally built as an email marketing service provider, it now provides a lot of different marketing suites in a platform. Aside from email marketing, it lets you create landing pages, ads, and a lot more.
You can also click here to download our FREE PDF of Mailchimp alternatives.
On the other hand, Constant Contact is an easy-to-use email marketing service that comes with all the essential features to kick start your email marketing. It comes with tons of customizable email templates that help you get a head start.
2. Ease of Use
Constant Contact makes it easy to build your list building campaigns. It comes with a drag and drop editor which makes it easy to customize your email templates like a pro.
With its optin form builder, you can build an optin form quickly and easily and embed it anywhere on your site.
The drag and drop editor comes in handy for creating an email newsletter but you don't necessarily have to start it from scratch. Just pick from their templates, customize it and start building your campaign.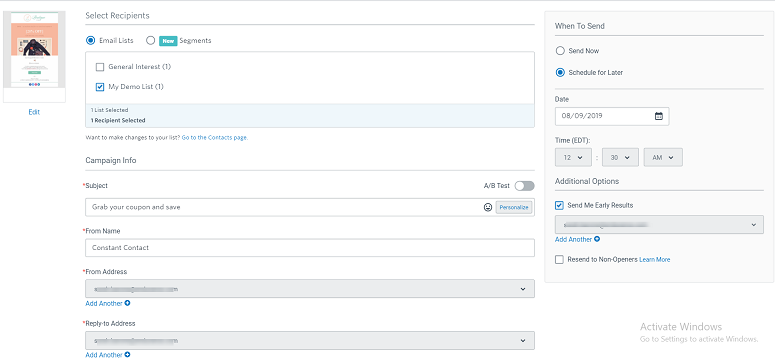 Mailchimp too lets you create different email campaigns for your business. You have the option to create your campaigns related to emails, automated emails, ads, post cards, social posts, signup forms and landing pages.
Compared to Constant Contact, Mailchimp has a steep learning curve to tackle. It's more of an all-in-one marketing tool than a beginner-friendly email service provider. The more features that are available out of the box, the steeper the learning curve will be. MailChimp is no different.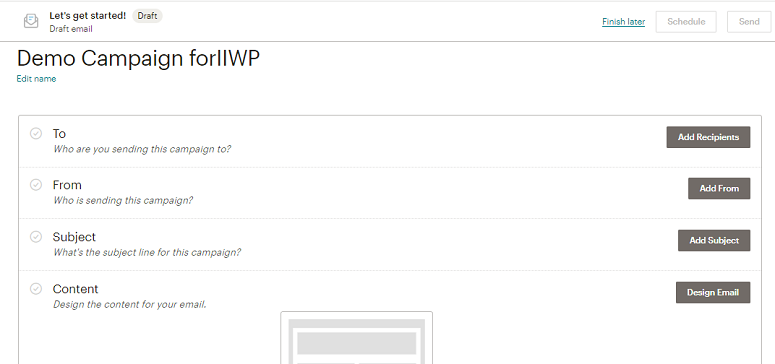 Winner: Constant Contact
3. Flexibility in Design
Constant Contact offers great flexibility in terms of styling and designing your campaign templates. You can either build your campaigns from scratch or use a pre-built template right away. You can add images, buttons, texts, action blocks and more with just a click of the mouse.
It also offers great flexibility for choosing your font, changing colors and even the layouts. If you want, you can also change the color of the links as well. Before publishing your design, you can have a quick preview too. To avoid any silly errors, it also offers an option to check for errors. By clicking on this option, you will see all the words or elements with missing links.

Mailchimp has a decent number of pre-built templates and each of these are fully customizable. You'll also find it easy to pick your templates with Mailchimp because they are grouped into categories. So if you want a marketing-related template, you can directly jump into the specific category and find your template.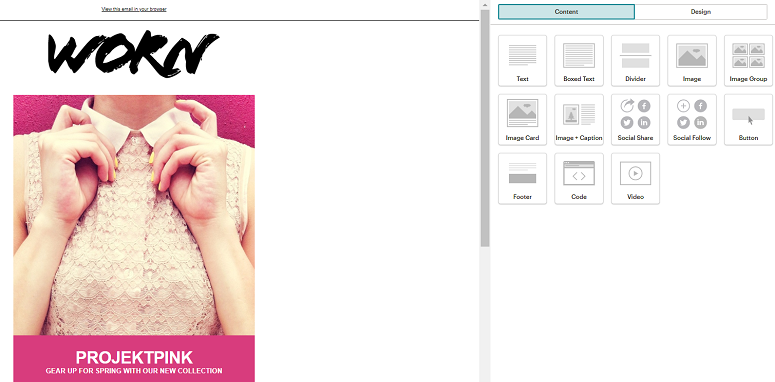 Winner: Mailchimp
4. List Management and Segmentations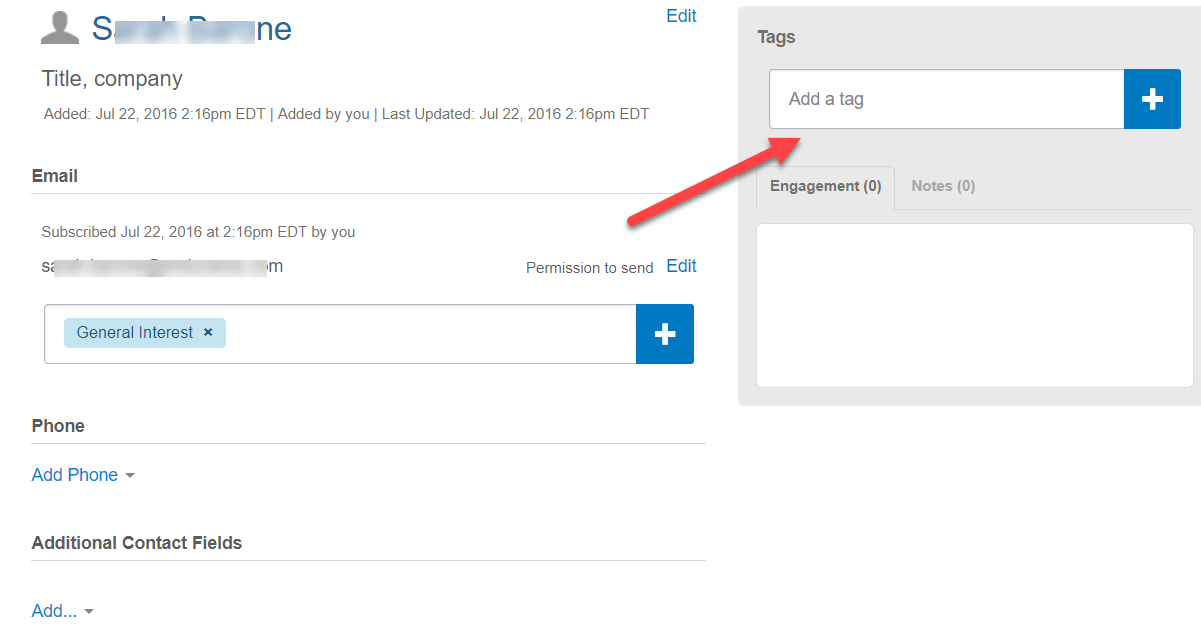 Segmentation allows you to send personalized emails to your leads. It's the process of adding your leads into a distinct group on the basis of common interests. When you send emails to each group catered to the common interest, they're more likely to be opened, read, and engaged.
Both Constant Contact and Mailchimp let you segment and manage your email list quickly and easily. With Constant Contact, you can manually add tags and upload your contact lists from spreadsheets.
Mailchimp provides you with more ways to segment your leads. You can also set up a lot of automation triggers based on customer's activities, like subscribe to a list, purchase a product, download your ebook, etc.
Winner: Mailchimp
5. Deliverability
An email is delivered when it's reached successfully in a recipient's inbox. Constant Contact has a delivery rate of 97%. This is one reason of the reasons why a lot of users have opted for Constant Contact.
Mailchimp, on the other hand, has a delivery rate of 96% – 99%.
Winner: It's a tie.
6. Support
Constant Contact offers excellent support and allows you to reach out to them via chat and phone calls. If you're looking for an excellent customer support, we wouldn't recommend Mailchimp because their support is hard to get a hold of.
Winner: Mailchimp
7. Pricing
When it comes to pricing, Mailchimp beats the pants off all their competitions with their free forever plan. For Constant Contact, the pricing starts at $5/month. With that plan, you can send 10,000 emails per month. All other plans allow you to send unlimited emails.
Winner: Mailchimp
Constant Contact vs. Mailchimp: Our Verdict
If you're new to email marketing and are looking for an easy-to-use email marketing platform, then we'd recommend you opt for Constant Contact. Not only does it provides you with all the essential features you'll need to grow your email list, but it also offers excellent customer support, which comes in handy as you're starting out. Their drag and drop email builder and a wide variety of email templates make it easy to run an email marketing campaign. And it is also due to this that Constant Contact has made to our list of the best CRM software for email marketing.
On the other hand, Mailchimp is the best option for users who need an all-in-one marketing suite. With Mailchimp, you can get started with email marketing for free. However, there's a bit of learning curve to tackle and their support is hard to get ahold of. You'll have a hard time figuring out how to build an email newsletter campaign with Mailchimp.