Looking for a clean and modern business WordPress theme? Nectar is a responsive WordPress theme that is perfect for any kind of creative, business or non-profit use. In this Nectar theme review, we'll show you its features and if it is the best choice for your needs.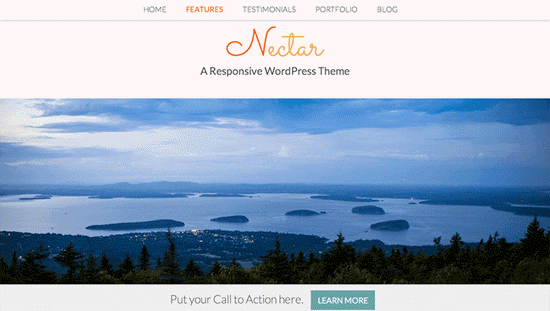 About Nectar
Nectar is one of the most popular business themes on Mojo marketplace. The theme was released by Bottomless Themes led by Adam Mills.
The Nectar theme allows you to make all the customizations using the theme options panel without any programming skills. The intuitive theme panel makes customization a breeze. All you need to do is to go to your theme options panel, check a box or enter some plain text.
Nectar comes with a responsive design, retina optimized view, parallax slider, custom homepage and much more.
Let's take a detailed look at Nectar Mojo theme and its key features.
3 Custom Post Types
Upon installation, Nectar adds 3 different custom post types to the taskbar in your WordPress dashboard that allows you to create advanced layouts with ease.
Projects: Showcase your works or artworks in an attractive grid layout.
Slides: Display beautiful slideshow on the homepage of your site
Testimonials: Add social proof to your site by featuring what your customers have to say about you.
Highly Customizable Homepage
Nectar lets you create a highly customizable homepage with ease. You can welcome your audience with a parallax slideshow. Just below the slide, you can highlight an attention grabbing call to action.
In your homepage, you can also show off featured pages, testimonials and blog posts.
The theme supports 3 footers. To populate content, simply drag a widget to the footer widget area.
Nectar also allows you to make your homepage widgets different from the rest of your site.

Intuitive Theme Options Panel
The theme options panel lets you easily customize the design of your site without any programming knowledge.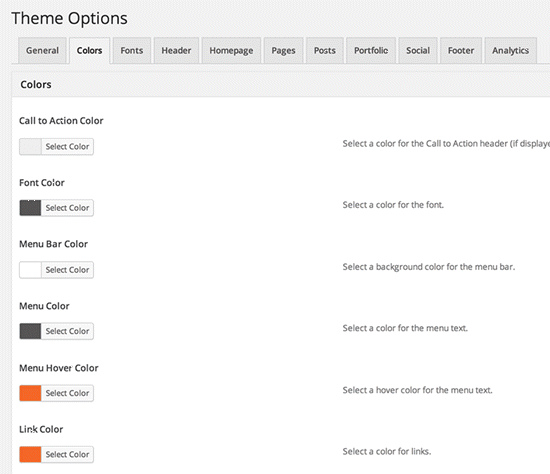 In your theme options panel, you'll find options to customize your header, fonts, colors, Analytics and much more.
Slider
The main attraction of the Nectar theme is its parallax slider. If you're not fond of the parallax effect, you can easily disable it in your theme options panel. You can also adjust the slideshow interval and even disable auto-playing.
To add slides, you need to use the Slides post type.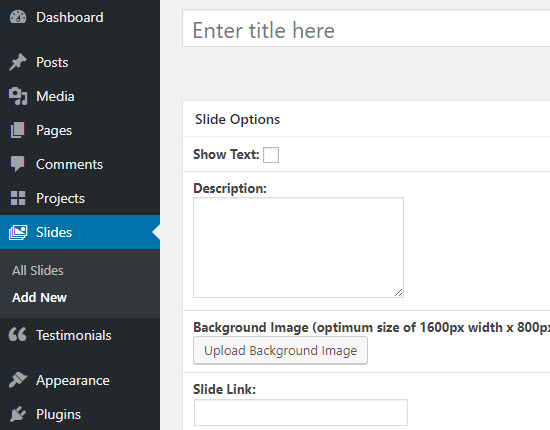 Testimonials
You can use the Testimonials post type to add testimonials to your site.
In the testimonial edit screen, you'll find a meta box to add a testimonial URL the helps you increase the credibility of your site.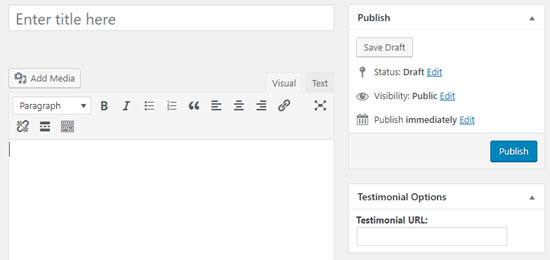 After adding testimonials using individual pages, all of them will get populated in your testimonials page.
Projects
Nectar allows you to feature your projects using the Projects post type. You can categorize your projects based on the skills you add.
You can highlight all your projects in your portfolio page and configure the portfolio home URL by visiting the theme options panel.
Social Icons
Nectar makes it easy to display your social networking profiles. You can display icons of all the major social networking sites including Facebook, Twitter, Google+, Pinterest, Instagram, LinkedIn, YouTube, Tumblr, etc. and configure its link in the theme options panel.
Page Templates
Nectar comes with the following template types: Default, Blog, Full Width, Homepage, Portfolio and Testimonial.
Default: It is the main template that contains a sidebar widget area.
Blog: It can be used to display your blog posts when the homepage is set using the Homepage template.
Full Width: The Full Width template displays no sidebar.
Homepage: You can use this template to create an advanced homepage layout just like the demo page. You can configure the content by navigating to the theme options panel.
Portfolio, Testimonial: These page templates can be confusing to some users because Nectar also comes with Projects and Testimonials post types that serve the same purpose. The main difference is that these page templates miss additional meta boxes that you can find inside those custom post types.
Documentation and Support
The Nectar theme comes with a comprehensive documentation that clearly explains how to get your site up and running quickly and easily.
Nectar is available for a one-time fee of $59 for a single site license. You can also purchase a 5-site license or a developer license. If needed, you can also include addon services with your purchase, like WordPress theme installation and WordPress site backup.
You can post your support questions by logging into Mojo marketplace. BottomlessTheme, the team behind Nectar resolves all the support queries in a timely manner.
Our Score
Nectar is one of the best WordPress business themes in the Mojo marketplace. With Nectar, you can easily get your site up and running. In case you need assistance, you can easily find a solution by referring to the documentation.
The intuitive theme options panel makes customization easy.
We give Nectar 4.8 out of 5 stars. Here is the breakdown of our review scores:
Get Nectar Now »