Want to grow your blog traffic by increasing shares on social media? Make it easy for your visitors to share the content they love with Floating Social Bar. Find out why we named it the best social media plugin for WordPress in our Floating Social Bar review.

Why You Need a Social Sharing Plugin
Looking to increase traffic to your blog? Social media sharing is one of the most effective ways to do so — but not if you're doing all the sharing yourself.
To get more traffic from social media to your blog, you've got to get others to share your content for you.
And the easier it is for your readers to share right from your blog, the more they'll do so. By adding social media sharing buttons to your WordPress site with a plugin, you're removing the friction for readers to share your posts with their friends and followers.
What Makes Floating Social Bar the Best?
Floating Social Bar is free, and it's one of the most popular social sharing plugins on WordPress.org.
That's because it's fast and lightweight, simple and beginner-friendly, eye-catching and well-designed, and it just works!
Many social plugins are huge and poorly coded, and tend to slow down your site.
Also, floating social bars in general will often block the content on your site so visitors can't read it. Floating Social Bar doesn't, since the bar sticks to the top of the page only as visitors start scrolling down.
Floating Social Bar is designed to be slim and fast. It only loads scripts when a user mouses over the buttons, and it's not bloated with hundreds of social media platforms no one really uses. Instead, it just focuses on the main platforms you'll get most of your traffic from (Twitter, Facebook, Google+, LinkedIn, and Pinterest).
It's also designed to be easy to use, with an intuitive drag-and-drop interface.
The floating horizontal bar is eye-catching and follows along with the reader, without getting in the way, so they can easily share your content no matter where they are on the page.
All these features combine to make it the best social sharing plugin on WordPress.org.
How to Set Up Your Floating Social Bar
To get started, install and activate the plugin and navigate to Settings » Floating Social Bar.
You can drag and drop your desired social media platforms from the Available Social Services area to the Enabled Social Services area below.

Under the Setting section below, you can choose to configure more options.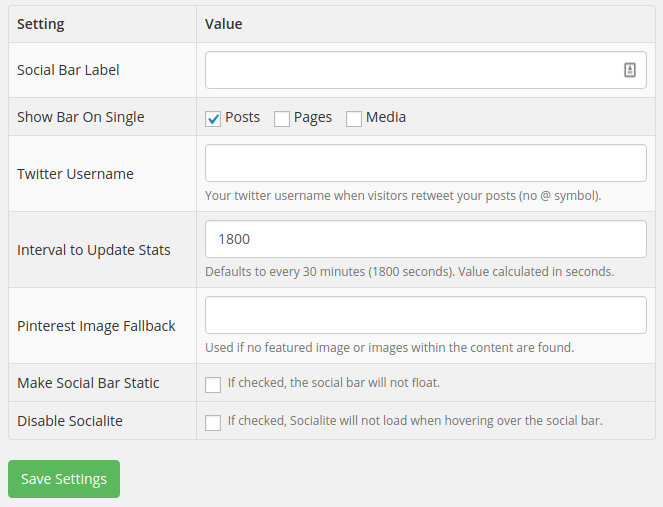 Social Bar Label: This can be left blank. Whatever text you enter will be displayed to the left of your social sharing buttons.
Show Bar On Single: Decide whether you want to display your sharing bar on pages and media attachment pages, too.
Twitter Username: Automatically include your Twitter username when your posts are tweeted.
Interval to Update Stats: Change the default time intervals for when the plugin checks for sharing counts.
Pinterest Image Fallback: Optionally choose an image to default to if no image is found on the post or page.
Make Social Bar Static: Disable the floating function so the bar stays at the top of your post.
Disable Socialite: By default, social scripts are only loaded when the user brings their mouse over the button. Check this box to disable and load the scripts when the page is loaded.
When you're finished choosing your options, click the Save Changes button at the bottom of the page.
The social sharing bar will first appear right above your blog post content.

As visitors scroll down and it reaches the top of the page, it will stick to the top and keep floating there as they continue reading.

Further Documentation
Floating Social Bar was created by Syed Balkhi and Thomas Griffin for WPBeginner.com, and it's available free on WordPress.org.
It's a very simple plugin to use, with not a lot of features to figure out. You can find a more detailed article on getting started, along with answers to frequently asked questions, on WPBeginner here: Floating Social Bar – Best Social Media Plugin for WordPress.
Floating Social Bar vs. Jetpack Sharing Module
Looking for the best social sharing plugin for WordPress?
You've probably come across Jetpack's Sharing module as well as Floating Social Bar.
Jetpack is a free plugin from Automattic, the company behind WordPress.com. It includes a number of different modules you can pick and choose to activate, ranging from security to engagement to display modules. See our Jetpack review for more details on how it works.
Jetpack's Sharing module also has a drag and drop interface where you can choose to display services, or hide them behind a share button.

Unlike Floating Social Bar, Jetpack's sharing buttons don't float and follow the user as they read your content. Instead, they display at the end of your post only, and you'll have to add code to your functions.php file to move them.
Jetpack also loads all the sharing scripts when the page loads, which may slow down your site.
Our Verdict
We recommend Floating Social Bar if you're looking for a beginner-friendly, lightweight social sharing plugin that just works, without slowing down your site.
We give Floating Social Bar 5 out of 5 stars. Here is the breakdown of our review scores:
Get Floating Social Bar Now »