Responsive is a popular free WordPress theme with the main feature of — as the name suggests — responsive design that expands and contracts to fit smaller screen sizes. Is Responsive the right WordPress theme for you? Find out in our Responsive review.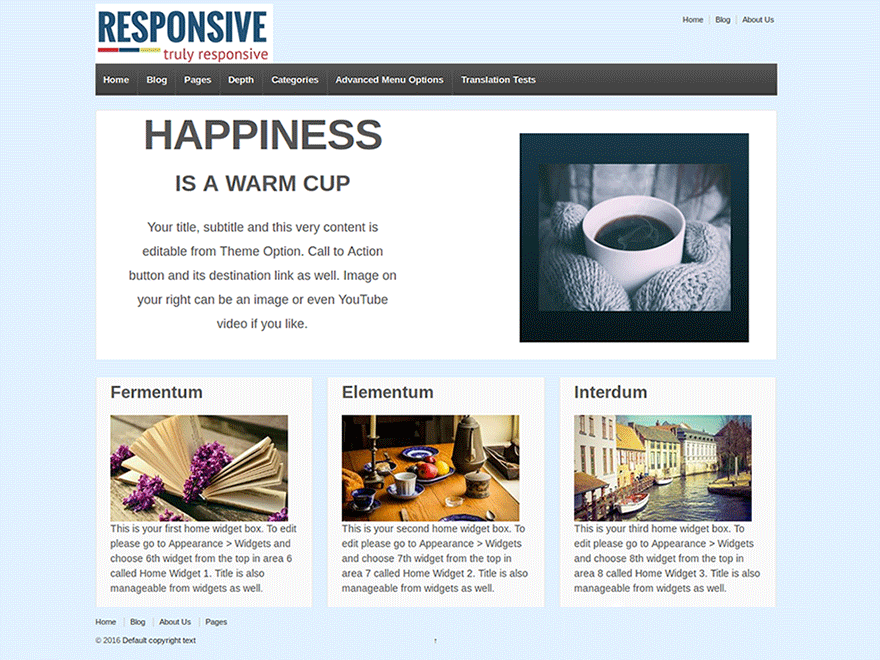 About Responsive
Responsive is a free WordPress theme developed by CyberChimps, which is owned by Hummingbird Web Solutions. They have a number of WordPress themes available besides Responsive, including both premium and free themes.
CyberChimps has also released a few plugins, including the Responsive Add Ons plugin, which is recommended for use with this theme.
Features of Responsive
Responsive is a basic WordPress theme with a very flexible page layout system. You can use it to create posts and pages with all kinds of different layouts and sidebars.
Responsive Design
The main focus of the Responsive theme, of course, is the responsive design. Depending on the size of your visitors' devices, the layout will flow to fill the screen — up to 960px wide.
Customizable Homepage
Responsive gives you the option to customize your homepage content from the Appearance » Theme Options menu. Just click the Home Page tab and enter the content you'd like to display on your front page.
You can customize the header, text, image, and the call to action button.

There are also three widget areas for the homepage content — more on widget areas below.
10 Page Templates
Responsive includes 10 different page templates to choose from:
Default
Blog index (displays full post content)
Blog excerpt (displays a list of posts with excerpts only)
Content/sidebar
Content/sidebar half page
Full width page
Landing page
Sidebar/content
Sidebar/content half page
Sitemap
The Content/sidebar half page and Sidebar/content half page templates divide the page into two equal-width columns: one for your content and one for your sidebar. In other words, the sidebar is equal in width to the content. In the regular sidebar templates, the sidebar takes up about a third of the page width.
Use Different Layouts for Different Pages
From the Theme Options menu, you can also choose to use different layouts for your posts, pages, and blog index page.
You can choose to have the sidebar on the left or right side, or a full width page with no sidebar.

Widget Areas
Responsive has a lot of widget areas — a dozen, to be exact.

Widget areas include:
3 Home Widget areas: displayed beneath your custom homepage content
Main sidebar: displays on default, blog, and blog excerpt templates
Right sidebar: displays on Content/Sidebar template
Left sidebar: displays on Sidebar/Content template
Left sidebar half page: displays on Sidebar/Content half page template
Right sidebar half page: displays on Content/sidebar half page template
Gallery sidebar: displays on a page after an image has been clicked in a Gallery
Colophon Widget: a 100% width footer widget that appears on every post/page
Top Widget: displays to the right side of the header
Footer Widget: displays widgets in 3 columns at the bottom of every post/page, but above the Colophon widget area
Recommended Plugins
After installing the theme, you'll see a message recommending the installation of two plugins, Responsive Add Ons and iFeature Slider. Both plugins are also developed by CyberChimps.
Responsive Add Ons allows you to add Google, Yahoo and Bing verification codes, and also adds basic statistics scripts to your site. This function was originally included in the theme, but according to WordPress.org's guidelines was moved to a separate plugin.
CyberChimps's iFeature Slider is a free, basic image slider plugin with a drag and drop interface.
Pro Version
There's also a premium version of Responsive available called Responsive Pro.
Responsive Pro adds more customization options and features, including:
the ability to modify footer text
enable/disable breadcrumbs
show/hide author bio in posts
more menu locations (sub-header and footer)
You also get a theme customizer with 12 different color skins to choose from, instead of the default grey/blue.
Documentation and Support
There is some basic documentation on a few features on the CyberChimps website, but it's pretty sparse. You may not be able to find the help you're looking for here.
Users of the free Responsive theme and Responsive Pro theme can post in CyberChimps' free support forums, where the staff is helpful though it may take some time for a reply.
If you are a "Plus" premium support member, you get access to private email support, plus priority support on the free forums.
Our Score
Responsive is one of the most popular themes in the WordPress directory with over 100,000 active installations. Many reviewers mention that they find it easy to use and configure.
We found the page layout and widget system to be a bit cumbersome, with so many different widget areas and templates to keep track of. The "half page" templates are a little strange, as are having two different footer widget areas stacked on top of each other (100% width "colophon" and the three-column "footer widgets").
If you're looking for a simple, basic free theme that doesn't overwhelm with too many options, Responsive could be a good choice if you like how it looks.
But more advanced users will find the lack of options and features very limiting, even in the Pro version. If you're looking for a more advanced and modern theme, see our top WordPress theme reviews.
We give Responsive 3 out of 5 stars. Here is the breakdown of our review scores:
Get Responsive Now »