It seems wherever you see a WordPress theme promoted nowadays, you see it described as being widget-ready. The free WordPress themes available here are no exception. In this tutorial available exclusively at Theme Lab, you will learn:
What exactly a widget-ready WordPress theme is
Why you would even want to use widgets anyway
How to use widgets to customize WordPress site
As usual, complete with screenshots so it's easy for a beginner to follow along.
What exactly is a widget-ready WordPress theme?
This means a WordPress theme has widgetized areas which allow you to dynamically manipulate these areas in an easy to use drag-and-drop fashion. Most of the time widgets are used in the sidebars of themes, which is why you may frequently see the term "widgetized sidebar" in conjunction with widget-ready. Since WordPress 2.2, widgets are a part of the "core" and bundled with all new WordPress installations.
Why would you want to use widgets?
You might want to use widgets because they make changing up the sidebar (or other widgetized areas) of your WordPress site much easier. Moving around sidebar items such as category/archive listings and blogroll links can be done with ease through a widget-ready theme.
Now you know what widgets are and why you would want to use them. Next up is how to use widgets to customize your WordPress site.
Step 1: Check if the theme is widget-ready
You can't use widgets if the theme you're using isn't widget-ready in the first place. Navigate to your Presentation menu and proceed to the Widgets sub-menu of your administration panel. If you see something like this, you're out of luck:

Step 2: Use available widgets
For the rest of the tutorial, we'll be working with one of our widget-ready themes called Moonlit Sky. You'll notice this particular free WordPress theme has two sidebars on the right side. Both of these sidebars are widgetized.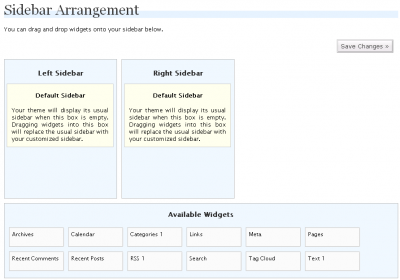 Go ahead and drag some of the available widgets into the sidebar of your choice and save the changes. These changes will be reflected on your main site automatically. Some widgets have a little icon next to them where you can set things like the title of the widget to be displayed on the site. Here's what the settings for the Categories widget looks like: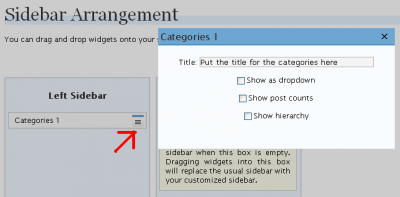 Step 3: More widgets
If you scroll further down the page you'll see how to add additional widgets to the pool of available widgets. This is especially useful for the text widgets, since you can put pretty much any text or HTML-based item in them and display them where you want on the sidebar, just like any other widget. Simply select the number you want on the dropdown box, and save.
For one final example, we'll arrange the widgets like so, with two text widgets: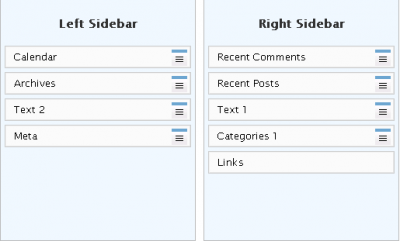 Here's what it will look like on the site after the changes are saved: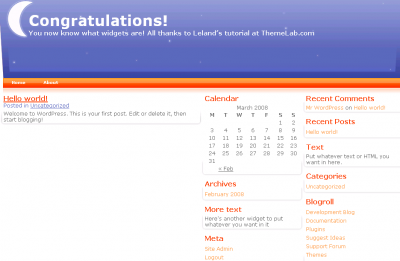 Widgets are pretty cool, eh? Remember, there are countless other third-party widget plugins you can use to spice-up your sidebar. You can find a huge listing over at the official WordPress plugin repository. If you have any questions, don't hesitate to ask in our general support forum for help. Feel free to leave a comment or subscribe to our feed. Hope you liked the tutorial!