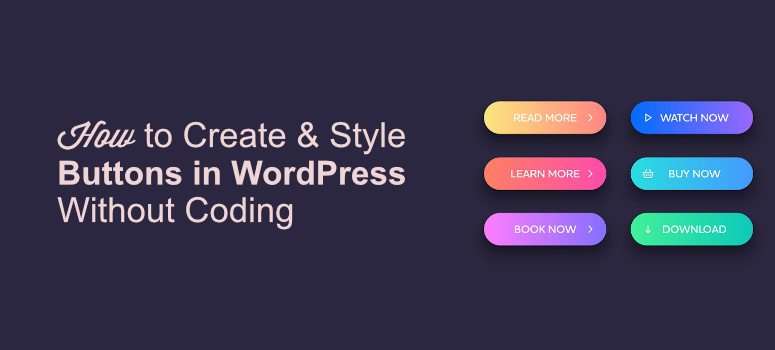 Do you want to add more attention-grabbing WordPress buttons to your website?
Buttons are a great way of presenting raw links to your users in an appealing and captivating manner. In marketing, these buttons are typically referred to as calls-to-action (CTAs), and they're incredibly useful.
A well-designed button has the power to draw your user's attention because they stand out from the rest of your content.
You can use them to direct your users to any transactional page like pricing pages, product pages, services pages, or any other page that helps boost your conversions and increase sales.
So if you're looking for a way to add buttons to your website, this post is for you.
Because, in this article, we'll show you how to add buttons to your WordPress website without any coding. But before we do, let's understand the importance of using buttons on your website.
The Importance of Using Buttons on Your Website
By using the right WordPress buttons on your website, it's way easier to get more conversions. This leads to:
Growing your email list
Getting more followers on social media
Increasing your sales
Or any other action you want your customers to take on your site.
Adding buttons to your posts and pages encourages your users to do what you want them to do. Without a button or CTA, your website lacks an optimized strategy and leaves your conversion rates up to chance.
As marketing expert Neil Patel says, a button or CTA is the "bridge between marketing and sales." You can use buttons in WordPress to give your final CTA to your users like Buy Now, Contact Us, Download, or others.
However, it's important that you know how to use these buttons to maximize your conversions. There are several factors that make some buttons better than others.
These include:
Knowing your conversion goal
Keeping your button text short and catchy
Using action words
Providing an incentive
But those are just a few. To become a real expert, here's a detailed cheat sheet on how to create a perfect button for your website.
Now, let's look at how to create powerful WordPress buttons for your website without any coding.
Step 1: Installing Beaver Builder on Your WordPress Site
There are many ways you can add buttons to your WordPress site, but today we're going to look at one of the easiest methods by using Beaver Builder:
The first step is to install the Beaver Builder plugin.
Beaver Builder is a powerful drag and drop page builder that not only offers easy ways to create WordPress buttons, but it also lets you design your entire website.
It includes many visually stunning templates that can be used right away. You also have the option to add rows and various modules that are simply dragged and dropped into place. One of these modules is a WordPress button.
So once you've installed Beaver Builder it's easy to add a button to your site!
To know more about this plugin read our review on Beaver Builder.
Step 2: Adding Buttons to Your Website
Now that the plugin is installed and activated on your site, go to Pages » Add New. A new page will now open on your screen with the option Launch Beaver Builder. Click on this option.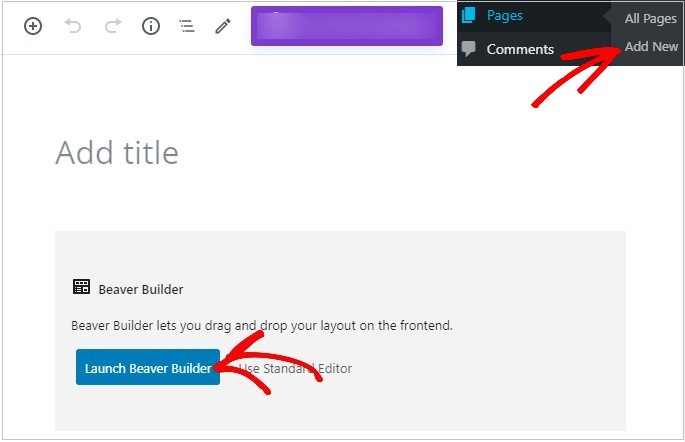 You'll see the visual builder on your left and the modules on your right. Just click on the button module on your right to drag and drop it on the builder area on your left. You can place this button anywhere you want on the page.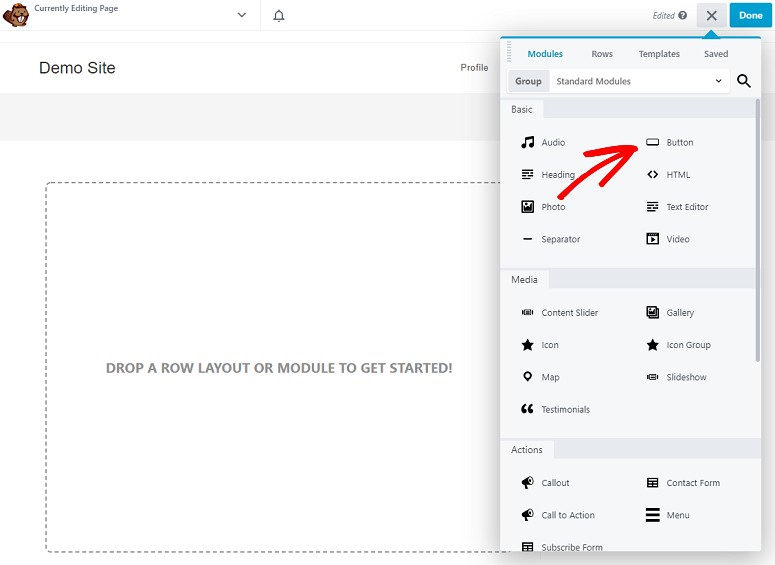 Step 3: Customizing Your Buttons
Once the button is added, it's time to customize it to make it as enticing as possible to your site's visitor. Luckily, customizing your button with Beaver Builder is easy.
Just click on the button, and a small popup window will appear on your screen with 3 different tabs.
Under the General tab, you can work on your button's text, add an icon, work on the icon position, and add links to your button.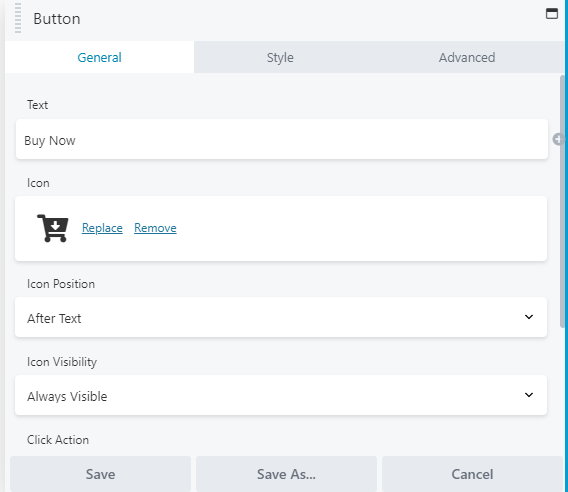 Then you have the Style tab where you can change the design of your button. For example, you can work on the button width, padding, button text color, text hover color, and other elements of your button's appearance.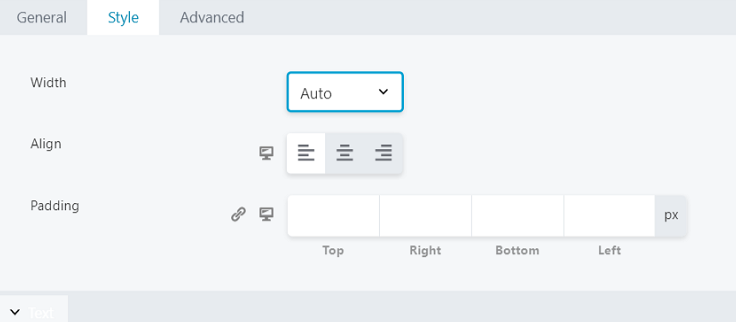 It also lets you work on the font, style & spacing, text shadows, and more. Apart from that, Beaver Builder gives you options for adding background color, animation effects, and borders too.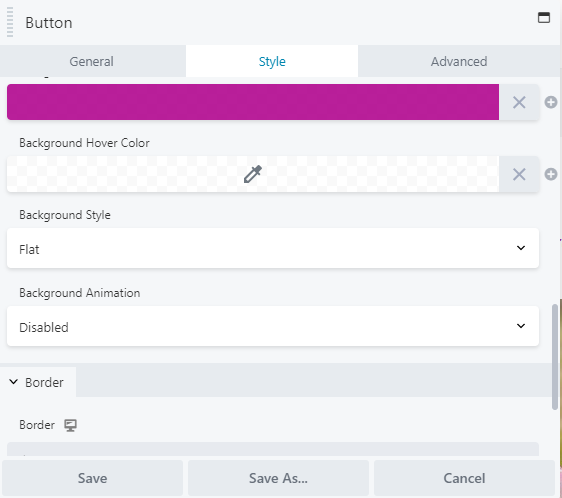 Finally, you have the Advanced tab. Here you have more advanced options like adding margins to your spacing, adding a timing setting to any animations you may use, and more.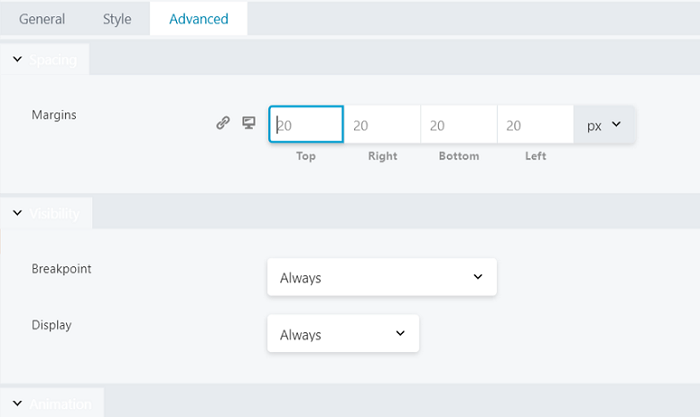 And if you want to make your WordPress button 100% custom, you can even add HTML to have full control over your button's design. But for that, you need your hands on some coding.
The Advanced tab also lets you import/export your button to or from another website.

With Beaver Builder, you have all of these options to create and style your button however you'd like. Once your customization is done, don't forget to click on the Save button on the popup window.
Step 4: Publishing Your Button
The final step is to publish your button. For that, just click on the Done tab on the top right corner of your screen. This will show you 3 other options.
Discard
Save Draft
Publish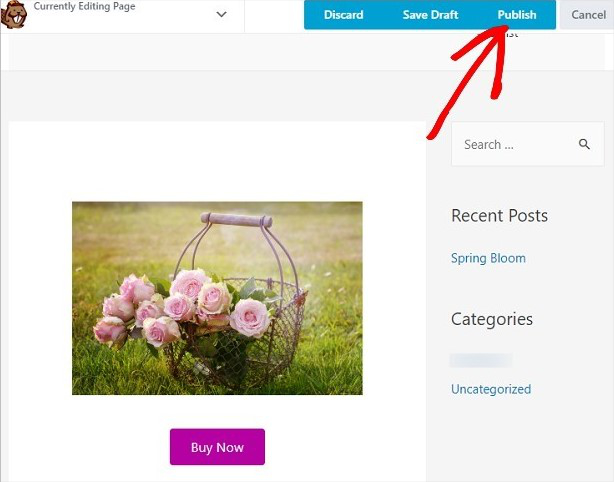 Click on the Publish button for your button to go live. And that's it! You've now successfully created your WordPress button with zero coding.
We hope you liked this post. And if you did, you might also be interested in this post on how to add a Call Now button in WordPress.
Call now buttons are a great way of driving communication with your customer by speaking with them on a more personal platform. Our post walks you step-by-step on how to get your buttons set up for responsive mobile use.