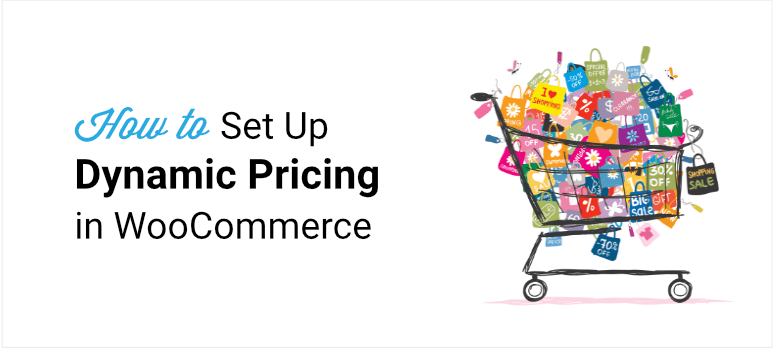 Do you want an easy way to add dynamic pricing offers to your WooCommerce store?
Dynamic pricing refers to the change of product prices according to certain pricing rules for selling more.
With WooCommerce dynamic product price rules such as bulk pricing, coupon discounts, and percentage discounts, you can motivate potential customers to purchase your products.
In this post, we'll show you how to easily set up WooCommerce dynamic pricing for your online store.
Before that, we'll cover why dynamic pricing is important for eCommerce sites.
Why Use Dynamic Pricing for your WooCommerce Store?
The main purpose of dynamic pricing is to offer discounted prices and deals to persuade customers to buy now and buy more. So you not only increase sales but average order value as well.
Like this, there are many advantages of using WooCommerce dynamic product price rules for store owners.
Reduce cart abandonment rates
Improve your sales revenue
Boost conversions on your online store
Clear stocks of low-demand products
Build good relationships with customers
Save purchase history for future events
While customers feel getting a good bargain, store owners can boost their revenue. So it is a win-win situation for both the business owners and the customers.
To set up dynamic pricing, you'll want to use a WooCommerce dynamic pricing plugin. This way, you don't need to manually create discount codes and price changes for each product. Instead, you simply need to add dynamic pricing rules in a few clicks and the plugin will handle the rest.
With that said, let's start our tutorial on how to set dynamic pricing for WooCommerce sites with the help of a plugin.
Setting up WooCommerce Dynamic Pricing in WordPress
You'll find many dynamic pricing plugins, but YITH WooCommerce Dynamic Pricing and Discounts is the best tool available.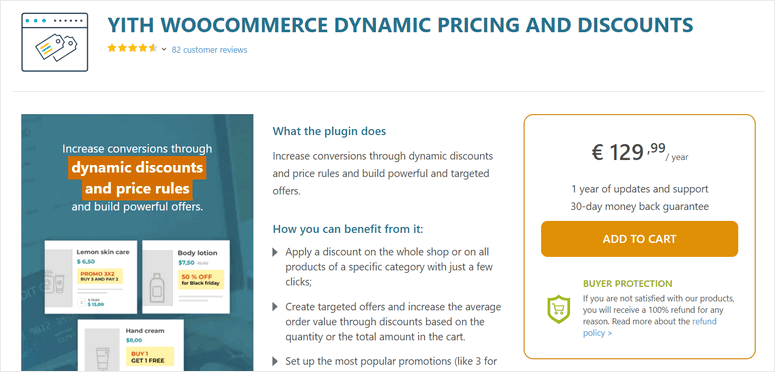 YITH WooCommerce Dynamic Pricing and Discounts is a plugin developed especially for Woocommerce websites to create dynamic pricing rules in minutes.
It comes with tons of features that help you add special offers, discounts, promotions, and free products to your WooCommerce site.
With this plugin, you can easily apply WooCommerce dynamic product price and discount rules to your online store.  It also lets you offer discounts to your customers based on their cart value, product category, and the number of products in the cart.
And the best part is you can even schedule your dynamic pricing offers. This lets you host weekend sales, flash sales, special offers, and holiday sales. This saves so much time and makes adding discount prices to your online store a piece of cake.
Now that you know which plugin to use, let's get started with the tutorial.
Step 1: Install YITH WooCommerce Dynamic Pricing and Discount
First, you need to sign up for a YITH account. Once you sign up, you can find your download file and license key in the Licenses and Downloads tab.
Now, head over to your WordPress website and install the YITH WooCommerce Dynamic Pricing and Discount plugin.
If you want help with this, you can check out our guide on how to install a WordPress plugin.
Once you install and activate the plugin, navigate to the YITH » License Activation tab on your admin panel. Here, enter your license key and other details.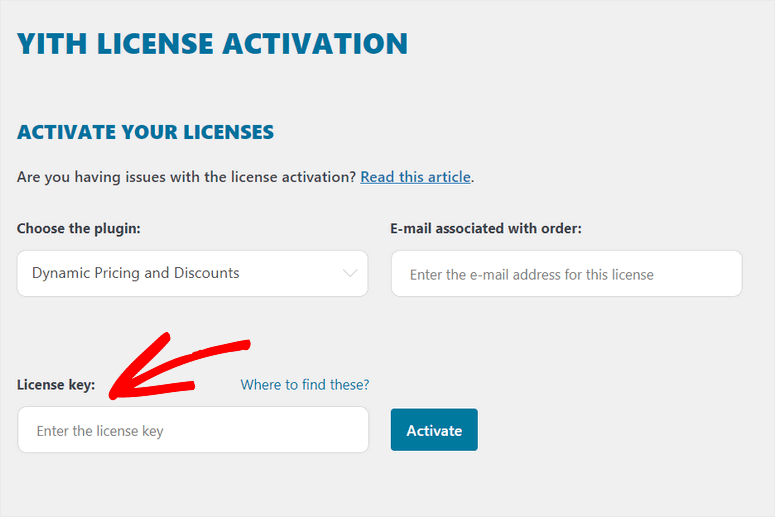 After that, navigate to your WooCommerce settings page and make sure you check the Enable Dynamic Pricing and Discounts option.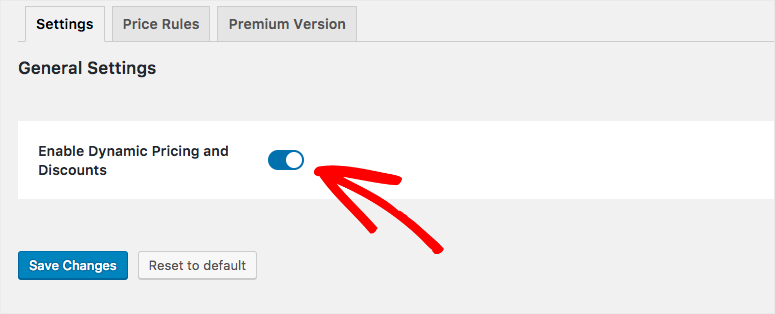 Save your changes and now, you are ready to start setting WooCommerce dynamic product price rules on your website.
Step 2: Set Up Dynamic Pricing
To set up the dynamic pricing and discounts, open the YITH » Dynamic Pricing tab.
Here, you'll see several settings for your WooCommerce site such as General Settings, Product settings, and Cart Settings.
In the General Settings section, you get the option to allow your WooCommerce shop manager to manage the dynamic pricing and discount plugin settings.
Below that, you can choose the price format to show the original price and the discounted price on your WooCommerce products. By showing both, customers will know that they are getting a discounted price and a good deal.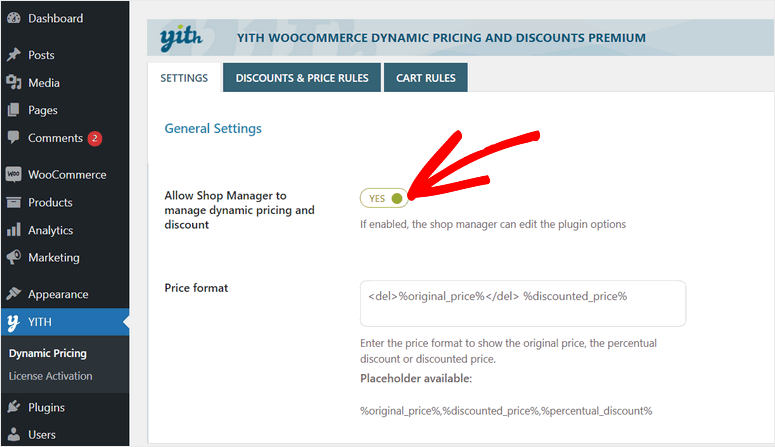 In the Product page settings section, there are options to show discount custom messages and choose where you want to show your message.
Also, you get to show quantity tables on your product pages. This is great for wholesalers who want to offer discounts on bulk purchases. You can create a price list based on the quantity the buyer wants.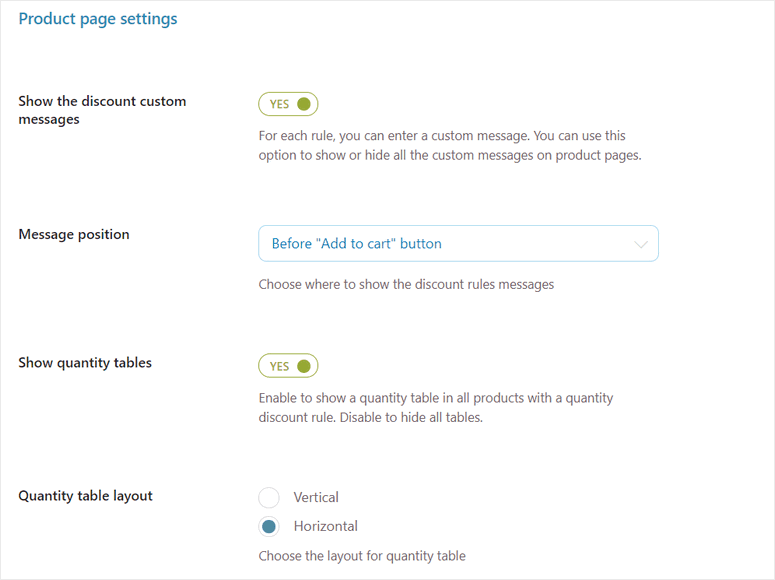 This helps increase average order value as the customer will know they're getting a better deal if they invest in buying a larger quantity.
Next, in the Cart settings section, you can add a name for the coupon. Then you can choose how you want to calculate the discount (with or without tax included).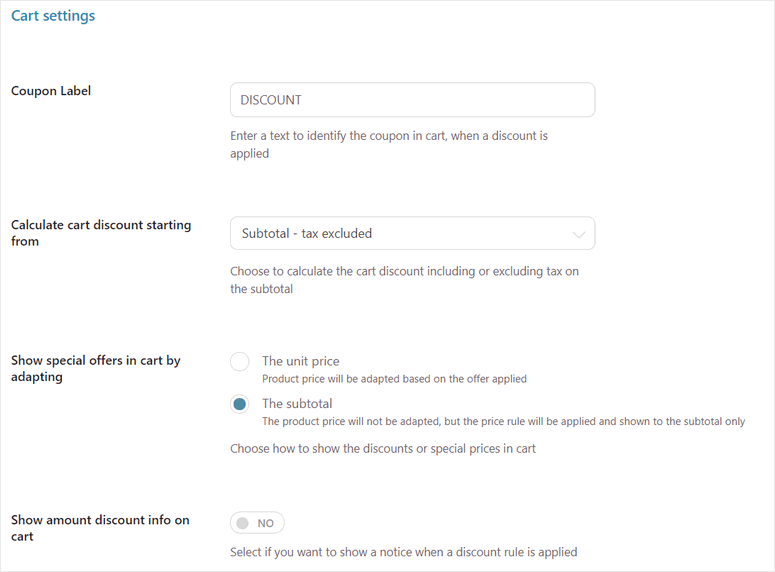 You'll also get options to show the offer on the product price or the subtotal. In most cases, site owners choose to show it in the subtotal as it makes the cart look more appealing, but the choice is yours.
Once you've configured these settings, you can create your pricing rules.
Step 3: Create Dynamic Pricing Rules
To create a new pricing rule, go to the Discounts & Price Rules tab and click on the +ADD RULE button.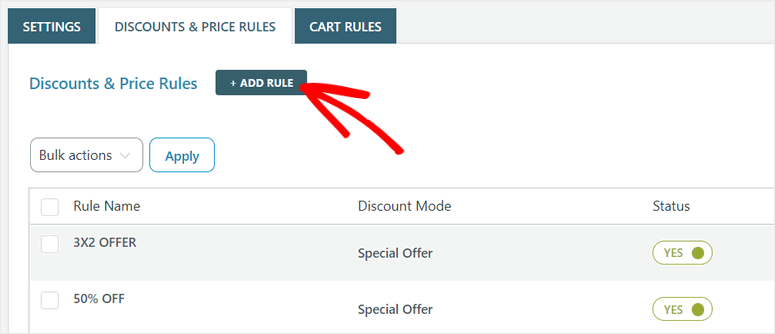 On this page, you'll see options to create dynamic pricing and discount rules. We're going to show you some of the popular dynamic pricing strategies that you can use.
1. Percentage Discount Pricing
This is one of the most popular and effective pricing rules that you can use. This can be used for single products, multiple products, categories, total cart value, and more.
First, you can add a label and activate the rule. Then you need to set the Rule Type to 'Special Offer'.
You'll want to give this rule a priority level if you want it to overwrite other rules you may set later.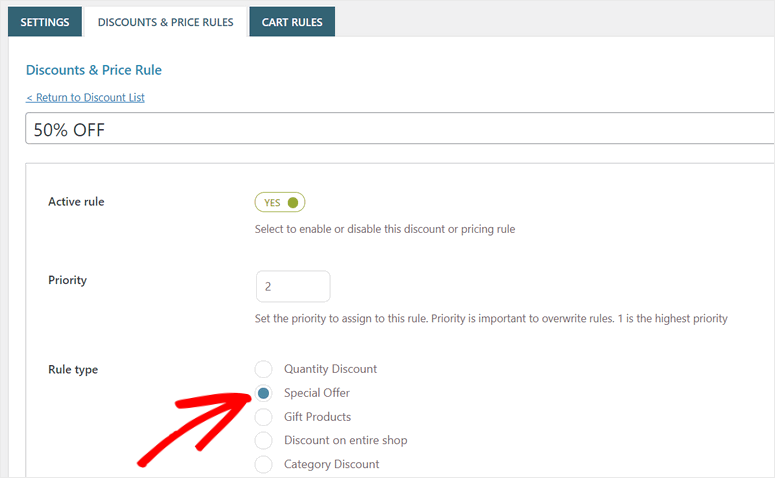 Next, select the WooCommerce product you want to apply the pricing rule to.
In the Set offer rules section, you can set up the percentage pricing rule. Here, we are using the 50% discount rule.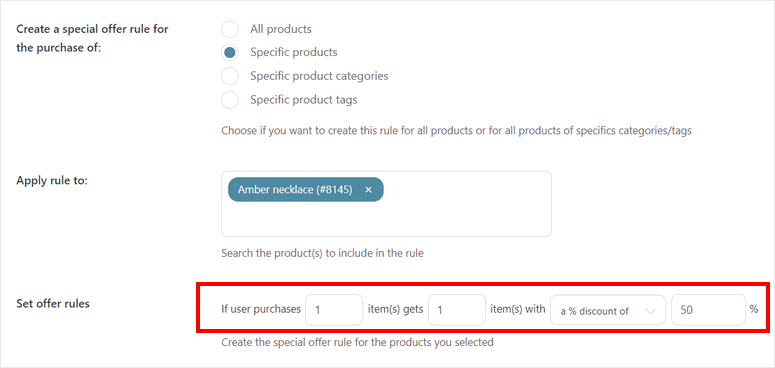 You can get creative with this rule. For instance, you can add offers like "Buy 1, and get the second at 50% off".
After you're done, don't forget to click on the Save Rule button at the end of the page.
Your percentage discount pricing is applied immediately so you can see it on your product page.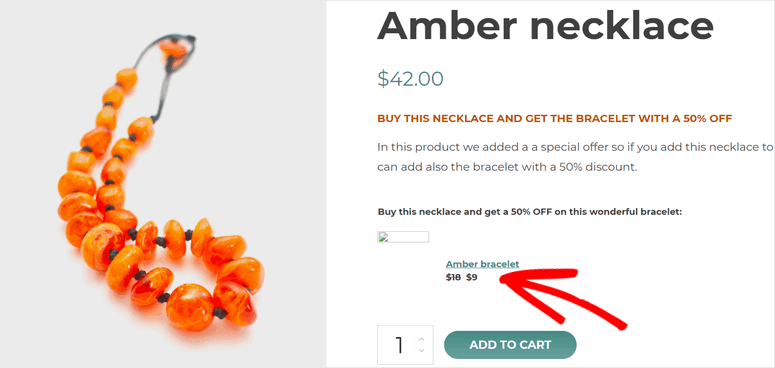 2. BOGO (Buy One Get One) Free Discount Pricing
In this rule, when customers purchase two units of the same product, they get one free of cost.
Just like percentage pricing, you can create a new rule for buy one get one discount offers on your site. On the Set offer rules option, set up the number of units and discount percentage for the BOGO offer.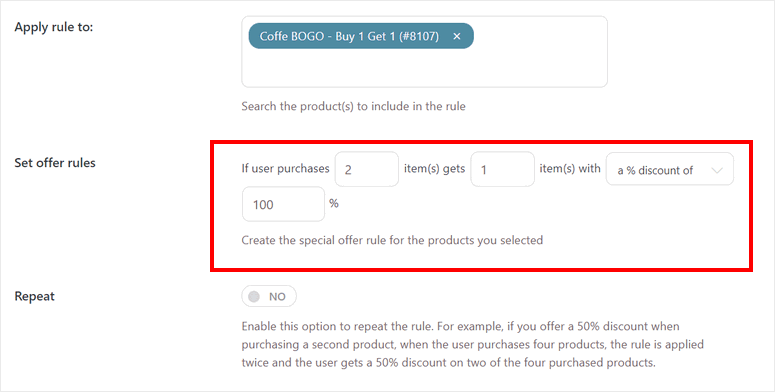 Once you save the rule, it will be applied to the selected product pages. Below is an example of the BOGO (buy one get one) free offer.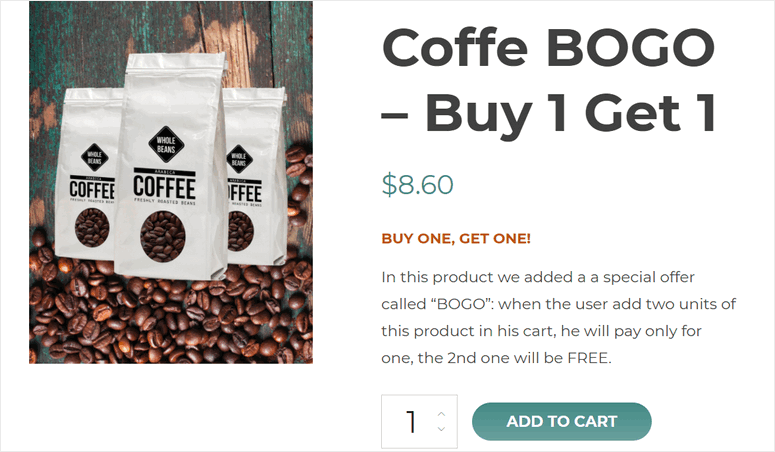 3. Bulk Discount Pricing
YITH makes things easy for you and allows you to add bulk dynamic pricing for your entire store.
For this, you need to set the Rule Type as 'Discount on entire shop' option. Then, you can add the type of discount and the percentage.
Additionally, you get the Exclude products from this rule option which allows you to exclude specific products, product categories, and product tags.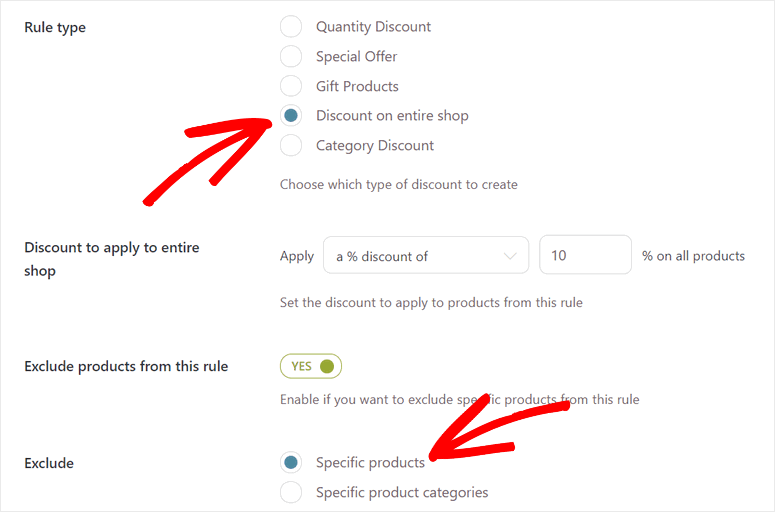 4. User Role-Based Pricing
Apart from other discount offers, this plugin also lets you set dynamic pricing rules based on the user roles on your WooCommerce site. This lets you offer discounts only to first-time users, subscribers, members, or those who have subscribed to an inner circle program.
In the Apply discount to section, select 'Only to specific user roles' instead of 'All users'. Then, choose the user roles you want to include in the next option.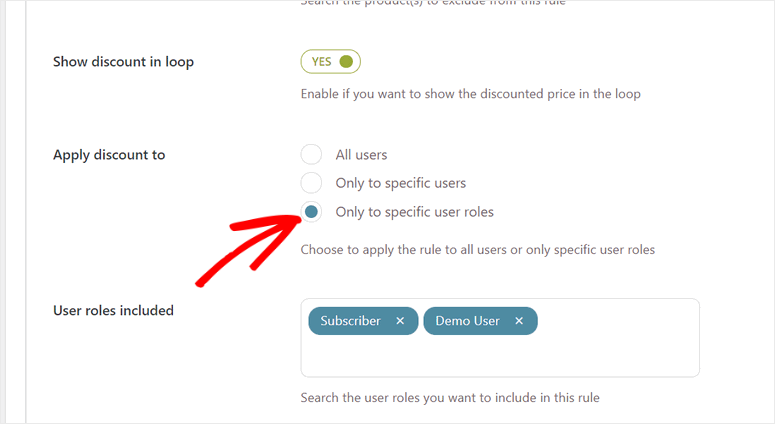 Now the discount will be applied only to subscribers and demo users.
Like this, you can set up tons of WooCommerce dynamic price rules for your eCommerce store.
That's all for today! We hope this post helped you learn how to add dynamic pricing, discounts, and offers to your products with ease.
To sum it up, YITH WooCommerce Dynamic Pricing and Discount is the best dynamic pricing plugin for WordPress websites. It's easy to use so just about anyone can create rules and manage offers. The plugin offers tons of features and customization options so you can launch all kinds of offers, sales, and promotions.
If you want to add more functionalities to your WooCommerce store, you can check these resources out:
These posts will help you customize your WooCommerce pages and improve the performance of your online business.