Need to power up your self-hosted WordPress site? The Jetpack plugin from Automattic gives you access to all the best features you miss from WordPress.com. From visitor engagement to site stats, from security features to display options, Jetpack has it all. Find out if it's right for you in our Jetpack review.

What Is Jetpack for WordPress?
You know all the reasons why WordPress.org beats WordPress.com for most users. With a self-hosted WordPress site, every aspect of your site is under your complete control.
But, sometimes, don't you miss a few of the features available on WordPress.com? Those site stats on your dashboard are so convenient, and the image caching can really speed up your site.
No need to switch back to WordPress.com — you can get those features and more with Automattic's Jetpack plugin for WordPress.
Jetpack works by connecting you to your WordPress.com account, giving you access to features that were previously available to WordPress.com users exclusively.
The Jetpack plugin includes a huge variety of modules that add various features to your site. You can choose to activate only the modules you'll actually use.
Certain modules are activated by default. But you can navigate to Jetpack » Settings after installing and activating the plugin to decide whether or not you'd like to keep the default featured turned on or not.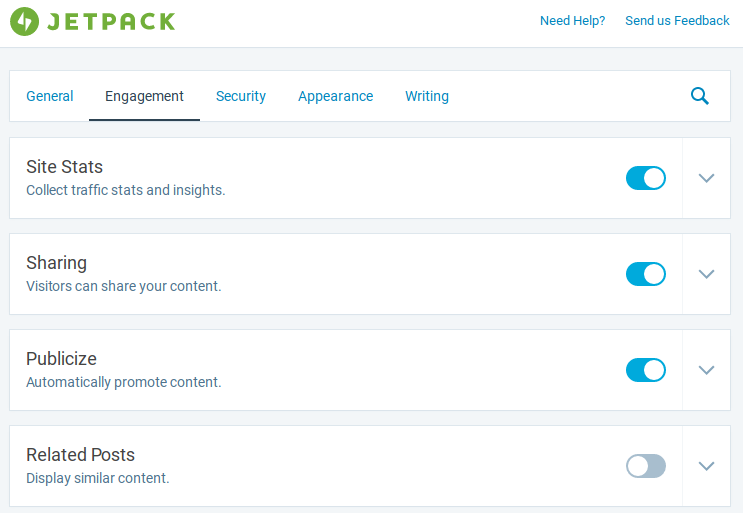 Just click the blue slider next to the module you'd like to activate or deactivate it, and click the area to configure any available settings.
What Jetpack Modules Are Available?
There're dozens of modules available, many free and some paid. Here are some of the most useful and popular:
Visitor Engagement Modules
Site Stats: Get insights into your traffic and other analytics from your dashboard.
Sharing: Add simple social sharing buttons to your posts and pages.
Publicize: Automatically share newly-published posts on your social media accounts.
Related Posts: Keep readers on your site longer by displaying similar content below each post.
Ads: Monetize your WordPress site with WordAds.
Beautiful Math: Write complex mathematical equations, formulas, and more.
Comments: Allow users to comment on your site with social media login options.
Comment Likes: Allow readers to like other users' comments on your WordPress site.
Extra Sidebar Widgets: Get extra widgets, including RSS Links, Twitter Timelines, and Facebook Like Boxes.
Gravatar Hovercards: Make your Gravatar profile visible to your audience.
Google Analytics: Easily install Google Analytics on your site.
Likes: Add the WordPress.com Like feature on your self-hosted WordPress site.
Notifications: Receive notifications for new comments and Likes in your Admin bar and on your mobile device.
Search: Replace the built-in WordPress search with the powerful Elasticsearch.
Shortcode Embeds: Embed videos from YouTube, tweets from Twitter, and other media across the web.
Single Sign On: Allow users to register for, and sign into, your site with their WordPress.com credentials.
Site Verification: Verify your site with Google, Bing, and Pinterest.
Sitemaps: Generate a list of pages to be indexed by search engines like Google or Bing.
Subscriptions: Allow your visitors to subscribe to your latest posts or comments.
VideoPress: Upload and host your videos on WordPress.com.
WordPress.com Toolbar: Replace your default admin bar with the WordPress.com Toolbar.
Security Modules
Protect: Prevent brute force login attempts.
Monitor: Checks your site every 5 minutes and notifies you of any downtime.
Plugin Updates: Set up the list of plugins that you want to update automatically.
Security Scanning: Scan your site for malware and protect it with automated resolution.
Site Backups: Backup your entire site automatically.
Spam Filtering: Filter out spam submissions on your comments, contact, and product reviews forms.
Appearance Modules
Tiled Galleries: Display your images in tiled arrangements.
Photon: Optimize, cache, and serve your images from the WordPress.com CDN.
Widget Visibility: Add conditional rules for when to display widgets.
Custom CSS: Keep your CSS edits in a separate location from you theme.
Carousel: Provide a stunning full-screen photo browsing experience to your image galleries with comments and EXIF metadata.
Infinite Scroll: Load the next posts automatically when the reader reaches the bottom of the page.
JSON API: Offer new functionality on your site by authorizing and connecting web application and services to your site.
Lazy Images: To boost page speed, only load images that are on the screen.
Mobile Theme: Display a mobile version of your site by adding a mobile theme.
Writing Modules
WP.me Shortlinks: Enable shortlinks for all your blog posts.
Contact Form: Create simple contact forms with shortcodes.
Markdown: Write posts or pages in plain-text Markdown syntax.
Custom Content Types: Easily add more custom post types to your site.
Enhanced Distribution: Add your content to WordPress.com firehose.
Post by Email: Publish your articles using any email client.
Proofreading: Add a grammar checker tool to proofread your draft prior to publishing.
SEO Tools: Add SEO tools to optimize your site for search engines.
You'll see that the modules really run the gamut of possibilities. There are plenty of plugins that offer these features individually, but none like Jetpack that offers them all in one plugin.
Don't miss this article on Grammarly vs Hemingway vs Jetpack.
Jetpack Pros:
Let's take a look at the advantages of using Jetpack.
1. Add Essential Features Conveniently
WordPress comes with all the essential publishing tools out of the box. But those built-in tools are not just enough to run a website successfully. As you grow, you'll need to find and install more WordPress plugins to enhance the capabilities of your WordPress site.
If you want all the most important features in a single plugin, like contact form, stats, security, design, marketing, and so on, then Jetpack is the right solution for you.
2. Cost
The core Jetpack plugin is free. Premium features like daily backups, premium themes, and SEO tools are tied into 1 of 3 paid plans.
3. Frequent Updates
Jetpack is being maintained and updated frequently. They're also constantly adding more and more features to the plugin.
Jetpack Cons
A few downsides of Jetpack are:
1. Bloated
The plugin is jam-packed with tons of features, so the interface looks bloated. In fact, the interface is filled with toggles and submenus, so, chances are, you'll find it slightly difficult to locate the modules you want to enable or disable.
2. Slows Down Your Site
There's a heated debate about the performance of Jetpack and whether it can cause your site to slow down.
While a majority of the users don't have any issues with the plugin, some users have reported that it slowed their site down significantly. Since it's a massive plugin, and it's highly unlikely you'll need every single feature that comes with Jetpack, it's in your best interest to only enable the features you really need.
3. Risk Profile
Jetpack requires you to connect your site to your WordPress.com account. One of the benefits of this connection is that some of the features push work from your site back to their servers. However, the downside is it also passes a lot of information about your articles to WordPress.com. If you're concerned about your privacy and don't want to share your site information with any third parties, then Jetpack may not be the right solution for you.
Alternatives to Jetpack
If you only want to enable 1 or 2 modules of Jetpack, you'd better off using a feature-specific plugin for solving your needs.
If you're looking for Jetpack alternatives, below are our recommendations:
Contact form: Use WPForms because it's far more comprehensive than the Jetpack Contact Form.
Website tracking: Use MonsterInsights for site tracking instead of Jetpack's Site Stats. MonsterInsights connects your site to Google Analytics, the best website tracking solution.
SEO tool: By comparison, All in One SEO blows Jetpack out of the water with its search engine optimization features.
For more plugins, check out our article on the 18 best alternatives to Jetpack.
Jetpack Tiled Galleries vs. Envira Gallery
Jetpack Tiled Galleries allows you to create very simple galleries within your posts or pages.
Just click the Add Media button on any post or page, and then click on the Create Gallery link on the right to select images from your media library.
The simple settings are on the right: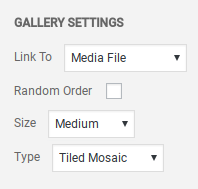 As you can see, the options are pretty limited. It's impossible to link images to custom URLs, for example. If you want to expand the images into a simple slideshow when clicked, you can activate the Jetpack Carousel module.
The resulting galleries do look nice and are responsive.
But, if you need to create more advanced galleries, you'll need a plugin like Envira Gallery.
With Envira Gallery, you have a huge amount of options for creating your galleries, and it's still just as easy to use as the Jetpack Tiled Galleries module. Envira Gallery is also the fastest image gallery plugin we tested. Check out our full Envira Gallery review for more details.
We also recommend Soliloquy for creating fully-featured image sliders. Unlike other slider plugins, Soliloquy is easy to use, beginner-friendly, and lightweight — it won't slow down your site. See our Soliloquy review for more information.
Also check: Best WordPress Gallery Plugins
Jetpack Contact Form Module
Jetpack's Contact Form Module is a simple tool for creating forms with shortcodes. Just click the Add Contact Form button on any post or page and choose your options.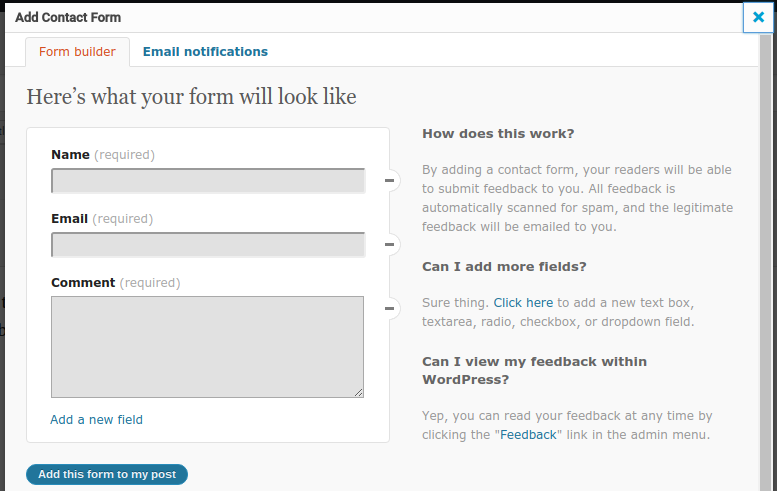 The resulting shortcode output will look something like this:

It's not immediately apparent how to edit the form, but you can do so by clicking the Add Contact Form button again while your cursor is on the form. To save your changes, click the Add this form to my post button again. It will change the existing form instead of adding a new one.
Looking for a more user-friendly plugin for creating forms? We recommend WPForms, the most beginner-friendly form plugin for WordPress.
Pricing and Support Options
The Jetpack plugin and most of its modules are available for free.
There're also 3 premium subscription options available that give you access to paid features, including:
automated daily backups with 1-click restoration
daily malware scanning
premium WordPress support
If youre looking for a good backup solution, we recommend checking out Duplicator.
Our Verdict: Should You Use Jetpack?
Before deciding to use Jetpack, take a look at the available modules and think deeply about which ones you'll actually use.
If you'll only use 1 or 2 of the modules, it would be better to look for individual plugins that add the same features.
You know that saying, "jack of all trades, master of none"? Jetpack has a lot of different modules, but none of them are the best at what they do. If you choose a standalone, dedicated, plugin for your desired feature instead, you're likely to find one that's better-developed, faster, easier to use, and with more options than the Jetpack module equivalent.
But, if your needs are simple, and you'd rather use an everything-in-one plugin, Jetpack isn't a bad choice. It's frequently updated and well-supported.
We give Jetpack 4.2 out of 5 stars. Here's the breakdown of our review scores:
Get Jetpack Now »