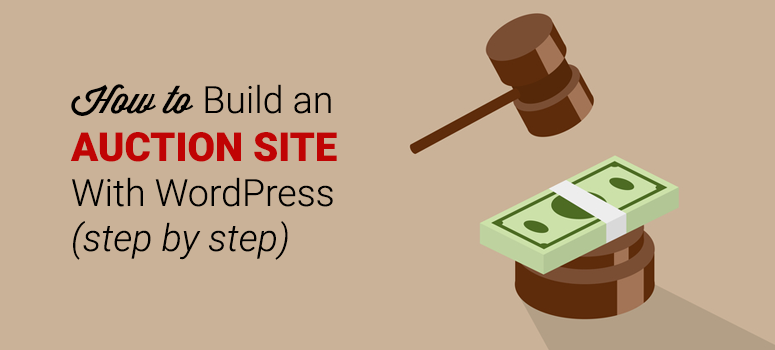 Looking to build an auction site like eBay with WordPress? An auction website allows users to bid on your products. You can maximize your profits by selling your products to the highest bidder. You can also let your users list their products on your auction site to earn a portion of every sale. 
In this article, we'll show you how to build an auction site with WordPress.
Why Build an Auction Site with WordPress?
Building an auction site is the best way to give your community the opportunity to buy and sell products in an online auction environment.
While you can find a lot of giant auction sites like eBay, a niche-specific auction site has its own place in the market.
For your users, the benefit is that they can easily buy and sell products to the like-minded people in your community. Unlike eBay, the auctions are surrounded by an engaging community. That means users can easily reach their target audience with your auction site.
Many users also choose a community-empowered auction site because it provides them with better ROI.
For you, building an auction site means you can sell your products to the highest bidder without any middlemen between you and your buyer. You can avoid the fees and lock-in of other auction platforms. You can also set a fee for listing products and get a commission from every sale. Not to mention, building an auction site is one of the best ways to make money online.
Requirements for Building an Auction Site With WordPress
To make a website for your auction business, you'll need the following things:
A domain name: It's the web address of your website such as IsItWP.com or Google.com. Check out our guide on how to register a domain name.
A web hosting account: This is where your site files are stored.
SSL certificate: It enables a secure connection on your site for accepting online payments.
An eCommerce plugin: It allows you to add the Buy now button, support different payment gateways, item search, reviews, and a lot more. We always recommend WooCommerce, the best eCommerce plugin for WordPress in existence.
An auction addon: This eCommerce addon integrates auction features into your website.
We'll walk you through how to easily build an auction site with WordPress.
Step 1: Set Up Your Auction Site with WooCommerce
Just like any website, you need to purchase a domain name and web hosting to set up an auction site. You'll also need to purchase an SSL certificate to provide a secure connection on your site so that you can accept online payments safely.
When you're starting out, the combined costs for building a site may seem like quite a lot.
A domain name costs you around $14.95 per year, web hosting around $7.99 per month, and an SSL certificate costs you $49.99.
That's why we've worked out a deal with Bluehost to offer our users a free domain name, free SSL certificate, and 50% off their WooCommerce hosting. With Bluehost, you only have to pay $6.95 per month.
Click Here to Claim This Exclusive Bluehost Offer »
With their WooCommerce hosting plan, you can easily set up an auction site without any tedious WordPress + WooCommerce installation steps.
For a detailed setup guide, you can check out how to set up an eCommerce site with WooCommerce.
2. Install a WooCommerce Auction Addon
Next, you'll need to install and activate a WooCommerce auction addon, YITH WooCommerce Auctions.
After the plugin activation, navigate to YITH Plugins » Auctions  to configure the plugin settings. Make sure to make the necessary changes per your requirements.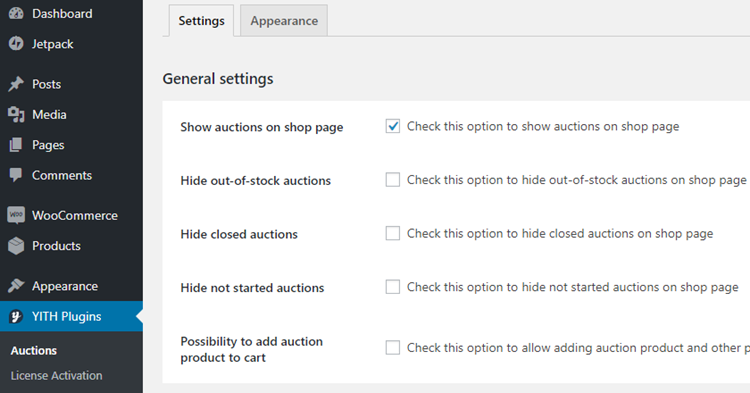 You can then start listing auction items on your website.
Step 3: List an Auction Item
Because the YITH plugin is a WooCommerce addon, you can list auction items just as you'd add products to your online store.
To add an item, head over to Products » Add New. You need to fill out the title, details and add images of your auction item.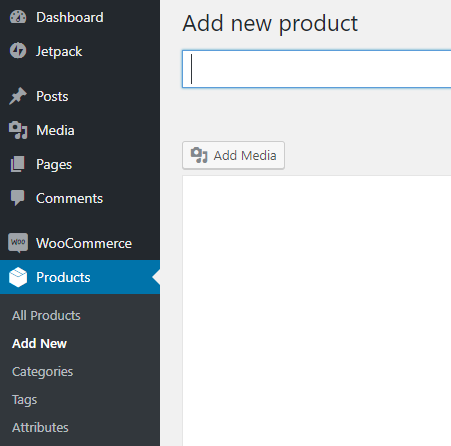 Below the editor, next to the Product data option, you'll have to choose Auction. This will show you the settings for your auction items.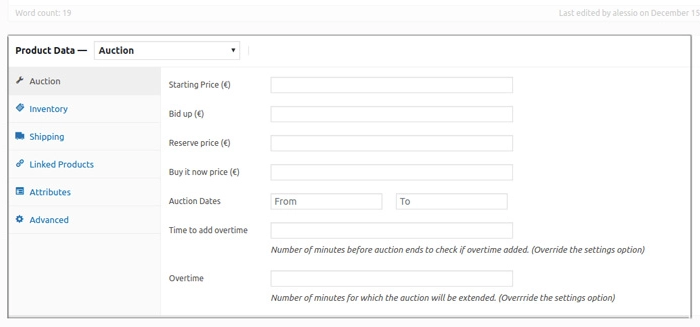 You can set the auction starting price, bid up, minimum increment amount, and all other aspects of listing and bidding on auction items on your website.
After adjusting the auction details, you can publish your listing. Your auction will now appear on your WooCommerce store page. The auction items will be highlighted with a gavel icon alongside your WooCommerce products.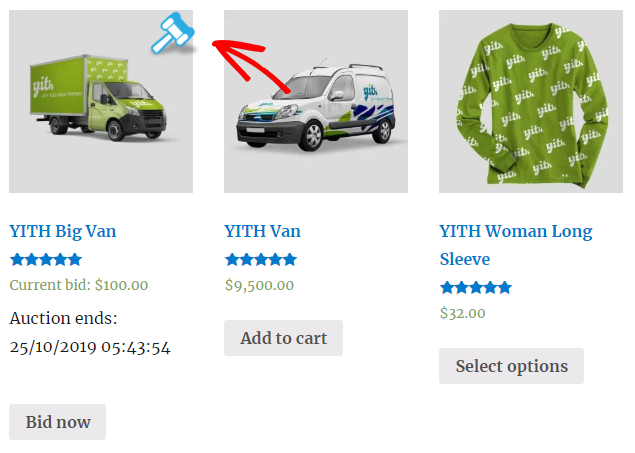 If needed, you can list dedicated auction pages to show only auction items on your site. All you have to do is create a page and insert the following shortcode in the content area and then publish your page.
[yith_auction_products]
Step 4: Manage Your Auctions
The YITH plugin enables you to choose an auction start time in your product page. That way, you can choose the best time to list and end your auction.
Once the auction begins, any registered users can bid on an item. In the individual auction pages, you can see the following details by default: current highest bid, time left, the auction end time, and the bid button.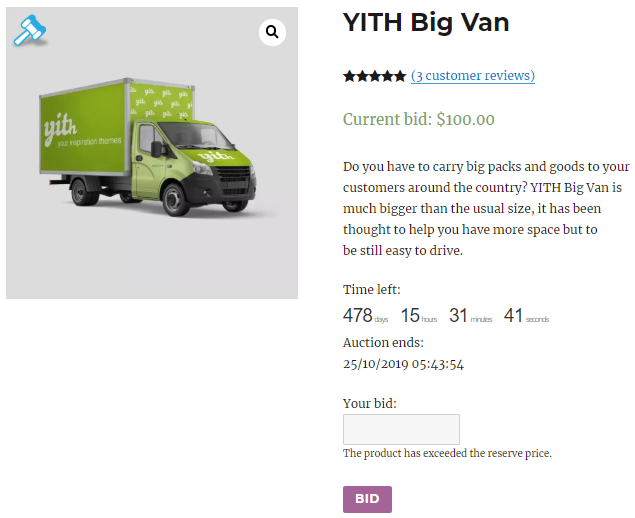 Below the listing, you can also find the details of previous bids, including the username, bid amount, and the time of bidding.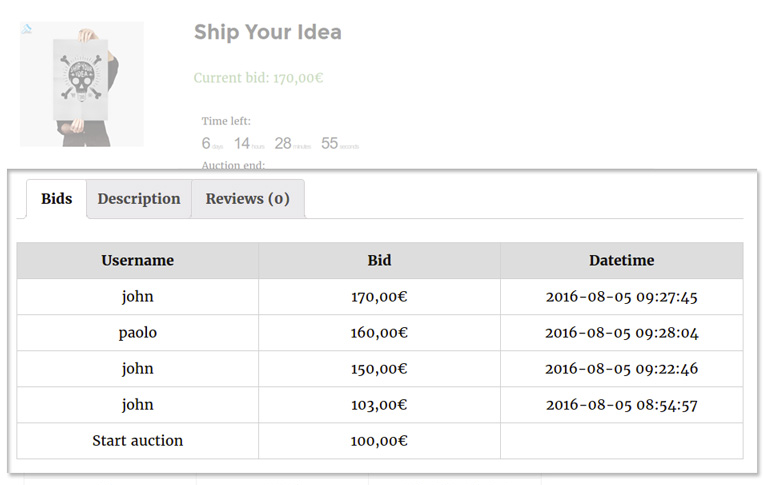 The main benefit of the YITH plugin is that it gives you full control over your bids. You can easily remove any bid in your auction listing page by logging into your WordPress dashboard. All you need to do is to click on the Delete bid button on what you don't want to display on your auction page.
You can also set a Buy It Now price in your auction listings. This allows users to purchase your items right away.
All users who participated in an auction will receive email updates for each new bid, auction grace time, auction end, etc. When the auction item ends, an email will be sent to the auction winner to complete the payment for purchasing the product.
Step 5: Allowing Other Users to List Auction Items
To allow other users to list auction items on your site, you'll need to transform your website into an auction marketplace by installing a free plugin, WC Vendors.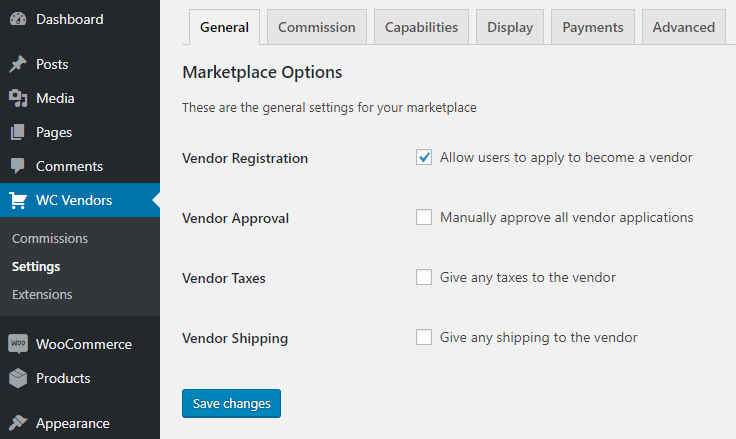 After activating the plugin, go to WC Vendors » Settings. From this page, you can also allow users to apply to become a vendor. In the Commission tab, you can set the commission rate for every successful auction.
For more details, you should read these articles on creating an online marketplace and best eCommerce platforms for multivendor marketplaces.
Auction Website With WordPress- Recommended Plugins
Now you know how to build an auction website with WordPress. Let's check out the some of the best plugins you'll need to install on your site after setting up the auction site.
WPForms: Contact forms are an integral part of any website. WPForms allows you to easily create a contact form and even integrate your form with a lot of different addon plugins. Read our WPForms review.
MonsterInsights: MonsterInsights is the best Google Analytics plugin for WordPress. With MonsterInsights, you can easily install Google Analytics to track visitor interactions on your site. Read our MonsterInsights review.
OptinMonster: OptinMonster is the best lead generation plugin. It lets you easily convert your visitors into subscribers and customers. You can create time-sensitive behavior-based campaigns to drastically reduce overall cart abandonment rates and boost sales. Read our OptinMonster review.
All in One SEO: Improve your WordPress SEO with All in One SEO (AIOSEO). AIOSEO comes with powerful features like local SEO, TruSEO on-page analysis, SEO audit checklist, and more. Read our AIOSEO review.
WP Super Cache: Improve your WordPress site's performance by installing the best WordPress caching and other WordPress performance plugins.
We hope this guide helped you build an auction site with WordPress. You may also want to check out our articles on how to create a micro job site like Fiverr and 25 must have WordPress plugins for business websites.