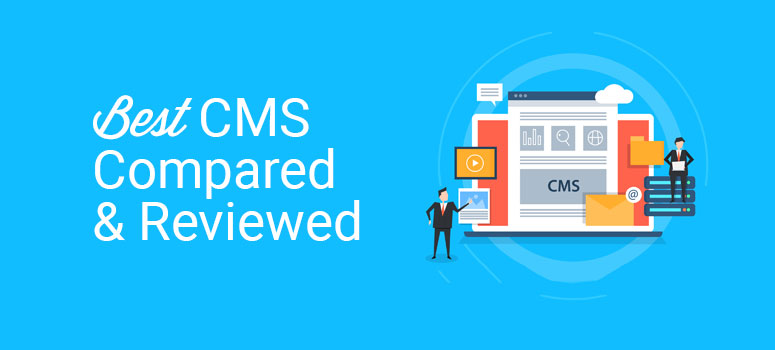 WordPress, Joomla or Drupal… Wondering which CMS is the best option to start a website? This is one of the first questions that comes to most beginners' minds when they set out to build a website or blog.
Although WordPress is the most popular CMS in the world, there are a few areas where either Joomla or Drupal excel in comparison to WordPress.
In this article, let's have a head-to-head comparison between WordPress vs. Joomla vs. Drupal.
WordPress vs. Joomla vs. Drupal – Which is the Best?

First off, let's take a look at a few similarities between these CMS.
All of them are free / open source website builders
Use themes for visual enhancement
Use plugins, extensions or modules to extend their functionalities
Primarily written in PHP
MYSQLis their database management system
All of them are community-driven projects
With so much in common, how does each of these platforms differ from each other? Which CMS is best for your website?
To shed some light on these questions, we'll compare them in-depth below based on a few different factors:
Ease of use
Customization and Functionalities
Localization options
Security
Which is the Best – Our Verdict
1. Ease of Use: WordPress vs. Joomla vs. Drupal
Both WordPress, Joomla, and Drupal make it easy to build a website from scratch, so you don't have to hire a developer to design or manage your website. That said, should you need an advanced website with unique functionalities, you could easily find a professional developer who could build it for you.
WordPress is by far the most beginner-friendly platform that let you build a blog, online store or a website. All you have to do is to choose a web hosting plan, like Bluehost, install WordPress with one-click and get started with your WordPress site.
Once the installation process is complete, you will be on your WordPress dashboard which is pretty easy to use even for beginners. Plus, you'll find thousands of free and premium themes that let you style your website the way you want.

Check yourself how easy it is to create a website from scratch with WordPress.
Just like WordPress, Joomla is also easy to set up. Many hosting providers offer a quick installation option so you can have your Joomla site ready without any extra effort.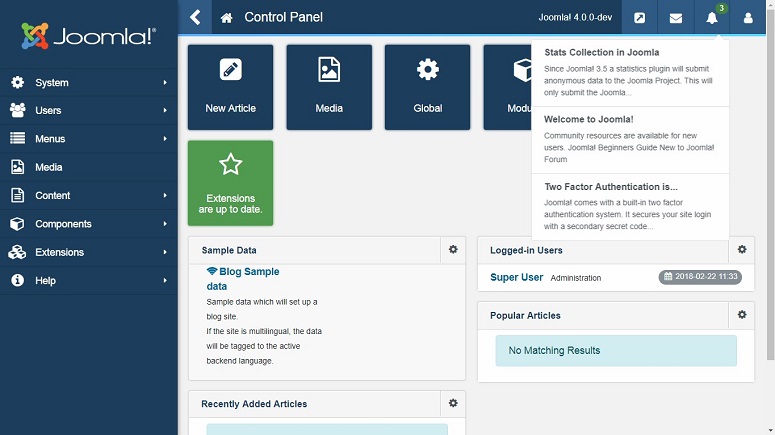 Joomla offers a more advanced system for user access controls and user management out of the box. On the other hand, in WordPress, you'll only find the same feature by installing some additional plugins. Not to mention, the more features that are available, the more difficult it is to learn how to use the tool. Joomla is no different.
Even though the installation process is quick and easy and it comes with more out-of-the-box features, you may not find its dashboard as intuitive as WordPress.
Just like WordPress and Joomla, the installation and setup for your Drupal site are also pretty simple.
With Drupal, the user interface isn't as sleek as WordPress or Joomla. While you can find several premium Drupal themes on various marketplaces like Themeforest, most Drupal users use a custom-coded theme or a highly customized theme.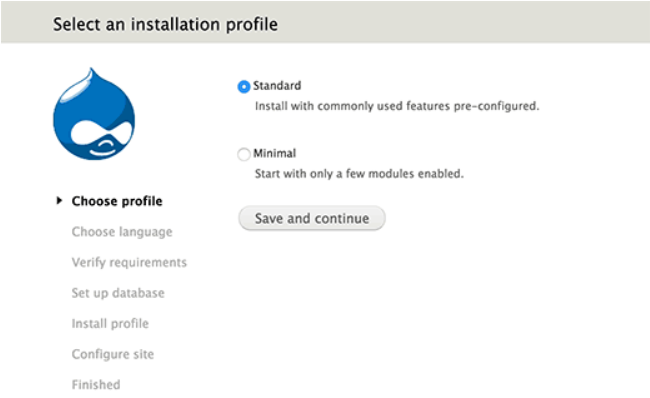 While WordPress has enhanced its content editing experience by introducing Gutenberg editor, a visual editor that could potentially compete with any modern proprietary website builders or blogging platforms, Drupal still uses the age-old editor.
There's a slight learning curve to tackle before you can use Drupal's editor.
Winner: WordPress
2. Customization and Functionalities
All of these 3 CMS, WordPress, Joomla, and Drupal are built with non-web developers in mind, so it's supposed to be shipped with amazing options for customizations. Generally speaking, once you've set up your site with your favorite CMS, you should just install a great looking theme and then work your way out to make your site appear just the way you want.
Let's take a look at how easy it is to customize the look of your site and add enhanced functionalities with each of these CMS.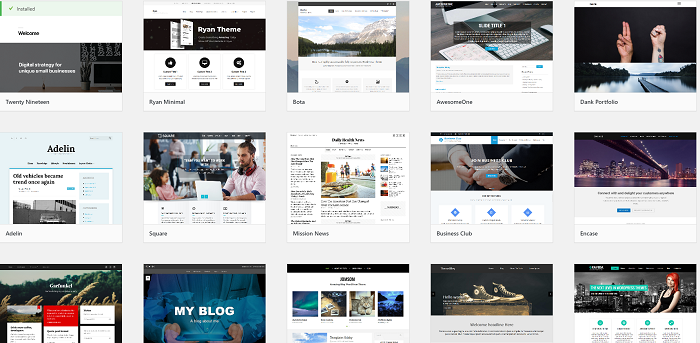 WordPress comes with themes that let you easily change your site's appearance. You can find a few default themes as well. To style your site, either use an existing default theme that's shipped with your WordPress installations or add a new theme from the WordPress repository for free.
You can even find thousands of premium themes that match your needs from premium theme hubs like StudioPress, Themify etc.
For extending your website functionalities, you have plugins. Just like themes, plugins also come in both free and premium versions. Not only could you easily find a plugin that meets your needs, but you can also install them right from your WordPress dashboard without even leaving your site.
To style your Joomla site, you need to find a template that matches your needs and install it on your site. Template for Joomla is what theme for WordPress is.
For adding functionalities, you can use extensions, which serve the same purpose as plugins for WordPress. You'll love the options available here. But the number of templates and extensions offered by Joomla are much limited as compared to WordPress. So that might be a bit disappointing for you.
Unlike WordPress, Joomla doesn't come with an option to find and install a particular template right from its dashboard.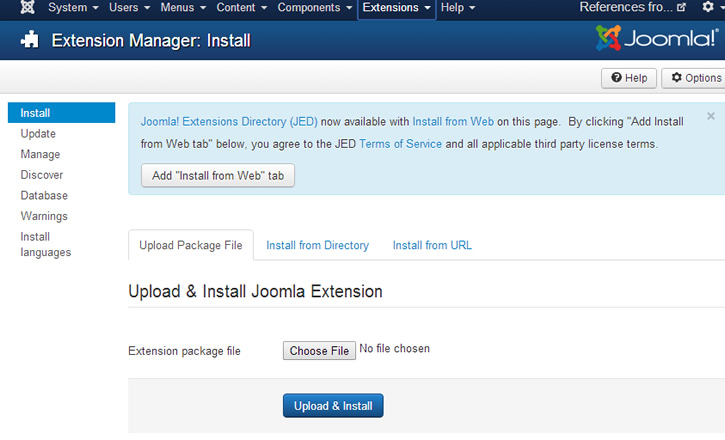 However, for adding extensions, you can use the Install from Web feature, but for templates, it still has no options for letting you search and install from the dashboard itself.
Drupal too has beautiful themes and modules to let you customize the look of your website. But like Joomla, the options are really limited.
Besides, you can't install them directly without exiting your dashboard. To add any module or theme, you'll have to leave your site, search for the module/theme you want to add and then locate the project's zip file URL.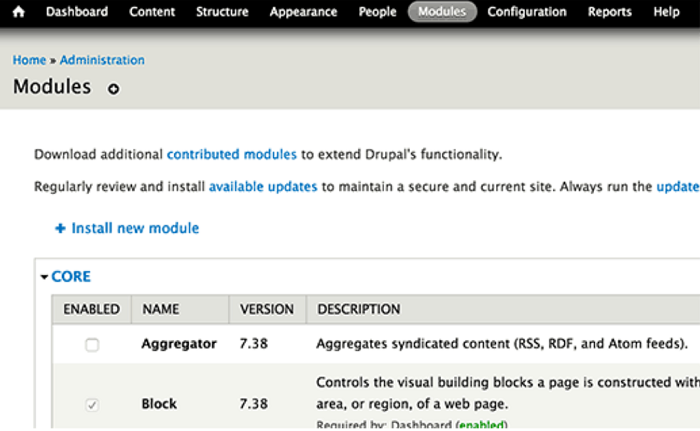 You can then use the module/theme you like by using its URL to install them. Of course, this consumes a lot of time and if you're a complete beginner, you'll get confused with all the steps it takes to get the process done.
Winner: WordPress
3. Localization Options
If you're targeting international users, it's imperative for your site to have the localization option. A good CMS should also have some localization options that make it easy to build a multilingual website.
With WordPress, you don't find a direct option to localize your website, but you can opt for a WordPress translation plugin that provides you with easy localization options.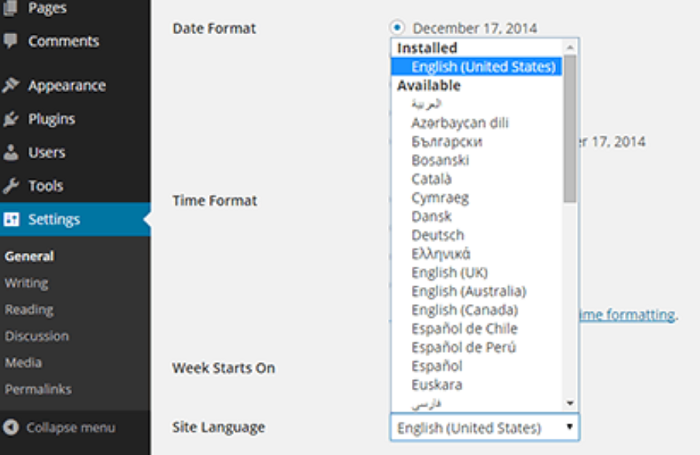 If you need more languages, you can install them with just a single click. In fact, most of the popular themes and plugins also offer the localization option. That makes WordPress an amazing option for non-English speakers who are willing to create their website in their own language.
Joomla, in terms of localization options, is slightly ahead of WordPress. It lets you translate your website without installing any extensions. You can do it right from its dashboard without even leaving your site.
The option is available in the Language Manager section in the Joomla dashboard.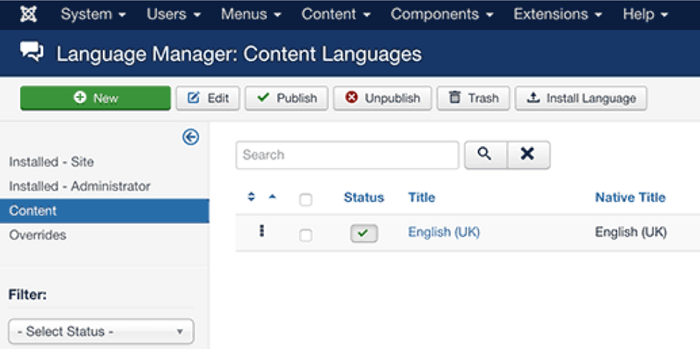 Drupal too has great localization options but just like WordPress, you need to install a third-party module for that. Once the localization or translation modules are activated, you can add your desired language right from the dashboard.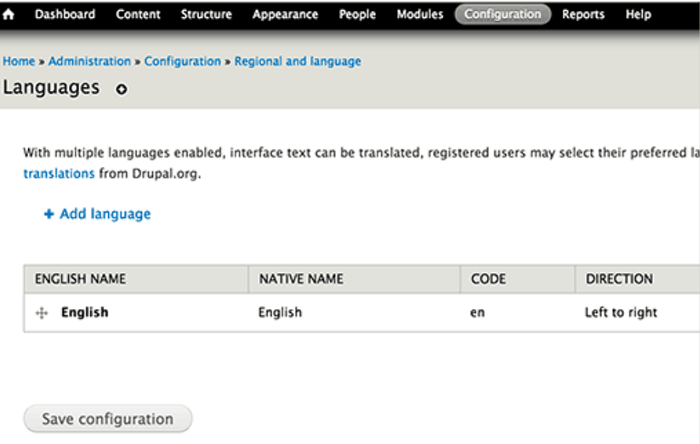 Winner: Joomla
4. Security
With so many mischievous activities happening around the internet, you need to make sure your website is secured.
WordPress, Joomla, and Drupal are secure platforms. But which one is more prone to security threats. Let's take a look…
WordPress is a secure software, which comes with an auto-update mechanism that lets you automatically update your website whenever a security patch is detected. You'll also be notified in the dashboard whenever the authors release new updates for themes and plugins that you've installed.
However, its massive third-party ecosystem is often prone to security threats, which could potentially threaten your site as well. Because of its massive market share, WordPress is a popular target for hackers.
That said, there's nothing inherent that makes one platform more or less secure.
Even though Joomla is a secure platform, like WordPress, websites powered by Joomla seem to experience a higher number of hacked sites in comparison to their market share. This is likely because Joomla also has a massive list of third-party extensions that could potentially be vulnerable if not updated on time.
No matter which platform you use, you're required to update the extensions whenever authors release a patch to a vulnerability.
Drupal stays ahead of the curve when it comes to security. They are transparent about their security and publishes a detailed security report. That's why it's a popular CMS amongst government institutions and other security-conscious enterprises.
Winner: Drupal
Which is Best – Our Verdict
Looking at all the points and comparing each with its counterpart, it's clear that WordPress is the best option if you're a publisher, small business and eCommerce merchants. It's easy to get started with WordPress thanks to its intuitive interface and massive community.
If you're running a security-conscious website, then you might want to check out Drupal.
If you liked this article, check out our guide on starting a WordPress blog.