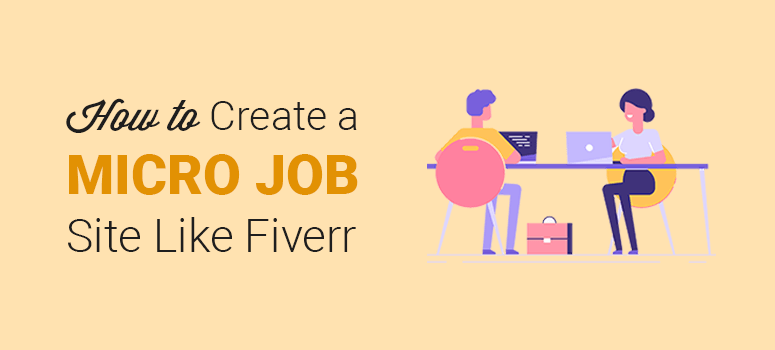 Do you want to create a Fiverr-like website with WordPress?
If you know how Fiverr works, you already have an idea about the background processes. A micro job site, like Fiverr, handles 2-way communication between the employer and the worker/freelancer.
However, you're the third-party who earns a commission on every job done via your website.
In this article, we'll show you how to create a micro job site like Fiverr, and how you can monetize it.
Building a Micro Job Website from Scratch
Before we begin, you'll need to make sure you have everything that's required to create a micro job website. Since you're building it on WordPress, you'll need a domain name, web hosting, an SSL certificate, and the MicrojobEgnine WordPress theme.
By WordPress, we mean the self-hosted WordPress.org. You should check out our full article for an in-depth comparison between WordPress.com vs WordPress.org.
Most small business websites look for cheaper options. But when you search for a domain name and web hosting, you may find the options costing between $25 – $30 / month.
We know that's a lot of money to get started. But, don't worry!
There're many cheap hosting providers who can also help you register a free domain name. However, we recommend using Bluehost because:
We use them.
They're one of the largest hosting companies in the world and are official hosting partners with WordPress.
They're offering a free domain name, free SSL certificate (normally costs $69 / year), and 60% off on hosting to IsItWP users.
This means the actual cost to get started is cut down to $2.75 / month. Awesome, right?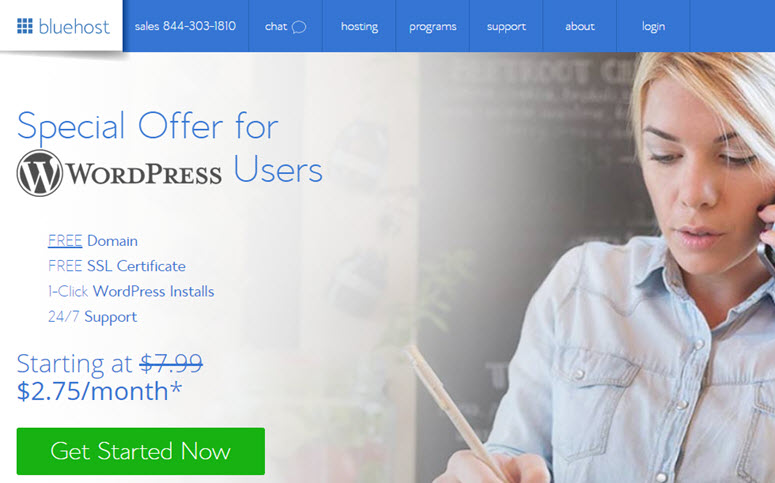 After getting your domain name and web hosting, the next thing you'll need to do is create a website with WordPress.
Now, you're ready to start installing the micro job WordPress theme.
Installing the Micro Job Theme
After creating your website with WordPress, you'll need to install and activate the MicrojobEngine theme. If you need assistance, check out our guide on how to install a theme in WordPress.
After activating the theme, you'll be asked to add a license key on the theme's welcome page. You can get this license key from your EngineThemes' account page.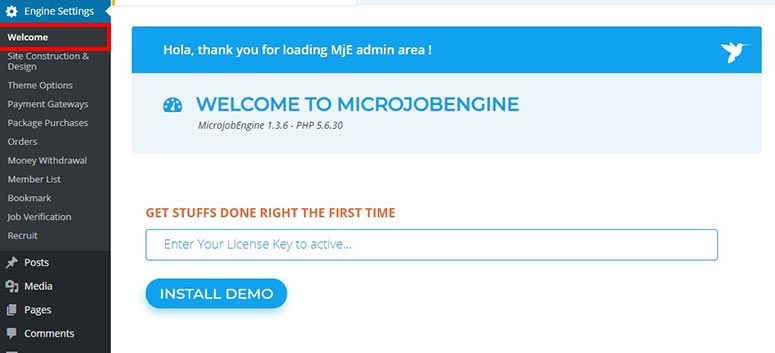 Once verified, you can click on the 'Install Demo' button. This will import all the demo content and create a demo site for you.
We'll discuss replacing the demo content with your original text below. It'll be easier than setting up everything from scratch on your own, and you'll get the look of a properly-built micro job website.
The next thing you'll need to do is to select a skin (template) for your website. By default, there're 2 skins available to select from to launch your site.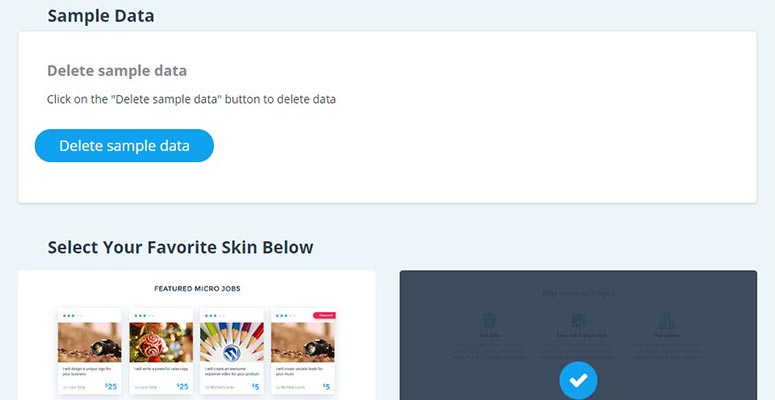 Once you're done, visit your micro job website to see if everything's working as you want it to.
Adding Payment Methods to Your Micro Job Website
This website will handle payments between multiple people who're using it for job postings and freelancing. The default payment gateways are PayPal and 2Checkout. But you can also buy premium extensions for payments like Stripe, PayU, Authorize.net, etc.
To set up a payment method, go to the Engine Settings » Payment Gateways page in WordPress.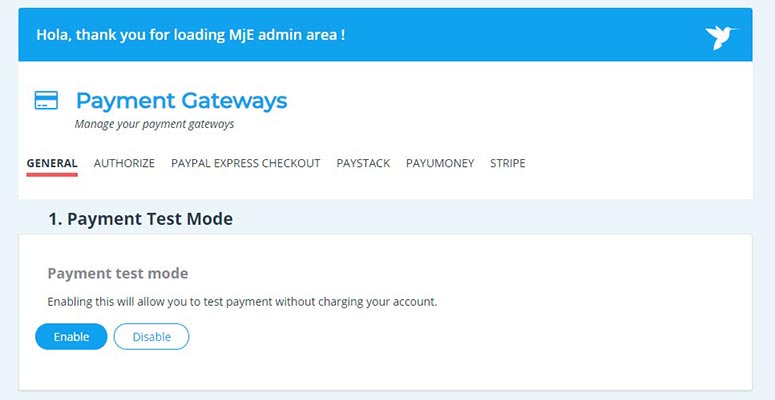 There'll be 2 ways for you to earn from your micro job website:
The default method is to charge a commission on every job. However, you can also set a fixed amount, which means your users can only charge the same or less for each job (like Fiverr) and you'll get a fixed commission.
It's recommended to not to add any restrictions in the beginning so you can charm more users towards your micro job site. When your website starts getting traffic, you can change the settings and limit the amount to avoid spam.
Simply go to Engine Settings » Theme Options. From here, you'll need to go to 'Payment Type' in the top menu.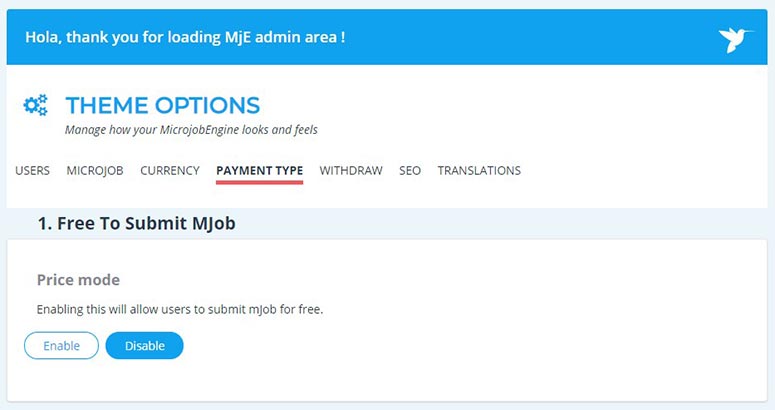 In the 'Free to Submit' job setting, you can enable/disable free job posting for the employers. If you enable it, then employers can set any price for a job. On disabling, you'll need to add a fixed amount or add packages for your users.
Updating Your Brand and Text
Now you'll need to personalize the website by updating the brand and text. For this, you'll need to go to the Appearance » Customize page in your WordPress admin area and replace the demo content.
Make all the changes you need to, and they'll appear in the live preview on the right side of your screen. Once you're done editing, click on the 'Publish' button to see your real site in action.
Running Tests and Managing Your Website
Your micro job website is ready!
Now you'll need to make sure that everything is working a-okay. This is possible by testing your website and viewing it as a user. You can post an ad, hire a service, take a job, withdraw payment, etc. to check the processes.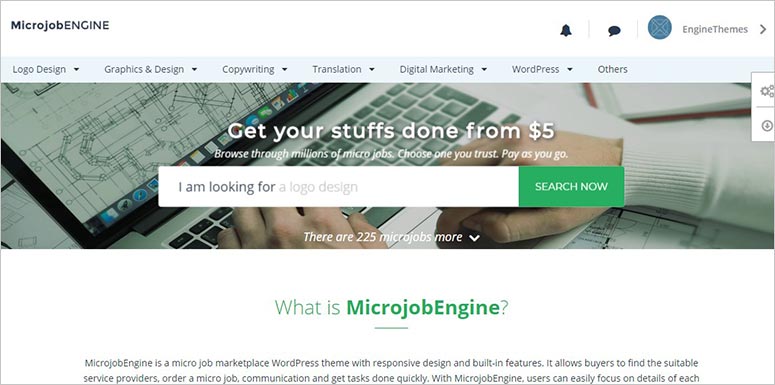 Profile Pages
All your users will have a profile page of their own. It's where they can add personal information, projects, etc. Profile pages will have ratings for each user which are given by the employer or freelancer whom they worked with.
User Dashboard
Your users will have an account on your website to store their conversations, jobs, and statistics. They can manage their profile from this account.
Email Notifications
While testing your website, you should send emails on multiple addresses to verify that the notifications are working correctly. If there're any issues with email notifications, you can follow this article on how to fix WordPress not sending emails.
Manage Jobs
You can manage orders and jobs from your WordPress admin area. Simply visit Engine Settings » Orders to see all the orders and jobs on your site. From here, you can also accept, verify, and decline jobs.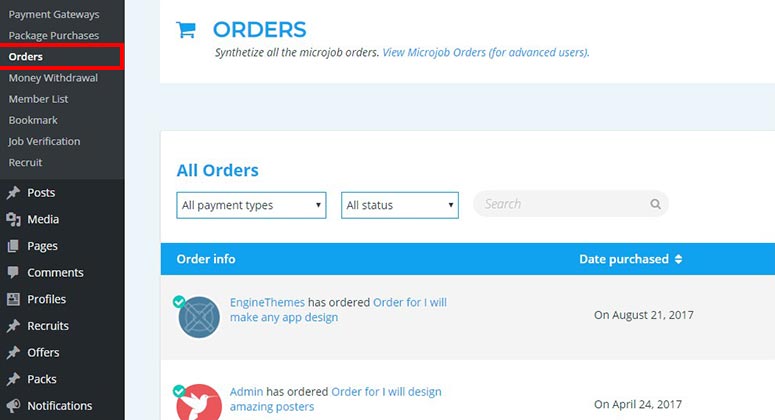 Payment Withdrawal
The users can only withdraw money from your website after your verification. On the Job Verification page, you'll need to update their status to 'Approved'.
You can also check the withdrawal status from the Engine Settings » Money Withdrawal page.
Read Conversations
Once your website starts getting popular, you can silently read conversations between the users (employers and freelancers). That way, you can clear any disputes by knowing the story.
Reading conversations will also give you insight into what kinds of deals are happening and what the hidden intentions of your users might be (like cutting you off and taking your clients aside, etc.).
Once all the tests and management tasks are done, you can introduce your micro job website on the market.
How to Monetize Your Micro Job Website
Building a micro job site isn't difficult, but you'll need to monetize it for ultimate sustainability. The more projects are closed, the more your earnings will be.
For that, you first need to grow your traffic. Here are a few tools that can help you attract more traffic to your website. Once you capture the right audience, you'll be able to get successful job postings.
We recommend you start a blog and promote the purpose of your micro job website. Explain how you want to help the employers and freelancers. You should also focus on making your website unique from the other micro job sites online.
We already have an extensive post on how to monetize your site, but here are the 3 best tips you can try out to make some extra money from your micro job site.
1. Create a Members Only Site
Members-only sites are a very popular way of making money online. By creating such a website, you can lock your content for users who don't have a membership in your site. Anyone who wants to access your content needs to signup by paying a small fee. This can either be a one time fee or a recurring payment. You can use any of the membership plugins to set this up. We recommend MemberPress, Wishlist Member, and MemberMouse.
Here's how you can create a membership site.
2. Sell Online Courses on Your Website
Another brilliant way of making money from your website is to sell online courses. But make sure that the course you create has a high demand in the market. MemberPress also lets you offer online courses through its LearnDash integration.
You can also use Thrive Apprentice to create online courses and launch it as a business.
Do your research well and gather your content before compiling them to create your course.
3. Published Sponsored Content
You can also publish sponsored content on your website to make some extra money. But first, you need to make your website attractive to sponsors. So work on the appearance and performance of your site. You can also join different bloggers networks where you can find brands that might be interested in working with you. But make sure you publish content that is related to your niche. If you'd like to accept user-submitted blog posts, then see our guide: How to Create a Guest Post Submission Form in WordPress.
That's all. We hope this guide helped you learn how to create a micro job site like Fiverr. You may also want to read our article on how to create a review site in WordPress that makes money.